A new cumulative update for Windows 10 is currently rolling out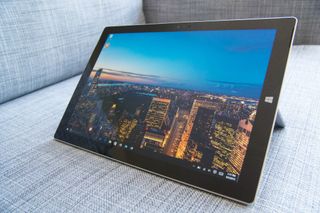 (Image credit: Windows Central)
Windows 10 users will see an update available for download, but it doesn't appear to be the big Fall Update for the OS. Instead, it is the latest in a series of smaller cumulative update that are usually released to fix bugs.
The update has the support number of KB3105213, but at the moment there's no word on what it has been made to fix or improve. Microsoft is still expected to launch its larger Fall Update for Windows 10 on Thursday, November 12. along with the New Xbox One Experience for the Xbox One console and the official launch of Windows 10 Mobile.
Souce: Microsoft - Nov 10 Update (opens in new tab)
Get the Windows Central Newsletter
All the latest news, reviews, and guides for Windows and Xbox diehards.
Lets see if it smoothens the tile movement while dragging them over another one in the start menu (like in the phone), because currently, it's very choppy and rude

Fall update in 48 hours - November 12th

Is this issue on the latest build or the RTM? I haven't booted up my Insider VM in a long time and the RTM doesn't seem to have this issue.

On my PC, so I guess both

Here's hoping it fixes the Store live tile and the daily install of .Net framework/runtime 1.0 updates it insists on.

Yeah that .NET app is crazy weird

Store live tile, lol. Turn it off, out stays on. So annoying.

Nice! Just received my new Dell XPS 15 yesterday. Will look better with the update on Thursday!!!

me too. it's dreamy <3 <3 <3

Why don't they tell the size of the updates?

yeah I know the *new* style windows update UI is all style NO substance! I'm currently testing Win10 ready for deployment at work and windows update is really poor! I need details on why updates fail, how big they are links to KB numbers etc, the ability to cancel downloads and to hide updates all of which you used to have, grrrrrrrrrrr

You can see these info with SCCM. Agree, this Windows Update is poor, but only for users.

we use SCCM but I want this info on the users PC without having to mess about with SCCM

Why on earth your user need to know these things? Of course SCCM isn't perfect but it works just fine here, no mess at all getting updates info.

It's Patch Tuesday, this was expected. We'll also see a lot more updates for other products.

But for me the update number is KB3105211

Then you're using build 10586 and not build 10240 what this article is about.

Oh. Ha. I always forget that (-_-;)

What is that? A frustrated Scarface?

No. It's showing that I have messed up. C'mon I didn't get a good emoji.

Surpisingly, there is actually a visible change in this update: The Windows Update settings now contain a link with "more information about the latest updates".

Also: taking a screenshot offers to save it to OneDrive; if you say yes, future screenshots (even with traditional Alt+PrtScrn) are saved directly to file in OneDrive > Pictures > Screenshots. Handy.

That actually came with a OneDrive update, not with the Windows Update.

So now even knowledge base is useless. Thanks Nadella!

I wish I could fully remove the Cortana and OneDrive! But no way, it's Windows 10..

I wish I could fully remove the Siri and iCloud! But no way, it's iOS 9

Nice comeback ;-).. And yes Shohruh you can disable both if you wish

I wish I could fully remove the Mario and Luigi but no way, it's Nintendo.

You can remove them via apple support.

Why would you want to do that... The advantages to having them both are not insignificant..

Just change your region. You can pick one on random and chances are that Cortana is gone! OneDrive will still be lurking around but starting next year it will be dysfunctional, no storage space.

Yeah, I disabled both of them. But that OneDrive still in there, it is like linked program

It's not even 60 MB in size.

stop being cheap and pay for it if you want, and you will have many GB for your stupid files. I wonder how many GB you are using, you probably aren't even using it but like to complain about it. 5 gb is enough for free users, if people want to upload illegal files and other things they can pay for it since it's not that expensive anyway.

It not about cheap man. I just don't use OneDrive from the beginning, only OneNote notes are in there. I use third party app(Dropbox) .. In windows 8.1 you could remove it completely. But that's fine. Not a big deal

Today: Hey! Come get some cookies! Tomorrow: Hey! (brandishes gun) Because some people never stop coming back for cookies, I must have given you too many cookies...Gimme back some of those!

I'm a free user, and I use way morte than 5GB. I have 28GB alone of pictures taken with my Lumia over the last 3 years. There is 54 GB total, as i use it to keep a backup of all my pictures from the last 15 years. What really bothers myself, is that I will lose my Loyalty bonus i have since I had the 25GB onedrive originally, as I have had it since the beginning. I will lose my camera roll bonus which was offered originally to people using Windows Phone 8 only as a thank you for supporting the OS. Now, I get slapped in the face and kicked to the curb after supporting OneDrive since the beginning.

You can't fully remove Cortana because the Cortana app is the same as the one for search in the taskbar when Cortana is disabled.

you can do it, but I don't expect someone like you to try to find how to do it, you probably only know how to be pathetic and complain about stupid things in your life.

I wish I could remove google drive and S-voice...

Here's to hoping it will fix the Nvidia driver crash issues I've suddenly started experiencing the last week O_o

When is official windows 10 mobile releasing

I think I heard mid december... Or maybe that was for new devices...

"Thursday, November 12...official launch of Windows 10 Mobile"

I only experience it with the edge browser

The only difference I've noticed so far is that the build number now shows 10586.3, pretty sure it wasn't .3 before

It's this: https://support.microsoft.com/en-us/kb/3105256 A fix for a Kerberos flaw that could be used to bypass Bitlocker.

Say, isn't that a different KB number altogether bud? o.O

Doesn't matter. Open it. You'll see that the one you're looking for is listed near the bottom of the page.

Interestingly, that site may contain the first public acknowledgement of Windows 10 "Version 1511".

Hope my Dell all in one xps27 automatically updates.. it is f-ed up with the start menu and taskbar not working and don't quite know how to fix it. Posted via the Windows Central App for Android

If you are using Avast, remove it.
I had horrible system issues on a HP Probook, including non functioning start menu/Cortana. Avast was the culprit

Fix the battery issue and no sleep mode in surface pro

What do you mean by official launch of Windows 10 Mobile, are there any chances of we the old Windows phone users getting an official update???

Windows 10 mobile IS the update (or upgrade if you want to call it that) for windows 8.1 mobile on November 12 (apparently).

Everyone gets this update if your device has 8GB of memory (on the other hand, the Lumia 530 has only 4GB and yet still supports Windows 10).

Everyone gets the update IF: #1) Their carrier rolls it out (Microsoft won't handle it until AFTER you are on W10M) or #2) They get it through the Insider Program.

It's not a question whether we get the update but I wonder what exactly will happen in two days. I don't believe I will be getting the update then. Maybe just an announcement?

Yes...every windows phone 8.1 will get update windows mobile 10

Yeah but not all the features, it will depend on your phones model.

Of course... Phones without wireless charging coils will not get wireless charging and if it doesn't have an NFC-antenna, it will not get NFC.

I have 3 updates, KB3105213, KB3103688 & KB890830

what ever 3105​213 s it downloading VERT slow!

When I get windows 10 update for Lumia 720? I am excited waiting for along

Is thursday 12nov windows mobile rtm day?

Downloading it now....I hope it actually fixes SOME of the bugs in the RTM version....About to roll back to 7 it's so bad...

Fix the friggin' start menu limitation!!

It'll be fixed (or rather, raised from 512 to 2048) in the TH2.

Just wondering if insiders get W10M first? Just like we did get W10.

Wait... Only 25 hours until Windows 10 Mobile?! ^▽^