New emojis coming to Windows include accessibility representation, flamingos, and pinching gesture
By Asher Madan published
Some long-requested emojis have finally been approved.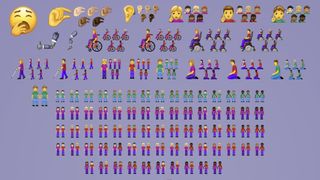 Every since the rise of smartphones, emojis have given users the ability to express themselves in a number of ways. Whether it's capturing one's emotions or describing who they are, emojis helps us do that through text messages and tweets. While there are a lot of emojis that cater to a wide audience, some groups and cultures have been left out. Luckily, that's about to change in a meaningful way in 2019. According to a report by Emojipedia, "the final emoji list for 2019 has now been approved by the Unicode Consortium and includes a total of 230 new emojis coming to major platforms this year."
The outlet adds that "additions include previously drafted candidates such as a Flamingo, Otter, Guide Dog... Waffle, Hindu Temple, Sari, Sloth, and Mate." However, the biggest change has to be accessibility. Prosthetics, Hearing Aids, Wheelchairs, and much more will be part of this expansion. Existing emojis curiously lack representation for this important and diverse group, so it's great to see that the Unicode Consortium approved them. You can view all of them below.
New emojis will come to iOS, Android, Windows, various messengers like WhatsApp, and web platforms like Twitter and Facebook throughout 2019. However, keep in mind that their appearance and release dates will vary from platform to platform. This may cause some issues if, for example, an iOS device gets these emojis before Android.
Hopefully in the future even more groups, cultures, and religions will be represented in emojis. If you feel that a particular emoji should be included, make sure your voice is heard by reaching out to the Unicode Consortium with a proposal.
Asher Madan handles gaming news for Windows Central. Before joining Windows Central in 2017, Asher worked for a number of different gaming outlets. He has a background in medical science and is passionate about all forms of entertainment, cooking, and antiquing.
Good grief.... why'd they even have to start with the different skin tones anyway? It just opens up a can of worms. And do we really need 6 skin tones of someone in a wheel chair... not to mention an emoji of tightie whities, or a switchblade, or a yo-yo...

Well maybe you should suggest an emoji of a can of worms. Haha

That's a barber's razor, not a switchblade.

Would you like a Wah-mbulance emoji? Maybe a tiny violin?

Yes that would solve everything, thanks. Do you insist someone's whining whenever you see a comment expressing an opinion?

It depends on how the opinion is expressed.

I bet an emoji of a weed joint would get way more actual use. People are literally using a cloud and a maple leaf right now. Why are supposed to represent moods right? Like to improve communication. None of those have anything to do with that. At least a weed joint is an actual mood.

Just glad they look completely different on Windows anyway /s

Is sarcasm that we have the best design on emojis or that you are blind and can't appreciate that?

Except that's entirely subjective, one person's best isn't necessarily someone else's, so you're both right.

How exactly can emojis be used on Windows?

Hold down windows button and press the dot button

Do they work across all programs including the Office suite, specifically Outlook? My office is in the midst of being moved so I don't have a PC I can test on

No more stupid emojis. Emojis suck. And creating emojis to appease whiners sucks more.

I can see my friends using the pinch emoji to tell everyone how small they are.

I've seen it discussed for referring to a specific thing as small. And not between friends unless of course you and your friends get to see each other's thing in question.

That emo over there is a way to make us except the idea of augmentation ?? :O :O

:')
This has gone nuts. There are so many you can't find the one out of the dozen people actually could get away with using amongst all the noise. I've gone back to just the punctuation and now I'm :-)

That pinch icon is great for saying someones penis is small. In general the rest seem functionally useless except to far left ideologues.

Are those sixteen billion variants of interracial gay couples? lol, just lol.

Welp... it'll never be possible to please everyone. I see why people feel like catering to things like this in general is because of the whining of one side, but not doing this caters to the whining of another side. Each side is egotistical to the other. What will we do? Anyway, we'll all be fine. :-D
Windows Central Newsletter
Get the best of Windows Central in in your inbox, every day!
Thank you for signing up to Windows Central. You will receive a verification email shortly.
There was a problem. Please refresh the page and try again.