The new flagship Microsoft Store in New York City is slated to open this fall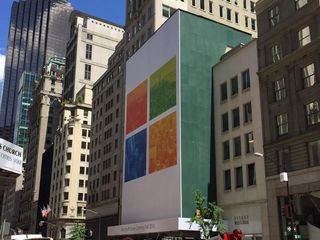 Microsoft has given a more specific time frame for the opening of its big flagship retail store at 677 Fifth Avenue in New York City. An image showing that the facade on the construction site now has a "Fall 2015" label for when the store will open.
The same facade also has been painted over with a big Microsoft logo, compared to the dull green color that it had back in March when we last saw the construction site. Microsoft first confirmed its plans for the store in September 2014, which is located a few blocks away from Apple's famous "glass cube" store located on the same street. The Microsoft Store will have several floors, including one that will have what the company has called an "experiential space" for customers to check out, but details were not revealed.
Thanks to Travis for the tip!
Source: Gokan Ozcifci (Twitter)
Windows Central Newsletter
Get the best of Windows Central in in your inbox, every day!
Right on time with the flagship phone release hopefully Posted via the Windows Central App for Android

I have hope, but not certainty, that will happen.

Source? Or is this an assumption?

Exciting! I'm really interested to hear what the experiencial space will be.

HoloLens for the experiential space - no doubt

A holodeck would be better.

hololens will show what a hypothetical flagship phone would look like if a flagship phone was ever built

Yup, it'll even come complete with holographic versions of Windows phone "fans" who blithely ignore every bit of proof that the phone exists and is coming in favor of making snide little comments.

It was a joke, get over yourself. I am actually holding off buying a new phone until cityman comes out. Can't ignore how long it has taken for a new flagship though, but good thing you are here to keep me straight, Whew, thank God for you.

You know the phone is coming, I know the phone is coming, the dog walking down the street knows the phone is coming but commenting on it endlessly won't make it come faster. But, as you said, you've been blessed with my insight. Amen. ;-)

Get a sense of humor, it WAS funny!

Sorry, but after months of endless whining about a flagship, even after it was confirmed, the humor has worn very, very thin.

This might be a far fetch, but I think Oculus Rift will be part of that floor since they have this partnership thing going on.

Would be nice to have a physical flagship or indeed any store in the UK.After all Windows Phone is at 10 percent market share whilst only 3 percent in the US. Posted via the WPC App for Android!

They don't only sell Windows Phones

We know that we are not dumb over here, we need a |Microsoft store in the UK full stop.

Yes but there are still more windows phone users in the US than in the UK. (And like Eli said its not just about the phone)

Well the ratio between stores and absolute Windows Phone users is better again in UK :P

Would you settle for an affordable flagship store?

Dang, I wish I had known. I might have deferred my vacation a few weeks to allow for a visit to the store. Experimental space. Hrm.

lol last time i went there, the closest thing they had to a store was a Microsoft kiosk in a nearby mall

In the Time Warner Center at Columbus Circle. The Kiosk is still there and they carry a nice selection of gadgets considering its not a physical store.

When in India....? Preferably Bangalore

I can't wait, finally my city will have a style

It's actually 4 blocks away from the Apple store...

How close is it to the Apple Store ? If close, it will be interesting to see how busy it is on a comparative basis come "Fall 2015". Win 10 (all flavors) should be making a difference by then. Should be.

Please, someone tell me that what's in the picture is just a protection over the building and that it'll be removed once the store opens...I assume it is, but I've seen so many monstrosities build in big cities that I no longer place my hands on the fire for anything...

Yes, that is just protection until the full store is revealed

It would be hilarious if that was actually how the store looks afterwards. I love me some Microsoft, but that would be a total eyesore.

Required construction facade per NYC construction laws. Obviously spruced up by Microsoft.

Flagships are coming! Posted via the Windows Central App for Android

going to NY in october, hope it will be open !!!

You'd think new York would've been their second store opening after Seattle. I'm surprised it's taken this long.

It's extraordinarily difficult to get retail space on fifth avenue. It is the most exclusive strip in the world. No doubt they've been working on it for years.

I hope the new 950 & 950XL fall at the same time this location opens.....it would be fitting for them as well as the SP4......who knows???

Hope they have some flagship phones to put in it...

The network of Microsoft stores are almost certainly a boondogle; I can't see how any of them are remotely profitable. I know of two on Long Island that are empty every time I pass by, while the Apple store nearby is packed with people and lines. Honestly, I never agreed with the scenario that Microsoft needs their own retail store presence. For me, Best Buy and Staples were always the 'Microsoft store'.

Well I already see you're lying, cause more than 70% of the stuff instead them are not even Microsoft products. Only thing Microsoft have is Xbox, surface, Lumia's and a few add-ons...the are from It's partners!

Wtf are you talking about? *Of course* Best Buy has other stuff as well. That's not a lie that's reality, unless Microsoft is also in the CD selling, TV manufacturing and home appliances business as well. And Staples is an office supply store....that, wait for it, also sells Windows PCs.

Johnny I think you have some reading comprehension issues. He said that 70% of the items in the MICROSOFT STORES are not built by MS. They are made by PARTNERS like Dell, HP, Samsung, etc and run Microsoft's software. The only hardware made by Microsoft in their own stores are Xbox, surface, Lumia, and some peripherals.

My experience is that a lot of the people inside your typical Apple store are not buying anything but are their to hang out with the cool kids, worship the cult, tease the geniuses, or quietly plead for service for their iDevice for a problem Apple won't acknowledge exists. There are people buying stuff for sure, but there is a lot of just hanging out going on in most Apple stores.

I think of Apple stores like I think of McDonalds: filled with people who think they're cool because they're eating the most popular burgers, but the real burger connoisseurs are down the road at the local gourmet burger joint.

I'll call you out on your Long Island statement as I happen to live between the two (Walt Whitman Mall and Roosevelt Field). They're both pretty empty (Microsoft and Apple stores) during the day. All those "people and lines" in the Apple stores during the day are mostly support issues (genius bar) and the staff needed to service all helpless iOS users (me included for a manufacturer fail iPad Mini Retina). The Apple store will have more customer traffic during peak hours, but do not conflate support traffic with customer traffic.

The MS store in Delaware usually has about 6 employess and about 5-10 other people. The Apple store usually has about 50 employees a couple police and 20-30 other people.

They need to leverage the store network for small business sales and support and then ratchet it up to corporate and enterprise customers for Surface and phones but they have been consistently oblivious to this.

If they had any marketing sense they would speed it up and open for the launch of Windows 10!

I agree. I thought they were going to open the store for the nyc launch party.

Still no Microsoft store in Mea

This reminds me of Conan O'Brien. Here's to hoping he's wrong! "Microsoft has announced it will open its first flagship store in Manhattan. It's expected to be just like the Apple Store, but without all those pesky lines in front."

15 minute walk from my job. Can't wait :) .I'll be buying my Surface Pro 4 and Talkman from there soon mwahahaha.

I started reading the headline and thought the flagship phone was being released :(

Anyone else in NYC going to the Insider event on 7/29.

Ill be there! Hoping to meet Daniel and MJF.

need one in Fredericksburg va with a civil war theme

I'm excited! For the first time one will be within walking distance (5 blocks) from my office! Who else is going to the NYC party on Wednesday?

Ill b there - hoping for some "free" stuff

Me too. My wife is coming as well. Hopefully it will be something good!

Synchronized with SP4, 950/950XL, Band 2 and Hololens launches i am sure.

Going to New York second week of October. Hoping that it will be open by then! And regarding European Microsoft stores, unfortunately they even closed down the one they had in Helsinki (the rebranded Nokia flagship store) :(

And they will probably wait until this store is finished to announce premium Windows 10 devices.

I hope it survives the September Comet that is said to craah into te atlantic ocean near the Carrebean sea area and set u a huge tidal wave and flood of the east Coasr of north america.parts of south american and west of africa and other parts of the World. of course if it's true sometime in august the president of the USA must annonce it so the Public can get at last 200 to 300 miles inland since the titanic flood waters will come deep inland. let's hope God stops this event.

Hopefully, NYC Windows flagship store will get some traffic inside after it opens. Many Windows stores usually, have more employees then customers inside especially on the weekdays. I like to see the stores sell unlocked international versions of their phones instead of having to buy them online. Sad! The store has unlock phones but are the same phones as AT&T and Verizon which has limited radios built inside not like the iPhone phones.
Windows Central Newsletter
Thank you for signing up to Windows Central. You will receive a verification email shortly.
There was a problem. Please refresh the page and try again.