A closer look at the keyboard on Windows 10 Preview for phones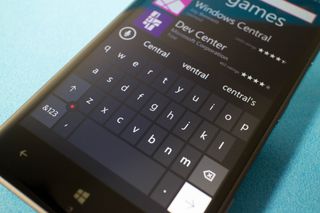 We've been busy playing with Windows 10 preview for phone in the past few hours. Only a few devices are currently supported, so many eager fans still have to wait. One of the new things in the preview that I wanted to check out was the keyboard. It includes a precision pointing stick, voice dictation, and a new shortcut to emoticons. Want to see the new keyboard in action? Watch our hands-on video.
The virtual stick seems to only appear in some apps. For example, it is not available when I use the Twitter app. It takes time to get used to and I'm still not sure if it makes things easier. You'll mostly need it to replace letters in the middle of some words. Tap and hold the nub and then drag it towards up, down, left, or right.
Another new feature is the microphone icon on top of the keyboard. It lets you do voice dictation. Your words show up as you speak them and punctuation appears automatically. It works really well as you can see in the video.
What's also different is the number button. When you tap and hold the number button, a shortcut to emoticons appears. Nothing happens on the Windows Phone 8.1 keyboard when you tap and hold this button, but you can swipe from the number button to quickly enter numbers or symbols. It's one of my 7 keyboard tips that will make you type faster on Windows Phone, but it seems this shortcut could go missing on Windows 10 for phones. I was going to send my suggestion in the Windows Feedback app, but it looks like someone already beat me to it. Feel free to do the same if you agree.
Want to see more? Make sure to watch Daniel's hands-on video and initial thoughts on Windows 10 running on the Lumia 830. How do you feel about the new keyboard? Let us know in the comments!
Windows Central Newsletter
Get the best of Windows Central in your inbox, every day!
I have some doubts... Sorry I couldn't see the hands on video, coz I dont have 3G.
Anyway, what I am asking is, if the microphone sign is there on the left top, then where has the paste symbol gone? Does it come right after the microphone sign? I mean... If I wanna copy and paste something, its the same way, right? And also, about the comma... I just saw it in the picture that its on the left bottom side of the keyboard. While what I have been using is the keyboard, which has comma below the alphabet 'n'. Right hand corner. I remember there was one setting regarding the placement of the comma key... Is it still there? Sorry if you feel the questions are dumb. But I need to know. :) please. :)

Already answered...stop copy paste

Stop crying will you? -_-
Anyways, thanks for answering.

Anyways, you didn't answer the question... If the option to select the position of the comma key is still there?

I didn't see the answer..what was it, or where.

Scroll down for the answer

Copy and paste icon still there. It's next to microphone icon. You slide the mic to the right to hit the copy paste icon

i am curious about the 2nd mic bottom to the keyboard.

That one is built into the OneNote app.

Except for the Kanye West part. -_-

Yeah, he should have stayed home, kanye west sucks.

Lol, I said the same thing.

SHOW ME THE MUSIC APP PLEASE! :(

No changes to the music app at this time. We'll have to wait for that one, as the new music app hasn't made it. Just like Office... waiting for that as well.

In the meantime I'm counting on you to put the OS through its paces... I don't have the ability to load the preview yet. I'll probably buy a cheap Lumia just to do it LOL

Yeah, I'm putting it through its paces alright. Been taking heavy notes on everything I find that needs tweaking or goes wrong for submission to Microsoft. Lots of good things and lots of bugs. I've had to switch over to taking the notes directly on my "Windows 10 TP" laptop, because taking notes on the phone got messed up. Word crashed when I switched apps, and I lost all my notes because they had not yet been saved. Strange. Just one more thing to report. That will probably work with the new Word app coming soon. I'm using a cheap L635 ($49.84 at Walmart right now), and it is also my daily driver. Well, my only driver. I can't afford more than one chauffeur.

when will these people stop asking such questions?

When my Lumia 1530, Lumia 1030, and Lumia 940

When we actually can play Doom on it.

When on my ultrasound trans-vaginal probe

When my fried chicken koolaid Posted via the Windows Central App for Android

If Office is any indication, W10fP will be available for iOS soon. /satire

How much data mb takes this update........

Wow, you must be mistaking Windows 100 with this.

Windows 100 will only be 32K

All data storage in the known universe.

Tap and holding in Wp7 was nice

Agreed. I use that feature every day. Pretty hopeful it will be in the final W10 build.

My 630 gets very hot, i am on Wp10 :(

Stop complaining. Nobody forced you to update. If you want to be helpful use the feedback app, not here.

He just wanted to bring this issue to our attentions, our community.

He's not helping.. It's better if he bring it to Microsoft, so that issue can be fixed, no?

He is helping. You're not.

That's why I didn't join the preview. At least I don't have to cry like a spoiled brat over a BETA software because it's too buggy.

Sometimes, and lately increasingly often, people interpret every as negative and whining. I have a 1020 and currently have no access to the preview, therefore I'm very happy that Tambe has brought this up here as a heads up that something similar could happen to other devices. And by the way, what makes you think he has not used the feedback already?

Oh no... He's voicing the fact that the preview is currently a resource hog and ass such makes his device very warm, bringing attention to the issue and showing he's not pleased which should hopefully get Microsoft's attention so they fix it. THE HORROR!!!!

Microsoft said from the GET GO that it has major battery drain, and other issues...

He's not helping -----> to you for others this info might be good or even critical.

Hire do you know he didn't

MS reads these comments.. Any fool knows that..
........
It's best if he brings it up here, and gives feedback through the app..

Maybe h/she already reported to Microsoft and then came here.

Grow up. You are too sensitive. He did what any responsible WP user would do; he INFORMED us that his 630 gets hot. Now, any 630 user out there thinking of installing the Technical Preview can make a more informed decision. To recap; "My 630 gets very hot, I am on Wp10 :(" is not complaining. "Microsoft sucks, they should not have released this piece of crap, it has screwed up my phone". Now THAT is complaining.

He his just saying the community about the problem not complaining be humble to others don't just make a dick about it.

an article about the keyboard isn't the appropriate place to post this. there is thread in the forum to post issues with win 10. People like you who post unrelated comments on WPC make the comment section complete garbage. you have to endlessly scroll to get past the why not my device/country post(hint no one knows when it will come to your device) and other bitching to find some relevent comments.

So many cry babies...
thank you Tambe!

Thanks for letting us know that... That's an important issue for MS to know about.. Did you report it❓

It's because the platform is burning. Pay attention! :)

I love this new keyboard. The voice to text is amazing. I've had mixed results with the cursor mover thing.

Yeah the voice commands are very reliable. I wrote this whole thing right now without changing anything!
Plus, I love that they finally let us use punctuation properly.

The virtual stick is just for text? I was really hoping for some kind of mouse

The one on windows phone 8 was just perfect!!!!!
Why does ms keep doing this!!!

No, the new one is way better. The voice to text is perfect.

Yeah, you're right, the stick on wp 8 was insanely good

I'm confused a lil bit with this, cant seem to enable (if that's an option) the speech to text feature.

Great tips thanks... Liking it so far... Though not as different to winphone8 as I hoped... Still early days!!

Random brightness changes !

So the nub is pretty much useless right now, since it doesn' really move the cursor.

It does move the cursor on my Lumia 630, so is not totally useless now note at least for me

Well in the video it moved the cursor but came back to its initial position when he tried to edit something so it doesnt seem to be working now. Is it fine for you?

It work quiet well me me...

you have to slide to a direction to move the cursor

I know that. Watch the video, it doesn't work for Mark.

It does work. It's a bug which is to be expected since it's a technical preview.

what languages already confirmed for the microphone function?

English as a language or just 'Murrican?

'Murican only has one r. (Never thought you could correct something like that.)

Hey Mr Writer, you are half wrong about the way the drag &123 button to numbers work. On my 635 with windows 10, it works the way you described in 8.1. Also, my smile face is just there like in 8.1.

The emoticon shortcut seems to show up in some parts. Can you check if it shows up on your 635 using OneNote?

Looks like your screenshot on my 635 too.

It indeed does not show up without the emoticon just like your phone. It does show up in email, but the click n drag does not work. It does work in the Cortana app. I wonder if this is old 8.1 apps somehow accessing the wrong keyboard? Or it could just be the standard MS Beta software (Even though I love it, it does get odd).

At 1:19 in the video you have the seperated emojies key Mark!

There seems to be some rare places where the buttons are separate, like in the messaging app. But in those places, you lose the comma key instead, which is also annoying...

So far looking great for being just an early build

I don't like the keyboard under W10. Difficult to use and mostly inaccurate keeps me on my toes as far as spelling.

Not sure why they didn't just use arrow keys. Would've been nicer. That said. I am really impressed with how well it runs on my 635, and it has some great new features in the OS, but 8.0 to 8.1 felt like a much bigger leap than 8.1 to 10 does. I'll have no problem waiting for the official release for my Icon.

For one you have limited physical space on a phone to put in arrow keys. If you put it in a different layout it is not convenient eg if you put it in the numeric/punctuation layout, this means you have to keep switching back and forth. This is a new idea to solve this issue.

Yea, but it's in the wrong place. Should be in the space between the G, H and B keys. Haven't they ever seen an IBM/Lenovo laptop? ;)

looks very promising, I like voice to text

If you like voice to text you gonna like the telephone functionality where you can transmit voice as - voice

Whoa whoa whoa. What new fangled technology do you speak of???

lol.. like me and my sister the other day. my car reads the text to me and I verbally answer to reply. she is also doing the same in her car.. I'm like, Why don't you just call me?

That's funny. Totally see that happening to me. :)

Seriously? You write 1983 like that? My god.

the point is that its easier/faster if one just want to type one or two number without going into number keyboard mode and vice versa.

keyboard looks nice, wish it gets themed better, that dot looks to be a nice touch, and yeah don't think I would like not having that faster access to typing numbers either, also I don't wanna hold the num key to get to my emoticons

So....... no landscape keyboard..... again......

Uhm, turn your phone sideways...works for me, so long as the app supports landscape..

Sadly, not enough do anymore. I still can't figure out why they removed landscape from Skype. As far as I know, it's still supported in iOS and Android, but no dice on my 820 or ex-1520.

I know. I've been bitching about full OS landscape, like a tablet, utilizing all of my reincarnated names. Go ahead WC, hit the ban button for multiple accounts which i don't have, I have a new username picked already.

Hello Mark, thanks for this review. But did the W10 keyboard retain WordFlow?

Does the new keyboard support haptic feedback? I would really like that. Can't wait to get this on my 1520.

Does it still have wordflow? If so is that coming to Win 10 for tablets and hybrids?

I like the windows phone 8.1 keyboard.

AWESOME. When 1520????????

Was hoping for a better sizing or something. I've found the Windows Phone keyboard to be fairly inaccurate and frustrating at times.

Then suggest that. That's what the insider program is for :)

Much better then android or iPhone :P. But yes, there's still room for improvement.

I change between Swedish, Norwegian and English all the time, is it possible to get that key back?
I have Lumia 930 so no Windows 10 for me

Yes, it still works. It looks a little differently now, but basically works the same. If you press and hold a language it shows you a keyboard language icon and a settings icon. If you tap the the language icon you see the same icons as you saw in 8.1, so it basically works the same: you hold the language icon, swipe up to a the keyboard language icon, and swipe over the language to switch to.

Thank you for the answer! Glad that its still there, I have heard many people complaining about it, because they wonder who needs that :P

Too be honest, after 3 year's of being with Windows Phone, I expected more progress. This is disappointing. If my Samsung Focus had a notification center and Zune was still around I'd take that over this newer version any day of the week. To have advanced from 7 to 7.1 to 7.5 to 7.8 and so on, and ve where we are with a broken Music service/Tile, a Games hub that inexplicably reloads every time, yet still has to list every game in the app list is just ridiculous. Every update seems to get worse and farther away from what made it so awesome. Just sad.

There are a lot of new capabilities, but there is something to what you say. I think now that they have a lot of new functionality, they should start looking to WP7 for design ideas instead of Android.

Paul Thurrott brought this up in a recent article... https://www.thurrott.com/mobile/windows-phone/1380/five-years-later-full...

Can't you hold the letters of the top row to insert numbers? Like the E gives 3? But i agree, combindingthese 2 buttons is weird and i don't see why they would do this. The extra space available for the spacebar isn't that needed and i feel they should've just placed two keys. Or add the emoticon button somewhere else (like right or next to the record button). All these demo's you guys are showing only makes me wonder if this isn't too much of an pre-alpha build. I would've thought they would be further by now. It seems that the team developing WP isn't big at all. Plus testing seems to have never been done properly (which i find odd). How are they testing this? Not every sprint cycle? The fact that they are rebuilding things like the start screen, the applist, various important apps and basic API's feels to me that this is pretty much the 5th time they did that. Why is it still so hard to add stuff to the homescreen? Why does it take so goddamn much time? If they needent do this, they would have so much more time to do other stuff. Not to mention the whole design guidelines are shot again. Nothing feels like its behaving like a single set of guidelines and every developer is just doing something they think is right. Development of WP is just a plain mess and i'm beginning to doubt this platform and this version will ever reach their full potential. How would it attract customers if new versions (that people show around) are still so buggy?

I couldn't agree more. What was once a beautiful, simplistic, and elegantly flowing OS now feels like a hodgepodge of design tests thrown together. Windows Phone in it's infancy was gorgeous and functional and was innovative, this last few attempts feels rushed, incomplete, and just half assed.

Come on, it's just a technical preview.. It's far less than half baked..have patience guys.. WP future is safe in hands of Satya Nadella

Isn't that why this was released, to be tested by users like you and me? Anything you find not working or not to your liking, you give feedback to MS?

Yes.. We are supposed to give feedbacks.. But what these guys are doing is that just complaining.. If you don't like any feature in w10 or if you feels like it needs to be improved, give them reasonable feedbacks and stop complaining .. MS is not gonna hear your words here in WC..go to insider feedback app

Actually, you were pretty much on the spot by thinking this is a pre-alpha build. Microsoft has stressed numerous times that this an extremely early version that normally wouldn't see the light of day outside of Microsoft yet. It's not even near the "Preview for Developers" level of quality yet. And this is why it only runs on such a small subset of devices right now. The biggest change is one that most people won't even notice: the backend is now the same as the one on desktop Windows. With that out of the way, now Microsoft is shifting its attention towards the UI. For that, they want to hear what the public thinks, so that's why for the first time ever they're releasing an extremely early build to try out. Yes, it's going to be buggy and inconsistent as hell. They even warn that some updates might leave you with an unusable phone for a period of time. But on the flipside, there's now an opportunity to voice the opinions behind those things like the new UI design and actually have it make a difference. If Microsoft waited until later in the process to release a preview and then people started complaining about not liking certain UI features, the chances of them changing it would be much more smaller since they've already gotten so far along in development. But right now that opportunity for change still exists.

So you'll rather use a longer time typing 1983 than a normal person would do it? Ok.

Found it odd as well. For a single number, swipe is fine. But if you are entering four numbers, just switch the keyboard to number mode quick and enter your numbers.

Oh wow, I didn't know about the number/drag shortcut, it's awesome but now it's going away?? Wat?!

Me to, seems obvious, now.

That wouldn't be as big of a problem if the number keyboard used the 10 key layout. I am very disappointed that this change was not made. Hopefully this is something the Preview team will carefully consider.

I wish you could enter numbers like you can do in windows 8, where for example, you would just quickly flick up from the W key to type a 2. Super quick, no long presses, no two button tapping, no long swipes.

So I guess OneNote hasn't got any improvements yet.

The new Office apps haven't been released yet.

Next Wednesday, 2pm you local time.

Stop asking that stupid question. Damn.

if this was an IBM ThinkPad, i would call it The Nipple.

I have it on my Lenovo Thinkpad ;)

I have some doubts... Sorry I couldn't see the hands on video, coz I dont have 3G.
Anyway, what I am asking is, if the microphone sign is there on the left top, then where has the paste symbol gone? Does it come right after the microphone sign? I mean... If I wanna copy and paste something, its the same way, right? And also, about the comma... I just saw it in the picture that its on the left bottom side of the keyboard. While what I have been using is the keyboard, which has comma below the alphabet 'n'. Right hand corner. I remember there was one setting regarding the placement of the comma key... Is it still there? Sorry if you feel the questions are dumb. But I need to know. :)

The paste sign will be shown near the microphone once you copy any texts.. Don't ask such dumb questions buddy..

And yeah comma has moved it's place and we don't have dedicated emoticon key

It's out on the pirate bay already. Look it up.

Stop asking stupid questions.

Looks good. The rest of W10... not so much.

The keyboard is sweet, I like the stick stuff

Oooh.. The red dot!!! Oh joy !!!

To go with your red tent.

I am gone to miss the emoji button.

Do they have all the emoji yet or are they still only giving us like half of them for some reason?

Is there some international standard set of emoji, that everyone has agreed on but MS has shorted us on? Really, is some standard like Wingdings?

I don't really like the new cursor thing... I use emoticons all the time and having to hold numbers for shortcut will be kind of annoying.

Isn't there a setting to disable that emoji feature

I'm not looking the emoticon "shortcut" either.

Dang, I didn't kno about the 'hold symbol key n swipe' till now. I'll no doubt get very used to it by the time I get W10! Best get over t user voice n vote..

I am also eager to give my suggestion for better improvement WP but I am waiting for my Lumia 1520, still such CV is not in list. Please make it fast.

Is it possible to contribute to the feedback without having installed the preview? I'd like to vote for keeping the tap-and-hold function for numbers as it is in WP8.1 now. Maybe at the uservoice site? Didn't find anything concerning this case.

Love the keyboard in W10 from the video. Although I'm aware of swiping numbers in 8.1 keyboard, I personally never use it because I find it too cumbersome and slow so I'll not be missing it but other people will so... But more improvement is needed in the use of the cursor mover and copy-paste.

What about multiple languages? Did they put all the suggest words from different languages in one keyboard or i still need to switch keyboard. Can i put for example German qwertz keyboard but with English suggestions. Swiftkey on android and ios can do that for ages and its much smarter keyboard. If Microsoft can't do that then please allow third party keyboards to be installed.

Until and unless you would not use Windows 10 than actual feedback not cine properly so, its important to release windows 10 on Other devices such as my Lumia 1520.

One of my biggest gripes with the keyboard currently is that the keyboard changes, almost completely randomly, depending on what app I am using. It seems like that is a continued trend in windows 10.
In my opinion the only time the keyboard should change is if its a number only entry and then give me a keypad (which didn't show up nearly enough currently).
I imagine this is more a developer issue than an OS issue but honestly this is one instance where I say close the gates and force it through the OS, don't leave it up to the developer to decide. Oh and the nub. Make that mandatory, it's the greatest thing ever in mobile phone keyboards. Possibly beating swipe typing.

You do realise you can tap the 123 button on your 8.1 keyboard to stay in the numeric layout?..

Which is what I prefer to do because I find swiping the numbers in 8.1 slow and cumbersome. But I absolutely love the swipe keyboard in 8.1 and I think the addition of the mic in the W10 keyboard will improve it even more.

How to change keyboard language?

Probably the same as always, through the setting.

Don't be such jerk.. I'm not on w10 and right now I have a dedicate button in keyboard to change between English, Portuguese, Spanish and Malay right after numbers button... How about it on w10?

What he's saying is that the process would not have changed drastically.

You type really faster in the mobile !

I don't really like the emoticons on Windows Phone. Luckily WhatsApp have their own.

C'mon, you went to a Kanye concert. The lights and massive crowd must've made it warm, there's no way it was THAT cold. Ahahahaha

It's the best thing that could happen, that the space bar is bigger now.

I don't see the microphone on my L730. Do we need to enable it?

There's also more support for word flow keyboard, Croatian for example.

Can you find out if there's Portuguese for word flow keyboard

I assume you can still also move the cursor by tapping a location on the screen? And how does copying a bit of text work now?

Also the word flow shows suggestions AS you're dragging your finger, which is very awesome.

"you can also use swipe", does it work if you're typing in Portuguese?

What's the use of red dot?

It's interesting, but I'm not sure of how useful the new cursor/virtual joystick/nub is. I feel it's more cumbersome than helpful, to be honest. And while this is a general complaint with Metro 2.0: I also don't like all the fonts being made thinner. They don't "pop" as much anymore, they don't stand out as much and are therefore slightly less distinguishable and harder to read than WP8.1 text. Translation: Microsoft is abandoning some of the key Metro philosophies of easy to read, big and bold typography. Most disappointing, if you ask me.

Great run through however hopping that Microsoft doesn't keep to this change of number/emoticons access which is not convenient at all compared to what we currently have. Is clear that they are trying to accommodate needs of users switching over from iOS and Android by making them feel at home however it would be good to keep some of the main signature features by Microsoft Windows Phone itself. Just hope that they start allowing third-party keyboards such as GIF also allow GIF images to animate in Photos and other apps, it would be ideal if they had animated emoticons just like Skype for Desktop.

Phone lags badly on lumia 730

It's a technical preview so it will not be smooth.

The microphone icon is not coming on my lumia 630 after updating. How do I get it

Hey guys I am not able to sign in for windows insider when I am doing so the message pop ups of check ur internet connection ir date/time so please help me guys what to do I am eager to have windows 10 on phone
Having Lumia 520
Thanks a lot guys .

Lumia 520 is not supported for the first preview.

when on my iphone 6 minus?

It will be great if they can add top line of numbers on keyboard... This is great feature on my bussines S5

I prefer the old hold the number key and swype to enter a number from the text keyboard. Don't have the preview, so I am relying on your description.

Can the keyboard resized?

Is any guy tell me When windows 10 will release for Lumia 1520

No, that decision belongs to Microsoft. Go onto Twitter and follow Gabe Aul and the dude with hair.

You must be the most impatient Indian in the entire mankind.

I am waiting but how much shall I wait

OK... You can stop showing off now! Most of us We're left behind with our expensive high end phones and all these articles make that ever more painful to stomach. ;-)

Wonder if they ever gonna expand the supported langages for speech recognition and swipe. Neither is so far supported in Swedish (and a bunch of other languages).

Lets hope they fix wordflow accuracy... Swipe on Android is 10x more accurate at getting the words I want to type

I need to play with this. Definitely picking up the 635 today and when the 1020 is added to the list I will use both. Wish I owned the 1520 too. Anyway, this is gonna be fun.

Not bad. Not sure I'm thrilled about the emoticon button being hidden as I use them often. Does the copy/paste icon still appear in the same place as well?

The keyboard has the separated emoticons sometimes. It is when the keyboard has the comma key that it puts then together. It's not consistent, in texting it's the old way but other apps including windows central, it combines them. I like the new keyboard a lot but it needs consistency. One nice new feature is that copy now persists. In 8.1 it seems to lose the copied text as you switch to various apps or after some time.

That's weird. I still have a unique emoticon button next to numbers/symbols on my 635 with the technical preview.

Am i able to replace numbers in the middle of number while dialing a call ?

I want for my 920 please & thx

I'm pretty sure Windows central can't fulfill this request.

Hey guys will updating to windows 10 update my phone to denim first
I am using Lumia 630

Happy updating, share your experience in the forums!

"When will windows 10 be available for my phone?" is the new "will we get a new flagship"?

WP keyboard is the most horrible keyboard ... either do something like swift key ... or let developers develop their own keyboard like android and IOS

Uhhhh no thank you. The third party keyboards in iOS 8 are junk. It would be like saying "Sure, I'll accept a keyboard on my box that randomly quits working and I have to reset half the time I want to use it." Knowing the overall quality of software on Android, I honestly can't see things being much better there.


I think the keyboard on the 8.1 looks better:/

Please tell me it will remember my email address or have one of the eight emoji screens turned over to user set macros

No 10 key NUM pad? Well, that is a disappointment.

Actually, the press-and-hold for the number button doesn't work in most apps. In fact, in Messaging, it doesn't work and the button to the right of the number button IS the emoticon button. It looks like that feature only works in OneNote and Word. It's not present in Excel. As I try different apps and bring up the keyboard it looks like there's no way to even access the emoticons in some apps because the emoticon button is replaced by things like ".com" or a simple period. Also, I notice that the virtual mouse or cursor control or whatever we're calling it is in a slightly different spot depending on the keyboard that comes up. I don't use emoticons, so I really don't care about that, but I cherish consistency. This is one of the many reasons I HATE Windows 10 on the PC. And while I do like the virtual mouse on the new keyboard, I don't understand why they can't keep it in a consistent spot.

Great video! I'm excited to use the new voice and pin-point features :)

You probably should print a correction to your video. The keyboard is the same as 8.1 with the dragging. It's dependent on the application you're in. I assume the application can pick a keyboard that fits. The keyboard is like you show in onenote probably because it makes more sense to not have the emoticon key on the keyboard because it's used a lot less. Just my guess.

That voice typing is looking great.

Thanks for the video, Mark. I'll admit, I was completely misunderstanding the point of the joystick button on the new keyboard on my own 830. I thought it was supposed to be used to move the keyboard around on the screen (as I'd seen during the Windows 10 announcement). When I couldn't get it to work, I assumed it was because it was only for larger devices like the 1520. As you demonstrated, it's actually used to precisely move the insert point. While handy, it's not terribly intuitive, and besides we've been able to do that with the conventional insert point cursor for some time. Not sure it's really needed. I also concur that the updated behavior of the &123 key is quirky. Like you, I had grown accustomed to using a quick swipe up to enter numerals. I noticed that the new keyboard seems to offer predictive suggestions as you type, which is more like the soft keyboard in big Windows. That's awesome. The dictation button is a fantastic addition that I've been anticipating ever since WP7. I can't believe we've been so long without it. Not sure I care for the placement of the button instead of just a key near the bottom of the keyboard, but whatever. All in all, it seems to do a pretty good job, but it's awkward to make corrections and in general to let it know when you're finished dictating. I've found that if you tap the button again, that seems to stop dictation. You've also got to be patient with it; I found that if you give it 2-5 seconds to process, it cleans up some of the initial typos and formatting.

just have a problem have not delivery with a mark

Where is menu or option to resize the keyboard? Is that option only available on lumia "1520"?

Since nobody has a build that runs on that thing yet, your question must be filed under "Questions for the Ages."

I wished it was a bit different in looks, though even the current one looks nice, still it would have been great if there were some minor changes

I'm thinking of rolling it back. Will wait for a stable release.

I just heard a rumor that Microsoft will quit making phone hardware this year. Has anyone else heard it? Supposedly they cannot get any sales without massive subsidies.

I use emoticons almost all the time! Moving the emoticon button over there was not a smart move.

Very nice, thanks Mark ;)

Emoticon button needs to be on top... I think its important to portray feeling/emotion in a text as otherwise they can be easily misread... Keyboard is known to be bullet proof, even by the IOS and Android trolls that lurk around here.. Don't fk with it too much please MS! :|

u went to no kanye west concert.

I think it's awesome how Microsoft is working so hard to try to improve the OS. They are taking all the input from users and applying all the changes. The biggest complaint is the lack of apps but hopefully the universal app inclusion will address the issue. Also, developers have to be encouraged to get on board and build apps. If they can include and improve on the apps that are used regularly, then many people will get on board. I changed but I will come back if the apps improve. I loved the OS.

Hopefully the keyboard input doesn't lag if I type many words. Wp7 didn't have this issue.

Please leave as many feedback as possible about the tap-hold-swipe behavior of the keyboard because is a critical feature!

I like the cursor. I like the Voice Dictation, Keep those. I hate the new keyboard layout, I hope it gets redesigned to bring back the Comma key and the separate number and emoticon keys

hey Mark, care to share your wallpaper on your w10 device? It looks great

the update is horrible . windows 8.1 was working smoothly, but this windows 10 is laggy . the photos app is horrible .and the main feature transparent tiles are missing . mobile data option from action centre is missing . bad GRAPHICAL USER INTERFACE . guys please do not update this build unless it is stable and didnt have any bugs.there are many bugs like while switching off the 'good bye' note goes left of the screen , settings take time to open , language cannot be changed as we open language in setting , it brings back to the same position . uc browser not even opening . waiting for next update ... this is my primary phone .... :( :(

You did read the disclaimers before installing the build, yes? You did understand that this is not complete, yes? If it isn't working, then roll back to 8.1... OR... Start reporting the issues to Microsoft using the included tools. That will help make sure that when 10 is complete, you'll have a great experience. By all means, keep sharing with the community, but please make sure you're sending in good, easily understood reports of the issues you find.

There is no microphone button on my keyboard in my Lumia 630 dual sim, even after the update.

I don't have the microphone button.. Lumia 730. Please help..

Hello I don't see the microphone icon on my keyboard I am using the win 10 technical preview on my Lumia 630

ok, I'm new to all this stuff, so I'll bite: why does the space key have to be so BIG? and getting bigger... in 8.1 it is 4 keys wide, now 5. oh, tell me... there were so many complaints that the 4 key wide space bar was too small?! what about 2 wide, centered, for left or right thumb. that gives room for left/right cursor keys <> and a dedicated comma and full stop and number/emoticon keys.

I am not feeling the new way to get to the emoticons. On the flipside, the voice dictation software looks like it has made some major strides.

Can we know a list of supported languages? There are many Indian languages that are supported on Android ( open for third party keyboards before and now officially from Google ) and it is nice to type in our mother tongues. Windows phone won't allow third party keyboards, nor develop one themselves. Yeah the OS is cool, Yeah im happy to compromise on a few apps... But its MANY of these LITTLE THINGS that add a LITTLE discontent for the MANY! Windows phone OS needs to be open ( Not locked down ) for development. Let developers fix all your shortfalls...clearly you guys done get it ! You were late to enter and if you want to appeal to us you have to woo us big time!!

The comma in the left side is so annoying!!!!