The new Lenovo MIIX 700 Windows 10 tablet might make you do a double-take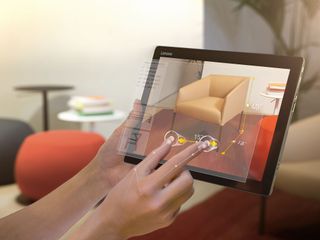 Lenovo has a ton of new Windows products at IFA this year and one of them is this, the MIIX 700. And you're probably looking at it at least twice. Partly because it's a great looking, high-end Windows tablet. And partly because it looks a little bit like Microsoft's own Surface Pro 3 right down to the kickstand on the back.
It'll available in gold and black with Windows 10 starting at $699.
Specs wise, here's what we're looking at:
Swipe to scroll horizontally
| Category | Specification |
| --- | --- |
| Operating System | Windows 10 Home or Pro |
| CPU | Up to 6th-gen Intel Core m7 (Skylake) |
| RAM | Up to 8GB LPDDR3L |
| Display | 12-inches, 2160 x 1440 resolution |
| Storage | Up to 256GB SSD |
| Graphics | Intel HD |
| Weight | 1.7lbs |
| Ports | 1 x USB 3.0, 1 x USB 2.0, Micro HDMI™-out Micro Sim (LTE / 3G SKU only), microSD™, Audio Combo Jack |
| Battery Life | Up to 9 hours claimed |
| LTE | Optional |
| Other | Optional keyboard dock, Intel RealSense camera (Rear) |
| Price | From $749 |
The comments about the appearance will come and they'll be somewhat justified. But on the other hand, Lenovo is giving us a look at what we might be expecting from Microsoft's next Surface Pro. While it's a little disappointing the RealSense camera is limited to the rear, meaning no Windows Hello facial recognition, its inclusion is at least a positive step in the technology being adopted.
There's also a new CPU in there, an Intel Core m7 6th-generation, along with more regular sounding fare like options for a 256GB SSD, 8GB of RAM and a keyboard dock that'll work (as we know) just great in tandem with the kickstand.
It's important not to judge the MIIX 700 just on its looks. We'll be getting a closer look at it from the show floor in Berlin in the coming days, so stay tuned to Windows Central.
Windows Central Newsletter
Get the best of Windows Central in in your inbox, every day!
Richard Devine is an Editor at Windows Central. A former Project Manager and long-term tech addict, he joined Mobile Nations in 2011 and has been found on Android Central and iMore as well as Windows Central. Currently you'll find him covering all manner of PC hardware and gaming, and you can follow him on Twitter and Instagram.
The Chinese like to copy or "improve" don't they.

Well Microsoft always said Surface was meant to be as a reference for what other OEM's should do. I'm just surprised it took this long.

That was my first thought too!

Yes, I thought so too lol. I'm interested... Wonder if the back plate can be opened, like the Dell v7000s - would like to get in there and swap ssds!

If not, there's always a Dremel tool. Someone already cut a hole in a Surface Pro 3 and replaced the SSD with a Samsung 1TB SSD.

OEMs where skeptical.... The only sad thing would be, people will think Lenovo created this form factor, as the majority of the world did not see the Surface Pro 3... And i am pretty sure availablity of the MIIX 700 will be waaaaaaay wider than the SP3. All in all, Lenovo brand equity is way larger than the Surface, which will easly shadow it.

Exactly! Here in the Philippines, Surfaces aren't officially sold. I hate to admit but I will really buy one (Lenovo MIIX 700) when it reaches our shores. I really hope Microsoft would be offering Surfaces here by then.

Too late.. The new Macbook captures my heart... The love that was meant for the Surface Pro 3 :-( really need for School...

Oh well, to each his own. I will be all over a Surface Pro 4. It does need to be said your Macbook doesn't have the performance of a Surface Pro 3, because it's running Core M.

Just curious, why did you choose the new MacBook when an Air is cheaper and more powerful?

Obvioulsy, I can't speak for the OP, but the most common pro-MacBook answers I've heard are the high-DPI screen and low weight, it weights practically nothing. And, it's a sexy looking piece of kit.

I suppose I can't speak for the entire world, but im pretty sure most of the target audience for this already knows about the Surface. So I highly doubt anyone will think Lenovo created this form factor. If anything, people that see this in the wild will just assume it's a Microsoft Surface.

It was never Microsoft's intention to compete with the OEM anyway. Who cares if Lenovo end up producing the better product. I'd say good job to Microsoft for showcasing their Surface lineups and showing to OEMs that such form factor do have its appeal.

Yep, but I still want a Surface

I give it a thumbs up!!!!

Imitation is the sincerest form of flattery, right? That bezel, though; massive!

Well, it's a tablet. You need a bezel on a tablet else how you gonna hold it?!

That's for the engineers to figure out! :)

lol.. this made me laugh.

I believe the engineers' solution is to hold the bezels. They're not wizards, you know.

Actually the engineers already did figure it out. https://www.youtube.com/watch?v=FS2v8bNf9vU. Around 48s she shows that the screen gets smaller when in tablet mode. I don't know what you would do about the cameras though.

Hey Richard any idea how much the new surface pro 4 might cost?? Just for comparison..

It will probably be pretty close to the SP3's pricing as long as the screen stays the same size. There are rumors of a 14" screen for the SP4.

Well you don't need it to be this big to be able to use it.

Still too damn much for me!

Throw in the keyboard for $50

Need to find out thermal and fan Noise, and wait for report to say it is malware free

Get over it and stop spreading FUD, it was an ad software not malware, Lenovo apologised and even the affected consumer models were updated and current models no longer come with that software.

Lol, $600 for a core m? No thanks...

Why get a Surface knock off when you can get the real thing? and why the hell would you put a USB 2 port on anything in 2015, don't be cheap just put 2x USB 3.1 ones on there not just one 3.0.

Well the advantage of this one is you get all that wonderful Lenovo additional software, like Superfish. For free!

For those from 95% of the world who can't buy Surfaces maybe? I got to import mine, but not everyone does.
But can't agree more on the USB matter. Why USB 2.0? Why?

Lenovo Miix 700 will be available around the World unlike Surface which is limited to handful of countries.

12" with resolution 2160 x 1440 is in fact quite unique to Surface Pro 3..... And the kickstand... Hard to accept that the design is not copied from Microsoft... One better thing is that the keyboard seems to look quite premium, compared with SP3 type cover.

I'm drooling all over that keyboard. Seems classy.

I think the surface 4 will have core M instead of the atom.

There would be mutiny if Microsoft tried to put anything put full Core i into their Surface Pro line.

Notice he said Surface 4 not pro 4.

Real sense camera IN THE REAR? what is the use case for that?!

It's obviously for the most common use case when someone else uses your tablet and you want to log them in while standing in front of them instead of behind them. It's not like it's common for you to log in sitting in front of your tablet right? I'm just hoping it's a mistake in marketing rather than their design team actually decided to put it on the back lol,why would anyone create a new Windows 10 device with the hardware for one of it's most noticeable new features and then make it impossible to use that feature....

This MUST be a mistake in the specifications chart, there's no other way..

That camera is on the back for "No Hello!" Apparently, Cortana has an attitude in China and doesn't like to welcome people.

I am hoping we start to see more devices like this. HP have had a go and now Lonovo. MS Said they wanted OEM's to look at what they are doing and to take their ideas and use them on their own drvices. If they can do that and put them at the right price it could really start to jump sales of windows tablers because once people know they can use a device like this to us just like their ipad but also like ther pc's too its a no brainer. I just hope the 3rd party companys put some weight behind it. For me the Surface Pro 3 is still the lead device in terms of looks and specs but this is a good go by Lonovo.

This could be the one I've waited for. Kick stand, M processor and LTE. I'll wait a bit longer to see the surface 4 pro but this could be my 2016 machine.

I wonder if that keyboard will work with my Surface Pro 3? Engadget has a photo of it that shows the connector looking just like the Surface keyboard.

is the screen size the same? I was under the impression this one was bigger.

I'd like to see a better keyboard on the Pro 4. I like the one on the Pro 3 but it just isn't as solif as a real one.

I have a Surface Pro3 for work, and I like my personal Surface 3's type keyboard more. The material is nicer, keys are brighter, and the function keys are more useful. It would be nice to see a type cover that looked more like a traditional keybaord.

So this clone of SP3 does not support a pen? Then I am not interested.

I think it supports pen inputs too

But it probably won't support a digitizer, which is where the surfaces really shine.

the real sense camera on the back? really?

No hardware start button, sucks, especially on Windows 10 where the software start button is microscopic. These tablet makers need to realize that Windows 10 is not optimized for tablets like Windows 8 was and eliminating things like easy to press start buttons is a much bigger problem than it was on Windows 8.

Can't Microsoft sue these bastards, that's a damn copy with Lenovo stamp on it

Microsoft probably doesn't care as long as it runs Windows.

MS was probably involved in the design, or at least endorsed it

Couldn't tell from the article, does it have an active digitizer for a stylus? This is the only reason that I've been able to tolerate my SP3's form factor.

No windows button? Too bad. I tend to avoid buying tablets without that.

So the minimum specs for the price of $699 will be: 4GB RAM, 128GB SSD and Intel M m3. Everything is the same or better and if the keyboard is also backlit then we can ask - who needs Surface 4 ? Finally the price and hardware make sense so "thank you Lenovo" is in order (only the weight could have been improved i.e. 1.5 lbs/700g without the keyboard).

I haven't touched it yet but I do think the keyboard looks like my kind of keyboard.

Price is easier to swallow, but what features set it apart from the Surface? tl;dr: Why this over the Surface?

Real sense in the back? How stupid.
Windows Central Newsletter
Thank you for signing up to Windows Central. You will receive a verification email shortly.
There was a problem. Please refresh the page and try again.