Don't worry, the new Microsoft Edge (probably) won't look like Chrome
Microsoft's new version of Edge, codenamed "Anaheim," has leaked in screenshots, and it has many people worried about the future of Edge. Fear not, we're here to explain a few things.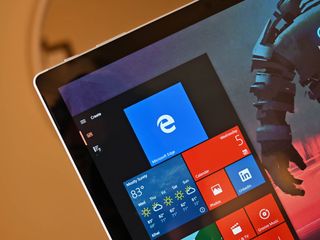 (Image credit: Windows Central)
This week, screenshots of an internal development version of the new Chromium-powered Microsoft Edge, codenamed "Anaheim," leaked online. They gave us all a first proper look at the work Microsoft is doing regarding its new browser. Unfortunately, those screenshots show us very little we haven't already seen before, thanks to the nature of switching to Chromium as a base for a new browser; it looks exactly like Chrome ... at least for now.
But fear not, if Microsoft does a good job here, the shipping version of Anaheim won't look anything like Chrome. The reason the early builds of Anaheim look like Chrome is that they're both based on the open-source Chromium project, which already has a UI, and Chrome uses that. Since work on Anaheim relatively recently started, Microsoft hasn't yet had time to design its own UI to stick on top, or build out any of the unique features the current Edge has that differentiate it from the other web browsers, like inking directly onto web pages, and perhaps even a set-tabs-aside feature.
Related: Microsoft Edge, Chromium, and Blink FAQ
Microsoft already said that it will be bringing many of these standout features to the new version of Microsoft Edge, but they almost certainly won't be there when Anaheim goes into public testing very soon. There's still a lot we don't know about Anaheim, mainly because Microsoft hasn't really talked about it from a user standpoint just yet. All communication regarding the new version of Edge has been developer-orientated, which only really explains the underside changes, not the changes we can expect to see on the surface.
Using Chromium as a base for your web browser is sort of like giving yourself a head start. You've already got the barebones of a working web browser if you adopt Chromium. With the original version of Edge, codenamed "Spartan," Microsoft forked its own rendering engine that was used in Internet Explorer but essentially started from scratch, which is why it took a few years for Edge to get on par with other browsers. Using Chromium, a browser that's already built-out and stable, you give yourself a head start in building out your own browser. All you have to do is take Chromium, make it your own, and ship it. That's what Microsoft is doing with Anaheim, and is why Anaheim won't need three (or more) years to mature, like the original version of Edge did.
Chrome foundation, Edge on the outside
Microsoft has done a poor job explaining to users what moving to Chromium means for the people already using Edge. In the official announcement, Microsoft stated that most of these changes would be under the hood, but that's just wrong. Moving to Chromium is a huge all-around change, both under the hood and on the surface. I think this will become much more apparent throughout the year, as we see Anaheim slowly progress from a Chromium look alike to hopefully something that looks a little more like the current version of Edge.
Pre-release build of Anaheim
All the Edge specific features you find in Anaheim will be features that Microsoft had to rebuild to be compatible with Chromium. Maybe there's some code reuse in there somewhere, but this is not a trivial thing. Even then, not every single Edge feature is guaranteed to make it over to Anaheim. Microsoft could decide to cut any number of Edge-specific features if it found that not many people use them, as now would be the best time to do that since the company needs to rebuild them anyway.
Anaheim is an entirely new browser for Microsoft and Edge users. Sure, the shipping product may look like Edge, but under the hood, and on the surface, it's an entirely new browser powered by Chromium and the Blink rendering engine. While Microsoft doesn't have to advertise that fact to ordinary people, it's probably important to share these details with Insiders, IT admins, and the likes — not just developers, who understand this kind of thing a little better than the rest of us.
I wouldn't worry about the UI in the initial previews of the new Edge. We're going to see this evolve, improve, and transform over the year ahead. We'll even see new features, some that were already available in the old Edge and others that will be new to Anaheim. We believe Microsoft will differentiate Anaheim enough that it isn't just another version of Chrome.
Get the Windows Central Newsletter
All the latest news, reviews, and guides for Windows and Xbox diehards.