Microsoft just announced Epic Games, Opera, Discord, and more for the new Microsoft Store and Windows 11
The new Microsoft Store is ready for October 5, 2021 with Epic Games, Opera, Discord, LibreOffice, and more joining.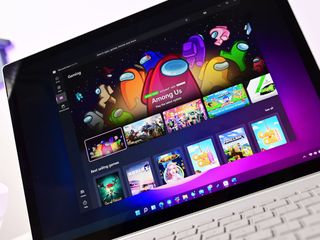 (Image credit: Daniel Rubino | Windows Central)
What you need to know
The new Microsoft Store is headed to Windows 11 users on October 5 alongside the operating system's launch and will be coming to Windows 10 users in the next few months.
Epic Games' and Amazon's storefronts will be on the new Microsoft Store.
Browser apps will also be on the new store, including Opera and Yandex.
Other bigs apps are now available too, including Discord, Zoom, KakaoTalk, Luminar AI, Music Maker, VLC, TeamViewer, Adobe Acrobat Reader DC, and LibreOffice.
The new Microsoft Store has changes that are set to shake up Microsoft's existing storefront experience in a big way. Prepare for stores within stores, browser apps, and a whole lot more. Here's a quick rundown of what Microsoft shared in its recent blog post.
First, there's the release date news: The new Microsoft Store is hitting the public on October 5 right alongside Windows 11's launch. Windows 10 users will get the new store as well, though that'll be happening a few months later.
Also, don't forget that the new Microsoft Store will allow for third-party storefront apps so there can be store-ception. Expect Epic Games and Amazon to bring their storefronts to Microsoft's in the coming months.
On a related note, app developers won't have to give Microsoft a cut of their revenue (this policy excludes games) as long as they're using their own commerce systems.
But that's not all. Microsoft is also allowing browser apps aboard the new store. Opera and Yandex are coming as part of this browser-friendly initiative. And tons of desktop apps are already in the MS Store waiting for you to download them, including Discord and VLC. Progressive Web Apps (PWAs) such as Reddit and Lyft are in the store as well.
Lastly, Microsoft hasn't forgotten about its promise to bring Android apps to Windows 11. That feature will be rolling out to Insiders "soon," so stay tuned for concrete dates.
Robert Carnevale is the News Editor for Windows Central. He's a big fan of Kinect (it lives on in his heart), Sonic the Hedgehog, and the legendary intersection of those two titans, Sonic Free Riders. He is the author of Cold War 2395. Have a useful tip? Send it to robert.carnevale@futurenet.com.
Is it faster than native app? I

Faster than w10 standalone app or website?

It's the same app! Why is this hard to understand?

When someone's only goal is to troll Microsoft, it is very hard to understand. No app will ever be faster than the native app so they were just looking to piss and moan but it back fired because it's the same app as the one they are trying to compare to. Truth is we want a version installed and managed by the Microsoft store. We need windows 10x. I'm getting really sick and tired of these anti Microsoft store people. It's irritating.

Well, I'm not an anti-store person. I don't have w11 on any of my system and just asked casually. Why did you being ironical ? Nobody asked from you BTW.

Gotcha! In OP, I meant to stand-alone app but wrote the opposite.

This is really good news...

Awesome, I like this and will install them all in place of their win32 versions

They aren't different apps. They are just packaged differently.

Are these provided and updated through the store, or are these just passthroughs to the the companies' servers? It's great to see results in the Store no matter what, but the primary reason I like the Store is because there's a single thing updating apps in the background rather than a dozen different services each updating only one app.

Developers can choose to update through the store, but these specific ones are likely not that otherwise they would've already been in the windows 10 store. I think the way it works is either you submit an app directly into the store which then the store handles everything or it's just discoverable through the store and separate. But maybe my understanding is wrong.

Close. It has to do with they packaged the apps. If you use MS packaging you get all the "store stuff," but if you don't it just lists the app, no Store link, no auto-updates, etc.

Ah ok thanks for the clarification!

It's good news that the Store is getting attention. However regarding the paradigm shift, this attention is not the one we, end-users were longing for. Even Google Play Store, Apple Store or the old Microsoft Store were unable to deliver what they promised to be. A 100% reliable place to download software from. The latest change, that Microsoft is not even attempting to deliver such thing is a mixed feeling. I am happy that much software is brought to Microsoft Store, but let's face it. It is nothing more than Pinterest channel.

Yup, agree there. MS does give a path to devs to make that happen. I think the goal is 1. get them in the Store with no barriers to entry 2. Lead them to what you're suggesting (since that tech already exists, it's just up to the dev to make the jump). We'll have to see if anyone does that. I'm going to to talk to MS about that soon. Stay tuned.

exactly this.. they need people to click the store to begin with.

Yep, need to get people used to using the store. Once that happens, more developers should see the benefit of using their services.

Other OS's have stores. It appears Microsoft just created the App Mall.

This is probably the only thing that could get me to install my free copy of Luminar.

Will there be any increased danger that malware could make it into the store?

I dont think so, store means all apps should be verified and safe, so i dont think there will be any malware

But when will Microsoft programs enter? Lots of Microsoft program that's not existing in the store and why not show off to dev that we will go for it to? Fells like a unsafe area when not even the maker of the store won't use it fully.

MS power toys recently came to the store, Visual studio, Visual studio code and Edge also came so i guess, they all will come soon, maybe they r setting up things

I was hoping for the Mouse and Keyboard app.
Windows Central Newsletter
Thank you for signing up to Windows Central. You will receive a verification email shortly.
There was a problem. Please refresh the page and try again.