New MyTube! Beta picks up background audio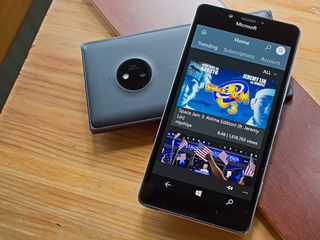 The beta version of Ryken Apps' third-party YouTube app MyTube! has been updated for Windows 10 for PC and Mobile. The new version supports the Windows 10 Anniversary Update with background audio features and more.
Here's whats new and improved in the beta, which has the version number of 2.9.35.0:
Redstone support
Started implementing background audio
Saves space on mobile devices by hiding header bar on video page
Saves space in landscape mode by hiding the header bar
New color scheme for the player controls
On Redstone, the player controls are now translucent and blur the video behind them
Added color scheme selection (not yet complete)
Started working on Chromecast and DIAL support
Started working on remote system casting (Casting to other Windows devices running myTube)
Changed Xbox/TV Mode style
TV Mode now automatically goes fullscreen
Comment control no longer focusable or clickable
Able to post comments
The app should now keep you signed into YouTube for more than 60 minutes
Moving your finger quickly will seek at a faster rate
Ryken Labs sent us this additional note about the update:
In addition to Windows 10 on PC and Mobile, Ryken Apps is also working to add Xbox One support for MyTube.
Download MyTube! Beta from the Windows Store (opens in new tab)
Windows Central Newsletter
Get the best of Windows Central in in your inbox, every day!
I could not tell you how long I've been waiting for this.

Me too. In mine the app stops showing recommended videos, comments, duration of video and likes and dislikes after a few minutes. I also can't comment, hope these problems are fixed.

Haha. Sounds like you have the software equivalent of a door stop.

Software has been running ok. It's the app. I'll check the update.

I was under the impression that apps were some kind of fish monsters invading our phones.

I didn't know that fish monsters exist

Hasn't MyTube had background audio for months now? Or is this something different?

The non-beta version does. The article is talking about the beta.

It works smooth without pause thats the difference

The 8.1 version does, this is the beta for the UWA.

Yes, myTube does have background audio ever since. The changes is actually more on the OS with new API changes, the audio stream are separate from the video and thus there is no need for the app to switch source resulting on having a seamless background audio without pause. The older implementation before Redstone, the app playing video has to switch to completely different audio stream when you leave (not close) the app. Which causes a brief or long pause of audio, especially when the audio has to be streamed from the internet.

Where is the save video options??? Or is it i aint seein it???

Really looking forward to getting this on my XboxOne! ;P

Same, this is going to be awesome!

First WhatsApp, now Mytube. Get all the betas!

Betas rule XD atleast on windows.

Chris rocks! We really don't need official YouTube app, this one has literally everything!

I've been using tubecast scince i decided that I needed a youtube app, but this looks cool will download and try it out

This is pretty awesome, and it is great to see these apps getting updated for Windows 10, and the anniversary update. Unrelated: The picture for this article really highlights how much better designed Nokia phones were.

Use the mobile version, non-beta, my only issue is the playback which takes a long while, and sometimes does not play.

MyTube beta crashes right after I sign up with youtube acciunt and granp permissiont to app. Is there known workaround?

Going to give this a try again now that it has background audio

How do you share videos in the beta??

Installed and donated $4.99. AMAZING YouTube app! Love the background audio as now I can listen to YouTube audio while doing other things when using Continuum on my 950XL, making it so much more like a real PC!

Hey Guys those of you who have the latest redstone build and would like to download WhatsApp Beta you can do it at least for now, here is the link for the app https://www.windowscentral.com/e?link=https2F%2Fclick.linksynergy.co...

Some bug in the store is letting users download restricted apps for mobile

Good. The offical YT app on Android requires YT Red for background playback, unless you root and have Xposed modules.

This app is one of the main reasons I will continue buying Windows 10 Mobile Phones, I wont change it for any Pokémon out there

Didn't actually know there is such an app. Will definitely download this.

Last I heard (way back in the day, dont have sources), YouTube is not happy when apps have this feature but users are definitely are including myself :)

Does the developer have a Reddit sub or something?
There are so many usability problems on PC's I would love to give some feedback.

How to download videos using mytube beta? I dont see option to do so. Please help.

Only thing I wish for is more comments to load. Cause quite often after watching a video on my phone I like to read through the comments.

We need "apps for websites" so every single YouTube link opens in the app

Better than the official YouTube!!

Love the app, best client ive used. However the "subscribed to" button does not work for me. Is this the same for everyone else or is it just me? I click on it but nothing happens. Everything else works perfect but struggle to use it without my subscribed list.

thanks for qr code...but where did ms hide qr scanner in windows 10 mobile?

The background playback works only with the Redstone build? I'm not an insider, so I haven't got it yet and I can't play any videos in the background. Or this is just an issue on my phone?

is it close caption support? I can't find any button to activate it.

MyTube! Is the best. Can't wait for the finished Universal app.

"Best youtube app....Gr8 work developer....."

I use it, donated to it and enjoying it. What`s missing from it is notifications for comments.

Unable to reply and give like to the comments in this app but its good as a beta version

Played the new Britney Spears video ok, Guess tbe beta app is ok.......LOL

I've donated. This one is a must have. I got lost doing some things in it and put it in some mode I could not get out of but it is so well done, I was happy to donate. Good job dev.

Its an awesome app, but it misses copy link or share. And i really need that.
Windows Central Newsletter
Thank you for signing up to Windows Central. You will receive a verification email shortly.
There was a problem. Please refresh the page and try again.