A closer look at the new Photos app on Windows 10 Preview for phones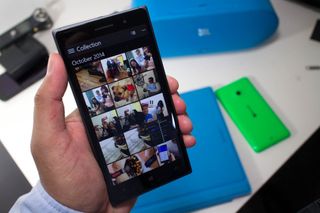 When Microsoft released Windows 10 Technical Preview for Phones, one of the highlighted features was the new Photos app. The preview is still very much under development and there are still some rough edges, but it enables users to help send feedback. The biggest change in the Photos app is that it automatically displays photos from across your PC and phone via auto syncing OneDrive service. Want to see it in action? Take a look at our hands-on video.
When you open the app, the collection of photos is shown by default. Some photos are automatically grouped together, but I don't know what algorithms are being used to create the groups.
Tapping a photo thumbnail displays it in a bigger size. At the bottom of the screen are options to share, edit, or delete the photo. The three dots give you more options for a slide show and the file info. Swiping up on the photo page displays file info. It shows the file name, date, resolution, file type, file size, device, and source. The edit function in the current preview lets you rotate and crop the image.
When you tap and hold a photo, it automatically selects it. The Photos app then gives you an option to select all the photos in that group. When multiple photos are selected, two options become available at the bottom: share or delete.
The top left corner has a hamburger menu. It lets you go into Folders view or Albums, which are both currently unavailable in the preview. You'll see this message when you tap Folders:
You also have access to the settings via the hamburger menu. From here, you can enable or disable the option to automatically display photos from your OneDrive account.
This preview is still pretty rough, but you get a glimpse of where Microsoft is heading with Windows 10 for phones. How do you like the Photos app so far? What else do you want to know about Windows 10 Preview for phones? Sound off in the comments!
Mark Guim is Video Editor at Windows Central. He switched to Windows because the MacBook Pro isn't Pro enough. You can follow him on Twitter at @markguim.
I just want to be able to choose which screen the photos app opens in... I don't really care for it to open in the by date view. Personally, I would set mine to saved pictures because that's where I find myself visiting most...
...........
It would also be nice to give developers the option to have their apps create dedicated folders... That way Instagram, Afterlight, and Alcort, pictures would automatically go to those folders respectively..
............
WP10 needs to be all about options, and choice.. Definite, default, fixed ways of doing things don't fly in 2015, and they didn't fly in 2010... Nobody can disagree with options.

Can someone please...please highlight on the Xbox hub on Win10 phone? How's it? Better, replaced by Xbox app? Please someome.

It's NOT changed, which is why we have not covered it. So, no.

Thanks @Daniel, I can sleep now

@Daniel video doesn't covered inbuilt photo editor. Like technical preview on pc red eye fixation. Any thing new except that red eye fixing?

Nops. Now just crop the image.

does windows 10 lags as windows phone 8.1 like disappearing tumbnails or not appearing names in the list or resuming and loading screens and discontinous motion of transition??

What about the music app @daniel

Lol! I forgot it existed❗ Seriously.. That's sad.
It was what I was sure would make WP7.0 popular back in 2010... WP has come a long way, but some things never change... SMDH.

Like your colorful rants.

As long as you fell better, that's what counts.

Does your son complain about his 1520 as much as I do❓❓

SMDH.... I guess school, and running track, is more important...

Girls. Girls are more important.

How are girls more important than getting WP10 on my 1520❓
..........
NIST..... Sometimes you make me worry.

Man with the right priorities

No..multitasking..maker her hold the phone for you during sex so both hands at free to ..play

Why is it the Amercians complain so much? no disrespect but on this board all i ever see is people complaining..these boards are full of it....come on guys chillax.

And what about the music app

Developers can already create their own folders. With the wp8.1 release

I've never seen a folder from a app pop up in my pictures app..

I don't know about you but I have a WhatsApp folder made by default in the photos app...when I installed WhatsApp...so maybe the feature is available...and some developers have used it and the most didn't..

Really... I've never experienced that.. But, that's only half of the equation.... I still would like a "save as" option..
........
Basically, if you hit "save as" on a picture from a text message you will be given the file system, and from there you can choose which folder, and name your file... Exactly how it's done on the desktop.... No brainer, and who knows, maybe it's coming..

Telegram, OneRoom, also do that.

Uh. Isn't that quite a hassle when there are many photos?

It may create a folder but whatsapp pics are saved on pictures >> camera roll

On my L930-Denim there is a whatsapp folder (under Albums) and any foto saved in whatsapp is stored in that folder.

Whatsapp and UCdownload folders are present in my picture hub. L920 Denim.

Well then some developer is missing out on a money maker then..

I agree Posted via the Windows Phone Central App for Android

I really like the the new bigger thumbnails, and multi select function! I hope we will be able to multi select videos too! One at a time noise is so 2007 iPhone!

It's more function over form....

I don't like the burger icon on the top left corner, it looks less windows.

Friggin hamburger button-no!

I hope your boys are reading this... They have until June to redo every app..

Yup. Unlikely that would change however. Desktop Windows UI changes will rule the roost.

I dont give a shit if there is a menu...it is the location of the menu...big phone...cant reach...keep it in bottom right

The AppBar UI changed, I like it, but wonder how it will function. Hopefully we will hear more about it at /BUILD//

All those who have it(win 10 prev) Please don't forget to remove HAMBURGER menu in your feedback. Its really geting on ma nervs.

I agree. An icon photo of an ex spouse in the upper corner would be no worse. I divorced Android a while ago now and don't want that irritating reminder in my face all the time. If they want us to "love Windows", at least put that thing at the bottom where we can reach it.

Lol.. It's getting on your nerves❓ ...... I don't like it as much as the bottom ellipsis, but it's not literally bothering me like a little brother might.

Bad meaning bad, or bad meaning good❓❓

Beautiful?! Maybe. But definitely more productive....pls fix the navigation bar problem because options get hidden behind the navigation bar -_-

Your preaching to the choir....go talk to MS..just use drive + and head to Redmond..

Multiple video selection?

Finally! Don't like to use Files to delete videos received via WhatsApp

Woohoo! Only took them what 4 years! :) nice in any case

Yeah.. I miss that pane view... It was the best.. Loved the FB app as well...

Windows Phone UI went from 100 to 0 real quick.

If you're reading this, its too late.

Kinda true.... It's not as beautiful by any means.... It's pretty mechanical, and has les of a "me" feel to it.

I know guys who have felt you and you do not feel like this build.

Lol.. Shut up, NIST... I'm not in the mood today..
I'm still kinda mad I didn't get Denim, or the TP, this week... Just please cut me some slack.. Lol.

Lol. That's the biggest thing going on in your life? Getting Denim on your phone? Lol good grief. Grab your girl instead of your phone. It's almost Valentines Day!

It's the biggest thing going on when I'm at work... Lol.

You assume we have a girl to go to

Nist, if you know the guys who felt rod (no pun intended)...then they know you...so maybe, you should just get into bed with (a) rod (of your own)...clearly your intimating men are ok to feel..go ahead, come out of the closet.

Agree. I understand why it goes straight to Camera Roll, but the old Photo Hub with the Panoramic background was a beautiful way to show off your best pics. This is just functional and has no differentiation from Android or iOS.

Why are people bitching about how Windows 10 for phones looks like. The platform has to evolve in order to continue to exist. Grow up people if you don't like Windows 10 stay with 8.1

Different people have different opinions. Deal with it.

Grow up. People don't like the design. Everyone has their opinion.

Look, Phillip... Can I call you Philip❓❓❓
...........
We don't mind things changing.... It's just that MS needs to be smart enough to use OPTIONS rather than just switching stuff up without letting us choose....
...........
In other words we want MS to add without taking away,,, in a lot of situations....
This might be where themes can come into play..
See.... With themes you could choose "WP Classic", "W10 Classic", or any other theme... Heck, they could let developers make themes.... Skins❗ like a skin for the XBM app, the Photos app...... Whatever happened to "putting people first", and "the phone built around you""... Not sure if the last was a WP slogan, but whatever.. You get the point.

Like I said if im wrong im sorry and clearly im in the wrong

Add without taking away...think of your cache is sexual maneuvers...wouldn't want to take away from that department...Happy V Day!

I understand that, but you guys are sounding like little children. I understand you guys don't like the design, but it's the very 1st preview. It's bound to change.

With all do respect. You guys sound like fun boys and if you guys are fan boys. You guys will end up destroying the platform rather than helping it if you want it to succeed you have to get past all your bullshit. You guys say you guys don't like this and you guys don't like that. But in reality, you guys are holding a platform back. Have you guys ever heard of a fresh start? I don't mean to sound rude or disrespectful, but it's the damn truth. I'm sure many people will agree with me and if I'm wrong well, then I'm sorry.

I know everyone is entitled to their opinions, but you guys are really holding the platform back because you guys don't accept change. It's reality and I understand again, everybody has their own opinions and likes but you guys have to let it go get over it.

A fresh start❗ Are you kidding me❓ What's going on with you❓
.........
How many fresh starts does a platform need❓

I agree with Phillip, you guys are holding the platform back by complaining about everything Ms do (W8, hamburger buttons, W10 for phones preview not being available for some phones etc) seriously you guys are just bitching!! I just joined this platform and they way you guys are always complaining makes me question why I'm here

Ummmmmmmmm, these HB menus are EVERYWHERE... What are the odds of that changing if people don't make a big fuss over it... If you don't like them the you'd better speak your mind as well.....
..........
You need to understand peoples frustration... We've been supporting, and helping push, WP for years, and MS just gives up on the design❓ No, that's the childish way out... If they refuse to market WP, and don't ever expect to bring in more users, then they should be trying to please the ones they have,,, instead of copying Android, and pissing the ones they have off.

I think the metro sacrifice was done in order to gain more users by giving them a "familiar feeling" when they try out WP. This would help lure in customers who are interested in the full Windows ecosystem but find it difficult to get used to the metro/panoramic design that we have come to love. I know several ppl who are really keen on getting Windows phone but they feel "lost" with the whole panoramic UI, so they immediately label the OS as complicated to get used to, when technically it's very simple. This also should attract devs more as they can now port their apps in a much quicker fashion as opposed to developing/investing into a UI on a platform with a small userbase. Maybe we will finally start seeing more official apps come our way due to this change. I love metro/panoramic UI but I can also understand why they would opt to cut down on its usage. That said, I do believe it will still exist in the core parts of the OS that are baked in, such as ppl hub but they simply wont be mandatory for apps/universal apps

In my experience, people don't choose WP because of lack of apps or lack of games, not because it doesn't look like Android! Those who chose WP because of live tiles, uniqueness etc, are now having to deal with hamburger menus bizarrely placed in the most difficult place to reach, and losing pivots/hubs/uniqueness. I am all for the platform evolving, especially W10 across all devices, but I want the "beautiful experience" Microsoft promised. I want unique and elegant, as well as practical. I want this experience on my 930, Surface 2 and Surface Pro 3. That's my opinion and my choice.

Yep.. Exactly... Spread the word.

The Hub page layout for Xaml (universal) apps (or Panorama page control in Silverlight apps) is still very much alive.

Agreed. I understand that change is important, I really do. But this doesn't feel like change for the better. It feels like change for the sake of change.
I commented on the Youtube video, but I guess I should repeat what I said here... Delete icon looks like a battery, and I don't even know what the share icon is meant to be, same confusing weird circle we've always had on Windows Phone. If they're going to change the icons they should at least improve them and make them easier to identify
"Option here at the top right corner" says it all about how backwards Windows has become. That is LITERALLY the furthest point on the screen from where my thumb can reach when I'm holding one handed. It's a terrible place to try to tap no matter what hand you're holding your phone with
Off centre controls at the bottom of the screen are rubbish too. When they were centred it was easy to access whether you held the phone in your left or right hand. Off-centre makes it harder to reach depending on which hand you're holding.
Settings being hidden away behind a menu button at the TOP OF THE SCREEN is also stupid. What happened to the three dots menu at the bottom of the screen? Is that just straight up abandoned now? What's even the point of using Windows Phone now? Loss of functionality + poor app support... I might as well be using Android, and I really don't like Android. My sister bought an iPhone 6 about a month and a half ago. Assisting her set it up has made me realise that iOS is far more intelligently laid out than Android; it's basically how Windows Phone used to be; controls are mostly kept down the bottom of the screen. Will my next phone be an iPhone? I guess that depends on how Windows 10 turns out when it hits RTM.

Well said.....
.........
What MS doesn't understand is that the reason WP hasn't done well isn't because of the UI,, it's because nobody knows about it...
.........
Besides realizing that marketing is horrible they are trying to fix the problem by making WP harder to use❓❓❓ That doesn't make any sense..... But, last year at Build Joe did say that they were going to start using the HB menus more... We should've starts complaining about it in that first refresh to the OneDrive app... That should've been our first sign.

At this stage key concepts are not going to change... The HB menu is a key concept, along with page navigation and page layouts (pivot, panoramic, simple), the app bar menu.. What can change is things like positioning, sizing, color, themes, backgrounds, even basic control behavior, and consistency issues such as some things being black while others white. The overall behavior of the OS and apps will be pretty rigid now, user feedback will influence relatively small things at this point, yes it is a tech preview but they have done 75% of the work now. Speaking as a dev anyway.

Yeah... That's exactly right.... But, we need to start giving our feedback now if we want WP back in the next major version....
.........
But, you're right... This isn't going to change any time soon..

Brilliantly put. People are not choosing WP because of lack of apps and games, not because it doesn't look like Android. Where is the beautiful experience promised by Microsoft. I get practical but copying Android is the WRONG choice, imho.

Totally agree. Control buttons must be on the bottom of the screen because our fingers are there. This is an axiom. And those three dots and circles were wonderful and very recognizable.
If someone showed me the new Microsoft apps a month ago I would suggest they were new Android apps... Posted via the Windows Phone Central App for Android

It does look like Android.... Like a very clean, and organized, version of Android... Like a WinDroid.. Lol.

Dude windows UI went from 100 to -100 now. Its totaly loosing its class and becoming more like android

Well, I don't agree with a lot that I see, but at least it's still clean, organized, and consistent... That counts for a lot..... But, using the HB menus instead of the bottom ellipsis is going to far.

It's interesting that on this forum this is a very common opinion, i think it is at least 80% of what I have read... Basically people are not happy with what they have seen. Whereas MS have written either on their blog site or on Twitter that the response and feedback has been very positive. Either they are, well, lying... Our they have not read feedback here, which would be odd because it's the biggest gathering of WP fanboys on the planet... And if you can't make them happy, you won't make anyone.

The whole hamburger menus thing I hilarious. Not mocking anyone in any way. I just don't see the big deal. But then, I guess we all have our sticking points about things that others might not understand

Some people reject it because it's an inelegant solution to a very real UI problem with touch interfaces becoming more and more complicated. I do understand the sentiment (after all, isn't that what the "..." menu was for?), but at the same time I'm not overly bothered by the "hamburger" menu button. I just don't like the places it's usually put (ie. at the top of the display). UI elements should, ideally, be placed on the lower three quarters of the screen...

Exactly.... They should've just replace the ... At the bottom with the HBM.

Ehm no. Cause it would make the hamburger menu and the bar to thick. And as you scroll down the most it will take up a part of the screen needed

I also wish it showed the location of where the photo was taken, eg 'Regent Street, London' or 'Hyde Park, London' for example like on IOS ï

I think Storyteller app does that. Actually even picture hub (camera roll folder) shows it

Storyteller does...COMBINE THAT SHIT...that's a good idea. When you look at an image, be able to pinch the screen and voila, a map.

I hate the top navigation and I do not like that hamburger button, what happened to the wp7 design team? Were they taken out to the back and shot?

This!? I keep tweeting at Belfiore as to what the Windows 10 design language is.

Satya said to take the MARKETING team out back, and shoot them, but Terry heard the WP design team..... Huge, Huge, Huge mix up.

Well, if the marketing team was taken out back, they would only need a musket cause it seems to be only one person

Probably because there wasn't a marketing team to begin with

Yeah the top navi stuff really doesn't sit well with me. I have a 1520 so that's pretty much the worst place to put anything. At least now most apps use pivots. But that could still change.

I think they will have a similar function like iOS. Double tap home button to bring content down to middle of screen for this big phones

Actually, iirc, a few them left MS

I hope we can finally view shared albums now and it also supports the new auto enhance feature.

is anyone else getting double notifications from this app ?

It doesn't show anymore where photos are taken?:(

I'm hesitant to get the preview because I know they won't listen to my suggestions. I want panoramas, hubs, and three-dot menus. Nobody wanted a hamburger menu, let alone in the position hardest to reach with your thumb.

Good point❗❗ Please keep speaking up.

They can't listen if you don't say anything. And if you don't want to voice your opinion TO THEM, the guys creating it right now, wanting feedback, then please, STFU!

The thing is, I feel, they have already made up there mind to go ahead with this new UI... (universal apps blah blah blah...). I don't think we're getting back the pivots and panoramas, no matter how much noise we make. Given that, I want to see what they are bringing to the table. Right now it's a mish mash of hamburgers and/or ellipsis. Nevertheless, I'm disappointed!

Get the preview, make some noise. If we don't then our voices definitely will not be heard. As soon as the preview is available on a handset I own, you better believe I'll be giving that feedback app a workout. I've gotten 6 people to buy Windows Phones over the past couple of years who otherwise would have completely ignored it, and I've had many more ask me about my phone when they see me use my phone. In the past I would have happily pushed people to at least give Windows a try. Now? I tell people to not even bother, and my advice is only going to get more harsh if Microsoft keep going this way.

Don't say they won't listen to your suggestions if they won't they won't allow you into the program in the first place they actually need yoke suggestions to bring the best to us yoke suggestions counts...

With everything being turned into an app, I hope they open and function properly on old devices like 720.

Everytime I see a hamburger UI, it makes me think way not just stick with a pivot control.
Not even sure on the top right hand side controls, wouldn't this of been better utilised in the app bar?

It just reminds me of Android.... Please let MS know that we do not like this❗

Maybe they might get some more users switching as it is so familiar to them. MS is behind in numbers so they make it similar so that they can hopefully gain more users. Leaving the loyal users with something different. Hopefully menus will come to the bottom. .

I personally don't see anything wrong with the hamburger menu. I think you guys are just over reacting. You guys need to grow up. They may come back later on. We just gotta be patient and see this is just barely the 1st preview calm down guys.

As long as it works, and controls are consistent. I do not care.

If people don't give their opinion now, then MS won't know people don't like it.

And, this is the BIGGEST Windows Mobile site around..... Probably a good place to start responding to MS's OS.

Actually, this is EXACTLY the time to complain about things we're not happy with. There's no point once final choices have been made. I, personally, think that the hamburger menu is kind of ugly. But I could live with it if it was positioned better.

100% agreed. I'm indifferent to the "hamburger" button visually. It's how they're placing/using it that bothers me.

So just because others disagree with you.... they need to grow up? It seems a quite childish comment; you are not Louis XIV therefore " Après moi, le déluge" is not applicable. Your opinion is as worth as the one of everybody else.

I could see the hamburger button being on the far left of the app bar. In general, I think controls should be on bottom and titles and other orientation stuff should be on top.

This is what the homescreen tiles should look like [with varying size tiles of course]. I am specifically talking about the spacing between the tiles not being so thick like how it is in 8.1.

We need a slider controlled option for that❗
..........
OPTIONS❗

Where's the panoramic background of Windows Phone 8?!?! That was awesome!!! And they killed it on Windows Phone 8.1!!! #BringItBack

Yep. Please tell MS what you just said here.

So an album can be contributed to by photos, from different folders - I.e. Photos from different devices can contribute to an album. Clever. Can see this working,well combined with appropriate photo sharing between individuals.

So no more panoramic UI. Hamburger button menus could have been implemented as panoramic UI.
If MS is following the standard Android UI then why all of us are still stuck with WP and facing the application gap.
Start screen of WP can be implemented in Android via skin then that's the best way to go forward for all disappointed fans of WP who love the metro and panoramic UI because they are not in WP anymore.
Big disappointment :(

Exactly!!!! I couldn't agree more. If WP is turning into Android (design-wise) then why stay with WP. I'll rather take Android at least there are more apps on teh store!

Have a strong feeling Windows 10 for phones will look boring, unimaginative and homogenised like the rest of the mobile OSs.
Usability suffers really bad on the UI and I really don't see the point of those rounded on/off toggle switches.
Also the font sizes and spacing on headings is lacking, no real visual hierarchy as is present in WP8.1

Yes... And they added a three dots menu at top right corner with just a multi selection toggle button that will make appear a... bottom bar with another three dots menu...

Please make a review from the new music and video app. Is there an improvment too? Because the current music app is still a pain in the ass

Yeah XBox Music is still a pile of Pooh. But Paul Thurott thinks its great so I guess nothing will change. I cannot recommend Windows Phone to anyone who likes to listen to their Music on their phones. Bring Back an Updated Zune, with Live Tile displays (when not playing).

You should bring back 'favourite' option, and chosing a picture for background and lockscreen from photos app, not only from settings.

Picture app needs work. More options to segregate pictures. Im sure it will come to be.

Photos app is too slow in technical preview... Hope it il b faster in original release

What's the new app bar with the ellipses midway down and no circles around the icons? Is that across all the new apps?

I love the Photos app on WP8.0 with panoramic background.

Me too but those days are long gone.

I'll hold my judgment until I see\ use the final version, but the Photos app went downhill with 8.1 (same with Games hub) ... Hope they know what they are doing

This app runs pretty slow. I have an SD card with a lot of photos, it still says searching for new photos everytime I open it. Openning the camera app, there is maybe 5 second delay before I can snap a picture. I think this is because it is trying to access the SD card for the last picture icon. Once that is good, it can snap pictures as normal. I am going to try backing up the SD card and formatting it on the phone. Start fresh and see how it does. One other issue is the quality of the thumbnails in the app is bad, so all the photos look bad when you view them. It is only when you zoom in on them do they show in better quality. Also double tap to zoom back out doesn't do anything, so you have to manually zoom back out so you can swipe left or right for next picture. These are the main issues I see so far, looking for to the update with the new mail, browser and calendar apps.

This app reminds me of the (terrible) windows 8.1 desktop app...slow loading time, cant navigate multiple photos w/o waiting for previews to load...I use windows photo viewer more often than not on my tablets for photo viewing...

It's really cool that Microsoft is adding all these features, but, in my opinion, this isn't the way to get more customers. Most of the people I talked to said that they turned away from WP because of the lack of apps. I decided to give it a chance, and a long one, too - 2 years, lol - and the only major app addition used by many people that I can think of is Instagram. And even that is incomplete compared to iOS and Android. Again, Windows Phone is a great phone with great potential, but I don't think Microsoft will get anywhere with the lack of popular apps. They can get a notification center and a voice assistant on almost any phone these days, but only Microsoft provides us with a truly personal phone. However, if one must choose between apps and customization, the majority of people would go with apps. Just my opinion, anyway.

I'm a little worried about that OneDrive integration slowing things down. I've got literally thousands of photos inside my OD, so I can imagine that would choke the Photos app to death. I know you can turn it off, but I'd actually like that feature to work properly. Be great if they cached all the thumbnails on the device on first load. ​ ​ ​ ​ ​

If they locally cached thumbnails of every photo you'd risk running out of space. This is already an issue with OneDrive on Windows 8.1.

I dont see a way around local cacheing if they want the app to run smoothly when displaying OneDrive photos in the app. Perhaps an option to make the thumbnails smaller as to not take up so much space?

accent color is red and some details are blue? oh crap

To everyone complaining about the preview calm down. It is just barely the 1st preview everything is not set in stone. You guys are over reacting you guys are childish right now.

Were not childish, we're giving our opinion. You know, that's kinda the point of the preview.

First off, I don't post comment about the OS that I haven't also posted on Microsoft's feedback system. Second, as I have posted many times elsewhere, although this is a preview--just like Windows 10 for the PC is--what we are SEEING is the implementation of concepts and user experience that Microsoft is moving toward. For example, they are CLEARLY migrating away from the pivot concept to garbage that functions more like Android/iOS. I absolutely am going to complain about this, and have every reason to. So, it's not "childish". It is my legitimate opinion of where MS is going with this.

Please, just, stop that already. This is preview and they asked for feedback. We are giving that feedback. And we are giving it now, not when all is done and ready for release. If you don't care, move on. But don't criticize people who care about where MS is heading and who care about destroying good things about the platform.

Pls implement to able send multiple photos from photo hub to third party apps instead of Microsoft apps. Save the steps that we need to go into WhatsApp attach option then only we can select photos for sharing.

Use the feedback to tell it to Microsoft.

Pls implement able to edit the HDR mode in photo hub.

Does it upload screenshots to onedrive yet?

still a little hope for the music app

Was there like a meeting in some secret room where someone in charge said "lets screw with all the single handed users and move the options as far away as we can from their thumbs"?!?!
Not cool!!

R.I.P. pivots controls :(

The long scrolling list of options has always looked unfinished. Hopefully, esthetically they can clean that up before release.

1:29 - "Tap that, tap that, tap that, tap that" Mark, I believe you just contributed more to writing a hip-hop song than Beyonce has.

I really feel like the apps are taking another step backwards. Everything is becoming slower and less functional and it's just insane. The photos app takes forever to open and crashes half of the time. And the fact that the photos have to do some sort of indexing now before I can view any of them now just stupid. The OS is STILL inconsistent with UI elements and animations, and the overall experience is more jarring than before. I know it's an early version and I have hope that Windows 10 will really become more than what it is now but jeez, guys.

R.I.P. Metro UI 2010-2015

I totally agree. One of the unique and attractive things about Windows Phone was the Metro UI, with pivots, etc. Windows 10 just pukes all over it and flushes it down the drain. I hate Android and iPhone, and that's what it appears that Microsoft is doing with the UI. Horrible.

The two reasons why I fell in love with Windows Phone: METRO UI design language, and Nokia's camera hardware / software. The next flagship better be spectacular hardware wise, because Win10 isn't going to win any design awards for UI/UX.

Now I feel really sad for badmouthing the photos app when 8.1 was released. Sure it's not the beautiful hub we had in 8.0 but at least it looked like Windows Phone and it had a nice pivot to get to everything. In comparison this photos app looks like a cheap mobile website. What kind of crack is MS smoking that they thought putting the ellipsis on top was a good idea? I guess we should be grateful they have an ellipsis at all since they seem intent on shoving hamburger menus in our face. What a fail in design.

Please provide a quicker scrolling option! Have to scroll through hundreds of pictures in the WhatsApp folder.

Bottom icons need to be spread out or centered. Oval toggle/switch buttons need to be made rectangles.

When can we have 'share via bluetooth' in sharing menu..

that hamburger menu isn't it copying apple style menu ( just asking before someone blows me head off).

Nope, Android. At least Apple has the "reachability" feature that brings the top of the display down to the bottom with a double tap.

Untill we get multitasking & flash transfer windows10is of no use

In my Lumia 730.. Didn't work just crashing.. Unable to hide navigation bar. Background photo didn't showing... Lot of bugs in my Lumia 730... Please fix the problem in upcoming update..

I don't like the rounded switch to enable our disable features, it's better squared! The new look doesn't even match the Modern UI 2

agree :) we have the same comment here. i think it's because they will use smaller fonts now. the squared button will not suit graphically because they are tall and making it shorter will not make look like a switch. im currently visualizing a switch button right now, one that looks the same as the icons used in the context menus ;)

I still don't love the rounded sliders. I like the blocked ones, it matches the windows theme.

auto sync?
there is option to disable it,right?

Running my Lumia 1020 w/Windows Phone 8.1 side by side with my Lumia 635 w/Windows 10, I easily prefer the Photos app on WP.1. I hate that Microsoft is losing the Pivot concept in favor of a more Android-like interface. There are no Favorites in the W10 app, and the only thing you can set the Photos live tile to is "Recent photos". Very stupid. The W10 app is boring and unattractive.

I have the same comparison, the 635 photos app runs slower than the 1020! And performance tests (I thought) made the 635 faster or equal to the 1020... I wish they would provide some sort of reasoning for these changes... It just looks like they gave up on what worked...

More function less design :(

Those three lines (hamburger menu), looks strange on a Windows Phone OS. Who knows, maybe its a standard on the industry now....

Swipe up photo & see properties of the pic

Miss Photos hub in Win 7. Loved that layout and picture feed. Le sigh. . .

I'm starting to see why they went the app approach instead of features baked into the OS. It allows for faster updates and you won't have to wait for mobile carriers to test the update for 4 months

The sad fact is that those "faster updates" never happened. All "applicationized" WP8.1 parts are the same in 2015 as they were in 2014. "App approach" is just a way for a small WP team to outsource some work for less expirienced devs and to pay more attention to the OS core. It brings zero benefits for endusers ( i don't count "resuming ..." and "wait for indexing completion" as benefits)

That's an interesting point of view but look at all the updates Xbox music got that added features that aren't available on the built in WP 8.0 music. Imagine having to wait for all that over time. There has always been different teams. You have Skype, Xbox, core OS, outlook, Cortana, etc, not just one large team working on the OS all together.

HTC M8 with 2G ram and 4 cores vs HD7 with 1 core and 512mb ram https://www.youtube.com/watch?v=nn5hVq6Q-zo Guess who is faster. Wireless sync is available on one of them too. And look at all those beautiful UI transitions on a new device? No - 6 years old device https://www.youtube.com/watch?v=u_9LjkwQPOM

This is nice but I still loved the photos app of WP 8.0 with the beautiful background photo option and that carousel effect when you pinch out photos and still. I know change is needed but this is like a downgrade.

It will be difficult to navigate this app one handed using a large screen phone. I am disappointed that they went with that hamburger menu instead of the pivot.

Hey guys does it is good to get Windows 10 or not ???plz tell me I have Lumia 630 ,....

M using it on my 630, till now I don't face any major issue. Yes, there arevsome bugs like back button is not workin on app list and home screen, ui navigation is not smooth like 8.1, battery saver app is not working. Microsoft will definitely solved these problems in next preview build. If these are not major problem for you thn update your phn or you can wait for next preview build

@vignesh. Yesterday i hv updated my L630 to wp 10. Its going very smoothly but yesterday phone was heavy heat now its came to normal mode.

Mobile data toggle missing in notification centre of Windows 10 Technical Preview OS installed in my Lumia 630. Did you notice it ?

Yeah man i already noticed.

Please feedback to Microsoft!

Its better than 8.1 version

Yeah 100% but need some times to improve

As a former Windows Phone user, I would really have liked to see the banner images in the background of the store and pictures hub return but with the new layout there's not much room for it and the old pictures hub had that unique left/right swipe navigation that isn't present in iOS or Android. And I still miss being able to see pictures from Twitter and Facebook accounts all in the picture hub. That was truly unique and functional. Microsoft needs to go back to that. Posted via the Windows Phone Central App for Android

I like the new UI , everything of w10 except the dial pad

Mobile data toggle missing in notification centre of Windows 10 Technical Preview OS installed in my Lumia 630. Anybody notice it ?

Please use the forums for off topic questions.

Ok... Finally.. File information about the photo... Thank you !!!! What I would like to see? A feature that would allow me to create my own albums and please give me the option to share via Whatsapp or Viber directly from the photohub. What's the big deal here? Why cant they implement it?

As a WP user since WP8, IMO, the changes in W10 including the photos app are more than necessary ( and welcomed in my very humble opinion). Windows is no longer about "Metro", but more about becoming one OS for all, which I think is a much greater goal than just following some design guidlines. In that sense, they can use how many hamburger menus they want. In many cases, I found the WP8.1 photos app more useful to me than the more metro old WP8 photos app and from what I see, the W10 is even more useful ( specially when using different screen sized devices). I don't want to put my WP aside for a moment or so and go grab my other iOS/android device for that extra feature not found in my WP just because the WP app is "metro". Serving the minority didn't get MS any good and there has to be dramatic changes in order for the OS to come out of this always catch up game in terms of features, mindshare and marketshare. It's time to embrace these changes, and to be honest, it's kinda funny complaining about lack of some metro design here and there while we, in many cases, don't get web wrapper apps from major companies/devs. And the OS is still consistent and that's what matters and it's more of a combination of funtionality and metro now. I think, we as WP users, should put metro first - functionality second mentality aside for now and try to focus more on what features MS should add in this iteration. W10 has to leap frog the competition in terms of features in order to convince non windows users ( i.e the majority) to jump in, and for us to add the burden of following metro design language by the letter, it would be impossible for MS to finish W10 within the current timeframe. The little things like little metro here - little metro there can be reviewed later in later iterations (GDR updates) when the OS is quite feature rich that everybody can no longer say that windows on phones is still catching up.

I agree will you Zaher. While I'd personally like it to be fully metro (since the design language brought me to Windows Phone) I understand that it required a bit of a learning curve (although it is very easy to navigate once you do get the hang of it). I think that they should, like Windows 10 desktop, allow you to choose what you want. The hybrid Metro/Non-Metro theme, or Full-Metro. Providing that option is and should be the top priority for MS. Hope for the best.

I completely disagree. The lack of the pivot forces the need to press the ham-button for every task.
On w8.1 you just swipe with only one hand, to browse the pictures no matter your screen size is, because when you search for pics, or just like to watch them, on just like to browse them fast, but do it now, on w10, with even that button on the top left of the screen... It's a completely stupid thing. Before it was already good to browse pictures between the most important categories and knowing exactly where you were. Where is the need to change it?
They had only to improve that, not taken it away.
They also put more menus on the corners. Is that really easier? If they wanted to insert the burger icon because of its standard recognition just replace the ellipsis with that. Just that, and continue to improve what was already done FROM that point, not going back or completely to another land. The only thing I like in this new photo app is the info page appearing with a gesture. That's the right improvement. For all the rest it's like they took some designer from other oss and give them the power to make WP better, without they knowing what fast and easy means. Just because some minds are slow and need to tap everything, it doesn't mean that (at least) win users need to go that route. I really hate tapping everything for every switching of the pages, and not because of me, but it's surely slower. Just because we are already here lets take off the left gesture for the apps list, too, and then explain me why I choosed WP on the others... I know this is a primitive state of the OS, but also in a primitive state you cannot do that, it means you really want to do it... and well...

They are different devices phone and PC with different kinds of control. So I disagree when someone claims it is necessarily to make the same apps for both ones. We need the apps that could look and run the best way on their native devices. Posted via the Windows Phone Central App for Android

Do we can use data connection in windows 10???

http://windowscentral.com/commenting-guidelines

Phone tile is way too ugly. Make that icon thinner.

So MS wants to emulate Android? Well why don't we emulate this. Allow a Windows 10 theme, with all the hamburgers, small capital fonts and all of the shit windows 10 brought, and a Windows Classic, with the good ol metro. That should be the essence of Windows 10. An O/S that can everyone can configure. Not to the level of Android. That much makes it complicated. But to the extent that everyone feels comfortable.

Another bug ( in 8.1 though) we can't share screenshots directly to whatsapp. We need to go to WhatsApp first and then attach them. Also we can't edit them directly. When we press edit it automatically put in default "crop rotate" editor. That bug maybe addressed.

Btw i am planning some design revamps for windows central app which kinda looks basic. No offence @jay_bennett.

very cool. Getting better and better. Now we need an app that kills all iJUNK permanently beyond repair:-)

The panoramic background of the wp8 photos hub was one of my favourite features. It would be nice if Win10 were fully customizable, or at least had an option to choose interaction model: Android style or WP8 metro style. As someone said above, Win10 for phones needs to be about maximum options / maximum choice for the user. Make everyone happy, don't remove features and options.

I hate the ui of win 10 it just look like android no offense!

It needs an option to copy,and move photos within gallery folders directly from photos app,not file manager.

Please don't make this look like android UI

Please help me ? If anyone using the technical preview plz rply my questions ?..
Is file explorer is a built-in app ?
Is able to rename Bluetooth name ?
Can send apps or games ?
Is able to charge phone under swiched off condition ?
Is it's required to open Bluetooth menu to discoverable. ?
And any special featues ?? Plzz plzz

1.file explorer is a built in app
2.You can change bluetooth name even in WP8.1 .. ! W10 is no exception
3.Sending Games? This is not Android brother.. Still If you have the .XAP file you can send it..
4.charging phone after switching it off is not present
5.yeah , you need to go to bluetooth menu to make it discoverable..but once you are paired up with the other device, you don't need to make it discoverable again..
6.special features?.. Give me an example..

How to change Bluetooth name in windows 8.1 (without the help of a pc )?

Please use the forums. http://windowscentral.com/commenting-guidelines

Not possible I think... You need pc

And i have one... Do you have full access to the Store on order to download all your apps you used for WP8.x ?

My 730 wont even load a single photo from my SD card. Its still a PREVIEW after all.... I am rolling back

Atleast They need to change the place of hamburger button.. To the bottom right of the screen :/

930 & 1520 may be added to supported phone list by the 16th.

We can open videos with photos app and if we swipe up we can see video details.

How do i increase opacity of tiles any one have any ideas??

Can anyone please review Xbox Music and Video apps in Windows 10 for phones. I would have tried it out myself but my Lumia 720 is not supported in this first build :)

Currently they are the same apps from wp8.1, they haven't been updated to the ones seen in clips and pictures yet

Guys stop complaining and start preferring solutions to make it better that's why you're allowed into the program, if you're not there to help them be the best...exit yourself from the program. Sorry guys if I sound rude

I don't like the new toggle switches.

More change for the sake of change without adding anything to the user experience.

I really miss the photo app from windows 7.5. It was unique and beautiful.

If the flagship Windows 10 phones from Microsoft have software navigation keys instead of hardware keys, I will be more angry than the average bird

The grouping of photos looks like its grouped by date range like it is on Windows Phone 8.1 as in the video it looked like the 5 photos that were grouped together were taken on the 26-27 of January.

The photo app is very rough. Start screen flickers a lot when scrolling up and down(Lumia830). When launching apps, there is always a screen full of your theme color instead of resuming message we saw in 8.1. Hitting back button won't collapse live folders. Keyboard is slower to respond and font is too thin for me. When changing language, it takes a long time to switch. The font size in system setting is super small and thin (I'm referring to the sub setting pages in the system setting) and don't feel smooth when scrolling. Battery life is bad. Fail to use recovery tools to roll back, as it always stops when downloading files. Overall, not worth updating to this release.

Why they reduced the number of pictures of every line from 4 to 3? Now it takes more to scroll the pictures. 4 was already good.

Hi Mark why you always use Google Mail istead of Powerful Fast, Secure and great Outlook e-Mail? I was using yahoo mail or gmail befor but after new Outlook I think there is no need to them and I just migrate to Outlook.com when you use share Btn I see you use Google mail and also no Outlook or hotmail livemail ... why?

MS don't have a Youtube competitor.. May be google account is for the use of youtube ;)

Man I really hope this negative feedback about the UI makes MS change it before RTM. WP from what I can see so far has lost that unique identity it had because they're playing suck up to android and ios.

The problem isn't the looks of the burger menu. It's the placement... How the hell will you reach it one handed? Maybe it works on the 630 but not on the 930 or 1520.

Can we select multiple videos now?

Its Music app same in Win10?

Quick question, Daniel. With the autosync thing with OneDrive, what kind of data usage are we looking at for that, or is a WiFi only thing?

Hi Mark, nice review. In my expeirence with the technical preview and experience with windows 8 and windows phone 8, the list of square tiles to scroll through the foto's was never a good experience. Reason for this is that in reality I and many people make a series of similar photos of the same subject. After scrolling through the squares subtle details in contrast, hue, focus and other cues between these pictures, at a glance, are lost because the square icon cuts away too much context. A better rendering of photos between would be as how its currently rendered in windows 10 technical preview. Its'a world of difference. I think that if photos are displayed in their original format as a pictogram it would be a much better experience even on the phone. To see square tiled photos orderly and neatly, but when actually using the app productive and effectively it is a poor experience. Would you agree? If so, could you add this feedback to the insider's hub for winodws 10 for phone. I have a 1520 currently so I have no option to do so. Thanks.

A solution to the hamburger menu on top would be the ability to open it by simply swapping from the left border of the screen as Rudy Huyn did in some of his apps.

I like New design od Windows 10

@Daniel any change in Xbox music?

That means it is using a panorama control, therefore panorama is not dead.

Why rounded edge toggle! Squarish toggles were trademark of metro! Is Microsoft trying to kill the metro design?

gif and html5 file support?

Hambugers and Three Dots on the same screen. I guess one day all WP displays will all be Hamburgers. And all those lovely WP7 Pivots and Panoramic display styles are being killed off as well. Its a sad day when we see more of the Metro design language being killed off for the sake of making it look more like Android. The direction of Windows Phone is towards Android, so I guess I might as well get an Android Phone.

I'm using wp because of the uniqueness and the ease of its use, the option to use hamburger button is a very wrong choice

The editing tools from the pc App should come also to the phone app! I thought it's a universal app?! :(

First, as of right now the Photos app runs like crap on my 635. But yeah, it's eary. On the subject of panoramic apps, persronally, I think it should be done like the OneDrive app. I wasn't a fan of the original panoramic piviots. I always found myself going in circles looking for stuff and never new how many panoramic pages there were. The way OneDrive app does it is perfect where you can see the headers of all the pages at the top and it even has the hamburger button that I actually like. It's the best of both worlds.

I was just going to comment on the comprising aspect of the onedrive app... I think it could work for other apps, I wonder if the hamburger could be placed at the bottom of the screen... Where the buttons are normally?... I hope they bring side panorama aspect of the photos app, it more efficient...

this new layout is a disaster for 1520. I used to swipe to navigate. but now? struggling reaching my thumb to the top of the screen.

before I looked at the paycheck saying $9797 , I have faith that my neighbour actualie receiving money in their spare time from there pretty old laptop. . there sisters neighbour haz done this for under nine months and a short time ago took care of the morgage on their apartment and purchased a great BMW . see this here ........... ➜➜➜➜➜ www.netjob70.com

Lags exist in win10... Slow photos app. Cant set background on L730

Tap that. Tap that. Tap that. ;)

Why is there the side hamburger menu? This is boring! We used to scroll between pages with fluent animation and flying words on the top of the screen. Now the features are gone. Posted via the Windows Phone Central App for Android

post from GSMArena: http://m.gsmarena.com/xdadevs_find_way_to_install_windows_10_on_any_lumi...

Please remove the hamburger menu

i dont like the switch buttons (that elongated dark red switch)...

I really think that Windows 10 needs to have native GIF support. I think this should have been included ages ago, but now is the easy time to do so.

Will the lumia 1020 get the update?

I hope and must assume MS guys must be in some shock right now with all the negative feedback some 90% of users appear to be giving. :) We'll see if it has any impact - I doubt it will any fundamental things though (like dropping of the pivot interaction model or placing more and more of the controls to the top of the screen or e.g. making the Calendar app just a horrible slice of a huge PC desktop sized screen view). I should at the same time say there are a LOT of good things too. Just hoping and praying MS will strike the right balance.

It's unusable in this state, should have just left the old one cause this one doesn't even show photos that are already on the phone. Please MS include a cellular data on the notification center - more people using need that than VPN

I'm writing this on my l630 W10 via Windows Central app.My l630 photo app is does not recognize SD card..pictures are blurry first two seconds after opening them..and photos OneDrive backup option is missing..can't find it anywhere.

Photo info is a nice addition, but damn, the photo hub of 8.0 was the best. The current 8.1 version already sucks in comparison. And this kills is completely.

for the love of god make the toggle switches square again

Damn you, hamburger button! How should I reach that thing with one hand???!
Windows Central Newsletter
Get the best of Windows Central in in your inbox, every day!
Thank you for signing up to Windows Central. You will receive a verification email shortly.
There was a problem. Please refresh the page and try again.