New subscribers can snag 4 free months of Groove Music Pass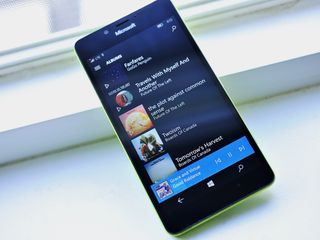 If you're new to Groove Music, Microsoft wants to tempt you into the fold with 4 months of Groove Music Pass for free (opens in new tab). That'll net you unlimited streaming of millions of songs, playlists, radio and more for 4 months without paying a dime.
All you have to do to get started is to sign up for a Groove Music pass. After the initial 30-day free trial is up, Microsoft will then send you a promo code to redeem an additional 3 months of Groove Music pass. Keep in mind, however, that you will still have to provide credit card information on sign-up so the subscription can continue once the trial period is over. Of course, you can always cancel service before the 4 months is over to avoid being charged.
Do note that this is for new subscribers only; if you've previously subscribed to Zune, Xbox or Groove Music, you're unfortunately left out of this deal. If you're interested, however, you can sign up and grab your free 4 months of Groove Music Pass at Microsoft through December 31.
Dan Thorp-Lancaster is the former Editor-in-Chief of Windows Central. He began working with Windows Central, Android Central, and iMore as a news writer in 2014 and is obsessed with tech of all sorts. You can follow Dan on Twitter @DthorpL and Instagram @heyitsdtl.
Was hoping for a Groove subscription discount over the holiday weekend. Hasn't been discounted since Pi day two years ago.

Same. Disappointing.. Maybe it was just exclusive to Apple and Android. Lol.

I got three months free in September

Were you already a subscriber?

Yeah, was bummed about no Pi day this year. I just renewed at full price last week. Still worth it, but I got used to grabbing them on Pi day for the year. Oh well, such as life.

Same here, that deal was incredible! Maybe they lost money on it? I use my Microsoft/Bing Reward Points for a Groove Subscription

Yeah I was gutted there was no deal. Office 365 Home was so just needed Groove. Also renewed 12 months Gold for cheap the other day

Groove is so expensive compared to Spotify. I really would love to use Groove with a subscription, but at the moment, the higher price for worse service is just frustrating. Meanwhile, the Spotify App on Windows Phone is pure trash -_- edit: For me as a student Spotify is only 5€/month and I can resign every month.

Dunno if you're talking about the 8.1 app, but the app on Win10m is reasonably good :P

Yeah I was hoping for that too... snagged two years on the christmas sale in 2013/2014 i believe and one code at the pi day... They have until December 2017 until mine runs out :)

I am guessing I still cannot sign up for this from Thailand.

I'm just disappointed that their are no Christmas radio stations I can listen to. Its past Thanksgiving...

Why on earth is groove available in so few countries for ducks sake!

I couldn't install it on my s7 edge. Mess. I only wanted local file play.

Why do you want Groove on an Android phone just for local file play? There are tons of great music players like PowerAmp, Shuttle etc. for local files in Android.

Love the Groove service, just wish it still supported Zune HD

Hey. How about we dedicated long - time subscribers. Former Zuners? When will we get a gift for sticking with the platform in the glory days, the trashy 8.1 days and into Groove? Just saying.

They need to give me a reason to stick around beyond years end. They bundled a years subscription as part of that MS Services bundle in 2014 and then gave a $50 MS credit if you signed up for a year last year. Failing that, I'm expanding our Spotify subscription to a family plan and going with that. Groove is a decent service and the UWP app has come a long way. But the missing music and the lack of availability on platforms like Amazon Echo or Roku means that my wife isn't interested in dealing with it. And I'm tired of fighting to keep two music subscriptions going.....

I really think they need to do a family sub. The integration with my Microsoft Windows 10 devices is the only thing forcing me into paying for two separate subs for myself and my wife at the moment. I'd be tempted to forgo that if there's a decent UWP Spotify app on W10M, Xbox and PC one day. AFAIK it's still the 8.1 app on W10M but haven't looked into it for ages

Hey, how about you add a family plan and put the 12-month subscription on sale. It's almost like they don't want to sell it...

I think Satya Nadella may be short sighted. It seems he is only interested in laying people off (mobile division, and the mobile CDMA team?) and improving his wages and stock price in the short term. That does work for corporate raiders, but it makes employees super cautious. Better to keep your head down. Suggesting promoting a sale on Groove brings attention to it! Next thing you know Satya lays off more people. Better to leave a good thing quietly alone and support it through your subscriptions. What you don't support, you risk losing.
Just my thoughts.

The CDMA team was a no brainer because only the US has a big market for that (Verizon) and it is transitioning to GSM tech.

I find it baffling that the biggest tech country in the world is still using CDMA. Australia has had GSM since 1993, and CDMA from 1999 (borrowed from US) until that was completely shutdown in 2008. We've also had 3G since 2003, and 4G/LTE since 2011.
Most devices I buy here are tri or quad-band, and can be used on different carriers locally as well as all over the world (I've used my Aussie phones in UK, most of western Europe, Russia, Thailand, Singapore, Malaysia, Mauritius).
Apparently Canada, Mexico, India, Japan, Brazil, & South Korea also still have some CDMA carriers... so the US aren't alone yet

This. A family plan would be enough.

They could do a discounted family bundle that included 5 x Office 365, Xbox Live and Groove. They could still do a separate Groove family plan but a full all-in MS subscription with decent discounts could really be of benefit to consumers.

I know I would purchase this...

If I hav it here in Colombia.. I'd be awesome...

Don't worry. YOU are already AWESOME! Don't let anyone tell you differently.

I made the mistake last year of extending three annual passes in my family by buying the "special" Groove Music Pass with $50 MS Store credit. I thought I was essentially getting half-off. I bought two passes intending to use the two credits to buy the third pass for free...but little did I know you can't use the store credit to buy more Groove passes. So I paid $300 in passes and had $150 in MS Store credit racked up that I didn't need. Ugh.

You can't use the store credit for subscriptions, I have over $200 and they won't let me use it and it clearly says, now I read it, that it cannot be used for subscriptions. So you can buy music tracks with it but not subscriptions.
So Groove Music pass and Office 365 are out, how silly, they were vouchers I paid for with my own money and they won't let me use it for subscriptions, weird.

.....as usual, US only. I just had a finished a 3 mth/£0.99p Deezer Sub. Had a 3 mth/£0.99p from Spotify previously. They come around often WORLDWIDE. Only ever had a free offer from MS at the start. And that was over 4 years ago.

Are you sure? I can't find any info about it..

It works at least in some countries, but I don't know more than that. I wish WCentral could give use more info. Here's a link for UK.
Groove UK

Thanks for the link, but if you refer to the fine print, its a deal that was valid only until August 2016

Would love to know how much Groove charges you for a normal subscription in the Uk, considering how they want to sell it its very difficult to find pricing on their website. Just finished a 4 month freebie myself

They charge £8.99 for 1 month or £89 IIRC for 12. Most other music stores are the same. Most of the others have a special offer in which you get 3 months for the price of one. I normally switch between whoever has a deal on. Groove never has similar once you've used them.

What we need is a Family plan for Groove Music ! Don't want to pay 6 of it me, my wife and our kids...

No, but good luck finding the link for your country, if it exists. Search for "4 free months of music to rock your world" and you'll get the links for Canada and UK. That's all I could find.

Nope, can't find either Canada or UK links with that search.

Eh all these deals never get me into. It Spotify. Not apple. Not Pandora. None of them. If I want music just buy them and there mine to keep.

I guess it depends on how much music you listen to. I generally buy my tracks from Groove but if they had a family plan I'd pay for a subscription.

FYI currently once you accept the free month of Groove Music Pass you'll never be able to get a free trial again on the same account forever. I would really like to see the free trial reset for accounts after 1 year.

There doesn't seem to be any way to buy a Groove Music Pass, as a gift for someone, other than paying full price?

Doesn't the GMP usually get a discount during the 12 Days of Deals?

Lol 😁 people here in India
Windows Central Newsletter
Thank you for signing up to Windows Central. You will receive a verification email shortly.
There was a problem. Please refresh the page and try again.