New Surface Pro 4 and Surface Book firmware updates are rolling out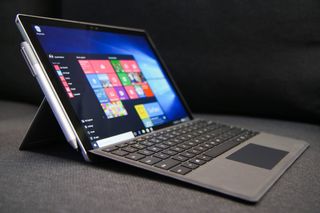 Owners of Microsoft's recently launched Surface Pro 4 tablet and its Surface Book 2-in-1 notebook will be able to download new firmware updates for both devices.
While Microsoft is rolling out the updates, there's no word yet on what they are designed to fix on the products. Microsoft did state yesterday it planned to release these updates this week, but the message didn't offer any specifics on what they will contain. We will update this post when those change logs are published.
Update: Here are some of the file changes
Surface UEFI update (v88.870.770.0) improves system stability.
Surface Management Engine update (v1.0.0.1183) provides touch optimizations.
Precise Touch Device driver update (v1.1.0.217) provides touch optimizations.
Management Engine Interface driver update (v11.0.0.1172) provides touch optimizations.
Surface Touch Servicing ML driver update (v1.0.36.1) provides touch optimizations.
Microsoft Surface ACPI-Compliant Control Method Battery driver update (v1.2.0.2) ensures correct Surface driver is installed.
Thanks to Kevin for the tip!
Get the Windows Central Newsletter
All the latest news, reviews, and guides for Windows and Xbox diehards.
How about an update for the SP3 to stop my display driver from crashing all the time ever since the November update lol.

me too!!!! Damn!!! Battery 3 hours! We paid $1700 and we just had a device that's like way back in 2005

Ha, I paid $2,300 for mine (i7, 8GB, 500GB) after the keyboard, pen, and BT mouse with tax and shipping lol. It's irritating when I depend on my SP3 100% for work or I don't get my bills paid.

Aren't you able to rollback the update? If its causing you that much grief you should if you can.

I will maybe but I always try to give MS the benifit of the doubt and wait a few weeks to see if they issue a partch first. Rolling back is such a hassle when I'll just end up doing the update again later anyways. But yeah you're right.

I was able to resolve this issue by installing the latest driver from the Intel website. Completely fixed all of my display adapter crashes on the SP3 You'll have to download the driver from Intel's site directly and you can't use the exe installer because MS has the tailored drivers installed on the SP3; you can install it by going into Device Manager and manually forcing it to use the Intel driver. There are some solid tutorials on how to do this on the web

Same with my SF2. Took the latest 15.40 drivers and all happy now.

I thought this was the way of doing things? it's like installing Windows Update video drivers and forgetting about AMD and Nvidia website, I always download and install them, and they always work better. I don't understand who made up that they had to use Windows Update for every driver. Maybe an official driver might be more optimized and work better about battery in some cases, but usually when it comes to video, the chipset and technology doesn't change so much that I think installing from gpu maker website is always the way to go

This update didnt fix the display driver crash on my Pro 4 either. The display driver is actually the same as before this update so hopefully that will roll out soon.

Try download the display driver from Intel website :)

Not seeing any issues with the SP3 i3 model. Battery life also didn't change for me after upgrading to W10 & Nov. Maybe some background program running causing the issues.

So, I guess no new Mobile build cause of this..."Customers" have priority.

Because the same team works on everything....

The day is not over yet...

Edit: Never mind, build is here. Bigish bug though it seems.

Not because of that due to different teams. But if they did, you could bet your ass they would. The importance of business, corporate, and home users vs a beta build for a small community of diehards? The contrast is astronomical.

Hopefully graphics driver fixes.

Well the graphics driver is crashing even more after this update. But I'm just hoping this fixes the constant BSOD. My Surface Book is not usable for anything important because I'm afraid of losing work which has happened a couple times now because of the BSOD!

Graphics driver and dock. Cannot drive any external monitor from dock... same cable and monitors work from displayport on device. Downloading update now... hopefully some improvements there.

I can. No problems on my i5 dgpu

can't for all the seems faster comments, battery improved after 10 minutes of use, etc etc.

And so is 10586.11 for mobiles

Since I updated about one hour ago I haven't had any graphic driver crashes. Hopefully its finally fixed!

I have had 2 in the last hour so it doesn't seem like it is fixed. There was no change in the display driver as I already had the 10/27 driver installed.

Didn't fix the Intel Display Driver crashes. I can reproduce it instantly by using Edge and just browsing For Sale ads on Craigslist.

I still get the occasional display driver crash, but only when using Edge. I don't know what the deal with Edge is, but it is the common link to every problem I've had when using the Surface Pro 4. I've switched to using Chrome as my default browser and have had no problems at all.

I agree that Edge aggravates the issue further. I refuse to use Chrome, however. But I've also read that Firefox users have similar issues. Maybe I'll see for myself.

So any news on what exactly they fixed?

So far out of the box my surface book has been a beast i7 8gb 256 w/ dgpu

Same with my Subaru Outback. 2015 V4, no glitches so far.

Lololololololololol
Made my night.
Also because my parents are going to be getting a Crosstrek soon, so reassuring :D Posted via the Windows Central App for Android

The crosstreks are nice cars! I like them for their agile size and design. Also, their hubcaps are really cool.

Hub caps are so cool. They're getting the 2016 though, and the hub caps are very much not as cool.
They just accelerate so so so so slllloooooooowwwllllyyyy. Posted via the Windows Central App for Android

V4? Like version four? On the bright side, I haven't had any issues on my sp4, knock on wood.

V4 like a engine. v4, v6, v8,v12. ;) doesn't quite measure to my old v6 Subaru Legay from 2000, but its acceleration is much smoother, and it doesn't have the power issues that the Legacy had. (If you wanted faster acceleration, you had to turn off the AC.) Benefits and tradeoffs. Still, I think the new Outbacks are much better off than the legacy line.

Subaru does not use V'ed engines. They use boxer or flat four and six cylinder engines like air-cooled Volkswagens and Porsches. Flat, also known as horizontally opposed, layouts lower the center of gravity.

I forgot boxers and V's were different engine types. I don't know my cars super well. xD

But I don't have money to buy it:(

Don't buy it yet, wait till they fix all the bugs first. Trust me.

Hopefully I can use Krita again

So I have gotten a few display driver crashes on the Surface Book, a nuisance when scrolling or watchng video. Didn't appear to be any wierdness when coming out of standby or hibernate. Not all that happy. Seems some bugs were fixed, but still needs more driver work. Windows Hello seems to have better range now, though.

Did anyone else loose Windows Hello (via Camera) on Surface Pro 4 after applying the 11/18 firmware update? Fingerprint still works, but the 'Red Dot' doesn't appear anymore when it's 'Looking For You'. Haven't tried to enable/disable yet; just curious if I'm the only one this has happened to.

Looks like I figured out what the issue is now with Windows Hello on Surface Pro 4 after the 11/18 firmware. The Camera no longer works, therefore no Windows Hello. Anyone else experiencing this?