New UK Xbox One console buyers can get 12 free months of EA Access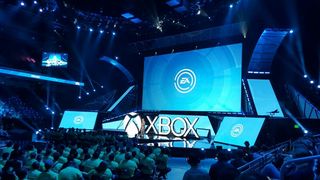 Microsoft is offering gamers in the UK an added incentive for purchasing a new Xbox One console. The country's Microsoft Store site is now offer 12 free months of EA Access with the purchase of the Xbox One in most of its bundle packages.
EA Access is the Xbox One-exclusive subscription service from Electronic Arts that offers users a library of older games they can play for as much as they want until their subscrption expires. Currently, EA Access has 12 games in its Vault, including the most recent game, Titanfall, and more games will be added in the coming months, including Dragon Age: Inqusition. EA Access also offers users a 10 percent discount on purchasing EA digital games on the Xbox One, along with exclusive trial versions of upcoming games.
The special deal on the Microsoft Store UK site applies to nearly all of the Xbox One consoles, with the exception of the Xbox One bundled with The Witcher 3 game. There's no word yet on when this special offer will expire, but people who who get the Xbox One with the 12 months of EA Access will have to renew their subscription manually after it expires; it will not auto-renew.
Check out the Xbox One consoles on the UK Microsoft Store (opens in new tab)
Via: Neowin
Windows Central Newsletter
Get the best of Windows Central in in your inbox, every day!
They should also do this for Japan, they need sells there.

Sales* and agreed! They mentioned, the priority feature that they would interest them is the new interface.

This type stuff sort of pisses me off when other people have purchased it. What do we get?

Well consider this: Unlike mobile carriers, Microsoft actually gives a crap about current customers. You get free games with gold, this new huge sale coming up, the new backwards compatibility feature, and a ton of other stuff they've added. Think about what you already have

I couldn't agree with you more. I got my xbox1 on day one and the only love I've been shown is a year one gamer pic and background! I understand Microsoft want to get new people on board but what about us who've been there from the start!

I know what you mean. A couple years ago I bought a new car and then a few years later BMW redesigned it, changed the engine to be more powerful while reducing gas consumption, and added equipment as standard that I had to pay for. I demand that BMW gives me this newer car, and if they don't then I will be pissed off and go to the Internet to compain about how they are treating me poorly.

So much lols though not quite apples to apples.

Most of it, no. But the "and added equipment as standard that I had to pay for" does apply. If one year I pay for the premium speakers and then the next year they include those speakers as standard, isn't that the same as this?

I felt more annoyed having paid £20 for Plants v Zombies, then 3 months later they launch EA Access, for the same price. Having said that, Access is well worth it.

It's called an incentive, by definition whatever came with your xbox was incentive enough for you to purchase it. Now they need to entice the people that need more value to make the purchase. It's been the exact same process for pretty much anything ever made. If you want more, you need to wait. If you want it now, be prepared to see it cheaper or bundled with more stuff sometime down the line. When you buy something it's usually pretty clear what's included. If your happy with it, fine, if not, wait. Simples

And tomorrow when Microsoft announces some other deal only available to US customers, then the UK people on here will whine and complain about how unfair it is that Microsoft forgets all about them, how oppressed UK users are, blah, blah, blah, and forget all about the deals that are exclusive to them.

If sales are that bad, you'd think they would also throw in 1yr of Xbox live as well.
Windows Central Newsletter
Thank you for signing up to Windows Central. You will receive a verification email shortly.
There was a problem. Please refresh the page and try again.