Here are all the new Valve Index VR titles announced so far
The latest batch of Valve Index VR titles have been revealed. Here's the full list.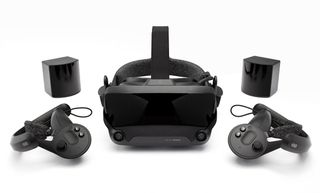 (Image credit: Valve)
What you need to know
First shipments of Valve Index pre-orders will be delivered on June 28th.
If you snoozed on pre-ordering, you lose. Any new Valve Index orders won't ship until September.
The Steam store is growing with new Valve Index VR experiences.
You can reserve an Index VR headset for $499.
Valve's Index VR headset is finally here! The headset with two custom 1440x1600 LCD panels, a refresh rate of 120Hz with an optional "experimental" 144Hz mode, redesigned controllers, and a wider FOV is finally in the hands those folks who pre-ordered.
By the way, you can still order one - you'll have to wait until September for your headset to arrive.
Along with the highly anticipated VR headset are a slew of VR games for Index owners to download off of the Steam store and play. That list just keeps on growing because what's the point of owning a VR headset if you don't have any VR titles to play.
This past week saw the addition of six new titles on top of the large list already in the Steam store. That promises to give Valve Index owners that euphoric feeling of ruling while the non-owners sit at home drooling.
So, let's just dive into it. Here are the latest VR experiences that have been added, or announced for Valve Index owners.
Spider-Man:Far From Home VR
You are Spider-Man! Web shooters, spider-tights, super spider strength, and everything else that comes with being NYC's favorite smart-alecky web-head.
Suit up in one of four cool Spidey suits - one of them being Spider-Man's new stealth mode suit. Use your web shooters to zip all around Manhattan from building to building or use your sticky spider hands to scale the walls of the Daily Bugle. But keep your eyes peeled, because there are some big robotic baddies stomping around the city looking to get their hands on you.
Download: Spider-Man:Far From Home VR (Free)
Aperture Hand Lab
Grab, shake, wave!! Use your real hands to control the Aperture Hands in VR and do some crazy edge-of-your-wrist hand maneuvers.
High Fidelity VR for your hands! Throw those devil horns high in the air!!
Download: Aperture Hand Lab (Free)
Final Archer VR
You are the greatest archer in the entire kingdom who also happens to wield magic powers and teleportation skills. That's a good thing because you're going to need all of those skills to help you battle monsters who are attacking your village without mercy.
Download: Final Archer VR ($6.99)
Prana
Prana is a playful meditation experience that the user engages with their breath employing physical breath to heal various creatures in their environment while learning to control their own breath and emotional state. Proprietary audio digital signal processing enables Prana to track breathing using the HMD's built-in microphone.
The unique VR experience is intended for use as a calming non-competitive place for a few minutes of quiet wandering and healing each day. The experience is one of self-directed exploration and focuses within a rich visual environment, as the player comes across ailing creatures and brings them back to health.
New Zealand Virtual Debating Chamber
The debating chamber, where the New Zealand House of Representatives sits to debate bills and consider parliamentary business, is at the heart of Parliament House. The green leather seats, thick green carpet, and immaculate rimu panels are signature features of the chamber, one of the most iconic rooms in New Zealand.
Built 100 years ago in 1918, the chamber has served, and continues to serve, as the main meeting place of New Zealand's parliamentarians.
Through the use of Photogrammetry, 3D scanning, and Virtual Reality, the Virtual Debating Chamber (VDC) experience provides a guided digital tour of the chamber. Visitors, students, scholars, and researchers will be able to view the chamber up close and personal at any time. VDC also digitally preserves this chamber for future generations.
Download: New Zealand Virtual Debating Chamber (Free)
Kungfucious - VR Wuxia Kung Fu Simulator
You are a Kung Fu warrior with glowing fingertips, and you are a master of kicking butt.
Learn and use Meridian points to immobilize enemies and reveal their weak points.
Dodge or Parry attacks to activate slow-mo!
Harness the power of Chi into devastating attacks.
Download: Kungfucious (Coming Soon)
Part of the new Valve Index VR headset is their new Knuckles controllers, which is a bit of a different approach to controllers.
They are definitely unlike any other VR controller out there. You place your hands into the controllers, which kind of looks like a race car steering wheel split into two. The controllers use 87 different sensors to capture pressure, the motion of your hands, touch, and even optical data.
It's a really cool design that eliminates any confusion of which controller is left or right because it's pretty obvious which hands they belong on.
As part of the Valve Index shipping date and updated VR experience announcement, Valve has also sent out an updated list of VR titles that will be optimized for the new Knuckles controllers.
Here they are!
SkiJump
Accounting
Aperture Hands Lab
Arizona Sunshine
Arizona Sunshine - Dead Man DLC
Beat Saber
Blade & Sorcery
Climbey
COMPOUND
Cosmic Trip
Duck Season
Echo Grotto
Fruit Ninja VR
Fujii
Garden of the Sea
Hot Dog, Horseshoes & Hand Grenades
Jet Island
Job Simulator
Moss
Museum of Other Realities
Neos VR
Onward
Pavlov VR
PokerStars VR
Shadow Legend VR
Space Junkies
Space Pirate Trainer
SUPERHOT VR
Tilt Brush
Trover Saves the Universe
Vacation Simulator
Vanishing Realms
VRChat
Winlands 2
There you go! It looks like there will be plenty of VR experiences ready for download when people receive their Valve Index headsets. Feel free to peruse the complete selection of games and experiences by clicking here.
VR Headset
Valve Index VR Kit

This kit includes VR headset, controllers, and base station. However, you can purchase the headset, controllers, and base station separately.
Get the Windows Central Newsletter
All the latest news, reviews, and guides for Windows and Xbox diehards.
Bobby Carlton is a contributing writer for Mobile Nations who lives in Upstate NY and has covered events such as SXSW, CES, Tribeca Film Festival, Learning, TechLearn, Comic Con, and countless other conferences that may have the latest in VR and AR news. He's obsessed with finding the perfect backpack (it's currently the WANDRD HEXAD Carryall Travel 40L Duffel!), absolutely loves black coffee, and always willing to talk Star Wars. Follow him on Twitter at @bcarlton727. {.end}