New video reportedly shows exploding Mix View Live Tiles in action on cancelled McLaren Windows Phone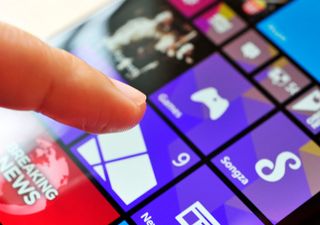 For a few years now, we have been reporting on Microsoft's concept of Mix View Live Tiles that "explode" when touched to reveal even more information. The concept was actually put into development for the McLaren flagship Windows Phone that was to carry Windows Phone into the next era before it was cancelled in July of 2014.
Now, a new video posted by Nokibar supposedly shows those Mix View Live Tiles in action including the 3D hover touch that was supposed to be part of McLaren's cutting edge (and problematic) technology.
Like all unverified videos this one could be fake, but the phone used in the video is an actual McLaren prototype lending credence to its authenticity.
In the video, we can see the user navigating over certain live tiles like the Phone app and Internet Explorer. The screen then goes black and the Mix View is revealed. Some select developers even had early-access to the Mix View SDK so that they could trial building apps. The smaller tiles would have been another template where devs could display information from the app increasing the usability of those Live Tiles.
At Build 2016 Microsoft noted they are still working on "interactive Live Tiles", but they note it is a challenging task due to discoverability issues, potential scrolling concerns, and general usability. While having concepts for UIs are always fun, it is not until you see people using them do you know if they are good or not. Microsoft says they want to "get it right" before making it a part of the OS, so presumably more research and testing is needed.
Image 1 of 2
Image 2 of 2
As to McLaren, sources close to us have said the 3D Touch hardware that Nokia chose ultimately proved to be its undoing as it was problematic. By the time, the issues were discovered it was too late to redo the PCB boards and phone while still hitting any particular release deadline. The phone was eventually cancelled and it is not clear either those developers did a lot with it during internal testing.
Hope springs eternal though that someday, something like what is in the video will become a reality. Microsoft did recently file a patent application on the Mix View technology.
Source: Hykos Wong (Nokiabar); via WindowsBlogItalia
Daniel Rubino is the Executive Editor of Windows Central, head reviewer, podcast co-host, and analyst. He has been covering Microsoft here since 2007, back when this site was called WMExperts (and later Windows Phone Central). His interests include Windows, Microsoft Surface, laptops, next-gen computing, and arguing with people on the internet.
One things weird why are they releasing such videos now ??

It isn't MS that's releasing the vids. The Chinese site might just now have been able to get hold of a functioning model

I think Microsoft is confuse how to add this feature

You think... ~~~~~~~~~~~~~~~~~~~~~~~~~~~~~
ROJO > ARLINGTON, TX > LUMIA 1520 ≥ 950... WAITING FOR 6.2" SURFACE PHONE

It's a huge gimmick and would be annoying. I'm glad they scrapped it. They need to remove editing of tiles from long press but instead add something like this. Editing could be triggered by an action button.

Or edit on PC and then push to the mobile start screen :)

Except if you don't have a PC lol

I agree. I can't even count how many times I look at my phone and tiles are moves or missing.

I wish that I could get my hands on the MaLaren. Cancellation of MaLaren is one reason that WP started to down fall and AT&T doesn't have flagships for two years. In those two critical years, iPhone and Samsung have upgraded their flagships for two generations while MS/Nokia were workng hard to relese whole bunch of cheap and boring phones. The it is too late to reverse the tide. I hope that MixView Exploding Tiles will be implemented in Redstone instead of Chaseable Tiles which offers minimal benefits. The Exploding Tiles would add substantial efficiency to the Tiles usage.

Why instead? Are we living in a zero-sum mobile universe? I'd like both, but the readiness of chaseable tiles seem to be much higher.

i think it needs much better implementation than what we see here. your whole screen going black except for a few new tiles everytime you click something? plus this effectively adds a double-click to open scenario for a lot of things that previously only took one click, so common places could take longer to get too. thats not a step forward. 1. remap how tiles are "unlocked for movement" from longpress to something else (action center unlock-all-tiles switch maybe?) 2. remap exploding tiles to the long-touch scenario, to avoid making us have to double click to go to common places. 3. when a tile explodes, don't "fade to black". instead, make it work like zuneplayer. zoom out a tad, preserve that background wallpaper, and make the previously nearby tiles still visible around the periphary of the explosion. 4. and of course, customization options and some redundancy. just like hidden gesture controls can be useful but only x% of people ever discover them, we dont want things to only be accessible through the exploding tile. but good on microsoft. keep experimenting and pushing the UX forward!

This shouldn't be a problem for a company that made augmented reality possible when others were betting on a new gen gaming device (vr). But the question is, do msft care enough about mobile hardware and software division right now?

Yes they do, a lot of people are misunderstanding whats happening, its not a case of "ms doesnt care right now" its a case of "ms doesnt think its ready yet" that's pretty much WP right now, MS isnt making any big pushes publically becuase they dont feel the platform is ready to make a difference. They are still implementing things, and things like this are a priority for them, they don't want to relaunch windows mobile until they know it has everything it needs to suceed, so they are just making devices for the fans, and keeping the platform low profile until its ready for primetime.

Relaunch? Again? Please don't! We already had at least three relaunches, we definitely don't need another one!

with "relaunch" he means start to create great devices for consumer space with a lot of marketing ecc. Not a new OS/dev platform or something like that.

'primetime ready?' I'm quite puzzled and somewhat proud to have to know that "msft currently interested to make things for fans" statement. Ppl switch os to os consistently (not to wp obviously with chances for wm). We should note that Msft is just an another tech giant that puts people just behind money. It wasn't always about "not ready, so we can't launch things right now" (as if they actually care enough). But one thing is certain, they're making progress but at this rate i don't know what awaits for the mobility from msft.

I'm not exactly sure what your trying to say.. Yes as a company, microsofts goal is to make money.. so people are behind the money... this is every company, this is buisness :s

Can you write that in English please... !

They should implement it on windows 10 first.

This sort of system is already present in Spotify for iPhone. Press and hold on a playlist and you get a grid of tracks that you can drag your finger over and get a clip of the music. Its super fast, and a nice feature. Hardly a system seller though.

You do know this was a part of Zune before Spotify even existed right?

Doesn't matter. Apple invented it.

What has Apple for to do with Spotify. Unless Apple items them.

I meant the live tiles or exploding tiles....

The functionality it adds reminds me of force touch on the iPhone 6S.

Yeah, cause 3d touch was invented way before acrapple ever came up with the ideea;). But this one here is legit!

Really sad they couldn't implement it

It was not way before Apple brought the 3D touch. This first came to the light as "Force Touch" on Apple Watch in 2014. And that too for consumers, not for inside testing by developers. Then they brought this to Macbook trackpads in 2015 and finally to iPhones in Sept 2015 rebranding it as "3D touch". Even if Maclaren wouldn't have been cancelled and shipped with 3D touch in late 2014, it would still be second to the first Apple watch.

At 1:03, I saw Lumia 650 on a live tile. Either this is a fake or someone is using this device currently. And whenever something bad happens, blame comes to Nokia. Thank God, no one is blaming Nokia for the pathetic pricing of Lumia 650..

I think that's the picture app.

It must be an old prototype that is still in use. They don't throw away prototypes in bins, so maybe the interested employees may have got to keep one.

Is there any way to contact the Microsoft marketing team?? I want to get justification for Lumia 650 pricing in India. ₹16700 is almost double the price they should charge.

Really I cant imagine, from where does MS thinks.
Pricing l650 @₹16599..???
fckin Kidding !!!
Look at the market for once!!!even the 10k range... Just take a look u damn Microsoft

Who will spend ₹17K on a phone, which does not record 1080p videos, has a Snapdragon 212!!!!!!!! Come on Miceosoft. What were you thinking??? People will go for Lumia 730 and Lumia 640 more than this ****..

They are also powered by SD 400.
Basically a mid range 2013 processor in 2016. No one would buy those even.

Considering that they can get it for low price and have more features than 650..given the choice between these two, old lumias has got good chance.

You don't understand. It is a secret strategy. They priced it so high so that people don't buy it, and go for the older lumians, which weren't sold much.
You know, it is just like a decoy.
.
.
.
. Just kidding.
The phone is amazing. But the pricing makes it ****. Like real ****. 13k was fine. 16.7k? They probably hit their head somewhere.
I mean just compare 640xl and 730 with this. Yeah, no metal frame okay. But 730 looks sexy. 640xl too. And they are amazing phones.
This is a huge disappointment.
The price will come down. I know. But it will be too late by then. I am just curious to see who buys it. And how many 650s are actually sold in the Indian market.
250$ is kinda expensive. +830. Win10.

L730 is far more better than these pieces, Microsoft is not comparable with - Using windows 10 on Lumia 730(10586.164)

i have a 730 too running w10m..its very nice to use..

I don't think that's the real price. Just a greedy retailer trying to rip some people off early. But if it's real, then RIP Lumias' in India.

It should not be more than ₹12000..but looking at the price it launched in China, I believe pricing will be closer to this..

This is a hell of a price for so under powered phone.
Why MS is stupid when it comes in pricing and specs selection for phones. They SUCK big!!

It shouldn't be priced above ₹10k even.

given the metal frame, 4G and not a chinese product, ₹12000 would have been ok, if not great..

Redmi note 3. Full metal body, 32 GB internal, 4G, 5.5" Full Hd screen and SD 650. Price ₹12000. Not even close to being decent the 650.

I'd have been fine with 13k. Not a penny more. +830. Win10.

MS do overprice heavily. But you should also contact your government to get rid of those massive import duties.

MS produces phones locally now. And Microsoft isn't the only company importing phones into India.

They do? I had impression that only remaining factory is in Vietnam (could be closed sooner than soon as well). They do outsource but that is also issue in corrupt/duty heavy markets. But in general I agree that even the prices in west are way overpriced, huge duties don't help..

Ever heard of contract manufacturing and Foxconn?

Yes. I said MS is outsourcing most of the manufacturing. But outsourcings idea is flexibility, if one is forced to make locally then these benefits go away.

Oh god... When will the day come when we will be able to get windows phone as cheap as android ones...

Don't know about that. But the day where you can buy an iPhone for as much as a Lumia has certainly come.

I hope that day never comes. I'm guessing you never stopped to think how these Chinese manufacturers are able to sell phones so cheap. The simple answer is poor quality components. I am yet to hear of a Chinese manufacturer phone that stands the test time. I hope Microsoft never stoop to these levels to get market share. If you can't afford Lumia's it's your fault not Microsoft's.

Its not official pricing
Amazon sometimes charge above mrp
For eg: Blu win hd lte it was originally priced at around 6k but now Amazon is charging 9.5k

When did they reveal the pricing for 650 in India? I still cant see it online or anywhere in shops :\

Official pricing has not been revealed
Just 1 amazon seller has listed it for 16,700
Mostly it will be priced at 15,000

MS killed Nokia's legacy.
Name it... Nokia's smartwatch.
McLaren..
Amazing Lumia phone looks..
And now the pricing of phones...
Shame on MS.

whats wrong with $199 for the 650, i find that a very fair price.

Its $250 in India and $262 in china..

Naah..tax can't be that much..My Lumia 730 cost me ₹15000 after 12 days of launch in India. Lumia 650 costs ₹16700..
I wanted to give this to my dad.. :(

It is taxes. Excise duty and import duty both have gone up since the launch of the 730. If you want a comparison look at the iPhone 6 and 6s. both were launched for the same price in the US but in india there was a large difference in the launch price because of taxes.

How did Lenovo launch Moto G Turbo at ₹14500?? It launched 5 months back..that has a SD615 in it.you can't justify this price..

Yes, the video is new. You can see a Band 2 box in the back

Doesn't look promising. Still a great way to navigate stuff

What if you accidentally "press" it. What if you're scrolling down and you press something by accident. I can see why it was scrapped but it is a cool idea

That's what I was thinking. It looks cool but not reliable. If the video is real then we can clearly see that the response from those exploding tiles is not consistent. What if we keep failing to hold our finger over the tiles for the required duration? It would have been seriously annoying if we accidentally scrolled through the screen instead of triggering the exploding tiles. This often happens with my phone if I bring my finger very close to the screen but not touch it, due to static electricity. These flaws must have been the reason for the cancellation of McLaren and exploding tiles all together.

Why are we still talking about McLaren.?

Because it could've been the device WP needed. Instead MS sat on their asses and we got nothing but half-assed W10M and the two "flagships".

Did you actually bother reading the article? Ah, who am I kidding.

Get over it. This phone probably would have made zero difference to Windows phone's situation. The whole "the sky is falling, Microsoft is useless", attitude around here is really sad and pathetic and is getting old real fast AND they're just phones.

Are you serious? Microsoft is incompetent when it comes to phones. It's so apparent that Microsoft will tell you themselves?

Don't even bother trying to explain. Some people have MS-certified blinders on.

What's sad and pathetic is people defending this dumbass company for their mistakes. They choose not to release anything worthwhile in over a year and the platform tanked. "Get over it"? Put down the crack pipe, please.

we don't exactly have anything news worthy to talk about at this point, other than this flashback of better times

Because Nokia was so far ahead of anything that Microsoft has done with the phone recently.

Yes. I still feel Nokia shouldn't have sold its phone business to Microsoft.

Nokia was going to bankrupt anyway, but somehow you're right. Posted via the Windows Central App for Android

Uh no, no they weren't. Nokia was making money, just not from phones any more.

Couldn't agree more. It seems that Microsoft is not as innovative as they want us to think. Posted via the Windows Central App for Android

I won't necessarily defend MS on this - though I think with Iris Scanning and Continuum they're looking ahead already - but in all honestly, Nokia didn't throw the boat out for every phone either; there were a lot of incremental upgrades and very similar models. McLaren and the actually-released 1020 were the game changing and unique models - and also quite niche in their audience. The 920 probably deserves a mention here too.

920 was ok but still like nokia 930 or 830 better!

Nokia was so far ahead of anything that they put 512 MB of RAM and 4 GB of space in their phones in 2014. Give me a break.

On their cheap arse phones. Yet Apple, selling a 500€ iPhone with non-expandable 16GB in 2016, is perfectly normal, right?

Sure DJCBS, your beloved Nokia could never get hardware wrong. Whatever you say.
630 and 635 were not that cheap, and as a non-American, you have no excuse for not recognizing that. They launched in the same price bracket as the 650. I know because I bought two dual-SIM 630s for my parents (which they are still using, on 10586.164).
They look pretty and the build quality is very good, and that's the reason why I chose them, but their Android competition absolutely destroyed them specs-wise. And no matter what you say, there's only so much you can run on 512 MB phone. Nokia skimped on specs for quite some time, they are not the only examples. The 920 and 925 launched with 1 GB of RAM when their competitors were offering 2 GB. The 830 launched with 1 GB of RAM in 2014 as an "affordable flagship". Thankfully, 1 GB is enough memory for a decent low-end experience in 2015-2016, but you can't just deny that Nokia pooped on the future-proofing of their phones. Posted from Bikini Bottom via my Shell XPS 13

And you know that decision to pump out a million versions of the same thing was a Microsoft play. Microsoft still haven't figured out how to find their way in phones.

Nokia had been churning out dozens of overpriced variants of basically the same feature phones since long before the Windows Phone story began. The internal differences between the X3, X3-02 Touch and Type, X3-02.5 with double the memory, C3-01 Touch and type, X2-00, the Asha models, etc. Or gimped versions of phones, like the 5530, 5230, 5233, 5235, etc, all models of the same old 5800 Xpress Music. What about the N8, N9, Lumia 800, Lumia 900? Look man, Nokia was great, and I've had a handful of Nokia phones in my life, but it overestimated its brand power and underestimated a streamlined and up-to-date phone lineup. Posted from Bikini Bottom via my Shell XPS 13

Amazing tech! They should really start working on it again.

Nadella fired everybody long time ago.

A lot many things of microsoft reamined PROJECTS .. And later they cancel it... Eg .. This and garage projects..

The problem is that they cancel projects that could bring them money.... Posted via the Windows Central App for Android

There is live tile in the video that says "Lumia 650" at somewhere around 1:02. Someone still has this device and they are using it ! Posted from Windows Central for Windows 10

This isn't impressive at all.... just opens up another set of tiles on a new screen. It's like folders.

While true. It also opens without touching the screen

Yeah, I don't see what's so great about not touching the screen. Help me understand. What problem is that solving?

Creates one if you ask me. I don't know how many times I've almost tapped the screen on the wrong thing and was glad I didn't actually press it. Or changed my mind last minute sending a text or picture etc. This feature would screw me over.

Bring it on!
The real 3D Touch.

More like Air Touch. Posted via the Windows Central App for Android

Did you guys actually read the article? They're still working on the technology.

Great Nokia didn't release it as this would be have been a gimmick rather than something really useful. But they should've just disabled this and at least launched McLaren.

It was far more complicated than that. When the problems with this technology became evident, releasing the phone in a reliable form would've required reworking the entire device and being unable to set a reliable release date. By the time the phone had been released it would have been so outdated as to be obsolete.

I really like this..feels like the next logical step of live tiles..i think McLaren would have been a killer device..pretty sad it never came to be.

What's the big deal? Go fix all functional probelms before screwing around with the UI.

I have to agree. Looking at how Win10M runs on my new L650 it feels like we're pretty far from any hover gesture coolness stuff. The system still needs a lot of work regarding the basics.

It would have been baked into WP 8.2, if the press (and with it their readers) had loved Win 8.x. But so they had to spent three years into creating something with a desktop user marketing strategy. But stay tuned in summer 2017 we have a stable system and we will recieve all the goodies which could have had in 2015.

Awesome!! Posted via the Windows Central App for Android

oh that win 8.1 style of the dialer with full screen contact picture ... why the hell did MS removed this and replaced it with that round little thinghy ...

"People are not squares" - some idiot at MS

If it looks different, so it must be different. How else do you convince the people that all the cool Win 8 Stuff in Win 10 is cool?

The real 3D touch. Not some 2.5 touch.

Daniel.....What happened to #AskDan series ? Posted via the Windows Central App for Android

Oh come on. Let the guy have some rest. He's just been back from a hectic /Build 2016.

It's a nice feature but honestly Daniel I'm just tired of Windows phone cancel news and news in general. To Microsoft Windows phone is dead and we get the message you don't have to rub it in. From the release of the fuggle looking 950 and the comments made at build that their focus is not on Windows mobile for 2016 and not to mention the sluggishness in the past of developing Windows 10 mobile tells me that Microsoft isn't really interested anymore in the mobile division. I'm also pissed at the fact that they used us, the owners of 512mb Lamias', and then suddenly drop us from the list. :(

Pointless feature. Like fingering the phone. Whats wrong with just tapping the damn icons.

Yeah, I don't get it, either.

This type of technology can Appear in Windows 10 ( Mobile) some time ???????????????????

Nothing... They will get you overexcited with their"something awesome"thing. But wont over anything more than crap

Are you still on this? Geez! If you don't understand that Build is a developers conference and that the "something awesome" was Bash on Windows and free Xamarin then do a favor and stop commenting nonsense.

Looks cool and could be useful Posted from Windows Central for Windows 10

Damn . Sent from pichke materine ;)

Aside from the people whining about the price of the 650 which is totally off topic here, I think the video looks great and can only hope that if this is a cancelled phone, the software makes it in windows 10 ... It looks really smooth and nice and would really dig this on my phone...

Ok first of all. This is beautiful. Secondly look at those smooth wp8.1 animations. W10 may have more features but it lost a lot of its spirit and luster

It has to appeal iOS and Android users :)

What might have been (and might still be?). I can't read the name "McLaren" without anguish! I know sometimes even the prettiest prototypes ultimately have no business going into production. But this is nonetheless a tantalizing glimpse of the versatility and power of a fully realized live tiles running on confidently high-end devices. It's not just the cancelling of McLaren, it's the baffling succession of low-market, bland devices and the failure to follow up on even the promise of the 1020 and 1520. Windows Mobile is an OS that cries out for similar inspiration on the hardware side, but it's like

Now I know why it was cancelled, never understood these stupid gestures. even on android phones.

That looks so, so cool! Love the name McLaren too (F1 hype!), shame it didn't happen but hopefully they'll make it a reality in the future.

Good thing it was cancelled, this useless gimmick. WP was going to die anyway and this would not have saved it.

Looks unusable, imagine trying to get a mm perfect 'hover over' while on a subway or jogging.

Why the hell that mobile canceled they should continue it even for years until they figure out the issues and fix it the introduces it to the public.

Typical Microsoft, when there's an issue don't work on a fix. Like the Windows 10 mobile for older phones, they could definitely make it ready for these devices (lumia 920,925,1020...etc) but they are too lazy to do it. Posted via the Windows Central App for Android

Actually in my own perspective, Microsoft didn't launch windows 10 mobile for 512 ram cause its perform bad(old snapdragon actually perform really bad) my Lumia 630 512 variant perform good it only wants optimization.
But, the main reason is money they want us to upgrade and they are 50% right cause there are major number of old WP out there and there users didn't upgrade, it's a frustrating situation no one know what's write.

Ahh its cool but when it comes to everyday use I dont see it being relvant. Youll play with it for awhile then itll become.annoying. Im all about innovation but this really isnt. Now the 3D touch is. Maybe incorporate that in some other way then Tile Access. I dont have a Windows Phone anymire but its still my favorite. I want the different functions on live tiles. I want interactive live tiles damnit even on Win 10. Hell MS is all about Enterprises and that cant be very efficient for them as well! Posted via the Windows Central App for Android

I am not especially impressed. It seems like it would be kind of annoying to have to touch, but not touch, your phone. Neat tech, but not as interesting in reality for me.

Wow Microsoft. Wown indeed, You manged to kill this beatifuly looking McLaren phone, just to have us wait another year to finally be compensated with a ****** asthetic, ****** performance, half baked OS phones (950/950XL). This 3D touch is 100 times more usefull/practical than this half of the time not working Iris scanner, and better than the contiuoum feature that the vast majority of people never use. Well done Microsoft, thanks for being such a huge disappointmet. Your's faithfully, Lumia 950XL disappointed owner

So if you think the 950xl is an ugly piece of phone, why did you buy it?

By that point I had been stuck with my L930 for two years. Enough was enough. And as a Microsoft fan, the L950XL was the only viable "allegedly" high-end option.

now you make sense... so you feel the urge to upgrade from a phone that's still a top performer (I have the 930 myself) and you blindly go buy a phone from which you know up front (if you actually read some stuff) the design wasn't WOW only to come complain on how it looks? fwiw, I upgraded my 930 to a 950XL as well and now am very happy with it. I do agree that Windows 10 Mobile wasn't really up to par when the phone was released but I'm now happy with it, very happy actually and really satisfied with it as a successor to my 930 which is now used by my wife (and she's really happy with that also). I'm just saying : I don't spend 600 € on a phone I'm not 100% sure of it will totally match my needs and after a couple of updates, it surely does.

You said it. "You" don't spend that kind of cash on a phone you're not 100% sold on. But guess what, that doesn't apply "everyone" else.I do that all the time. I feel the urge for change after 2 years stuck with one phone. And that is why I went for the alleged upgrade.

You are most certainly NOT a Microsoft fan

Don't rememebr you being ellected a board member of the Microsoft fan-club, so your opinion doesn't really matter nor can I comprehend how can one reach to such a conclusion by knowing almost nothing about me. Don't even bother explaining, not interested in your opinion.

More than your eyes can see

I am glad they did not implement this. I would still like to see flyout menus/exploding tiles, but not in this way. I'd much prefer to long-press a tile like "phone" to see several options such as redial, speed dial, voicemail, # pad. The problems with McLaren's version: 1) Hovering is problematic. With a phone that is moving in space, and a finger moving in space, I think there would be a lot of accidental presses in real life. 2) Why go to a different page/screen for the exploding tiles? Leaving the start screen seems more time consuming than convenient. 3) How is this better than current live tile groups? Other than the contents being filled with apps instead of parts of only one app, opening a live tile group and remaining on the start screen seems much less disorienting than swapping to a whole new screen just for a few tiles.

It is not a new screen. The Start Screen is just darkened.

This is fake.
Look at 1:22 when he goes to Start without tapping the start button... also screens are literally just jumping around without him taking any action... he's just moving his finger around randomly. I'm pretty sure the real deal would have been much better implemented, but probably not something polished enough for users to use with things randomly opening unintentionally.

Then apple thought, hmmm 3d touch, that sounds innovative, let's invent it :')

Queue pissed off people comments. But yeah this sucks for us. But hey maybe they're making something better.

Remember w10 and 10m are suppose to be the same across all devices. Thus you probably won't see unique features adding to the mobile OS. Sad because makes it harder for oems to want to build a w10m mobile device. They can't do anything to w10m to differentiate. Samsung has complained about this.

actually i think it was huawei or something, that complained about lack of custom roms to differentiate from other oems. which btw im glad they are not available. i dont want w10m to become the mess android is. in the future, ms maybe could create some tools to slightly modifiy the oes appearance and maybe some small tweaks here and there, but i hope that if they do this, they make so that only certain small things are accesible

Hope that this will be a reality on the upcoming Surface Phone (ya all know that it is a upcoming phone;))

Device looks nice. But the 3d touch is a gimmick, as the video clearly shows. We already have this functionality in start screen folders. And it's faster Posted from Windows Central for Windows 10

Glad this wasn't implemented. Device is nice. But 3d touch is clearly a gimmick at the moment. They can integrate exploring tiles into a tap/hold gesture, or into the current folder view. Posted from Windows Central for Windows 10

Sad the feature probably will not see the light of day.

McLaren? Not really a brand to be associated with at present. The F1 team is in the pits (sic), and the hybrid road vehicles aren't selling. Sound familiar?? Wasn't the 650 supposed to be enterprise first, consumer second? They are a bit pricey retail, but if you buy a few, you can probably negotiate a half decent price. As for exploding tiles, IMHO, gimmick and not really something to sell an OS. Needs to be combined with a sorted OS and a device or two that shallow fashionistas of the iPhone and android persuasion, would want to be seen alive with rather than dead! ;-)

I was expecting a Michael Bay explosion

Holy ****! that is definetly cool, sad that it is screen technology and not a Windows. Sure it will be copy/paste by Apple or Samsung.

Looks **** and unreliable. You might as well just open the app. I mean this isn't the way they should explode. It is the same animation as opening an app, slow and then you see a few buttons, the same buttons you would probably see if you had simply opened the app. I can see why they cancelled this.

microsoft has a patent for similar tech like 3d touch from iphone plus the sensor tech is getting better. so maybe someday they will bring this functionality. my only concern is that they are trying to bbuild an ecosystem arround w10m like on pc, so it will be much harder to bring these features when the hardware is coming from different oems. on other point, maybe they will switch from finger hovering to retina focus, much like on hololens. that would be a game changer, plus oems are excited for windows hello so there would be enough phones out there with required hardware for the feature to worth beinbg implemented. but, bottom line, this will only come to reality when the phone will have more success. as for now, this feature is most likely better suited and more useful for mobile, than for pc.

regarding interactive tiles. they should bother with scrolling and other features like this. personally i only want minimal usability outside the app, i dont want to never open the app again, like it was possible in that microsoft research video with interactive tiles, when you had access to calendar or people apps full on tile. for me, a refresh button or change location on weater app, or a mini player on groove tile, is all im asking.

I originally thought this idea had much promise, but I am not at all impressed by this implementation. Mayne it was the right decision to pull back from release and keep working on this technology. Posted via the Windows Central App for Android

I still don't understand why they wanted the 3D touch gimmick in the first place, the exploding tiles was the real feature and would be incredibly useful, also the fact that they could bake "Interactive Tiles" into the same feature seems like a no brainer. Dump the 3D touch gimmick and enable this via double tap on the main live tile. So simple lol. And as for interactivity, double tap on Groove tile and then have 3 small tiles for pause/play, forward and back and add whatever deep link / info tiles you want like jumping straight to playlists etc.

I added feedback about this if you want to upvote then feel free: feedback-hub:?contextid=288&feedbackid=38bd5fe4-a480-415c-b00d-e2c8b07c71da&form=2&src=2

I sure am glad this never made it to Windows Phone. Looks like it would be a pain in the ass to use.

"Microsoft says they want to "get it right" before making it a part of the OS" ... Made me laugh. Posted via the Windows Central App for Android

I'd be satisfied with MS releasing this gorgeous phone instead those two gross 950/950XL. I could settle with 1030 (or what ever its name or number would be) even without this 3D touch function which is awesome btw.

Can't really see how the 950 and 950XL are 'gross', they may not have the best outside design but they're perfectly fine, and the internals are brilliant.

IMO they are utterly gross. The design is horrible. And I'm saying that because we all know that a lot of Lumias were gorgeous even though most of them were made out of plastic.

Music of the video, "more then your eyes can se" help me find this music :)

YouTube. It's the name of the song.

I've had this on my Samsung for ages now. Posted via the Windows Central App for Android

And ios already brought it...MS too late

Honestly, the 3D thing reminds me of past gimmicks like Samsung's camera software that pauses videos when you sent looking at the screen. Nobody used it and it seems to have faded a bit. I never would have used the floating hand thing. But the 3D tiles are kinda cool. The black background is kinda...under-utilized, but in sure they could make something out of it.

My girlfriend always mess of the tile setting. I think tile arrangements should be done through setting on action center to avoid accidental tile move. And long press should be something like this. I like the way rest of tile goes in background.

Yes the hover looks like a gimmick, that said this should have been released. If the feature didn't work disable it. The rest of the device needed to be produced. The public would have loved to have a new first rate phone. Instead we had to wait over a year to get what at best an under performing pair of flagship devices. Oh and continuum is not a mass market driver for it. What's sad is we all knew this was a disaster when they killed it. Since then it's been a greased slide to oblivion. What could have been. Sad. Posted via the Windows Central App for Android

Lumia 650 cost 15000₹in India. And it's available in all of line channels including MSFT priority reseller Posted via the Windows Central App for Android

WHY WOULD THEY NOT PURSUE THIS FEATURE!?

If McLaren would have been released microsoft would have good response every time from the wp user and also it would be a great phone of time

I'm pretty sure Microsoft took too long to implement another cool idea and let Apple make it cool via "force touch". Take your sweet ole time Microsoft. One picture at a time -- LG V10

Looks much better than current folder view

I want that explosion in my edge tile at least.

This will be a big problem for existing users withouthe hardware. And I'm not comfortable hovering my finger over the screen. Id rather tap to mix view and doubletap to open apps. Long press to resize and unpin as usual.

Zzzzzzzzzzzzzzzzzzzzzzzzzzzzzzz

I find 3D stupid.. they should make something like maybe you have to touch one corner of tile or something like that.

Does anybody notice that we can mimic this without all the 3D techie ? For People , you can simply pin your Favorite contact on Start then put those together with People app into one Folder and Voila , Exploding tile . It can be done with Edge or IE too ( pin your sites ? )

A few things I'd like to mention: - "hover" kind of 3D touch sucks. On what distance does it start and end? Is there some delay before entering 3D touched state? No, forget this. Either longer press to edit start screen and mid-length touch to show more content (needs UI hint to show where the thing is going right now) or ditch editing behind some button/setting and use normal long press for more content like poopyfinger proposed. - besides, do any Microsoft-branded Lumias have glove touch anymore? - exploding tile is nice idea. MS could make live folders the same way: fade everything else and make the background "exit" touch target (like JS image viewers, click page outside of the viewer and it's gone). No more guessing which tiles belong to the folder, no clutter, instant focus. 40€ android with some emui skin knows how to not distract user. Imagine if file browser in desktop worked like live folders ;) - scrolling concerns: OMG, it is not working on current live folders either. Often only top row of folder content fits on screen and I have to scroll down for the rest. Explode the damn thing where it is and then move it to fit fully on screen (edges within screen, you know). There is no need to jiggle other tiles anywhere. Fade them "away" and put exploded tiles on top. Problem solved. Oh, but if fade does not work in all apps list, can they make it work anywhere :) - fix the camera app for 640 ;) Rich capture never works, and what is worse, after 30-60 seconds of processing, all it generates is a thumbnail - losing the original image. Live image seems to be better now, so maybe not all hope is lost. Again this 40€ android also has HDR, and while it is not good at all, it doesn't kill the image. (It has dual LED flash too, wider and brighter. I tested side-by-side) - why not try out fingerprint sensors? - allow user to choose 2-x columns of tiles. 3 rows with 5" screen is not optimal. With 4 columns I could forget small tiles and make better start screen. 2 columns - TILES ARE SHOUTING AT ME :D

Looks cool, but I don't think it is practical in real usage.

Man Daniel, this aticle is a hot mess. Bang this one out using MS' new quality control strategy?

This app keeps crashing when trying to share

Look at the build quality of that phone ....Nokia writen all over it.Current Lumias are crap.its an insult to Nokia Lumia series. I am missing the Lumia 800 :(

Be glad when they have ad blocking for Edge. This website is the worst.

im more interested in a fully features bug free windows 10 phone than this featue, it would be nice but lets do the basics right first,Skype needs fixing on mobile and desktop the intergrated version. Edge is still a after though, no gestures beta a feature we had on 8.1 and no longer on windows 10 mobile and plse lets sort out a sat nav, a proper one as here drive is disapearing and maps is not good enough oh and battery life too, lets also build phones with premium looks unlike the 950. Lets get that finger print scaner on phones and wireless pay plse oh and lets conventrate on that app gap too. Please lets sort these issues out before venturing into something new. Oh if you really must have a hamburger menu at least stick it on the bottom of the phone for mobile and keep pivoting for those that prefer modern improvements, eg most windows mobile users.
Windows Central Newsletter
Get the best of Windows Central in in your inbox, every day!
Thank you for signing up to Windows Central. You will receive a verification email shortly.
There was a problem. Please refresh the page and try again.