New Windows 10 preview build adds Data Sense and Battery Saver features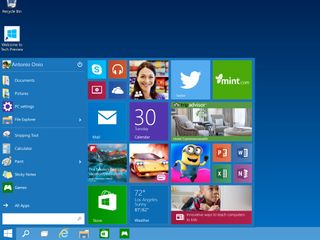 Now that we have downloaded and installed the new build of the Windows 10 Technical Preview, we have found that there are even more features added that Microsoft hasn't officially revealed. In addition to the new Action Center, Microsoft has put in two Windows Phone features: Data Sense and Battery Saver.
Since the Windows 10 preview is supposed to be for desktop and enterprise testing, the Data Sense feature isn't fully enabled yet, but should be more useful when the OS is optimized for tablets. However, much like Data Sense for Windows Phone, the Windows 10 version is designed to give users a better way to manage their Wi-Fi and cellular wireless data, along with a way to restrict background data.
The Battery Saver feature, when turned on, automatically limits any background activity on a Windows 10 PC, along with some hardware adjustments. Users can also turn it on and off manually if they want to have full performance without any battery savings.
We can also report that the new opening and closing windows animations that were reported earlier this week are in this new Windows 10 build. It's an admittedly minor feature but it's a nice touch to see an application window fly out of the taskbar onto the screen instead of just appearing there.
Microsoft reportedly made 7,000 changes between the first Windows 10 preview build and today and it looks like future updates will keep adding new functions. What is your single favorite aspect of Windows 10 as it stands now?
Windows Central Newsletter
Get the best of Windows Central in your inbox, every day!
More for tablets and even ladies laptops I assume ;)

Yup tablets with sim slots.

Some businesses use cellular service while on the road if no wifi is available. My ex-boss used cellular all the time with her laptop.

For external metered connections as well, like a mobile hotspot or tethered phone. People use mobile data while on PCs all the time.

Or modems, they are recognized as cellular when connected to my W8.

Wireless broadband dongles which have SIM cards inside are recognized as cellular.

It shows that surface pro line could have cellular data option in future

That's the Surface Pro 2 with LTE.

PCs can have mobile brodaband. My ThinkPad T420 has an optional 3G modem with a SIM card slot. I suppose this would be useful if I decided to use it.

A great feature is the glowing of an active window

Offline maps will also come soon! The "zPCSettings" app has an option to check for map updates. Just like on Windows Phone. And quick actions in the Action Center are also confirmed (via blog post).

And the touch keyboard opening up in desktop apps! That alone has made the preview nearly 100x more palatable on tablets imo

Love that Here Maps reminds me that I am trying to navigate through a country they do not yet support. Damned 3 rd world country, Japan!

What does this have to do with Windows/Microsoft?

If windows 7 upgrade is free, this will be the time to upgrade my PC.

Am I the only one who can't use W10 because it's super buggy? I can barely do anything. Windows don't appear correctly sometimes and just too much to list.

This is an alpha build, not even a beta. Very early work in progress. The point of it is to find bugs, not use it on a main computer. And honestly, I do use mine for work because I have next to no problems which is extremely impressive.

I know that. But only reason I ask is because nobody says it sucks but I don't even bother using it since its almost impossible for me.

I'm talking basic functions. Not even installing anything. Navigating is next to impossible for me. But... It looks good and I'm excited to see the end product. Or at least consumer preview

What type of computer are you using this on?

its your hardware maybe cuz its bugg free for me first bud i found is it crashes when connected to my windows phone over wifi hotspot other than that its cool .. although i think blackberry link is what crashed my lappy

Same here, I put it on my laptop and haven't run into a single issue yet.

Figured it's just me. Using on a HP TouchSmart Ultra Book. Which came with 8.1 and its a terrible experience.

HP ENVY SleekBook TouchSmart m6-k022dx its an AMD and works amazingly. Best HP ive ever owned. Doesn't over heat like old ones.

It sounds like maybe you have a hardware issue. I would do a clean install of the OS to make sure that any software issues you have go away. If that doesn't fix it then it's probably a hardware problem. I know a lot of people using it just fine. Actually just took it to a business conference up in Chicago and had a few people considering testing it out. Try some troubleshooting, hope it works out for you.

Made a fresh partition and installed it. Refuse to wipe my whole system for it. Partitioning is good enough.

Yeah a fresh partition should be fine. That's odd. Specs on it should be good enough.

I have had issues with the preview as well. It typically works good but every once it a while it will just get EXTREMELY laggy to the point where it is unusable and I will have to force a reboot. Another issue I had with the preview was it somehow corrupted the entire partition it was installed on when I was away from the computer.

MS is still in the early testing stage of things, which means that this is essentially win8.1 with a bunch of unpolished tweaks done to it. If your machine runs win8.1 OK then it should run the preview just as well. If you have a system that came with win8 instead of 8.1 then there is a chance that you need to update BIOS in order to fix some things that were changed with the update (several laptops require this and will act all sorts of odd until the BIOS is updated). Also, make sure you are running win8.1 drivers rather than win8 drivers wherever possible. Obviously, be careful about flashing BIOS... but at the same time you should be careful about running beta (or in this case pre-alpha?) software. Hope that helps! I have been running in VM on both my desktop and laptop and it works super smooth, waiting until after school gets out before installing on bare metal... last thing I need is to mess with my machines now and end up failing a class for it. Hope that helps!

Running it VMware and no problem at all, except I don't know how I can install programs that I previously downloaded coz other drives are not accessible. Any help on this?

VMware has an option to mount physical drives AFAIK.

I believe it was called Shared Folders in the VM settings. You can also use Windows sharing feature, and since the physical and virtual machines are on the same network, you can use network drives.

I'll check that out. Thanks

Nice features but I'm using on my desktop.

But there's already a battery saver mode on windows, well this is the metro\modern way then I guess

It's a little more advanced than the old battery saver mode

I only have one program that doesn't work for me in the preview but its a big one for me for work so right now I went back to 8.1 been thinking about running that in a dual boot though or vm.

They fixed triple monitor support! Also the animation for opening and closing apps is nice.

Works perfectly for me on a x64 pc.

I've been out of town all day and just got home to update. Waiting patiently but excited about the new features.

Biggest change they need to make is to group x86 apps and metro apps together and let me expand the list when I am looking for an app. no point the way it is now for some like me who has a lot of metro and x86 apps... That list is too long to be useful

my comment is now void as i found there is a fix for my problem, but i see no way to delete my comment..

I would like icons to be updated, that XP/7 look, looks veeeery old

the animations are quite bad. I guess that's what to expect in such early builds. I'm sure MS will refine them, but I wonder if the actual animation style is a problem--where the window becomes almost supersized before returning to normal. that said, the animation between desktops is welcome.

I'm also not a big fan of the new animations. I prefered the old subtle one. But well as already saied it's very likely the will polish them.

I found some new things. 1: There is a app called "DockingController" that is now installed on my PC (Not by me mind you, only appeared after this update) and it doesn't work. It simply opens, and clicking anything brings you to the desktop. 2: In PC Settings under "Pending or Deprecated *" click/tap "Corners and Edges". There are options to turn on/off "When I point to the upper-right corner, show the charms" and such. Yes, THE CHARMS MENU... Sadly it doesn't work either... (UPDATE: Also found these settings in Rightclick Taskbar>Navigation) 3: "Batter Saver", "Storage Sense" and "Data Sense" are all here, some people only mention two of them for some odd reason. (Though not all work) 4: In PC Settings under "System" there is a tab labeled "Windows Defender for great justice!" 5: Many new settings labeled with a "*" such as "Mobile Hotspot" and old ones such as "Theme". Not all of these work. Even "Theme *" doesn't work. Other new apps like "Your Workplace" are here from Windows Phone. 6: Apps like "PC Settings are labeled with a "z" before the name. (meaning "PC Settings" is now "zPC Settings" That's all for now folks! I'll get back if I find more things!

You will still find the "old" PC Settings app. The new one is completely re-organized and has a lot of unfinished stuff. Reminds me about the "zCortana" app that was leaked on Windows Phone.

Seems they got rid of quad snapping windows in this build. However when you do snap a window to one side, it'll unsnap to the same dimensions as before

I can still do the quad snapping.

A phone feature on Windows 10 Preview? Sounds like a new Surface is about to Surface ;P

They should add a seperate section in Data Sense for Ethernet or rename the section "Wi-Fi/Ethernet" and combine them on PCs and laptops, just Wi-Fi is a little misleading. And seperate "Data" and "Sense", DataSense bothers me.

it's just a typo, dude. The real naming for it is still Data Sense, so far.

Hooray! Network Connections are now organised in a Modern way! Great if you've for many, many VPN's for instance.

How long is this new update taking to download?

Is anybody else seeing 2 profile pictures when logging in?

This build is very faster and add some fuctions and new animation but it have lots of bugs than previous build. Sometimes apps and Task view don't work well and the way of snap is changed differently than previos build which I don't like. But this is just one of coming preview builds for test and MS will fix and improve this build at upcoming updates or next preview build. Any way, I like to see what MS is trying to change Windows and expect to use next preview build.

I enjoy its most markedly improved speeds. Seamless app integrations. The start button panel, and universal search. Win 10 TP and my WP8.1 are superior examples of user end experience and technology that's very well thought out and constructed. Looking forward to every due update, but loving it all the same til when. Kudos, MS!

I don't know how many ofyou noticed.. But now apps run on a screen resolution of less than 600.. Earlier store wont run

So far, my favorite thing about Win 10 is the compromises between Win 7 and Win 8/8.1, particulalry the FANTASTIC best of both worlds start menu! They've stepped back where they over-stepped in 8, and yet have still continued their march forward into greatness from 7. I'm primarily a Mac guy, and have also just recently begun to start using Ubuntu on my netbook. But I am a Windows guy secondarily, and have been using it, sometimes as my primary, and sometimes as my secondary since 3.1. I never had Windows 8 or 8.1. I went straight from 7 (Aero) to 10 (Modern), so it's a little bit harder for me to tell which features that are new to me, a 7 user, are legitimately new to 10, from the ones that are just "new" to 8/8.1. Between "moving into" my new Ubuntu install, "moving into" my new Win 10 install, and spending time playing around with my fresh upgrade to Yosemite, I really haven't had a whole lot of time to dig super deep into all the new features of 10. So so far, it's pretty much just been getting used to the new Modern UI. At first I didn't like Modern. It seemed flat, and basic, and squared, and bland, almost on the order of 3.1...especially compared to the ultra-sleek, glassy Aero. But between the awesome start menu (new to 10), and the way the UI changes colors to match/compliment my background desktop slideshow (new to 8), I have really grown to like Modern. In fact, I think the unthinkable may have happened: I think I'm actually beginning to actually PREFER Modern over its polar antithesis: the gorgeously ultra-sophisticated Aero. Other than the start menu, which is huge, I'm only noticing subtle differences between the 8 and 10 UIs so far: new, flatter icons which match Modern better than the Aero carryovers used in 8, the removal of the colored borders along the sides and bottoms of windows, resulting in a much sleeker, seemless look, and the new speed tracking file transfer progress windows. However, though these updates are small, just like the difference between the look of Windows 95 and Windows 98, or Vista and 7, sometimes small is huge, and sometimes the littlest things can make the biggest differences to the overall package. And so I think it is, even if paradoxically so, that Win 10 is much sharper, sleeker, and cooler than the Windows 8 it replaces that it looks almost exactly like. :-) That said, I really do hope that as updates continue to come, MS will find even more little ways to further distinguish the look and feel of 10's UI from its predecessor - WITHOUT losing the magic formula, that is: simple, but awesome, understated, and subdued, but immensely powerful.

I just finished posting this as a bug, but I'll repost it here as well, if anyone has this same issue. Since the update, 95% of all text is garbled and is unreadable. Whether on websites, or menus, or windows, all links, and text is rendered with many letters missing, and out of order which makes things completely unreadable and the whole experience useless. I've had to switch back to my main Win 7 laptop to actually do any work. Anybody have this problem?

Well, it took almoast forever to install new built but at least it doesnt complain about low screen resolution of 1024x600px on my older notebook.

Anyone tell me wats the download file size for the update??