Microsoft releases new Windows Camera app to non-Insiders with updated UI and more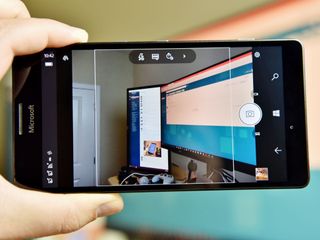 Two weeks ago, Microsoft ushered in a new and improved Camera app for Windows 10 PC and Mobile, but only for Insiders in the Fast Ring. The app featured a revised UI along with a new time-lapse feature. A few days later, the app trickled down to Slow and Release Preview Rings and today it is now available to non-Insiders (Production).
Build 1021.11 is now available to all on PC and Mobile, which is a bump from 816.91. The update brings with it quite a few new things including faster start time.
Here is the full changelog:
Enjoy taking photos, videos, and panoramas with our higher-contrast capture buttons.
Set a photo timer right from the camera dashboard with our new toggle control.
Get to Settings faster! Now, launch into Settings directly from the camera UI.
Access your camera roll with one hand from its new spot on the screen.
Zoom more easily with the new zoom slider.
Make sure you nailed the shot, with a more noticeable capture animation.
Change between front- and rear-facing cameras with a more prominent button control.
On PC, use the spacebar as a shortcut to take pictures
Overall, the update seems to be a big improvement over the previous milestone. As always, users are encouraged to use the Windows Feedback app should they have problems or feature requests for the development team.
Note: Some features may vary from device to device
Download Windows Camera from the Windows Store (opens in new tab)
Thanks, Lokesh K., for the tip!
Daniel Rubino is the Executive Editor of Windows Central, head reviewer, podcast co-host, and analyst. He has been covering Microsoft here since 2007, back when this site was called WMExperts (and later Windows Phone Central). His interests include Windows, Microsoft Surface, laptops, next-gen computing, and arguing with people on the internet.
Yes, thanks. Need to get the store to check for updates right now.

Ooo, new. So, does it finally restore 5.1 audio recording on videos? Exciting... it could...

Still didn't fix the crappy photos my 950 takes.. My 920 takes better photos than my 950 90% of the time and don't even get me started on my 1020..

I think you are the only one with this problem. We have, 640 xl, 920, 930, 1520 and three 950 xl.
The 950 XL takes absolutely the best photos, amazing quality.
And the new app/ update is great.
We also have one - and last Samsung 7 Edge, not good quality, and it's phone and pictures, seriously not good.

Agree, having a 930, 1020, 1520 and Lumia 950 XL, this last one takes the better photos, no doubt.

My 950 basically makes all skin tones yellow which makes it nearly unusable when the sun in shining. Can you share pictures from yours, taken outside?

I don't tend to take photos of people outside but from my limited experience (this is in no way a surprise) where you put the focus makes a difference on the way the camera balance the colors. The same can be said about the sorroundings of the subject but to a lesser degree, an example that I have in mind is if you take a close picture someone leaning in a red car and the car occupies a good amount of the frame everything is goint to look reddish.

Not the best example, but a stranger got in a shot: http://m.imgur.com/JWshlQZ I only have the yellow skin issue under florescent lights, though the camera actually makes some accurate adjustments if you give it a minute.

I'd have to agree too. I reluctantly retired my ol' faithful 1020 in favor of the 950 and there is night and day difference between them. Speed, quality of the images and I can't go back.

My lumia 830 takes dull images. The image is perfect when its applying finishing touches. After 3-4 seconds, the image becomes dull

Why down vote him? My 950xl takes much better pictures compared to my 950. I never noticed the difference till mid spring when I started getting a sun tan. The difference made it un usable

If you mean crappy photos where it's out of focus, or the shutter was delayed, then yes it's crappy 10% of the time. Image quality-wise, it blows it completely out of the water. And the video zoom in low-light? Blows everything else out of the water. I show this video clip I took from a concert where I zoom into the stage and you can clearly see the artists to friends - it melts faces.

Wait, I'm not an insider in any way, and I've had this camera update already for like a week... Howcome?

Me too! My Camera app got updated 21st October, and I am not in the insider programme. Weird...

The version I've had is 1018.11.0, but does​ feature the new UI (so, definitely not 816.91). Let's see what 1021.11 brings...

Probably you will not be knowing that you are on Slow Ring or Release Preview. I have the 950xl, and if anything new comes, it first comes to latest flagship devices.

Personally, I'm definitely not in the Insider program, neither Slow Ring nor Release Preview. I got the new UI completely independently of Insider, and I'm on 950XL.

Okay, I am on Production ring and I got the new UI with 1021.11.0. It have new placement for Camera Switch, Gallery and Timer. Now you also have direct access to Settings and Time Lapse feature in Settings. Zoom Scroll is a new thing. I don't know how useful it would be.

As I said, all of that I already got about a week ago, so I the news has me confused.

I also got it already some time ago without being an insider. I read though the theory that it might be that if you had been an insider once you still get APP-updates earlier, even if you are not anymore. Would be an explanation.

@Thomasmas Yes. There are App Rings too, not just OS rings... If one has ever been in the WIP & installed pre-release apps whilst in that program. Then they can continue to get pre-release apps, even if they're back on Production.

That might explain things... I'm no longer in WIP, but I used to be.

Nothing yet on my 550, India, production, non insider

Not all devices or region got this update last week.... My 640XL, which is from India and 1520 from Taiwan got is last week. I think it was version 1018!?. My 950 and XL receiving now!

On my phone this is a new app. Separate from "camera."

Same here on a Lumia 650.
Though the 950XL didn't get it when the 650 got it.
Got it on the 950XL yesterday. (both non-insider but the 650 has been set up for insider once before).

Nice, will turn on my phone to download it.

Cool! Now if my phone will connect to wifi long enough to download it (or remember it is a phone and actualy show me the damn keyboard)

I'm on release preview on my 950xl and I got this previously and it has confused the hell out of me. It's hard to get used to the flip camera button. Hopefully overtime I won't notice but now I keep accidentally clicking the flash switcher.

I have no confusion with the flash switcher. On the other hand, I keep seeing my ugly face everytime I want to review photos...

Don't worry mate.
We aren't ugly, It's just our assumption.

Yeah, that's my problem too. Some habits die hard.

I received 1018 version some days back that had this new UI (on my non-insider 950XL). What does this 1021 add on top of that?

Rich HDR is still broken on my L830.

My Lumia 830 generally takes pictures only in 1280*720(( and often freezes with label "saving"...

Same here. MS don't care. MS don't give a s**t.

Out of interest are you saving photos to SDcard. I have a theory that this can cause performance issues.

Yes, but video recording work good!
And without SD taking pictures have this bug...

How can you take pictures in 1280*720 ?? That's videos...
.
Pictures are in MP's.
.
Or did you go to the depth and calculated the resolution based on Megapixels ?! :p Simple calculation actually.

My video recording in 1920*1080!!! ​I see resolution in File info option in Photo app!

Hmm, that's nice. So basically you can now know which photo is in 'HD' quality if you feel like using it as a wallpaper for lock screen and start screen.
.
I've seen it before but forgot about it. :)

Does your L830 takes dull images? Like its bright and fine when its applying finishes touches, but after 3-4 seconds, images loose colors and become dull? Also while video recording, the frames keeps on moving here and there like screen is tearing apart

The button and zoom has changed but my camera roll icon is in the same place as before and is still circular, not much has changed. How odd. Lumia 950XL, for what its worth.

That's the same for me. Lumia 930 with release preview.

Same with me. I'm on release preview, but when it first arrived i didn't get it until after a week or so. Then it magically disappeared (the new features I mean) when I updated. Very weird. I'm using 950xl

Same here.... it is the 1021.11 version, but no timer, no repositioned gallery nor switch-camera button and it still performs slow... It DOES have the white shutter release though, but I had that for weeks now om my release preview Lumia 650.
@Daniel : have you found out anything yet about these oddities in hugely differing UX on same app builds?
It puzzles me...

Same with me. 950 XL on production/official ring.

Same here ... Lumia 640. Production ring

Same. 1520 production build and the new camera app. Got the settings button and white shutter but no front facing camera button where the camera roll used to be since camera roll is still at the same place with the same animation after a shot. No shortcut to timer either. Zoom slider is there though. WEIRD!

Same for me. 950 not Insider.

816.20 (not 816.91) on my Surface 3. No camera update available at the Store for the Surface. My L640 updated to 1021.11 just fine.

But the image processing is still very slow. They should fix that. Don't they use the GPU for image processing?
I'm taking about the "adding finishing touches".

Add this on Feedback hub mate.

This. Desperately need this

I dont see option to capture slow motion video anymore. Is that removed?

Switch the camera mode to video and you will be able to see Slow Motion video option on the right side of Flash button.

I don't have the photo timer on my dashboard on the 950XL, interesting.

Working well on my 950 xl but my 730's camera, which got it a while ago on insider, has become slow. HDR is now virtually unusable. It all worked fine before so, looking forward, I'm thinking some of these new features may not work well with 1 gig of ram.

i have 1021.11 on my L950, non insider and I didn't get the timer and the new placement of camera roll button. The capture button is now high contrast though.

Eager for what's to come.

Im in the UK and I went from preview channel to stable after the anniversary update. I just downloaded this camera update on my Lumia 950 and I'm really pleased with the changes :) looks much better and great new features!

I Jane the new white camera button but not the other ui changes

After update to this version on release preview few days ago, pictures on my 640xl takes longer time to save, more frequently are not saved and also more likely to hit the saving screen which fails to save hdr. Hate this update.

Need scroll zoom on Elite x3.

I was finally able to use HDR on my lumia 640 while saving the photos in the sd card, before this it would always hang while showing "Adding finishing touches...". Then this update came and screwed everything again. Great upgrade.

Same here, just onn 640 XL

This is an old news. Too late. Many already reported this in the past forums couple of weeks ago.

Yeah but somehow it wasn't released to all phones on production build bro

So do the timelapse photos need to be joined in separate software? Or does this app stitch the photos into a timelapse "video"? Mine just show up as burst type photos

I'd like to know as well.

If they made it integrate with hyper lapse that would be perfect I think....kind of pointless taking timelapse photos to just have dozens of those photos in the photos app and not actually be a timelapse video....

I'm on a 640 so no update will improve pictures noticeably. The pics I take are not vivid. They're a bit grainy. On Instagram I'm able to fix pics decently with the filters.

Yes. My L830 takes dull pictures. They are fine when the camera is applying finishing touches.after that images become dull. But when i click from instagram camera, the images are fine

On my Lumia 640, the update was great. The finishing touch seems ti take longer when I took a series of photos but now I can keep taking new photos in jpeg only mode.
On jpeg + RAW mode, I was able to take only one photo at a time and had to wait, now I can take up to 7-8 photos until I had to wait.
Awesome!

There is new SD card icon shows up at the bottom left to indicate it's saving video after recording.

Just got the update on my 535. Just like I thought, my phone didn't get Panorama. I know it wouldn't because it doesn't have a digital compass. I've argued with others about this, and I knew it wouldn't happen. Well, no panorama, no rich capture... too bad, but that's life. But do you know what I would like, and it's technically possible? A 3:2 aspect ratio in Settings, so I can choose that aspect ratio for best photo printing results. It's pretty simple to add, so why not? What else? Well... what about the ability to take pics during video recording? That's not too much to ask, even if the result will be a 720p video frame it could still be useful and cool. One simple feature that doesn't seem to be available for me is the zoom slider. Come on - Digital zoom is not a hardware feature or something too fancy. Why can't I have digital zoom on my phone? I want to take blurry and grainy zoomed pics just like everyuone else without having to zoom them with a photo editor. Am I asking too much? BTW there are no picture size choices anymore. If you choose a 4:3 aspect ratio, you'll shoot 5 Mpx pictures only (no other resolution available). If you prefer 16:9, your only choice is 4Mpx.

I have updated the camera app today but no new feature has came....950xl india....!!!

Only Camera button changed to white...

Same here. Have 950, but no new features other than changed button UI.

I'm from India too and have Lumia 640 dual sim. My camera app got this update today.

Does the camera still go into forever saving mode after taking couple of shots on lumia 1520?

Working great for me with my 950

Digital video stabilization not working correctly on my lumia 730

Digital video stabilization not working correctly on my lumia 730

Still not able to capture living images..☹

This problem was there in my lumia 640xl but solved in this update.

Just updated the app in my lumia 950. But i don't find photo timer in the camera dashboard. Front and rear camera changing button and camera roll button are in same place.

I updated my 950 and the only change I see is that the camera button turned to white. It appears this camera update is not consistent across all 950s.

does any one have problm wit ur camera while video recording...i am using l640xl when ever record the camera gets flicks all the time in video mode and i thought its just a camera bug and after playin that video the same thing happns..i dnt kno y...it was since a month hapnin to me nd now i updated the same thing hapns ny on eplz help me out

You should disable digital video stabilisation.

It's not bad but we need camera filters like black and white, blurry focus and more because with a 20 megapixel I expect more than this. Even 12 megapixels are doing amazing things

It is snappier on my 950 XL.

It would be better if they add support for wired selfie sticks and capturing selfies through volume keys.

Camera app on desktop PC = completely pointless

Will lumia640xl ever get slow motion? It was there few builds back.

Slow motion is only supported on Lumia 1520, 930, 950/XL.

I got my camera update today. Really like the panorama. Like the new UI too..

Sweet! Love the work the team has put into this app.

Can the resolution be lowered? One of the big problems with the Lumia 640XL on Windows 10 is the underpowered CPU with a 13 megapixel sensor making shots take too long.

The new app still didn't fix my front facing camera issue of it not working...makes me think the issue isn't with the app its self old or new but with the firmware or os...any thoughts?

Still a very bad camera app. Much much under competition, and I have a Lumia 950 (my backup phone S3 mini takes better shots). All photos are ruined by "added finishing touches". I don't understand why in the world Microsoft don't add an option to switch off this dissaster (finishing touches). Microsoft give us manual controls, but they are unuseful, because every photo (auto or manual mode) is destroied by finishing touches. I can't underexpose because the app automaticly adds creepy effect. Terrible colors, terrible exposure, fantastic slow, distructive processing effect. A perfect camera... I say

They haven't bothered to fix the front facing camera bug though, so that sucks.

They also haven't bothered to fix the "saving" bug either. Maybe they should spend more time on issues rather than superfluous features.

HDR still broken on my 1520.

I just hard reset my lumia 950 , i did not open any apps till updating all from store, the weird thing is camera app updated to 2016.1021.11 but no any new features found, the camera roll still a circle on top left, change between from and rear camera is in the middle before flash, no hyperlapse ...
any idea how to reset the app only?
Windows Central Newsletter
Get the best of Windows Central in in your inbox, every day!
Thank you for signing up to Windows Central. You will receive a verification email shortly.
There was a problem. Please refresh the page and try again.