New Xbox Insider Preview build will revamp the Guide, Cortana, and much more
As we detailed all the way back in November, a revamped Guide, a fresh Cortana interface and much more is heading out to Xbox Insiders in waves.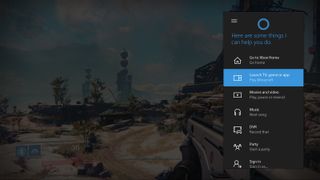 Last November we wrote about how Microsoft was working on a new Guide for the Xbox One, accessible via a single tap of the home button. Xbox Insiders will get a taste of that very shortly, as the new update begins heading out in waves.
Microsoft detailed the update on Xbox Wire (opens in new tab), with improvements to the Guide, multi-tasking, Cortana, and an all-new Co-pilot accessibility mode that allows you to assign two separate controllers as a single controller, allowing two players to control single player games.
The center tile has been dropped, and the home screen has been updated
The background artwork updates based on what game was recently played, but you will still be able to set your own background images too. Microsoft says these changes revolve around user feedback, surfacing important content while also promoting performance.
We've heard that Microsoft is working on making Game Hubs far more important in the future, and putting them front and center is merely the first step.
The new dashboard should be far faster than previous versions too, both regarding actual performance, and the time spent getting to the content you need.
A new Cortana interface will replace the snap-mode version
As we detailed back in November, Microsoft is moving away from Snap mode on Xbox One. UWP apps will eventually be able to overlay on top of your game, and both Beam and Cortana will be the first to demonstrate how this works.
In this update, Reminders are finally going live on Xbox too, bringing one of Cortana's most useful features to the console.
A new Guide brings more content to a single button press
A single tap of the Xbox One Guide button will bring up the all-new multi-tasking menu. It will give you instant access to your recent games, your pins, Beam broadcasting, and much more.
Gone is the snappable Game DVR, now you simply need to tap the view key to access different recording options. There are new overlays for achievements too, as Microsoft begins moving away from Snap mode completely.
Coming soon to Insiders!
The new features are coming soon to Xbox Insiders, with the first wave rolling out today. More and more members will be added as time goes by, until the update rolls out fully in the Spring with the rest of the Windows 10 Creators Update.
We'll have a video up of the new dashboard in action as soon as possible!
Windows Central Newsletter
Get the best of Windows Central in your inbox, every day!
Jez Corden a Managing Editor at Windows Central, focusing primarily on all things Xbox and gaming. Jez is known for breaking exclusive news and analysis as relates to the Microsoft ecosystem while being powered by caffeine. Follow on Twitter @JezCorden and listen to his Xbox Two podcast, all about, you guessed it, Xbox!
I've had this update for about a week now and overall it's pretty good. A couple things I've found, though... The guide button change is good and definitely better than the double press, but it definitely took me a few days to get used to. I'm used to it now though and I don't think I could go back to the double press. When I first saw the new dashboard home screen, it was jarring. I initially thought my Xbox was rendering tiles incorrectly but then I realized it was game/app art. Microsoft, you need a transition, there. Maybe blur the bottom of the art picture so you can tell it's supposed to be like that, instead of a hard cutoff. I also have some major party chat issues with this update. Initially, I couldn't hear anyone on chat when I had my headset connected...I had to use my Kinect for chat with my TV speakers. THe party UI was showing the circle light up around profile pictures, though, so I know my friends could hear me talking but I just couldn't hear anything. After some troubleshooting with different controllers and headphones, it's not to the point where I can use a headset to chat, but I can only hear my friends out of my TV speakers. I'm hoping this is addressed soon, as it's pretty frustrating. Hoping I have a newer build waiting for me when I get home and it's been fixed.

How do you get to home then? Do you have to click the Home button on the top? Or does the double tap now do that? I am kind of partial to the way it works now...

You have to click the "home" button like how its being shown. I am not a huge fan of the Xbox button not sending you home.

Ugh, I am disappointed with that. Boo.

If you hit the jewel then double tap A it goes home (no need to use the stick to select it), while it is still more buttons, it actually ends up being faster with the new improvements.

If you hit the jewel then double tap A it goes home (no need to use the stick to select it), while it is still more buttons, it actually ends up being faster with the new improvements.

I didn't like it at first, either, but now I prefer it over the double tap. Too many times I would double tap and it would only register one, so I'd be taken out of a game to my home screen. When you think about it, you're usually hitting the Guide button to switch to another app or get to your friends list anyway, so this is just a quicker and easier way to do it. I always thought the double tap was clunky and prone to mistakes. So now, to get home, instead of hitting the Guide button twice, you just hit it once, move right and select.

Yeah, I am seeing that and you don't even have to move right just hit A. It looks like the guide is trying to be the home screen. So, I am not sold yet but that's what it looks like as I couldn't find a reason to use home since its all in the new guide.

Maybe I'll get used to it, I am sure I will, I always do. But I really like the way it is now.

There's always issues with Party chat with all of these releases. I've found that the best thing to do is initiate party chat through another device, either my phone, tablet or laptop. Luckily I have a headset that can connect to multiple devices at once though.

I too have been running this build myself, and just so you know I've had my run in with not just party chat but with sound coming through my headset. I found that after the console is left on for so long, the issue will eventually resolve itself, but I've made sure I left an extensive feedback submission.

Yeah I didn't leave any feedback on it yet but I probably will. For what it's worth, mine hasn't resolved itself even after several hours of use, so I don't really know what the deal is.

What? They already started to roll out the update? Few days ago i got a message saying that my console was elected to be one of the first console to get the update due to my participation 😁 im so exited to see the new updates 💪🎮👍

First wave is going out now. If you're not prompted to update when you boot. Try a hard reset. Mine just came through!. I also got that same message.

If you got the message you'll be in the first wave but if you have two consoles enrolled only one gets it.

Honestly can't wait to get my hands on this one.

Looks pretty awesome. I'm intrigued about co-pilot mode, it could make for some pretty interesting collaborative gameplay!

What the heck? They're getting rid of the center tile? They don't me to ever consider hooking my Xbox again, clearly. What is the point of this waste of money now?

Oh look, ScubaDog making another whiny comment. Who could have guessed?

I agree. The forced updates that remove features is unacceptable. This is the first and last Xbox I'll ever buy.

I would rather they focus more on better performance overall. Make everything smoothier.

Guess someone didn't read the article. This whole update is about improving performance.

Still no keyboard and mouse support. Still, the fact that they've got combined controllers working as one shows that they are at least working on controller inputs.

USB Keyboards have been supported since the Xbox 360 NXE dashboard and I don't remember any time it didn't work on the Xbox One. You can even finally select the keyboard language layout separately since over a year if I remember correctly...
​Maybe you should try actually connecting a keyboard before claiming it's not supported?

That big tile should have gone long ago.

Not a fan of the new home screen (why are they trying to take the focus off the game currently being played?). Outside of that most of the changes look really good.

If you're out of the game currently played and in the home screen, isn't it because your looking for something *other* than the game currently played? In that sense, I think it's a good idea to remove it. As long as they have a fast way to go back to said "currently played game"

They didn't remove it, its just less highlighted.

Disagree. It just looks less interesting.

Also, adverts are now double the size of all other tiles.

Just installed and im really hapoy with this update!! Really snappy and at last can do everything from quick guide! I can even set cortana reminders at last!! Haja i will never forget enything haha

I get to be on the early release of this. But of cours.. Being Microsoft. I'll only get SOME of it.. With Cortana not on Xbox in Australia (although everywhere else)

Copilot looks interesting. Neat addition

sweet bring cortana to canada!

I miss the snap mode. :'(

Dear god what do I have to do to get on the Insider Preview on Xbox? Countless invites, emails...still nothing...for YEARS...(I HAVE BEEN ON XBOX LIVE SINCE the orignial XBOX for King of the Christians sake!)

Loioks like Cortana has been enabled for Australia with this update (unless it was a server side change that I didn't notice).