New Xbox Series X controller features surface with Xbox One update
The Xbox Series X's upcoming "Share" button makes an appearance with the latest Xbox One preview build.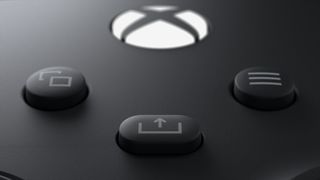 (Image credit: Microsoft)
What you need to know
Microsoft's upcoming Xbox Series X includes a revised controller with a dedicated "Share" button for screenshots and video clips.
The latest pre-release Xbox One update brings our first mention of the new input, including options to remap its functionality.
The new Xbox Series X controller will also work on Xbox One consoles.
Microsoft recently debuted its latest pre-release Xbox One update for its closed Alpha Skip Ahead testers, and with rollout across consoles, traces of the next-gen Xbox Series X have started to emerge. We expect Xbox Series X to share the same fundamentals of the Xbox One operating system (despite some differences), with considerations for the future already underway.
The vision for Xbox Series X been discussed extensively, with the latest CPU and GPU technology, speedier solid-state storage, and other enhancements enabling improved horsepower. Microsoft also plans to expand its Xbox social features in an age of streaming, and social media, spearheaded by a "Share" button slapped dead center on the new Xbox Series X controller. Likely to mirror equivalents on PlayStation 4 and Nintendo Switch, the shortcut provides one-tap access to screenshots, clips, and sharing features.
The newest Xbox One preview update for Alpha Skip Ahead users now sees those foundations, with options for controller mapping within the capture and screen menu. That's not a huge surprise — the new Xbox Series X controller will also support Xbox One — bringing all social upgrades to existing hardware, too.
The new "Share" submenu includes the option to remap the new Xbox Series X Share button, redirecting to the Xbox Accessories system app. This button isn't present on the existing Xbox One controller, yet provides an insight into how Microsoft handles its implementation. Microsoft will seemingly allow users to configure desired shortcuts to this assignable key, building upon its existing Game DVR from the Xbox One era.
The arrival of Xbox Series X looks to bring much-needed revisions to how Xbox handles content creation, revising unintuitive solutions, and hopefully its all-but-dead Upload Studio editing suite. Microsoft is expected to unveil new platform details at an upcoming August live showcase, which may also host its latest social endeavors.
Xbox Series X/S
Main
What is the Xbox Series X release date?
How much does Xbox Series X cost?
Why you can't preorder Xbox Series X yet
Windows Central Newsletter
Get the best of Windows Central in in your inbox, every day!
Matt Brown was formerly a Windows Central's Senior Editor, Xbox & PC, at Future. Following over seven years of professional consumer technology and gaming coverage, he's focused on the world of Microsoft's gaming efforts. You can follow him on Twitter @mattjbrown.
Let's hope they ditch the AA battery and put a proper rechargable battery in it

I just use rechargeable AA batteries. It is far quicker to swap some AA than to wait an hour while the controller recharges.

Ps 3 battery lasts forever and recharges while playing it's far better

Nothing lasts forever. Most people buy a new PS4 Dualshock controller whenever the battery life ends which is evident for every Lithium batteries. There's a reason why Xbox controllers have optional rechargeable kits which is a pro-consumer move. They did a survey where most users preferred a removable battery option.

@ramaswami
Do you have actual proof of anything you say? Also pro-consumer move would be charging less for not giving an equivalent product.
In all reality the controller = rechargeable kit should be the same price as the PS4 controller. But no, they are charging you extra for an external battery kit.
It's a money thing at this stage, and the XB "fans" are hiding behind the "choice" excuse to justify MS being cheap.

Price aside, the vast majority of people prefer having AA batteries, or the choice of AA batteries. I don't actually believe I am paying more because the controller will outlast an inbuilt battery so the controller ends up lasting a longer time, also I have a decent supply of rechargeable AA batteries. In any event I would be happy to pay more for having the option of AA batteries. The choice of AA batteries is definitely pro consumer and one that the vast majority are more than happy with.

Don't agree with people prefer AA batteries, unless your a parent trying to limit game time lol

I really don't know where you get the preference of the "vast majority". Without giving valid evidence of that it'll just look like you're trying to make your preference sound as the popular choice.
I mean all you did was trying to justify your choice. For me I can't really keep price aside. I don't want a company to give less and ask for the same money as another one who gives less. The "option of" doesn't cost much for the manufacturer. Now since you gave your reasons, I'll tell you my reasons. For one, many people are just overplaying the problems of dying internal battery. That actually rarely happens. I've never had one. Even if there are battery problems it can easily be replaced. Yeah it may not be as easy as replacing AA batteries but you don't change it as often as a AA battery. In fact, you hardly ever change it since it's really a rare thing.

I can't speak to the PS3 but the PS4 controller battery is trash. For my Xbox I use a rechargeable that I just keep on its charging dock when I'm not playing, and even the rare times that I've forgotten to let it charge and it's died on me, I was back in the game in like 30 seconds because I could just throw some spare AAs in.

What are you hoping for? They already announced that it has AAs.

It must just be a sales thing, more after market upgrades to purchase

You're kidding, surely? You can stick a rechargeable in there, or use rechargeable AA. Never understand the urge to make a device disposable, particularly when they're £50. Bizarre choice.

It's something fan boys moan at all the time. Look at the argument of android/WP let's you change the battery but IPhone dose not. Now how many new phones let you swap out the battery? Personality I perfer the way Microsoft let's you pick which option you want. AA, Rechargeable AA or a battery pack. Ide rather have that as I get high AA rechargeable batterys so I get longer out of them the ps5 battery last just over 4 hours. Personally the only one who gets away with it is Nintendo on the switch due to it being attached to the consol.

Buy Eneloops. Far better than a "non-standard" battery pack. Choice is better.

Get the Pros, I have the regulars and they are good enough, but my old energizers were better.

What I don't understand, are the people that are for removing the option of having removable batteries. Dualshock controllers have non removable batteries, so you have to open it up to replace them or just get a new controller, which is very wasteful. Xbox controllers have always had the option to use, alkaline AA, Rechargable AA, or a recharge battery pack (which can be easily replaced when it reaches EOL) Why would anyone want to remove any of those options? I personally use rechargable AA in my XB360 controllers because the rechargeable packs have worn out and new ones aren't available anymore and I use the Microsoft branded Li-ion rechargable packs for my XB1 controllers. So when the same situation occurs with the rechargeable packs not being available for the Xbox One controllers, if that ever happens, then I can just pop in some AA batteries and be good to go

100% this. I mainly see this assertion from PS players or poorly informed Xbox players. Many have argued that they wanna charge and play, guess what you can with Xbox.

Yea, I do it all of the time. It's just that you can only do it with a battery pack and not rechargable AA. So that being said, it makes it no different than how the PS4 controller charges and you have more options as well. PS: I'm sure they wouldn't call it the "play and charge kit" if it couldn't do that.
Windows Central Newsletter
Thank you for signing up to Windows Central. You will receive a verification email shortly.
There was a problem. Please refresh the page and try again.