New Xbox Series X, Series S controller: Price, release date, and everything we know
The Xbox Series X and Xbox Series S redefine the Xbox controller in all-new ways. Here's what you need to know.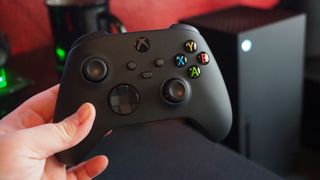 (Image credit: Windows Central)
Microsoft's Xbox Series X and Xbox Series S are now available. The more powerful Xbox Series X rocks a 12TF spec sheet, alongside a more affordable Xbox Series S at 4TF, complementing our earlier exclusives. One thing we did not know about, though, was the revised controller.
Microsoft has built a brand-new iteration on its current-gen Xbox controllers, evolving its existing ergonomics and features while also adding new ones.
Here's everything you need to know about the Xbox Series X/S controller.
Evolution
(opens in new tab)
Xbox Series X/S controller
Refining the best

The Xbox One controller is arguably the best of all time, which is why Microsoft opted to evolve, rather than revolutionize its proven gamepad.
Quick facts
If you're in a hurry, here's everything you need to know about next-gen controllers at a glance.
The controller for the most part feels similar, but there are some key differences.
There is now a share button, which lets you create clips and screenshots without opening the dashboard.
The shoulder buttons have been improved and refined to be more ergonomic and tactile.
The D-pad has been revamped to be easier to use.
The triggers are now textured.
The controller uses USB-C instead of micro-USB cables for charging.
Accessories, docks, and batteries designed for previous Xbox One controllers will still work.
The controller uses AA batteries by default.
The controller costs $60 RRP, and is available to buy here

(opens in new tab)

.
Refined hardware features
First and foremost, Microsoft has revised some aspects of its design, making it slightly smaller to accommodate a broader range of players, while also changing up its D-pad.
The new D-pad takes some cues from Microsoft's popular Xbox Elite Controller range, with a cross-segmented style format, which should be a boost for directional movement, as well as menu selections and so on. Microsoft is also putting textured grips on the new controller triggers, likely giving those triggers pull a more tactile feel. After going hands-on with the controller myself, I also found that the shoulder buttons have been vastly improved, with better tactility and improved materials.
Perhaps the most significant update pertains to the share button. Microsoft is joining Sony and Nintendo by adding a share button directly on the controller, between the view and menu buttons in the center. Xbox lead Phil Spencer commented on the inclusion in an interview with GameSpot.
This new button allows you to share clips and screenshots across social networks more easily without having to jump through the Xbox guide menu functions. The functionality is already included on the Xbox Elite Controller Series 2, but you have to configure it to one of the paddles via the accessories app.
Related: Hands-on with the Xbox Series S/X controller
Dynamic Latency Input
Confirmed on the Xbox Series X/S website, Microsoft built Dynamic Latency Input into the next-gen pipeline, giving developers an extra tool for making games more responsive.
This allows developers to more accurately synchronize what happens in your hands with what's happening on-screen, using Microsoft's existing 2.4GHz wireless signal that currently connects your controllers to your console, compatible PCs, and dongles.
Reverse compatibility
Speaking of previous consoles and Windows PCs, the Xbox Series X controller will also be compatible with past-gen hardware, thanks to updates heading to Microsoft platforms. This means you will be able to take advantage of the new features and updated ergonomics on previous hardware if you're a PC gamer or an Xbox gamer not ready to upgrade your console. Additionally, all existing Xbox One controllers will work on the Xbox Series X as well. This also applies to all the best Xbox One headsets, which work with Xbox Series X and Series S, thanks to the same ports on new controllers.
How the share button will work on PCs remains a bit of a mystery, but it will likely tie into the new Windows 10 Xbox Game Bar, which has many of the same features.
AA batteries return
Microsoft also retains the AA batteries found in the regular controllers for Xbox Series X. In an interview with Business Insider, Microsoft said this was because Xbox gamers are fairly evenly split about whether they want the option for rechargeables or not. Indeed, AA Eneloop batteries (opens in new tab) are generally the best rechargeable battery solution for controllers we've found so far, outside of the crazy-expensive Xbox Elite Series 2 Controller, with its similarly crazy 40-hour battery life.
The controller will also use a USB-C to USB-A cable for charging its optional charge kit battery pack, likely to be sold separately. The Xbox Series X itself still uses only USB-A ports.
Colors
Source: Microsoft
As of writing, the Xbox Series X/S controllers come in three colors: in black to match the Xbox Series X, in white to match the Xbox Series S, and in "Shock Blue," as the first color option.
The Xbox Design Lab has come back online as of June 2021, and you can customize the updated Xbox controller in a huge variety of ways. You can access the Xbox Design Lab over here (opens in new tab).
Launch date and price
The new Xbox Series S/X controller went on sale on Nov. 10, alongside the next-gen Xbox Series S and Xbox Series X consoles. The new controllers come in at $49, and they're available to buy right now.
Is it worth the upgrade for Xbox One owners?
If you're an Xbox One owner who is thinking about upgrading to the Xbox Series X/S controller, you might want to hold off. While it is compatible, I'm not sure the differences are enough to warrant paying $60, especially when they're included for free with the Xbox Series X and Xbox Series S.
What you get with the Series X/S controller is a share button, which makes sharing clips marginally easier. You get superior shoulder buttons, which feel easier to use and more tactile. You get a slightly better weight distribution and a slightly more balanced feel. You'll also get superior latency, although the difference is negligible, and may require an Xbox Series X or S to fully appreciate.
I would personally recommend simply upgrading your Xbox One to an Xbox Series X or Series S get the new controller rather than buying one outright — unless you specifically need to get a new controller. The previous-gen Xbox One controllers likely won't be manufactured for much longer anyway, meaning that eventually, these will be the only official Xbox controllers available to buy.
Evolution
(opens in new tab)
Xbox Series X/S controller
Refining the best

The Xbox One controller is arguably the best of all time, which is why Microsoft opted to evolve, rather than revolutionize its proven gamepad.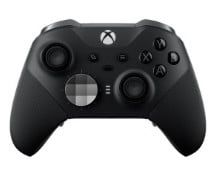 While you wait
(opens in new tab)
Xbox Elite Controller Series 2
Possibly the best controller ever

If you can weather the price point, it's unlikely you'll be disappointed with this controller, and it works on the Xbox Series X too!
Xbox Series X/S
Main
What is the Xbox Series X release date?
How much does Xbox Series X cost?
Why you can't preorder Xbox Series X yet
Windows Central Newsletter
Get the best of Windows Central in in your inbox, every day!
Jez Corden a Managing Editor at Windows Central, focusing primarily on all things Xbox and gaming. Jez is known for breaking exclusive news and analysis as relates to the Microsoft ecosystem while being powered by caffeine. Follow on Twitter @JezCorden and listen to his Xbox Two podcast, all about, you guessed it, Xbox!
A little surprised Microsoft kept the same controller design as the Xbox One with the exception of the d-pad

The Xbox controller just feels so great, very little to alter. I like that they have produced the Elites, the trickle down of tech can only help the base level controller. Did you notice the Gears leak, and what appears to be some red lines over the white controller? Possibly new connections on the bottom?

If it ain't broken, don't fix it.

The reason why they really haven't changes they put a lot of work into this series 2 elite controller I have that controller and it's the best controller hands down to any controller out there. End of story oh, I get 40 hours of battery out of one charge.

If you look closely, the design has changed.

Same. I guess the felt there was little to no room for improvement. While I have no complaints about the new controller so far, I do feel like PS5 stole the spotlight with their new controller. They really took it to the next level and I'm a little jealous.

You forgot to answer the click bait questions in the title

Why is it that Elite controllers break more easily than regular controllers?

They don't. Some of them break, but overall reliability is higher than other controllers, not less.

Does it have Bluetooth too?

The updated XB1 controllers have BT, so this will too.

That was my question. So we can play Xbox streaming on a PC with Bluetooth, and we don't need the Xbox dongle thing?

Next do a "Everything we know about the Xbox HDMI cable" that will be another good one.

This comment I'm making right now is just as pointless as yours.

This will probably be my new controller on launch day. It is a shame that the Elite controllers end up being junk so quickly. My Series 2 has developed the drift stick issue and I am outside the 1 year warranty. My Series 1 controller had the grip pad issue and also started to have the controls stick. For the amount of money, these things should hold up for years.

Randy, I had the grip issue on the Gen 1 Elite after a few years of great use, but it cost about (don't recall exactly) $7 to order a replacement pair of grips. They snapped right in -- good as new. I've never had any issue with the Gen 2 (I realize that doesn't help you with your problems, but even the best built systems have occasional issues). I think the Elite Gen 2 is by far the best controller for any game system ever. Well worth the money from my perspective.

Smaller!?!?!? My big hands are left dissapointed since Mr. Duke :(

So that's its name huh? Haha

I remember a patent they filled for adaptive resistance for the triggers, or something like that. I was hoping they would bring this to Series X Controller, but they didn't, and Sony did. Next-gen controllers should be better on haptics, as it's the logical next step. I'm really disappointed Xbox missed that opportunity.

Resistance isn't haptic, as far as I'm reading. What we have is good already. Developers need to utilize the better haptic motors we have.

Was really excited to test it out on my PC as well and see if the share button also recorded game clips on PC. Sadly, it does nothing and there's no way to assign that button to recording on PC as of yet.

It's important to note that the tabs for the battery cover for are closer together, so if you have the official Energizer charger for Xbox controllers, the cover does not fit properly. I even cut down the tabs on the cover to fit (slight overlap), but a third tab that provides tension to keep the cover on doesn't fit right and the contact points are too recessed to actually charge. This is a disappointing change since the battery compartment is the same size but they made this seemingly unnecessary change. Now I have to have cable sitting out to charge the controller.

Sorry but I'm that crazy person who just wants to buy another mouse or controller just because... lol 😅

I rather have replaceable batteries than internal ones that you can't change.

What's going on here? Why do these old articles keep appearing on the "front" page?
Windows Central Newsletter
Thank you for signing up to Windows Central. You will receive a verification email shortly.
There was a problem. Please refresh the page and try again.