November Xbox One update brings custom backgrounds, trending TV and more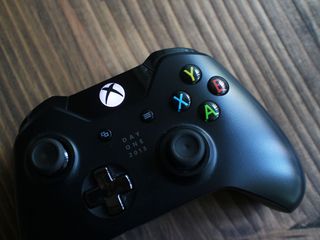 Microsoft has just shared what you'll get in the November system update for Xbox One! The update will bring custom backgrounds, the ability to tweet favorite game clips, Store improvements and so much more! Those in the Xbox One preview program will begin to receive the update right now.
Here's the full detailed changelog from Micrsoft about November's Xbox One system update:
Show Who You Are
Some of the most requested features being released this month include the ability to customize your Xbox One background and showcase and share some of your favorite achievements and game clips:
Custom Backgrounds – The #1 fan-requested feature is making its initial debut for preview members. For the first time, each account on your Xbox One can have a customized background. You can choose a custom color or achievement art as your background on Xbox One, with more customization options coming down the road.
Gamer Profile – You can now share your location and bio as part of your profile. You can set these options on your Xbox One console and use Xbox One SmartGlass to browse to other people's profiles and check out their showcase items. Additionally, you can now select a set of showcase items that are displayed when other gamers look at your profile on an Xbox One console. You can use Xbox One SmartGlass or Xbox One console to add or remove up to six game clips or achievements that will be displayed in a carousel format.
Tweet about your Favorite Game Clips – You can now share your favorite Xbox One game clips with your followers on Twitter. Use the Share button on any game clip you have created and select Twitter to compose the Tweet.
A New Way to Watch TV
With new Live TV and Twitter integration, you can discover new shows to love and see what people are saying on Twitter about shows in real-time:
Live TV Trending – Starting to roll out today for preview members in the U.S., Canada and the UK, a new tab will be available in OneGuide that displays the top 20 most watched TV shows, with the list filtered down to the shows that are currently available to you based on your OneGuide settings. The Live TV Trending list is updated by the minute, so you can easily discover shows that are popular with other viewers. The Trending tab in OneGuide is updated to display Twitter - Live TV trending first and Xbox – Live TV Trending second. You can tune to a specific show by pressing the A button.
Twitter TV Trending – New this month in preview, you can see what Live TV is trending based on the highest number of tweets. Twitter TV Trending will initially be available to preview members in the U.S.
Xbox TV Trending – The Trending tab in OneGuide is updated to display Twitter trending first and Xbox – Live TV Trending second. Xbox – Live TV Trending is based on the number of Xbox One owners currently watching that show in each country, pulled from anonymous data collected at a national level.
Tweets in MiniGuide – See the actual tweets for the Live TV shows in real time and quickly find the Twitter #hashtag to join the conversation.
Recents and Favorites in MiniGuide – MiniGuide has been updated to include your favorite TV channels in a combined Recents and Favorites area and - MiniGuide can now be activated via voice by saying "Xbox Select – MiniGuide" while watching TV.
Store improvements and SmartGlass updates
We are also excited to roll out these cool features:
Store improvements – The Store pages on Xbox One have been improved to enable you to more quickly browse and find content. The navigation buttons were moved to the far left so you can find them easier. You can also more quickly find game add-ons, perform store specific searches and recommendations are more prominently displayed. Finally, store categories have been standardized so you can easily see the top items in each query at a glance.
Friends' Game Activity on SmartGlass – You can now see a list of your friends that have played a given game within the Xbox One SmartGlass experience.
Games with Gold & Deals with Gold on SmartGlass – For gamers with an Xbox Live Gold subscription, you can browse "Free Games with Gold" and discounted content with Gold and initiate download of the content to your Xbox One console from your mobile device.
SmartGlass Store Improvements – We added a new section for Apps to make it easier to find and download apps for your Xbox One, as well as adding a Coming Soon filter for Games and Add Ons to make it easier to see upcoming Xbox One releases sorted by anticipated release date.
Internet Explorer updates
There are a few improvements Internet Explorer available this month:
Snap IE – From the Address Bar in Internet Explorer, you can now easily snap from a full screen experience and move Internet Explorer into snap mode.
Featured sites – Now, Internet Explorer will show a number when something is newly-added to featured sites. Newly-added sites will also display a badge until you launch them or seven days have passed since the site was added to the Featured list.
Updates to the Preview dashboard app
We're gamifying the Preview dashboard. Here are some new features we are adding:
My Stats – If you are in the Preview program, you will now earn points for providing feedback, including points for completing Quests, Surveys, Quick Poll questions, and rating the update. These will be shared in the Preview dashboard under My Stats. The more points you get, the more you level up, and the more rewards you'll earn. Keep checking back for special bonus point opportunities.
Leaderboard – We're also adding a leaderboard that shows how you stack up against your friends based on the points you have earned. If you don't have friends in the Preview program, we'll show how you stack up against others in the program. Keep checking back – more things are coming to the My Stats page soon.
A huge set of features! Which one are you looking forward to the most?
Source: Xbox (opens in new tab)
Windows Central Newsletter
Get the best of Windows Central in in your inbox, every day!
How about a way to disable vibration? Some of us don't like it...

Go to user voice and suggest it.

All games has the option to disable the rumble.

Ryse sucks ! Hahaha nah. Its just a modern benchmark test

I loved Ryse. Bought all the DLC and earned every achievement.

Glad most if the features I requested and voted for are coming. One more feature I would like to see is the 30 days leaderboard feature on smartglass app

Home screen, go to settings, devices, select your controller then disable vibrate.

Just wish it would have MCE support. But it wont.

Excellent update! And so is the new name for this site. :)

Um I got trending tv. Have had that over a month on preview.

thats why its called preview - these are features everyone else is getting now. You are beta testing it for us.

He is saying he has had that since last month. This article says preview members should only just be getting this..

I kind of like the achievement art background idea, too bad Bungie didn't put more effort into theirs.

Personally id like them to apply thus idea to gamerpic choice

Wow im super excited for this bombastic crud right here!!

Can anyone invite me to the preview? My gamer tag is menzlo.

Custom background... Should sync with my desktop and tablet background picture...

+1520 hopefully with windows 10 it will sync all type devices

This would be super nice.

Really would like to see this, play to just isn't that reliable.

How did you get PlayTo to work? Whenever I launch the app on my WP, it won't find my Xbox One to stream to. -_-

I meant on my tablet, not my phone.

Are you using lumia play to? You can only stream music and pictures I think, maybe videos. Your Xbox one has to be on the same network as your phone. I use it to stream my music its sooo cooool

Yeah, the Nokia app. It's working fine for me too now. Photos, music and videos. I just didn't know that you had to launch the according app on the Xbox first.

Oh good. That's strange though, I dont have to launch anything first. I have to be signed in etc but it just launches it automatically. As long as it works though, really cool feature.

Needs personal background customization not just achievement pictures

It's coming later in the month, look out for an update to the Media Player App.

What do you mean media app? Media player app has nothing to do with background customization.

Media Player app allows you to browse pictures on your network or USB drive. Presumably it will be updated to add a "Set background" option on any picture you view through the app.

The media player preview on my Xbox One can't access network drives, if they aren't on a media server like Plex. My Xbox 360 on the other hand has always been able to access shared folders from device. I wished the One could do that.

Weird, I have access to my DLNA-enabled network drive with no problem.

With no Media Server running? And you're using the Media Player Preview app on your Xbox One?

I can access my shared folder from my pc also if this is what you mean?

From where? Which app. I mean. Looks like I will have to setup a miniDLNA server on my Debian machine in order to get it to work. This wasn't needed on the Xbox 360, as it was able to access any shared Windows and Samba folder.

I can access everything on my pc that is shared including an entire hard drive that's shared on the local network. As well as my dlna media player that's setup. It works just as the 360 for me.

I've setup MiniDLNA on my Debian server now and it works. Still not seeing any of my shared Windows or Samba folders.

Allow sharing in the network settings in Windows. I don't use it, but the media player can see the default videos, music, pictures, etc. folders.

It is enabled, but the shared folders are outside of any library. On purpose.

wow seriously... if you watched it you wouldn't even have asked for a "background customization" because it will be there and major nelson said it. The Media app, you say has nothing to do. it's what Xbox will use to access images and then use them as your background. well.... we don't know how it will work but Major Nelson says the media app will get updated allowing that, so we should believe what he says.

Could someone invite me to the preview? Username - The Bill Payer and I'm a 11 1/2 year Gold veteran.

Using the Achievement sat as Background is amazing! It will make everyone's dashboard unique and truly personalized to each one of us. Know I can originally say bye to my social life(or what was left of it) and let the Achievements hunt begin!!!

Will it be able to sync to OneDrive? I have images there that I want to use.

I want in on the preview!

I mean surely the Xbox Team deserve cookies lol seriously great job month in and month out man :) Take notes Windows phone team, this is how you progressively move forward and build good rep :)

This is like 10 amazing updates in a row. Hopefully this is the future of Windows updates.

Just need that DVR control!!! PLEASE!!!

I love all these new features that are coming out! Sounds great and the speed that the Xbox One team is dishing these out is great! If anybody can invite me, I'd appreciate it!
GT: GrilledPeaches

This is awesome. I want to try it, can someone invite me to the preview program? GT: PrimaOfficional

No screenshots again? Too bad. :(

Maybe I missed something, but are all of these features already available in the current preview build? I've had trending tv for a while but I don't recall seeing twitter integration or the Home customization features.

Like the sounds of that, any spare invites to the preview program would be much appreciated, handle is Siliconstrike. Thanks in advance if anyone is kind enough to invite me

Ohh cool! Where did you guy got this info? I would read the or see it, not that I don't believe you guys.

Good to see porn backgrounds are on the horizon.

The next update I'd like to see is return of the avatars. My phone has more integration with the avatars than Xbox One.

Please, someone invite me to the preview. GT - VahIIKM Thanks in advance !!

Would like to have English language for all geo locations, in order for voice commands to work everywhere for everyone!

Can anyone help me out with a preview invite? I would love to get in and start contributing. Also, I may have some live codes for some things laying around to give.

Wish I coulda joined the preview.....

Could someone add me? My name is OccupiedLeech. Thank you in advance.

If anyone wants an invite, I will do my best to get you in.... Friend me on Xbox live... Wiedergod and shoot me a message as well and I will submit your gt when I get home from work tonight

The top feature I keep hoping for is a single voice command to eject a disc. After that, I can hardly wait for them to bring Cortana to Xbox One so the voice controls are even more natural and intuitive.

Xbox is really nailing it with the updates.

Wow, exciting, few more updates and it should be like the 360. Maybe we can do something futuristic like listen to music in the background and send voicemail soon.

I'd really appreciate an invite into the Preview. Gamertag: dead jim Thanks in advance to anyone who helps me out!

Now I'd just like to be able to rearrange tabs on the home screen so the friends section is in the home section instead of that silly 'featured' part.

Sheesh. I really love our Xbox One, but the ONLY changes that we've had any use for at all for the past three updates have been to the way Smartglass functions with it. We don't do console gaming, so it's only the multimedia functions we use. I'm sorry to see there's nothing in the upcoming update (aside from more Smartglass enhancements) that we care about. We definitely won't be using the custom background. I don't use this feature on the phone or tablet, either. What we'd REALLY like to see is a LOT more voice and gesture control over EVERYTHING. But when things like Netflix come along and cut all voice and gesture control, I just get angry at the system. Microsoft should demand complete support of those features and be EXPANDING them.

Sounds like a decent update. Although I'm not sure that I want twitter integrating with my TV. It'd be awesome if I could get an invite into the preview program. Any takers? Gamertag = Gr8 Od3nsRav3n

Can someone invite me to the preview? Please :)))) Gamertag: ZapellaT

If anyone wants an invite, I will do my best to get you in.... Friend me on Xbox live... Wiedergod and shoot me a message as well and I will submit your gt when I get home from work tonight

Anyone for preview please!!! PSYKOTIKSHORTY

Menzlo, I'll send an invite tonight

yay, porn starlet backgrounds ;)

Had anyone received the update yet?

Really need those Parental Controls!
It'd be really nice to have the XB1 use the Family Safety (https://familysafety.microsoft.com) settings for time limits and curfew, to name the most important to me, as well use FSS as the definitive UI for content filtering and online safety settings across all Windows platforms (and XB360).

Hey all, I was wondering if anyone can invite me to the Preview?
I was a beta tester on the 360 and would love to be apart of this one. My gamertag is P0RKO10 Thanks all :)

Would anyone be willing to invite me to the preview?
GT: cjshonky
Thanks!!!
Windows Central Newsletter
Thank you for signing up to Windows Central. You will receive a verification email shortly.
There was a problem. Please refresh the page and try again.