NFC Safe, an encrypted means of securing private data on your Windows Phone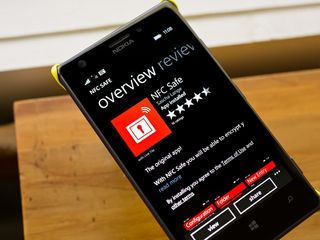 NFC Safe is an interesting Windows Phone app that allows you to secure important date, images and credentials on your Windows Phone. The app utilizes your Windows Phone's NFC abilities to create a NFC Tag (opens in new tab) key that will open the app. Otherwise, your information is locked up and secure from prying eyes.
NFC Safe includes OneDrive support to back up your information, Live Tile support for direct access to folders and you can create multiple NFC tags just in case you are prone to losing things. It's an interesting app and a handy way to keep things private on your Windows Phone.
Setting up NFC Safe
Your first order of business when you launch NFC Safe is to configure your NFC tag or key. This was a little tricky for me in that I couldn't get the app to write to an NFC tag. I'm not sure if it was the app being temperamental or the tags. Nonetheless, after going through three tags I finally was able to create the NFC key.
From there, the interface with NFC Safe is fairly simple. Your main page lists all the folders you create with a "+" button at the bottom to add folders to the mix. Up under the three-dot menu on the main page you will find options to clone your NFC tag, reset the key, access the app's settings and view the about screen. Settings are minimal and allow you to set up the OneDrive backup.
There is a reset command on the lockscreen but it will not grant you access to the app by resetting it. Instead it wipes all the data stored within the app and requires you to create a new encrypted NFC tag.
It is a nice feature and if you run across a spiteful person who decides to wipe all your data, you can restore things via the OneDrive backup feature.
Secure Folders
Once you have created the NFC key, every time you launch NFC Safe you will need to scan the NFC tag to open up the app. If you are prone to losing things, you really need to take advantage of the clone tool and create a second, third or more backup tags.
Folder creation allows you to name them as you wish with the ability to add three types of content. You can add:
User credentials for websites
Text (free form entry)
Images
The user credential entry includes a password generator should you need a little help creating a secure password for any of site log-ins.
Overall Impression
While there isn't much to NFC Safe, it comes across as a nicely designed Windows Phone app for securing sensitive materials. While I did have a bit of trouble creating the NFC tag, it wasn't terribly frustrating and could have easily been an issue with the tag and not the app itself.
While a nice Windows Phone app, there is some room for improvement that deals mainly with customization. Folder icons are the same and the data choices for the folder content is a little on the narrow side.
I would have liked to have seen content types such as account information and contacts. The folders follow the color of your Windows Phone theme and really need the ability to have their own color and a choice of icons.
Neither of these issues are detrimental to the appeal of NFC Safe but would add to the appeal of the app. As is, if you have the need to keep photos, website credentials or secret text documents private NFC Safe is worth a try.
NFC Safe brings home a 4.5 Star rating in the Windows Phone Store which is in the ballpark. Please note that your Windows Phone does need NFC support to use this app.
Windows Central Newsletter
Get the best of Windows Central in your inbox, every day!
George is the Reviews Editor at Windows Central, concentrating on Windows 10 PC and Mobile apps. He's been a supporter of the platform since the days of Windows CE and uses his current Windows 10 Mobile phone daily to keep up with life and enjoy a game during down time.
Looks secure. But where exactly is a tag available..... in India? Oh wait. 520 doesn't support. :P

Yeah, YOU seem...... stupid.

In what sense? :P I was kidding when I called him stupid xD

Even after reading the description I didn't understand anything

Guessing you don't need this if NFC is off.

I wish Microsoft would make a password keeper.

There are some in the store. I use Sky Wallet and stores to OneDrive. So with a new phone just download the app and sign in, all passwords available. Just saying.

7 pass is also pretty darn good. With Onedrive support aswell..

This app is a good idea, it only allows those with physical access to the tag to access content. If the NFC tag wasn't NDEF formatted you would have had the write issue. It isn't an uncommon problem.

Not so exciting ... But if we were able to make password for every app and folder individually then it would have been a better one ... And ofcourse I really don't get this nfc tag thing ... What is it actually??

NFC tags (Near Field Communication) works like a door fob, but for phones with these special plastic /ceramic tiles. These can do many things, like share location, contacts, pics, ytube vids, FB, and turn on/off features like wifi or Bluetooth. Androids allow multiple commands to happen all at once, but WP has security limits on 1 command per tag. Still useful. Only found on high end WP.

Nfc Stickers can be bought on amazon cheap. You can program them and put them anywhere

Provided you have NFC. Nokia sells them directly through their NFC app also.

Is there any app to secure pics,videos and other stuff without NFC...?
PCs have Lock Folder and Universal Shield...is there anything even remotely similar to that on the phone...??

Private Hub can do just that. PIN protected.

Thanks. Will check it out...:) We dont seem to have many options though do we...

I don't know where you live, but the US WP apps store has dozens of apps designed for the sake of protecting content (primarily photos) with a password and/or pin.

Really...? I haven't heard of anything that's been quite successful in this area over here on wcentral...would appreciate it if you could give me a few app names...?

http://www.cnet.com/how-to/the-most-practical-creative-ways-to-use-nfc-w...

Showing that app is not available for Lumia 525

I wonder what happens if someone comes along and formats or overwrites the tag?

I have 3 NFC tags..... 1. A tag to Listen music 2 A Nokia Drive tag in my car 3. A tag to run the NFC speaker

Nope, I'm pretty sure only 820 and above. Its mostly a timesaving feature, if that's any consolation.

What MS needs to do is encrypt the phone data by default like Apple did with it new phones and Android will do next release.

But how does it secure the info? Is there any proper encryption, or is like a lot of Android apps which just rename the file to 'hide' it?

It is AES 256 Bit encrypted ;-)

Wow, alot of people don't seem to know what NFC is...

"No! That's not true! It...um..it stands for..New Football Club! Yeah! *quickly Bings "what does NFC stand for?"*" //
While this technology isn't as well known, I still use it often. Its pretty useful as far as time saving features go.

Would be nice to be able to use the phone as an NFC tag to unlock computers and other devices.

Huh, sounds cool. I might try this out.

This is app is useless, WP8 doesnt have an app that can hide videos, first because WP8 didnt support it and now I think cause no one wants to implement it or it still doesnt support it.

We need an app like app lock. It secures your data. When will a developer make such an app. I wish I could. It one thing windows phone users need.

I like the fact that devs try te create apps that use NFC. I don't like the fact that MS provides drivers for NFC use, but won't let DEVs have ANY access whatsoever to api's rendering the use of NFC.. Well. Almost completely useless. I'm thinking the best usage for NFC tags would be to turn of bluetooth, or turn on/off wifi etc. Not to launch a single app when the phone is near a tag. it might come in handy for mobile payments tho. If Microsoft can be bothered to make that work properly by the time the competition is already using it globally.. :(

To use nfc payments on wp you need to have a secure sim. However in the US, you need additional software and a secure sim.

People are becoming paranoid.