NFL Game Pass will let you watch the whole football season on-demand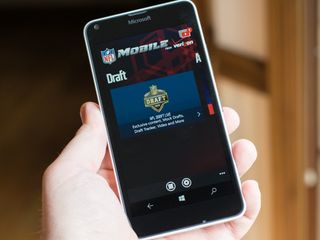 The NFL will soon offer a new on-demand video feature to users of its NFL Mobile app called Game Pass. With Game Pass, fans will be able to watch all 256 regular season games on-demand through their mobile device, as well as on a number of set-top boxes, as well as console like the Xbox One and Xbox 360. In addition to regular season games on-demand, you'll also be able to watch live, out-of-market pre-season games, as well as the entirety of past seasons since 2009, including Super Bowls.
NFL Game Pass gives you a variety of ways to experience games. You can turn off scores for match-ups that you have yet to watch. If you don't have time or inclination to watch a full game, they can be condensed down to 30-minute segments. You can analyze games using exclusive camera angles from All-22 and EndZone.
All games will be available commercial-free and in HD. As part of the rollout of Game Pass, Game Rewind, a similar feature from the NFL, will be discontinued on July 31. No pricing announcements have been made for Game Pass, though the Game Rewind feature is currently available for $24.99.
Source: NFL Game Pass (opens in new tab)
Windows Central Newsletter
Get the best of Windows Central in in your inbox, every day!
Has something changed to where this is available in the US? In past years this was only available to those outside of the US so you had to use a proxy/vpn/whatever when purchasing it.

I think that's the point of the article. Not sure why it isn't explicitedly stated though.

On demand doesn't equal LIVE.

You can already watch any football game or any other sport in live tv with the Flash Sports app... Seriously kicks Ass...I live In Orlando, but can watch my Steelers any given Sunday, the Superbowl, the Merriweather fight and on and on...

Obviously the only difference is a lack of ads. I'd maybe pay $40 for a season of no ads, but as I go to a bar to watch my Eagles games every week, I don't thinnk it would be worth it. Thanks for the tip about Flash Sports, downloading now!

Considering Flash Sports isn't available on PC, this makes for a pretty stellar use for Continuum. Connect/project phone to monitor/tv and stream sports on a big screen!

Don't need continuum, just project my screen...

Anybody wanna take a guess at how much it will cost?

In the UK, "follow your team" is £85, "Season" is £100 and "Season Plus" is £135.

One kidney. Maybe your soul.

Probably about the same as Game Rewind.

If its available is the us take my money!!!

So let me get this straight: this is "ON DEMAND", meaning these games will be shown AFTER they have been played, and the only live games will be OUT OF MARKET PRESEASON games (so you won't get to see your local team play live).
Well, thanks, but no thanks... although I guess the 30 minute recap thing could be useful. Calling it "Game Pass" is fairly deceptive, at least the "Game Rewind" name was more appropriate and truthful.

Maybe they just made a typo, meaning to calls it "Games Past" instead?

Exactly. Took me a minute to figure that out also. Makes it way less appealing.

NFL video in the US has been mostly Verizon only, too. I'm not going to change my provider just to watch football.

Hmm, still seems Sunday Ticket is the better bet.

Sunday Ticket is still the ONLY bet. NFL needs to wise up and use the same model as MLB. Instead of en exclusive with DirecTV, they just need to market NFL Ticket directly to the fans and cut out the network.

They may at some point, we'll find out in 2022 when the 8 year agreement they struck last year ends.

It's not live games in the US, only out of market areas. The only live NFL sub is DirecTVs Sunday Ticket to my knowledge. This is on demand for all games after they air in the US essentially.

No, get flash sports app for wp...

In the UK, it's currently all live games watchable live (with ads) apart from those showing on Sky or Channel 4 which are blacked out for 24 hours. If you watch on catch-up then the ads are removed.

Just tell me that the NFL fantasy football app is going to get a whole lot better this year for Windows Phone. That's all I care about.

Same here. I barely have time to watch games as it is, but the app needs love. Their website has worked pretty well thankfully.

This is a not bad option if you're trying to ditch Comcrap cable.

The NFL would be a lot cooler if they actually dropped an update to their NFL mobile app....to make it the same as the other OS's. I suppose some people will just say be glad that we have an app at all though

This is interesting as I've been a Game Rewind member for the last few years...

Need this with an app for the NHL.

Wow. This sounds very nice. I just hope its not super expensive.

This is the SAME thing as NFL Rewind but it also adds all Pre-Season games (which used to be a seperate cost)...you get to watch all games the NEXT DAY and it has up to a 5 year archive of all Pre-Season, Regular and Post Season games, including the Super Bowl.

I've been waiting for this forever. No more watching my saints from horrible virus prone sites!

Should have got the Flash Sports app for WP about 1.5 years ago...watch any sport live...even fuckin table tennis...go get it now.

I don't think most people commenting here understand what this is. It's not Live regular season games. Posted via the Windows Central App for Android

Yeah I tried to clarify it for people above but many still don't seem to get it. Which is of course NFLs intent, otherwise they wouldn't use such deceptive naming.

Will they ever come up with a more affordable "Team Pass" so I can just watch my Lions disappoint me? :)

lol. I feel your pain Go Browns! I was hoping I could use my vzw account to sign in somewhere and watch live games other than my phone.

Last time I'm telling you Neanderthals...get the Flash Sports app and watch anything, anywhere live...

l'd rather not be limited to watching on my phone PLUS I don't mind paying for something I want.

I have Game Pass and I watch games live as they happen on my PC and I can watch them on demand later and they are condensed... Haven't tried it on my phone because Windows 10 mobile has a problem installing the NFL mobile app.. Just saying for those that say its not live..
Windows Central Newsletter
Thank you for signing up to Windows Central. You will receive a verification email shortly.
There was a problem. Please refresh the page and try again.