Night eye review: Bringing dark mode to any website
If you love browsing the web at night, or just prefer dark mode over light, Night Eye is a must have extension.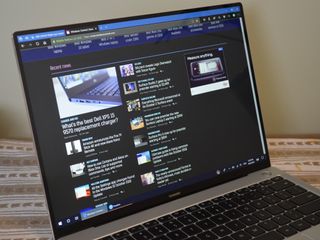 Dark mode is gaining popularity across many sites and apps, but some locations on the web still stick to a light theme. Night Eye is an extension that intelligently converts the light themes of websites into dark themes. It does much more than just inverting color schemes and the end result is impressive.
It isn't perfect but is something you have to try if you want a more universal dark theme across your device.
Night Eye is available for free on Microsoft Edge.
See in Microsoft Store (opens in new tab)
Bringing darkness everywhere
Night Eye doesn't just invert blacks and whites. It analyzes each website you visit and decides how to implement a dark them. This results in attractive dark modes that maintain websites' design languages much better than basic inversions. The downside is that this can take a bit of time. In my experience, websites took longer to load the first time I opened them with Night Eye active. Subsequent visits seemed faster, but the lag of opening each new site is noticeable.
Night Eye has a number of customization options that allow you to tweak individual webpages or every site you visit. You can pick a specific color and choose what Night Eye converts it to. In the website above the hamburger menu and titles were changed into a blue-ish purple. I selected that color and had the choice to map it to any color including the site's original gold or white to give it a nice contrast.
Some websites don't work perfectly with Night Eye, or you might just want to leave them in light modes. For this, you can either have Night Eye do nothing on that site or you can adjust brightness, contrast, blue light, and other characteristics of the website.
Faults and issues
I'm very impressed by Night Eye, but it isn't perfect. I'm not exactly sure how the app works but it feels like it maps out each website you visit. As a result, the first time you visit a website with Night Eye on is very slow, particularly if the website has a lot of complex elements.
In a similar vein, some websites just don't quite work with Night Eye unless you're willing to do a lot of tweaking. The extension does offer custom color mapping, so you could match up every single element of a site to what you'd like, but that's a lot of work for each site that requires it.
Most of the sites I visited work well, including YouTube, Facebook, Reddit, and Windows Central. But the CMS to edit articles on Windows Central struggled to be converted to a dark theme much more than browsing the site to read content.
Overall thoughts
Night Eye is a great addition to Microsoft Edge. It's base level of conversion to dark themes is impressive and you can customize pages or turn off Night Eye for pages that don't quite work.
While it's not quite perfect, it feels like it got faster after pages were analyzed the first time. My ultimate goal is to have dark mode across everything I use, and Night Eye is a big player in accomplishing that goal.
Pros
Brings intelligent dark mode to any website
Allows color remapping
Allows customization other than light vs dark
Free
Cons
Can slow down site load times
Doesn't work well with some sites
See in Microsoft Store (opens in new tab)
Windows Central Newsletter
Get the best of Windows Central in in your inbox, every day!
News Writer and apps editor
Sean Endicott brings nearly a decade of experience covering Microsoft and Windows news to Windows Central. He joined our team in 2017 as an app reviewer and now heads up our day-to-day news coverage. If you have a news tip or an app to review, hit him up at sean.endicott@futurenet.com (opens in new tab).
You list "free" as a pro. But it's only free for three months. $9/year after that. Which really isn't that bad.

I was just wondering why something like this does not exists for Edge by default after shipping its Dark Mode. I really don't like installing extensions to any browser that clearly states that it's collecting user data. Why would anything like this require collecting data of any kind. This is something that could be carried out purely on client-side.

Edge doesn't even have a dark page in the 'New Tab' view and how do you expect it to do this? All edge can do is blacken the title bar, contextual menus and search bar in different shades of grey.

As much as I hate to say, we probably won't see this as a native function of Edge. MSFT is touting Edge as faster, safer, and less resource intensive. Implementing a dark mode in this way could very well put all of that in jeopardy, as this type of dark mode would require more memory and more CPU(GPU?) cycles. As noted in the article, this can cause a noticeable increase in load times. While we MSFT fans probably wouldn't give a hoot about the increased load times, it would be bad from an optics perspective. The rival browser developers would seize on the "slowness" of Edge and use that to tear down all of MSFT's efforts. Now, with all that said, MSFT could support the extension developers, so that their extensions are able to run as efficiently as possible. This would get them better extensions, while still allowing them to pursue their goal of producing the fastest, safest, least resource intensive browser.

It's alright, but sadly it isn't possible to automatically enable/disable it at a certain time of the day.

Maybe in an upcoming update

Thanks for the article. First time hearing about this pretty decent app

"particularly if the website has a lot of complex elements." You mean a fat bloated poorly optimized website, like Windows Central :)

I will gladly pay the $9/year. I have always wanted this. I am also happy with the dark Explorer. I tried to design this theme with Windows 7 but sometimes I got white on white and had to select what I wanted to see. I removed the extension because on Facebook when a picture is selected it skipped right to the Facebook page. Nice concept. Maybe when they fix that I will be informed and try again.

I've been using this extension this past week and I quite like it. At first it was a bit of a shock and I thought I didn't like the results and turned it off for most of my usual sites and then eventually altogether. I tried again and got used to it after a day or two of use. It's not perfect, causing some issues on some pages, but you can easily turn it off on a specific page and the page will reload automatically. With regards to cost, the Microsoft Store page says that the extension is free for Microsoft Edge users but then the extension itself says that it's free for three months and then costs $9/year. I'm not sure whether the Store page is misleading or whether it really is free for good and the text in the extension is a hangover from a Firefox or Chrome version.

Thank you for this review. Didn't know this thing existed and now loving it!

That not all sites work, I think is to be expected.
Great app. Microsoft should buy NightEye and implement is by default in Edge as part of completing the dark mode experience on windows 10.
Windows Central Newsletter
Thank you for signing up to Windows Central. You will receive a verification email shortly.
There was a problem. Please refresh the page and try again.