Ninja calls out Twitch for turning his channel into an ad page, featuring NSFW content (update)
Oh dear. It looks like Twitch hasn't taken Ninja's switch to Mixer very gracefully.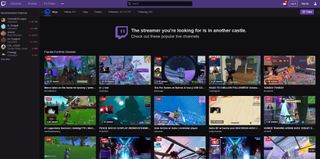 Update August 11, 2019: Twitch has now U-turned, reverting Ninja's channel back to the default offline page.
Twitch has now reverted my channel back to how an offline page should look. Thank you.Twitch has now reverted my channel back to how an offline page should look. Thank you.— Ninja (@Ninja) August 11, 2019August 11, 2019
Update August 12, 2019: Twitch's CEO Emmett Shear has now responded to the controversy, stating that they were testing new systems to surface recommended content in offline channels. Although this doesn't explain why they had included text on Ninja's channel that cryptically referred to the fact he'd moved to Mixer, while hiding all of his channel branding and social links in the process. Twitch's CEO also apologized for the "lewd" content displayed on Ninja's channel, noting that the offending channels had been permanently banned.
4/ On a more personal note, I apologize want to apologize directly to @ninja that this happened. It wasn't our intent, but it should not have happened. No excuses.4/ On a more personal note, I apologize want to apologize directly to @ninja that this happened. It wasn't our intent, but it should not have happened. No excuses.— Emmett Shear (@eshear) August 11, 2019August 11, 2019
Original article:
Last week, Ninja joined Mixer in a serious coup against Amazon's Twitch, leveraging an exclusivity deal with Microsoft. Ninja's presence on Mixer has already been a massive boost to the legitimacy of the platform, but has also helped raise up other Mixer streamers in the process.
It was a huge loss for Twitch, given that Ninja is credited with helping bring live game streaming into the mainstream. The move has legitimized Mixer to some degree, potentially giving Twitch some real competition for the first time. Up until now, Twitch hadn't really reacted to the move, but it has begun abusing Ninja's channel page on Twitch, turning it into an advertisement platform for other recommended streams — a "feature" which exists in no other pages on Twitch.
If that wasn't bad enough, Twitch added insult to injury by recommending a highly NSFW channel on the URL, which is undoubtedly frequented by youngsters. While Twitch is within its right to change its website as it sees fit, the fact it streamed adult content on Ninja's page without any form of age-gating potentially violates various laws. It shows how utterly haphazardly Twitch vomited this new "feature" onto its platform to take advantage of Ninja's dormant Twitch page, recommending streams completely incongruent with Ninja's brand.
We've censored this screencap from @Onyx_Lion (NSFW), which showcases the pornography Twitch failed to screen on its platform below.
Tyler "Ninja" Blevins reacted to the controversy earlier on Twitter, noting that his team had sought to handle his move to Mixer with professionalism, a courtesy that Twitch doesn't seem to want to reciprocate. You can listen to Blevins' statement below.
Twitch has become a factory for controversy in recent years for various reasons, ranging from major partners behaving badly to accusations of operating a double-standards system, allowing its larger stars to avoid sanctions for rule violations. Twitch partners such as Dr. Disrespect have expressed interest in jumping ship to Mixer as well, should they be able to find a similar deal to Ninja.
Mixer has been praised for its positive community, although its far smaller size makes this much easier to manage. It remains to be seen if Mixer can retain its reputation for positivity, but if Twitch keeps screwing up like it is, it shouldn't be too difficult for Mixer to retain pole position in that regard.
Affordable accessories that'll pair perfectly with your PC
Every one of these awesome PC accessories will enhance your everyday experience — and none cost more than $30.
KLIM Aim RGB gaming mouse (opens in new tab) ($30 at Amazon)
Whether you're a gamer or not, this is an absurdly good mouse for the price. It's ambidextrous, has a responsive sensor, a braided cable, tank-like build quality, and, yes, it has RGB lighting, though you can turn it off if that's not your thing.
AmazonBasics USB speakers (opens in new tab) ($16 at Amazon)
These neat little speakers may only pack 2.4W of total power, but don't let that fool you. For something so small you get a well-rounded sound and a stylish design. And they only cost $16.
Razer mouse bungee (opens in new tab) ($20 at Amazon)
Use a wired mouse? You need a mouse bungee to keep your cable tidy and free of snags. You get no drag on the cable, and this one has subtle styling, a rust-resistant spring and a weighted base, all for $20.
Windows Central Newsletter
Get the best of Windows Central in in your inbox, every day!
Jez Corden a Managing Editor at Windows Central, focusing primarily on all things Xbox and gaming. Jez is known for breaking exclusive news and analysis as relates to the Microsoft ecosystem while being powered by caffeine. Follow on Twitter @JezCorden and listen to his Xbox Two podcast, all about, you guessed it, Xbox!
Moving to Mixer tomorrow.. Cya Twitch! Its Nasty behavior like this I just don't want to have support from. First saying "Good luck Ninja" then does this.. Salty AF for real.

The salt really is real, kinda sad that a company as big as Twitch is behaving like a spoiled child.

Wow, that's completely unacceptable. Even if it didn't inadvertently feature NSFW content, the fact that they went out of their way to turn his page into an ad instead of just leaving it like every other offline channel on Twitch is a bad look. They would've been much better off doing nothing at all. I really hope Mixer snags more of Twitch's most popular streamers.

I think it's cool of them to feature other streamers this way on offline channels, but the fact they did it to Ninja specifically without even notifying him feels like total bad faith. Ninja built up that channel by himself, and there's nothing in Twitch's rules that say "if you leave we'll claim your channel." It sends a message to their existing partners that they have no interest in them as human beings, just $ signs.

I'm also curious about the legal implications of them essentially using his brand to promote things without his approval. On the one hand, it is Twitch's site and the overarching brand is his, but on the other hand, as you point out, Ninja built up that specific channel with his own logo, handle, etc. Surely they can just usurp that, can they? Perhaps that's why they reverted it: lawyers got involved.

I also predicted this. Just after this guy signed a deal with MS, I predicted that we'll see a lot more topics about Mixer and Ninja. Many new people who will hype and promote this streamer and Mixer, as suddenly this will become a new priority. Just like how BC became a priority after E3 2015, console cross-play after 2016-17 or resolution and power once Scorpio was announced. LOL
Oh well...

You described the definition of news. Congratulations?

I described changing one's priority depending on what a company does.

That's still news just so you know.

Not just WinCentral, many other NEWS sites e.g. The Verge, Engadget, IGN, Gamespot are reporting this news too.
It's obvious, most tech or game sites will cover this story.
Q: Why should WinCentral skip this piece?

Recommending similar "online" channels on a offline channel seems helpful -- even though this was an unfortunate butthurt rollout.

Twitch has a pretty robust auto-host system which most active streamers can/will use so it's kinda useless in many cases anyway. The channel will rarely be truly offline

Does Twitch have a "discovery" feature other than the meh home page?

Gotta say I've never seen one of ninja's streams

It's hard to tell from the mosaic, is that a nude lady laying on the bed? Twitch allows pornographic?

No they don't. Allegedly. And yes, it's 100% porn.
Windows Central Newsletter
Thank you for signing up to Windows Central. You will receive a verification email shortly.
There was a problem. Please refresh the page and try again.