Nokia 1308 firmware update rolling out for Lumia 620 in Russia, Lumia 920 in Jordan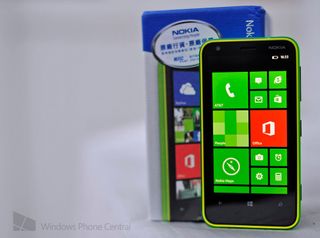 Those who reside in Russia will be able to further enjoy the improvements made to the overall user experience with the 1308 firmware update, which is now rolling out for the Nokia Lumia 620 in the region.
WP7Forum reports that consumers are receiving notifications to upgrade the software on their Windows Phones. If you're not familiar with exactly what's included in the update, 1308 bundles a number of fixes and improvements to sensors, screen brightness, the camera and also enables users to keep on top of what's stored on their Lumia Windows Phone with Storage Check.
On a side note, we've received word that the firmware update is also rolling out in Jordan for the Lumia 920. Let us know in the comments if you're receiving the updates in your region. Be sure to check for updates by heading into Settings > Phone Update > Check for Updates (this update requires Wi-Fi). It's good to see the Middle East and beyond receive some love.
Source: WP7Forum; thanks, INGINE and Denis, for the tips!
Windows Central Newsletter
Get the best of Windows Central in your inbox, every day!
Rich Edmonds was formerly a Senior Editor of PC hardware at Windows Central, covering everything related to PC components and NAS. He's been involved in technology for more than a decade and knows a thing or two about the magic inside a PC chassis. You can follow him on Twitter at @RichEdmonds.
And Poland too (updated my Lumia 920 this moring)

In Poland 620 (unbranded) a few days ago, and today my 920 (unlocked Play). Wheee :)

FOR GexN : You provider ? T-Mobile? Orange? Play? Plus?
I live in Czech Republic - Nokia Lumia 920 - distribution Poland POLKOMTEL PLUS still waiting,

Mine is unbranded - straight from Nokia store.

Check out here. Should be rolling out just for anyone in Poland just now.
http://windows-phone.pl/aktualizacja-blad-z-pamiecia-inne-lumia/

No 1308 update yet for my unlocked Lumia 920 (Orange Branded / Model RM-821_eu_poland_360). I purchased this from GSM Nation and am using it in Mumbai, India on Vodafone.

T.T, am i the only one left out for this??

Honestly... I hate OTA update very much!!!

Rolling out to unbranded devices too in the UK.

In Egypt Nothing received yet

Nothing in Sweden (unbranded Lumia920).

Nothing for unbranded phones from UAE

I'm also waiting for it in UAE. C'mon guys, release it now.


Same here, I really need this update since my Phone is constantly out of space from my other storage taking more than 12 GB :/

I hope germany is next... Still waiting for 1308 (unbranded 920)

I don't want to offend anybody, but this is just ridiculous. Why on earth do phones in Jordan get it before my German unlocked 920? The market there is much smaller

Says the guy in Germany... What about Australia? /s
But on a serious note, nothing yet in Australia - Outright 920

Hi Mr. Australia, there are over 80 million people living in Germany - I think he's got a point :)

Australia is 21.54 times larger than Germany.... Your point is... ;) Sorry, I figured we were talking about stuff that doesn't matter...

Not talking about size here. Germany is number 1 in Europe, so we should be golden.
Point is: We are in the same boat with no update, just shameful.
Cheers man

Man, don't get me started. We get it right after Mars and Uranus on open l920s in Austria, so trust me: It could be way worse for you ;)

Sod the 620, Give my 820 an update!!!!

I have a Poland unlocked, which I changed the firmware to the spanish one, and I haven't any update, yet :(

Nokia do u remember AUSTRALIA? u released the 920 here the same time as the US yet still no update.....

Wierd cause I got my update and I'm from nz

Nokia, why hast thou forsaken my (EE UK) L820!?

Got 920 update in Ukraine this morning

Nothing for the 620 in South Africa on Vodacom yet

Why is it so difficult release update globally? And why no words about Lumia 820...?

Yeah!! I want mine updated! It's like the phone is dead or something!! Really pissing me off!

I agree where's the update for the 820!!! -_-

I just got it on my unbranded 820 in the UK so maybe you'll have it too?

Seriously when i read Jordan...oh man Nokia what about Germany...

I'm from Zimbabwe..i guess will get it about Christmas time..

Does the update depend on the region of purchase (IMEI) or the region of use (carrier)?


It depends on region of purchase. I haven't received 1308 for my UAE bought Lumia 920 using in India, although 1308 has been rolled out in India.

I don't have a lumia, nor do I have a windows phone 8. But I see my name in the article heading and I smile. Woohoo! Go Jordan :D

Relax dude. This doesn't come everyday :P

You probably have a point there

I got this update long back on 2nd April in India for my 620 which i had bought on 28th march

WHAT ABOUT BAHRAIN ???? >:O IM SICK OF IT CAUSE THERE IS ONLY 600 MB LEFT AND THE OTHERS FOLDER HAS 12 GB OF USED STORAGE :(

Hoping for an update this week! Norway on Telenor carrier. Would be cool to actually be able to hang up phone calls! :p

I have a question, i bought mine 920 in singapore, but i'm living in indonesia..
and currently the 920 is getting the update 1308 here in indonesia, but i'm received nothing on my handset, so is that means that mine will be follow the singapore?

Feels like shouldn't have bought Lumia 820 .

I'm seriously waiting for the Australian unbranded 920 update. Microsoft (or Nokia) sure are taking their time. -_-

It is very pleasant to notice that Finland is apparently the last ones to get this update ... again.

Yeah aren't we proud to be Nokia's homeland?!!

+1 We are the last to get it because all the faults and errors will be ironed out by then.

You should be thankful as AT&T 1308 version had a connectivity bug ..
The rest of the world got a bug free firmware

Perhaps I should be more thankful if 1308 didn't have a bug, at all?

Today the update did arrive for me as well, in the Netherlands(vodafone)

Moscow..920...nothing yet((

I don't get it
why didn't Nokia do like apple .......?

well nice to see my country on WPCentral main page :D actually i never waited OTA updates .... its been like more than 2 months since i got the 1308 update for my L820


Finally someone cares from Jordan! Lol I feel you bro! But what will you do now sense navifirm is down :P

Finland, Elisa/Saunalahti operator, unlocked Lumia 920 and no 1308 FW over OTA yet...
I wonder what's the reason behind this regional/phased update rollout for Windows Phone operating system and firmware upgrades? I'm not even that frustrated about it, but I would really want to know the reason. Surely it is something technical, or maybe they need an all-clear from the biggest operators even before rolling out OTA upgrades for even unlocked phones.
I understand operator-specific rollouts for example in the U.S, but there does not appear to be any logic on why unlocked global upgrades are delayed this way.



The updates are always done in phased manner so that buggy software should affect less persons ..
The same thing happened 1308 AT&T Lumia 920 which had connectivity bug , now Nokia fixed it so that rest of the world would get bug free firmware

No love for 810/822 here in the US? I am not sure to blame the carriers for this -_-

New Zealand is live with the 1308 update today :-)

In India , Lumia 520 comes pre-loaded with Storage check

Indonesia is already get 1306 update on thursday,

Come on Nokia/MS, what's the problem in rolling it out globally? Apple can do it with their iOS updates too, why can't you do it?

Austria, unbranded L820, still waiting ...

Got it on my unbranded 820 in the UK after checking for updates! It's fantastic, got me 1.7GB back of the 4GB i had in other!

If anyone got the 820 updated please check and let me know if we can now manually assign ip and dns for Wi-Fi. Just eager to know and losing my patience as i cannot use wi-fi at work :'( It would be a big failure for Microsoft and Nokia if they have not worked on it. Damn this issue is addressed with WP 7.5 too.

Did you automatically get it back or do you have to uninstall apps manually? I updated the 820 with 1308 and the storage check doesn't really clear up your "other" storage.

Well no luck in Denmark as well :(

Here in Brazil too!
I've a update of storage check a few days ago... I'm having another update now .-.
Lumia 620.

If anyone got the 820 updated please check and let me know if we can now manually assign ip and dns for Wi-Fi. Just eager to know and losing my patience as i cannot use wi-fi at work :'( It would be a big failure for Microsoft and Nokia if they have not worked on it. Damn this issue is addressed with WP 7.5 too.


Nothing here in Sydney Aust. Seems as though AT&T have priority over ever man and his frog!

^*every. Is this update rolled out from the carrier?

Yup just got it in Ireland

no update for lumia 820 ?

Oh my god i cant wait too long for this fuckin update

If anyone got the 820 updated please check and let me know if we can now manually assign ip and dns for Wi-Fi. Just eager to know and losing my patience as i cannot use wi-fi at work :'( It would be a big failure for Microsoft and Nokia if they have not worked on it. Damn this issue is addressed with WP 7.5 too.


Please release an update for my nokia lumia 820 here in Philippines

Updated today my Lumia 920 in Saudi arabia

I updated it today too in Kuwait