Nokia announces the Lumia 1520 in Vietnam; offers wireless speaker in pre-order deal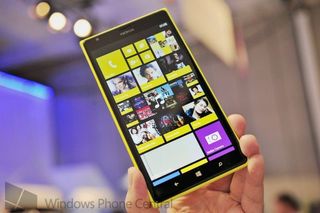 Nokia has unveiled the Lumia 1520 in Vietnam, announcing pre-orders from November 8th. The price is said to be $15,999,000 VND ($800), according to WinPhoneViet. The device was unveiled in Saigon yesterday, just weeks after the product was shown off in Abu Dhabi. If you're waiting to get your hands on the new smartphone, the wait is almost over.
If you've not been following the news, the Lumia 1520 is the high-end Windows Phone phablet. What's more is the first 1,000 consumers to place an order will be rewarded with a JBL PlayUp wireless speaker when pre-ordering the Lumia 1520. Not a bad deal.
Source: WinPhoneViet; thanks, Tung, for the tip!
Get the Windows Central Newsletter
All the latest news, reviews, and guides for Windows and Xbox diehards.
Rich Edmonds was formerly a Senior Editor of PC hardware at Windows Central, covering everything related to PC components and NAS. He's been involved in technology for more than a decade and knows a thing or two about the magic inside a PC chassis. You can follow him on Twitter at @RichEdmonds.
And of course, no word yet from the premier partner AT&T... I am happy for Vietnam though, but this reminds me terribly of the waiting game for the 920....

Will these versions work on att. Need my wireless charging, just saying. Does anyone know?

Yes, it can work on any carrier, and storage is 32GB, not 16GB. Includes wireless charging.

Micro SD supported. But pls note that it doesn't have LTE, H+ only because of LTE is not available in VN now.

Everything is turning wireless these day!

because wires are quite annoying - everywhere

I'm guessing the at&t version will be announced in the next week or so.

Its also available for preorder in finland... Search for it...

That doesn't surprise me :)

And what's about Thailand?

Well pre-orders have also started in Finland with expected delivery on the 4th December so I would imagine that's the sort of time frame the rest of us would expect to see it, in Europe at least anyway, but it should also be in shops internationally by the end of this year.

it's wrong currency conversion. $760 is the proper price. Hey unlike att, this version has micro sd card. Lumia /nokia brand is very strong here, all major phone distributors have nokia phone in the central zone for years :-), though iphone and android is still way ahead.

Ugh, nokia has the same damn problem every time they launch a new phone. The time between announcement and actually getting the product into peoples hands takes way to long. By the time it's released, all the hype has died down due to other products from competitors that have released in that time span. They really, really need to either borrow a page from apple (announce and have preorders ready the following day and ready to sell within a week or so afterwards) or from google (leak bits and pieces for a few weeks, and then officially announce and have ready to sell the same day). MS and Nokia, while doing amazing things, are moving way to slow when it comes to the supply channel. Todays market is all about building hype, impulse buying and instant gratification.

I think nokia is not one of the major players anymore, and hardware suppliers wont play nice with small players :-)

If that's the case don't announce anything until supply is high. Nokia/Microsoft = Clout....so use it. If we can see it how come they can't?

Why announce something you won't have available in the next month or two. Fuck the iPad air is already here. What is wrong with Nokia. Even Google nexus is already on sale. Now what happens? Those who may have wanted the new Nokia already got themselves the new iPad or new Nexus. Nokia, you're lucky I'm a WP guy!

There is alot of truth in this statement. As a current Android user I have been patiently waiting to try WP. But being a hardware junky couldn't really break away from the larger faster Android offerings. Then I caught word of the 1520. I was ready to jump ship. Not that I've changed my mind entirely but the more time that goes by the more I start to realize how entrenched I am in Google Services not just at home but at work (gmail, gdocs, hangouts etc). If this phone isn't at least announced in the next week I may have to pass and pick up a Nexus 5.... I would most definitely have purchased the 1520 on impulse alone.

Well think about this for a sec, though agree with you on most parts. If Nokia would wait for their supplies to be high it would probably take them an additional 1 or 2 months to reach that level which would mean consumers would not know about this device right now which would mean that they would not wait for it. Because it is not announced which is logic right. But now the device IS announced, some will wait a moment longer for the Nokia device instead of buying the, let's say Android device, right now. If I did not know about this NL 1520 I would go and buy me something else. Now I know about it I will be checking the release date every single day until it is known. Even when it takes another 2 months. I hate you Nokia, why do you keep me waiting?

You're absolutely right. Its really ridiculous and just think the initial plan was to announce this phone back in september.

Any word on a UK release?

Nice one! We LOVE Nokia here in VN :))

Meanwhile, in Canada... I'm giving Rogers another month, but I doubt they'd release it so soon after the 1020

HA. Rogers has been the last to announce any Lumia since the 920 came out. The 1020 came out a good 2 months or so after official announcement. I wouldn't trust them to release this beast of a phone anytime soon

$15,999,000 VND = $800 US ?? WTF?!

Its actually $752 at current rates.

So att kills the awesomeness of this device and other places get a free wireless speaker to boot. Arg...

"Saigon" was changed to Ho Chi Minh City since 1976. In our country, we didn't use "Saigon" in map or another documents.

But still use in Vietnamairline (SGN), some banks and hospitals. :)

I prefer calling it Saigon instead of HCMC. The Saigon people actually always call it Saigon rather than HCMC.

Will it be 8.1 upgradeable?

I was going to buy the 1520 off ATT the day they made it available and then ATT went and F'd up the damn thing by halving ram and removing Qi charging. WTF!!!! Does ATT just want to sabotage Nokia or what? Then we've got Nokia shooting themselves in the face and foot by announcing the device and then not making it available, like many others have said put some info out about it coming and then make the announcement with details when you can buy the damn thing.