Nokia announces the second season of Your Wish is My App, an Indian app reality TV show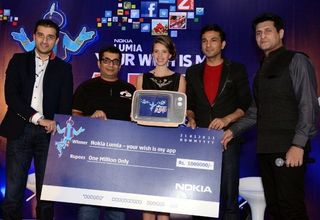 Earlier today, Nokia India announced the second season of their app reality show - Your Wish is My App. Following the unanticipated success of the first season, the show is intended to kindle the imagination of app enthusiasts.
The campaign will give consumers the opportunity to submit mobile application ideas that have the potential to be developed into successful apps for the Windows Phone Store and stand a chance to become a millionaire.
Last year the show received 38,000 app ideas, and this year Nokia is looking forward to a pool of 50,000 app ideas. Also, this year, the campaign will include consumers and developers from across the globe. 30 shortlisted apps will be showcased in a nine-episode reality TV show which will be aired on NDTV Prime starting mid-March.
In addition to the grand prize of INR 1 million, two runners up will be awarded INR 500,000 and INR 200,000 each, while three lucky winners will stand a chance to win the Nokia Lumia 1520. The jury includes Rajiv Makhni, NDTV Managing Editor, Vishal Gondal, Entrepreneur and angel investor, Sanjeev Bickhchandani, Founder and Executive VP, naukri.com, Vikas Khanna, New York based Michelin Starred Celebrity Chef, and Kalki Koechlin, Bollywood actress. The winners will be judged on the basis of parameters such as the originality of the idea, relevance, and the practicality of implementing it.
The top 4000 ideas will be made available on Nokia's developer community portal, DVLUP, so that developers from India and across the world to convert into live apps. Additionally, curated expert developers will be invited to work on select top applications, with Nokia providing UX and design consultation in addition to technical support.
In addition to inviting entries from international audiences, Nokia and NDTV will take the initiative to the youth across the country through festivals in leading colleges and universities in New Delhi, Mumbai, and Bangalore. Nokia will also ask for innovative ideas during Social Media Week 2014 in Bangalore, Barcelona, Copenhagen, Hamburg, Lagos, Milan, New York, and Tokyo.
Windows Central Newsletter
Get the best of Windows Central in in your inbox, every day!
I like that girl from the "Ek thi Daayan" movie. kalki.

Speaks Hindi or Urdu, or something in-between.

Did I just read two foreigners discussing bollywood? *weird*
Hahahahahahahaha

I live in Arlington, Texas,, dude!!! Lol❕

Its because you are american and its ironic because most of us hate bollywood movies. :D

Who said I like Bollywood movies❔.. Lol.

When was the 1st season aired?

"Unanticipated success" huh? I wonder why they even bothered with the show if they didn't anticipate it being successful ;)

Millionaire? Ok, technically true, but it's about 9600 GBP...

I will destroy the world unless you give me... ONE MILLION RUPEES mwahahahahah

Well, you can buy 20 sqft of flat in Mumbai for that amount


That's like a really, really, tiny garden shed :P

This sounds like what my app/site is for! AppDreamr is for people to submit app ideas and brainstorm them. If this show sounds good, take a look at it!

You have to develop an mp3 editor app which can rename all the songs name , artist name , album name and change album picture. This app have to load automatically pictures your albums using your mobile data connection or wifi. So our mp3 player look so gourgious and good with album image and artist names.
windows phone have live tile and when we play a song than more songs artist names are not visible our music+vidios live tile. If we have this app so we can look artist names on live tile.

(-_-)? Care to explain to whom you're threatening? I doubt my dear friend, unless MS gives developers privilege to access and "edit" media files other than "delete" and "copy to phone memory", it'll be your dream forever... Had we not have a 3rd party decent file manager already if it were so easy?

I was exploring wp torrent app need one torrent app which we can able to export to video / music hub music goes to music folder and video should go to video folder that app should have rename feature
Windows Central Newsletter
Thank you for signing up to Windows Central. You will receive a verification email shortly.
There was a problem. Please refresh the page and try again.