Strategy Analytics: Nokia becomes top Windows Phone manufacturer in just four months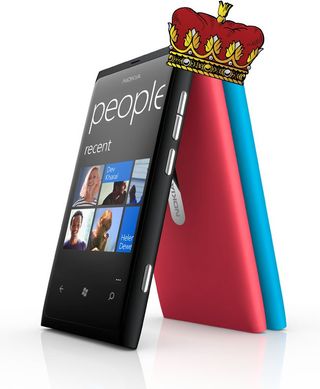 This certainly wont be surprising to our readers (since we cover the global Nokia marketing campaign regularly) or anyone else who's in the loop when it comes to Windows Phone, but it would appear as though Nokia has grabbed the #1 spot for platform manufacturer marketshare according to Strategy Analytics, which runs alongside developers publishing statistics indication a climb in Lumia 800 usage.
The Finnish handset maker achieved the number one position with 33% marketshare in just four months, since the launch of the Lumia 800 in Europe. The Lumia family of Windows Phones has not only taken the platform by storm but also the world, and to illustrate this design appreciation the 800 received a number of awards at CES 2012.
Check out the chart below for an approximation for Windows Phone OEM marketshare.
Source: Strategy Analytics, via: Engadget; Original Crown image (opens in new tab) via ShutterStock
Windows Central Newsletter
Get the best of Windows Central in your inbox, every day!
Rich Edmonds was formerly a Senior Editor of PC hardware at Windows Central, covering everything related to PC components and NAS. He's been involved in technology for more than a decade and knows a thing or two about the magic inside a PC chassis. You can follow him on Twitter at @RichEdmonds.
Amazing what a company can do if they put some effort into it.

amazing what they can do with no competition. HTC, Samsung, and others are not dedicated to wp

I'm not disputing this fact. Well done Nokia. yes you can.

Campain going strong here in Sweden. Commercials all the time. In stores it's already climbing up on higher positions in top 10 selling items at biggest stores in just 4 weeks. The Lumia is doing well.

I have had an Omnia7 since release and have been trying to convince my colleagues to buy WP, they have not been intersted. Two of them bought lumia 800 this month :D Commercials are working.

Now if only others follow suit!

And yet, I can only get a bottom of the line Windows Phone manufactured by Nokia, because there is no effort from them outside of AT&T. TMobile phone reps have told me they have tried to get higher end models from them, but they are not getting very much cooperation.

You mean you are not getting Lumia 800?

Hopefully Nokia will use the same marketing push when the Lumia 900 launches

Way to go Nokia. I bought the wife a 710 now all they need to do now is get.some high end devices on other carries

I would love to see Nokia flood the us market with lumia, at&t gets blue, tmobile gets magenta, verzion gets red and sprint gets yellow and everyone gets black and white

Go Nokia! We're still waiting for rolling thunder here in the US.

Now if only they would release a Verizon phone. And, you know, sell it.

Bring it them to vzw and sprint

Sprint doesn't want WP at all

That's why my family is switching to AT&T next month. I hope the rumors are true about the Lumina 900 on the 18th.

Great news! I've been a Nokia fan through the darkness and the light so major kudos for them getting back in the game and having the balls to be different, both in style and of course the OS.

Now this marketing campaign needs to become more widespread in Canada! We only have the Lumia 710 and were getting the 800 or 900 in May, but so far I haven't seen one commercial or ad for it in Canada.

Dear Sprint,
Please accept this as evidence for why WP doesn't sell well for you. No advertising = no sales. Strong advertising = strong sales. And you wonder why you are a distant third in the wireless game...

I dumped sprint mobile for me

the numbers are from q4 2011 only, and that means it took less than 2 months- far from the 4 months your headline is suggesting. needs correction



Though this is good news, it also shows how little other Windows phones are selling.

How did you reach that conclusion? No numbers are given, just percentages. Anyway, not surprising Lumia is the sexiest phone. Ever.

Actually, the first section is millions of units. Why they only list "Nokia" and "Others" is strange. It would be interesting to see how everyone else is doing.

The numbers are on the graphic (picture).

Take note competitors: Make a device with good design and construction, advertise it, and they will come.

The rest of the WP lineup is about as uninpsiring design wise as the majority of the Android lineup. Awful.

Not hard when there are hardly any phones from other companies.

In one of Swedens biggest mobile stores the Lumia 800 is on third place on hot selling items just after Samsung SGSII and iPhone4s. So it is indeed selling very well in numbers and not just in comparison.

Y u need ur carrier to get a high end device if ur on Tmobile go to amazon and buy the lumia 800 its a world phone so it has a sim card slot and take it up to Tmobile and get it working or to bestbuy