Quick look at the Nokia DC-50 Qi portable charging plate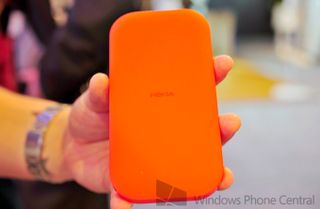 One of the cool accessories Nokia announced today was the DC-50, a 2400 mAh battery (we had it wrong in the video) that also has built in Qi wireless charging.
Think of it like one of those portable power packs that you carry around, but without the need for wires. When you want to charge, you just toss down the lil' brick and lob your phone on top to wirelessly charge (assuming your phone is Qi compatible). The Lumia 920, 928 and 1520 can charge natively, while the Lumia 720, 820, 925 and 1020 can use optional backplates to enable the Qi feature.
The DC-50 will run $99 and weighs 150 grams. While not cheap, it sure is convenient and with its light weight and bright colors, it certainly has some appeal.
Daniel Rubino is the Editor-in-chief of Windows Central, head reviewer, podcast co-host, and analyst. He has been here covering Microsoft since 2007 when this site was called WMExperts (and later Windows Phone Central). His interests include Windows, Microsoft Surface, laptops, next-gen computing, and for some reason, watches. Before all this tech stuff, he worked on a Ph.D. in linguistics and ran the projectors at movie theaters, which has done absolutely nothing for his career.
Finally. Love Qi stuff :)

Holy crap, i swear my WPC app is about to explode with the amount of updates its getting in the last couple hours!!! Oh...and this charging plate looks sweet as well

Oh, so it has 2400mah battery inside.
I thought it looked good, but now this makes much more sense. Perfect for those summer trips to a family summer cottage. Might just get one next to red Lumia 1520.

I will be very happy once Qi chargers are standard in every car. I travel a lot, and this while small is not portable. Sometimes a cable works better especially at an airport.

Um pretty sure 928 is natively able to wireless charge as well.

You can buy a 20k mAh battery pack for $20 on eBay so yeah...price is way too much

My thoughts exactly. This gives you one charge max. I use a 10k battery pack, and while somewhat heavy, is far more useful when traveling for several days with little opportunity to plug in. All that aside I think the conept is fantastic. Lower the cost and increase the capacity and I'm in.

Here is a Mugenizer N11 Portable Wireless Charger Power Bank with 4800mAh battery for $70
http://mugen.co/mugenizer-n11-portable-wireless-charger-power-bank-with-...

What about that portable wired battery that Nokia announced last month? Daniel! Keep a lookout!

Way too expensive for me but it looks like a nice accessory for travel.

Presumably, if you put this in your pocket next to your phone it would charge? Can you confirm this?

They're not so keen on you putting the stuff in your pockets here ;-)

It would need to line up pretty close to charge. If my 920 is more than an inch off center, it won't charge right on my wired Qi puck

looks cool, but at $99 is not a good value though. I love wireless charging but 2400mah is not that big. 1520 has 3400mah battery, and generic ones on amazon give you more battery for less dollar.
also, maybe it's just me but I don't think wireless charging on the go is that good. you still have to figure out how to secure the phone against the charger. It's great if the phone doesn't move(like on a desk), but when the phone is in motion? not so much.

I agree with your reasoning soloist_huaxin. I think the idea of a "real wireless portable charger" is excellent. But the capacity is far from convenient in daily life. For the high end nokia devices its far from convenient as the battery capacity is larger than the capacity of the charger. So the DC-50 will only be suitble for devices like the 520 and 625. For those devices it makes sense as the charger will have capacity left and thus provides security for an extra charge later on the week. Nokia needs to think a 7 day/ 168 support cycle not a 24 hour cycle as this device suggests now. I hope Nokia considers a DC-80-90-100-200 series for the higher end deviceds. In my experience with mobile chargers in the field, you need at least a 6000 MaH device to make it a viable option, e.g. for the 1020 and 1520 (perhaps also the 1320). Sure the package will be bigger, but that's always a compromise with these accesorries. I'm ready for that compromise. I already have a power traveller power gorilla with 20000 MaH. In the field I can charge my phone without being dependant of wall chargers for about a week (5-6 charges, from a dead battery @ 13%). I would only need to charge my charger once a week! If Nokia can make an equivalent of the power monkey with its 6000 MaH capacity (or higher) then nokia has a great accessory on its hands.

So can it charge a phone via wire as well? I kept telling the video "flip it so I can see that one other side!" to see if there is a full size USB port on there.

God, that's a beautiful piece of kit. I love the design. I really hope MSFT doesn't cancel quirky, gorgeous stuff like this when they become Nokia's new overlords.


Lumia 810 charges Qi style also with battery door cover

Does the 1520 charge directly from the Nokia CR-200 in car charger?

I'm going bankrupt this holiday season. Stop it!

Lumia 1520 (~670 euros), new haswell hybrid (~1000 euros), Xbox one + game (~560 euros), Jolla phone (~399 euros).
.... fock me.
Above was the original plan, but thinking about it, probably not. I have great gaming PC, so might throw out Xbox One or not get Jolla phone just yet.

Or get all of them and live in a cardboard box. I can't decide!

Wow, wireless powerbank, dream has come true earlier than I imagined. Probably be pretty expensive though... And the power capacity is on the low side, still super cool

This is so cool! Put a rubber sticky car dash pad and his is feasible in a car.

Id like to see rubberized bottom or feet and some sort of grabbing piece on top to keep my NL920 from sliding off of it while I use this in my car to and/or from work. I can see my self lodging this in the corner of my passenger seat and wedging my phone in there so I get a good charge while on the road....

Any word if you can just leave it plugged in like the original wireless charging plate and not worry about overheating the plate?

I would imaging that they have tested that. It's probably the use this plate will see the most. Though naturally don't really have a answer for that.

Wow this is really neat! I would love one for my phone while I'm at work, but I don't have Qi charging on it. Guess I might have to look into a phone that has Qi!

At $100, it's way overpriced and incredibly underpowered. I can get 13000mAh for $30 without wireless charging though.

Wireless charging is only about 70% efficient. So the question is. Is it the 2400mAh stated charging capacity before or after the 30% loss. (hopefully its after)

Is that red or bright orange?

Can it also charge via the USB?

The ATT website mentions a wireless charging shell for the 1520? Wouldnt that mean it is not native? Meet a smartphone that can keep up with your busy life.
The 3400 mAh battery combined with the wireless
charging shell is perfect for everyday use.

it is for global version, not for AT&T version.

Other way around. AT&T had Qi charging removed, like the rumors said. Look at the back of the AT&T version, extra contacts for the wireless shell
http://www.att.com/shop/wireless/devices/nokia-lumia-1520.html#fbid=qcGpSZNBOwV

Fuck AT&T so much.


Battery with qi wireless compatible with lumia
http://mugen.co/mugenizer-n11-portable-wireless-charger-power-bank-with-4800mah-battery.html?r=475

So they make this thing in cyan yet not the 1520? Damn it Nokia

2400mAh for a hundred bucks? No thanks. But a cool thing I have to admit.

Awesome, love the colour.

So basically, instead of putting a wire in your phone to charge it, you put the phone on that charger, and then you will put a wire in the charger to charge the charger.
They should thus release a wireless charger to wirelessly charge the charger which will then wirelessly charge your phone. Right? :)

What's the real deal for this battery? It can be charged wirelessly via Qi.
The cost is an issue, but hey, Nokia knows people love wireless charging, so they made a wireless charger that can wirelessly charge your phone while being able to be wirelessly charged.

So it can work as a wireless charging plate besides my bed just like the one I got for my 920, but when I go camping for the weekend it will also pack battery to wireless charge my phone without beeing connected, when I need it to? If that's so...I don't care about the price. I want it.

Yo! I heard you liked wireless charging, so we made you a wireless charger for your wireless charging!

Oh cool, was looking for what the battery was rated at however wont fully charge your L920 from dead to full that's for sure. But decent for emergency cases though at that price point you could get a few dc-16s (2200 mah) and dc-18s (1720 mah). But completely wireless charging... I like!

Good idea, terrible value. I already have a 4500mAh pack that's the same size, and was 1/4 the price.

In case someone is still interested, I just ordered it for $29.00 on the Microsoft Store, it's on offer with free delivery! Enjoy!
Windows Central Newsletter
Thank you for signing up to Windows Central. You will receive a verification email shortly.
There was a problem. Please refresh the page and try again.