With Nokia's first desktop app coming could this be a sign of a Nokia Win 8 Tablet?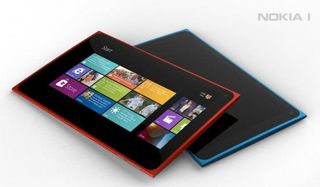 This morning we posted Nokia's brief demonstration of Music+ for Windows Phone, HTML5 and Windows 8. We expect to hear a lot more on this and other Nokia news in the coming weeks at Mobile World Congress in Barcelona (we'll be there in force to cover it), so we forgive their brevity on the new music service. Consider it a tease.
What's not said though is how significant it is that Nokia is making their first Windows 8 and RT app.
Granted, writing an RT app once you have a Windows Phone compile is supposed to be easier. But writing a native Windows desktop client? That's a little trickier. That raises some interesting questions including just how large is Nokia's Windows desktop team? Is it a 3 man crew or a whole group including engineers?
Nokia's first Windows 8 app Music+ is due in "a few weeks"
It's a loaded question because we all should know the rumor by now: Nokia has been working on a Windows 8 tablet for some time and it will be revealed at Mobile World Congress.
According to the Verge, that device is expected to be "book styled" with wrapping around the tablet that provides both a keyboard and kickstand. The cover is also rumored to have a battery built into it that can be used as a reserve power source when the main battery gets low. In fact, such hybrids were confirmed last year by Nokia's outgoing Chairman and later by Nokia's design chief, Marco Ahtisaari.
Well, we may be getting our first indirect proof of that today with that video. If Nokia were to release some Windows 8 hardware, it would make total sense that they would do the same for it as their Lumia line: load it up with Nokia exclusive software.
That includes services like Nokia Maps and Nokia Music, which are two items we could easily see being ported to the new tablet(s). Exclusive EA Xbox games are another. Why not? They've done it for Windows Phone numerous times already.
Jorma Ollila, ex-Chairman of Nokia, mentioned a Nokia tablet in 2012
A conservative reading would be that this is a one-off endevour for Nokia. Music+ for Windows and Windows 8 RT is nothing but a logical but isolated expansion into a non-smartphone OS. Don't expect anything more, there's nothing to see here.
But coupled with the rumor of Nokia heading into Windows 8 hardware and it's not tough to imagine that Espoo has a few tricks up their sleeves for 2013.
In fact, we'd find it difficult to believe that they would release a Tablet with just a unique hardware design but essentially untouched OS, including no exclusive Nokia apps and services. That's just not them.
Perhaps we're reading too much into this and this is nothing but a one-off project. But knowing Nokia's track history, we have a sneaky suspicion this is just the beginning of something bigger to come.
Your thoughts? Sound off in comments.
Daniel Rubino is the Executive Editor of Windows Central, head reviewer, podcast co-host, and analyst. He has been covering Microsoft here since 2007, back when this site was called WMExperts (and later Windows Phone Central). His interests include Windows, Microsoft Surface, laptops, next-gen computing, and arguing with people on the internet.
if Nokia does a win8 Pro Tab I'm so there...

I think Win8 kind of needs Nokia....for the great apps Nokia creates or brings to the platform.

IMO, Windows 8 apps are lacking..

You might be right. That could be the push that Windows 8 needs right now.

Nokia Surface Pro with Haswell processor!!!

agreed, that would be epic. Maybe it would be cheaper than the surface pro too... that would be nice

I think a tablet is coming for sure, only question is if it'll be a RT or Win8 tablet. Regardless a Lumia tablet will be nice, and depending on size it could have a good price. Any current lumia owner that loves their phone will be very interested in a lumia tablet and I'm sure that's what Nokia is banking on. Really it's why Samsung with it's Galaxy line is so good.

I hope they release a win 8 pro tablet and not an RT. Less confusing for the non wpcentral reader.

I don't know what it is against the RT everywhere. It is Microsoft's iOS for tablets. RT tablets are supposed to do what the iPad does. Plain and simple. Except they do much more with USB port and Office. If Microsoft didn't make RT work like Windows 8 Pro and didn't have the desktop mode, no one would be complaining. Now they get more features with RT and suddenly RT is bad!

Maybe U am the only one, but I hope Nokia makes both an RT and a Pro tablet line. I am liking the Surface w/ RT.

+1 Why not both? Options are good right? :)

i think Nokia choose RT version for many reasons. Ηopefully I'm wrong. :(

I doubt they will have a tablet out.
If they had tablet, it would be for ARM and if we believe the rumors Nokia has already had 2 Windows 8 RT prototypes. Just like it had 1-3 MeeGo tablet protoes going around the company.

I think the receant reports of Nokia pulling away from RT with the so far in efficient sales and Surface are true. For now it's waste of resources.

Exciting times to actually be Thinking Different! I'd love me a Nokia Pro Tablet!


If the Nokia tab came with LTE/HSPA built in I wouldn't care if it was RT or Pro.
At the moment I only want a tablet with Pro so any dongles I have can run their connectivity on the desktop. With it built then it doesn't matter. Come on Nokia!

Cool... Here's something else Nokia can advertise in Yellow and Cyan and then NOT actually ship any.

I own a yellow lumia. Sure they sold some ;)

I own a cyan Lumia. Did you know they were only available online?

I got my Cyan in store. It is rare though.

I have a cyan 920, they were only available online which is why I didn't go through a store.

Very cool! But one possible issue, I hear that many people do not like the weight of the Lumia 800, 900, 920 (I personally dont mind the weight). If they were to go unibody like these devices, the weight could be substantial.
I am just going through an old HBO show (OZ - dont ask why I havent already watched it, I dont have a good answer for you) and I noticed in the episode that I just watched that the computer monitors in OZ are Nokia! I didnt even know they made computer monitors. Im on season 3 which aired in 1999.

Yeah, Nokia has made quite a few things over the years: set-top boxes, monitors etc. I'm sure you knew Nokia made rubber boots at some point :) http://www.adventra.fi/images/nokiakontioclassicblack__(1)_1207_787.jpg

I did not - those are some serious s**t kickers.

first Nokia product was a toilet paper.

Wish they make notebook/tablet hybrids.

I'd hold off buying a Surface Pro, for Nokia hardware. Hope more is revealed soon, seems there's no news about the UK release of Surface Pro, which doesn't give me confidence in Microsoft.

Welcome it ..... I'll take two of em

I fail to see how what Nokia is supposedly doing differs from other Win8 tablets. The Dell XPS 10 already offers a compelling keyboard dock with built in battery...the Surface has the Touch/Type covers..etc Perhaps their PureView tech gets packed in, but a camera on a tablet is not a big deal IMO. Now if they announce an 8" device at a $299 price my tune changes...

"I fail to see how what Nokia is supposedly doing differs from other Win8 tablets"

You fail to see differences of a device that has yet to be announced with no rumored specs or price, let alone what the design may be or the services it may offer. How about we revisit that statement once we can see what we're actually dealing with? I'm just not sure how cyou ould draw any conclusions on such little information.

I'm speculating on your articles speculation...

How about you let people comment on your articles without turning into an angry and bitter elementary school principal?

Daniel doesn't know how to respond to people that read his articles. Unless of course they fully agree with what he said. Although even then he may have a snide remark or two.

What was angry about my response? It was a legit question and if you folks can comment or criticize my articles, I can do the same on your comments. It works both ways. When you post here, you open yourself to challenges, criticisms or agreement. It's discussion. I didn't name call ,simply questioned his argument/conclusion. @Tjalsma, @TheInfamousOryx If you don't like my style, you're free to leave. I make no apologies.

@Daniel Your boss might have something to say about that, too. Frankly, I think a reporter needs more his/her readers than vice versa.

Free to leave? Are you serious? You think that because you write for WPCentral that your allowed to yell at your readers? People pay for an app so that this site keeps running. And your basically saying that we can leave now, we have your money. Who are you to say we can leave? Do you own WPCentral? And just as you said, when you say something down here you open up yourself to a response. So here's mine; you are an ungrateful, arrogant, jerk.

Ok, well l think you're just great! Popcorn for everyone! http://i.qkme.me/354lw0.jpg

Ah hahaha, this comment thread was entertaining. Let the laughs flow through me. :)

Its like diarrhea, I just let all run through me. Lolzzzz. Then you may also have a truck load. What do you get, SPLASHHHH!!!!

Aside from PureView and the best apps, which is no small asset,I bet Nokia will be smart enough to put a GPS on board and that alone is enough reason to buy it.

If true I just may grab one of these while waiting for the pro devices to come with Haswell chips.

Please windows 8, not windows rt!

A Nokia tablet would be boss just for the software alone, the asethtics would be amazingas well. RT or Pro doesn't matter to me. For now though I am in the Surface camp but MWC may change my mind.

Seriously. Do you think an 8" tablet will cost that much when smartphones was priced higher? Unless it has crappy hardware, that price tag will be unlikely.

Easily...see iPad Mini as an example. Or perhaps you prefer to use the Nexus 7 as a proxy.

Really? iPad mini is $320++, with 512MB RAM, 16 GB storage, and 1024x768 screen resolution. While RT tablets typically host 1++ GB RAM, at least 32 GB storage, and 1366x768 resolution.
Nexus 7 is another story. AFAIK, the 32 GB version is around $249. But bear in mind that google doesn't need to pay Android licenses.
Can it cheaper than iPad mini or Nexus 7?

I expect Nokia to enter the tablet market but this isnt a sign of it. Creating such a music service makes it mandatory to provide this app.

I just hope Nokia makes their tablet announcement soon as I want to buy a Windows RT tablet soon and I want to see what they have to offer.

If this thing has a killer design and runs RT with Tegra 4. I'll sell my Surface 64GB asap.

I am convinced Nokia is working on a tablet of some sorts. Having said that, I think it would make more sense for them to have their software not being exclusive to their tablets but maybe only make it free on their products and make anyone else pay. That way everyone who owns any of their software has an incentive to buy a Lumia and anyone who already owns one has the perfect match no matter what PC they have. Just an idea!

NOKIA + Microsoft >> iPhone

I agree...but the lemmings beg to differ

i doubt Nokia will make the mistake to release a windows 8 pro tablet since the market will soon be flooded by multiple windows 8 pro devices from asus, acer, toshiba, etc. If they are smart (which I believe they are) they will release a Windows RT device will nokia exclusive apps to fill the gaps and at a very competitive price. A device like that has the best chances of suceeding.

Maybe they'll launch an 7-8" tablet to compliment the surface. We can only hope.
Nokia brings design and scope/scale. They get that the "next billion" will be on iDevices without a disruption of the lame, tired and incompmetent (if not basically worthless) Windows OEMs .
A sleek Nokia WindowsRT 1366x768 10.1 tablet that looks like the Lumia920 at $349-399 would sell and bring alot of attention to WindowsRT. And developers.
So would an 7-8" device at $249-299.
OTOH lame OEMs like Samsung (their PCs and tablets suck and are horribly priced!) with their $649 ATIV (you can't make up a worse product line name) or some other 3rd-world-country-device for $599 doesn't CUT IT IN STORES.
Lenovo is the only OEM who "gets it" but they get it for business/corporate not consumers mostly.

If there is a Nokia table it will probably be a 7" RT model is what I would expect

Makes sense. RT needs a device at a cheaper price point. Right now they are all selling at or above iPad prices and way above Android tablets.

I want an 8" Windows 8 Pro tablet!!!!

I highly doubt that Nokia will push out a Win RT tablet unless there are built with substantial differentiators. The future of Win RT is still uncertain especially after the release of new Intel Haswell processsor in June. It will lower the price point of Win 8 laptop hybrid/Ultrabooks to $600-700 range. The Win RT tablet has to lower to $300-400 range in order to survive. It would be tough for Nokia to make any money from that device. But Nokia could conider to build a 5-6" phablet instead.

I'll take a Nokia RT tab and a Lenovo Helix. Added to my 920 and I'm set. Very stoked.

If Nokia would release something like the helix then i would throw my money at them without any second thought. my wish would be for them to release a tablet with wins 8 pro, at least a 11,6 inch (preferably 12,1 inch), adjustable keyboard dock with battery inside, at least 4 gigs of ram, high resolution display with the kind of display they have on the 920 and active digitizer. If they could at least fulfil those then i'm good. Ok the processor must at least be a core i5 or the hashwell.

Well I rather have a Nokia hardware...they better make some kind of annoucement soon cause in about a week & a half I wlll be spending my money on the Surface Pro. Speak now or forever hold your peace ;-)

Imagine a 10.1 inch, 1920x1080 Pure Motion, Intel i5, 4GB RAM, LTE, full Win8 tablet from Nokia with the Lumia 920 design. I would buy one even if the price is 1000 USD.

If Nokia releases a tablet and puts Music+ exclusively on their device (meaning I can't get it on my Windows 8 desktop), then there is 0 chance I will subscribe to Music+. I love the effort Nokia is putting into Windows Phone, but I honestly hate the exclusivity and frangmentation that is developing because of their software agreements and development.

They're starting to push themselves into the Apple of Windows Phone. I don't like feeling held hostage by their apps--I want a consistent experience across all Windows Phone devices, for the most part. If I decide to go with a different OEM in 2014, I don't want to lose out on any apps/services I might be paying for.

Nokia is not new to developing Windows applications. They had the Nokia/Ovi Suite before and Nokia/Ovi Music Player as well. See http://oms.music.ovi.com/gb/en/

What I would like to see is Nokia coming out with a tablet that has custom software to better manage the Lumia phones. The Windows Phone app is no where near as good as Zune was. Nokia really has a chance to bring tablet and phone together than what Microsoft did. Or could you image the tablet having NFC and automatically linking to the phone and having them sync and continue running the last app on tablet? The possibilities are endless and the potential is there. The more I think about it, the more I thinki I should have waited for the Nokia tablet....

Nokia Win Pro. Slap a Haswell in there & I will be first in line. :) - oh, & make it Yellow to go with my Lumai.

Lumia -edit doesn't work :)

IF Nokia choose Windows 8 PRO I'm so there...

Personally more than anything I would love to see a Nokia Lumia tablet combined with the awesome 920/900/800/N9 Design. This with some killer features that are quite uncommon in tablets in these days. Those features beign built-in LTE/4G and GPS/Glosnass.
I will be buying this Tablet most likely even without those features, but the concern shouldnt be just me but the people in general. For that purpose the price tag of Windows RT and 8 pro tablets needs to get a lot lower. In the US they seem to be somehow in manage but elsewhere were seeign some eye dropping numbers such as 600 - 800€ from an RT tab.

Don't be too surprised to see the first Nokia NT or close in 7"-8"...

If it exist and with colors, red again for me with olive case and olive background.

Seriously doubt they will make a full W8 tablet, but an RT tab with long battery life, LTE, NFC (tap to transfer photos from your phone), GPS, wireless charging and Nokia's software would be a really great product. Might even save RT from the scrap heap - much as I'd like to see it succeed, right now it looks like it'll last about as long as Windows for PowerPC :(

I really like Nokia's design language. Day one purchase for me!

Nokia has stated that their next gen Lumia will be aluminum and not polycarbon so wouldn't we assume their "Nokia Surface" would be aluminum?

Want a 7 inch tablet please!


If they make it before summer, I am sure in.... :)

I'd love to see a Lumia tablet. That said, I'm torn whether I'd want an x86 or ARM based one. I really do want to see the Windows Store get more W8/RT stuff, which means (to me) we need to see Windows RT do better in the marketplace. Right now, I suspect a lot of people are simply going to the desktop and using their old Win32 apps.
But, a number of programs I use like Ventrilo don't have RT apps yet :/
Windows Central Newsletter
Get the best of Windows Central in in your inbox, every day!
Thank you for signing up to Windows Central. You will receive a verification email shortly.
There was a problem. Please refresh the page and try again.