Nokia giving users battery saving options with Display + Touch update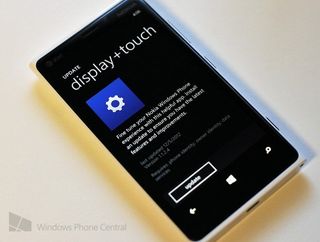 Guess Nokia isn't done with their Windows Phone 8 system apps refresh—those custom bits of software meant to directly affect Nokia hardware. Last night we saw Nokia update Maps, Audio (now with link), Cinemagraph and Music and today Display + Touch is getting some new features as well.
Display + Touch controls the Super Sensitive display, allowing users to toggle the ability on or off. But the new update gives two new features that quite useful as well.
Edit: We can now confirm that these new features are only enabled via the Portico/firmware update being pushed by Nokia and won't come via the Store
The new additions to Display + Touch include the following:
Sunlight Readability – Toggle on/off
Brightness with Battery Saver – Toggle on/off
The first one gives users the ability to disengage the "super bright" function on the Lumia 920. Nokia added the ability for the Lumia 920's screen to ramp up the power when in direct sunlight to make the display more visible—in short, it gets super-charged with energy like a turbo boost.
While an astounding feature (seriously, the screen goes nuclear bright), you may want to disable it to save battery or just as a preference choice, which you can now do with this update.
The second new option is the ability to dim the screen automatically when in Battery Saver mode. Battery Saver mode is already an OS level option that will toggle off your Push notification services and Live Tiles when the battery hits 25%. It's a nice to make sure your phone doesn't die getting your latest Twitter feeds.
Reportedly with this new Nokia-specific option, it will also dial down your display a bit, which should go a long way in making the phone even more battery efficient in low power situations. The display on any device is the #1 drain on battery, so taking it down a notch automatically is a good idea.
The update for Display + Touch is not live yet on our end but reader Jeremiah A. managed to get his, sending us this screenshot. You can try and manually check for the update using the link to the Store here or scanning the QR code below.
The features are only available after you do the Portico/firmware update, not via the Store. That means only AT&T and Rogers users will see these changes.
Windows Central Newsletter
Get the best of Windows Central in your inbox, every day!
Daniel Rubino is the Editor-in-chief of Windows Central, head reviewer, podcast co-host, and analyst. He has been covering Microsoft since 2007 when this site was called WMExperts (and later Windows Phone Central). His interests include Windows, laptops, next-gen computing, and for some reason, watches. Before all this tech stuff, he worked on a Ph.D. in linguistics, watched people sleep (for medical purposes!), and ran the projectors at movie theaters because it was fun.
Keep the updates coming :D

No match for Nokia , once again making every penny worthy.

Completely agree with you. Nokia have fantastic support. HTC are actually updating their apps too which is nice to see. I must have got at least 8 HTC updates since I got the phone

I got 5 or 6 updates to the Samsung apps/features the day after I got my Ativ.

How are you liking that Ativ S?

Gotta love Nokia's commitment. Seriously HTC and Samsung need to take notes on support!

I totally agree. I had to fight low-memory errors on my Verizon HTC device for two years...the only 'solution' was to factory reset. I am super happy to be on the Nokia boat now.

It seems that Nokia are finally getting into their stride with this platform. It felt like they struggled with WP7.5 as they moved from their other TI chips / arhitecture over to qualcomm and windows phone. Likely these updates have been in the works for some time and just missed the deadlines for release, but if these are really new, then this is exciting.

Nokia is on a roll keep up the good work.

Great..

off topic....tmobile says portico update won't be available till next month...ATT might be the same.

I think there was a note AT&T put out to their employees that the update was coming today. Hoping that's accurate!

You're right there was for both corps. Rep (tmobile) said that user should receive by January 19th....im guessing others might be the same

When I click on touch and display link, it only says share (as if I already updated it) but no update, and I haven't updated it..?

I updated that and Audio via the links. However, I don't know what updated on Audio, and it didn't update touch and display to the new options. I am assuming I may have been behind in an update perhaps? Hard to believe though...

In audio, under enhancements (swipe to the right after opening), they added Audio leveling.

Not showing as available for me yet... still at version 1.1.2.4.

Agreed..TY Nokia..greatly appreciated

Not showing on my phone either...

Ugh. I got a crap load of Nokia updates on the 10th and didn't think anything of it. I upgraded to Protico and then I noticed this yesterday. Not sure which update this came from...

I can confirm that I have these feaures and am still being asked to update. Possible already included in Portico?

Screenshot 1 | Screenshot 2 | Screenshot 3

Same here; I have an unbranded Lumia 920 bought in Europe and I received the updates.

Audio was updated, now we get optional audio leveling! Awesome.

On the Display + Touch update, how does the Sunlight Readability differ from simply using the auto brightness? If you didn't want it, you could just turn auto off and choose a fixed brightness. Does this do the same thing?

No it doesn't. The sunlight readability setting is alot brighter than the maximum "regular" brightness.

As far as i understand, auto brightness is still activated but the highest brightness level is disabled.

I guess that's kind of nice. I've just left my phone's brightness set to low. I'm usually indoors (home or school), and it's been really overcast here lately, so I never have issues with direct sunlight. That, and I'm just listening to music with my phone outside, not reading and walking, so I don't have much to worry about. That said, I'm in no way a typical user, so if this helps those people (it certainly doesn't hurt me), awesome.

off topic, but actually got an update to Flixter...been a while

It won't update for me for Display + Touch

You gotta make a way to follow these update links from your WP app. We can't scan the qr code if its on the screen of the device we're scanning with...

The links are in the "More" panel. It's labeled "Download App"

I appreciate the update, Nokia. I am hoping next we will get an option to turn off the backlighting in the capacitative buttons. Not only is it unnessicary and draining my battery, but it is very annoying to have those bright buttons shinning at my eyes when reading or watching a video.

agreed, but i would also like it if one of the backlighing (like the Windows button) could be used as a notification alert. it could flash for missed calls, voicemail, SMS, etc. when the screen is off. i missed this feature from the Win Mobile days...

I manage to download and install it but when I went into display + touch, nothing changes. I don't see the screen as shown in the article? Am I doing something wrong? I have restarted the phone (shutdown and restart) and I even soft reset the phone (which means I have to correct the date & time again). Still no changes.

You probably just installed the previous update. You should see the new update pretty soon.

I have the same thing nothing has change.

Same here: received the update but nothing has changed. Maybe it will enabled once we will recive Portico...

After installing Portico, I got it...

Got the PORTICO software update which was done in 5 min.
Then updated the display + touch, but I only see first two options. The last option is not visible.
Does someone else has the same issue.


geee, get the update out over here in the UK now!!!


Agree with some above posters, didn't get the update but have the features after updating to Portico, maybe the app updates were also rolled into the OS update

I didn't get the brightness and battery save option. :(
Is there a way to reinstall it.. Anybody?

Why unable to download on lumia 800?

Because it's related to the new super-sensitive screens on the L920 and 820. It would have no use on the 800.

Function is not on Nokia lumia 620? I'm update FW to version 1030.6407.1308.0001