Nokia Lumia 1020 now available at EE; contracts start from £26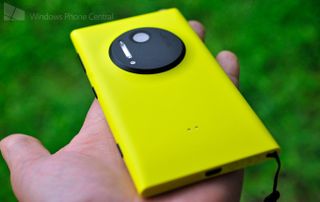 (Image credit: Windows Central)
The Lumia 1020 by Nokia is a premium smartphone. So premium that it has a rather expensive price tag. For the cost you're getting a 41MP camera and the latest innovations running on Windows Phone 8. O2 and Telefonica will be sporting the exclusive 64GB variant, but EE has now got the 32GB version available in black on its website, starting from just £9.99 when taken out with a contract.
The £81 a month covers the most expensive roaming plan, so fear not if you're looking for a basic contract. That said, this is EE, known for its extortionate pricing when it comes to 4G. The actual plan pricing is slightly less, but not by a long shot. The most affordable contract with this device is £26 a month, but you get a whopping 500MB allowance for data.
Yes, you read that correctly. 500MB allowance on a 4G plan, promoted for media streaming and more by the mobile operator. Thank you, Ofcom.
Source: EE (opens in new tab)
Rich Edmonds is Senior Editor of PC hardware at Windows Central, covering everything related to PC components and NAS. He's been involved in technology for more than a decade and knows a thing or two about the magic inside a PC chassis. You can follow him over on Twitter at @RichEdmonds.
I love that if you take out the most expensive EE plan on the Lumia 1020, you're spending almost the equivalent of buying a new Lumia 520 every single month.

It's hilarious, right? The pricing is just madness. It's not Sparta, just plain madness.

But, what do you get with that plan?

500mb, even if you got unlimited text, calls and bj's it is still a bit pricey

For that price you cant possibly be getting value. For eg £46 per month on 3g t-mobile (a sub company of ee) you get unlimited calls, unlimited texts and unlimited data. At nearly double the price there is nothing to add that can make it value for money.

Got a preorder through today on the carrier 3 in Sweden. They have started accepting preorders and the phone will be available week 42. Everybody probably new this, but if not, now you do.

No thanks! Lumia 925 for me next month, when my contract is up on my Lumia 800

EE are the pits for...well, you name it. Customer service, value for money, signal quality (in my area at least), not to mention that they were the last operator in the UK to release the GDR2/Amber update by about a month. Their 4G tariffs are so overpriced it must be genuinely embarrassing to have to try to sell it to the public.

Customer service really is a joke. Especially trying the Point of Sale shops downtown expecting to get help there. They just say "call 150". They are not even willing to call them themselves

Give it 6 months and it will be incredibly cheap

Dislike artical! DISLIKE A LOT!
Title should be, 1020 availble on EE for a stupid price of £81 a month, and you still dont get the phone free!!! Or you can have it for £26 a month where you wont be able to actually use the internet on your phone, and will have to pay an additional £220 just to get the phone.
Meenwhile on Three you can have it with unlimited data for £34 a month + £69 for the phone.
And I don't care what the latest EE adverts say, I am with them and their reception is worse the Three is most places, unless EE has to switch to 2G. And Three is most of the time faster, and has a better ping.

EE, just likes iphone, even up untill a month ago they were promoting the incredibly fast iphone 5, while totally ignoring the Nokia lumia lines, even though they had the phones as an exclusive to their network, not to mention that the staff are trained to be ignorant of any lumia phone, even when i wrote on the EE Facebook page about the amber update, they replied with something along these lines, "when an update is available it'll be ready to be downloaded through the Zune software." STUPID EE.

I've been thinking this for ages. Why did EE get the exclusives then minimal advertising but really pushing iphone. Wish i had held on my excitement about the L920 and not switched to EE. Plus they put up my bill 5 months into 2 year contract. WTF!!

EE. The company that's first in the UK to offer 4G. Which they neglect to tell you is because they tore down so many 3G masts. Prats. Still, less than a week left of their ricockulous service and I'm free, FREE I tells ya :)

$5 dollars on a $65 per month business plan for two years in my neck of the woods, why do seppos have to pay $299? Is that onl one year contract?

500 mb...? Does vaseline come with that? Because you're getting f*****!

Ive already been stung by ee. Never again. Only 10 months left to serve. Back with 3

EE are shocking when it comes to pricing

I feel a bit ripped that when I got my L920 out I had to pay £41 a month for 1GB, and now it's the same price for 2GB. Gutted. Still got over a year left on the contract as well.

Me too... Can't complain with the speeds I have BUT as soon as my contract's up next year, I'll be moving to a better priced 4G as by then other networks "should" have rolled it out more wider over the UK

Yet im getting unlimited calls and texts plus 10gb of 4g data for £46 month with EE from phones 4 you.

I got my phone from phones4u. Never again. Will always go straight to the carrier's shop from now on.

yeh big mistake going to phones4u but you had to if you wanted a 920! never again back to O2 when contract up.
and to ad insult to injury your phones locked to EE you have to pay £20 if you want to use it on another network!!!!!!!

I could not agree more. Still waiting for my £5 off the bill each month!

Sod that, fed up with my windows phone, freezing, rebooting, apps crashing... im moving over to iphone.

Clearly you have a faulty mobile, good luck with the iphone, Does it have one finger control for all those people who have had terrible accidents at the zoo. Heard its easy to transfer mp3 technology a well !

Not according to Vodafone.. I've sent it off twice in the last three months and it came back as NO FAULTS FOUND..

Which Windows Phone do you own?

I'd love an L1020, even though I haven't seen one in the flesh! But I am yet to be convinced by 4G in general as most of my time is spent only on emails and a little news website viewing.

EE's pricing seems unrealistic and more competition from other carriers is desparately needed to bring prices down. I've done some quick sums on the EE site and in the ones I've looked at, you end up paying more than the phone is worth, before you factor in the upfront lump sum!

In EE working Jewish or what?

It seems like 3 will be the better network for 4G, if you have a contract with them and a 4G enabled device then when they roll out their 4G service you will automatically get upgraded to 4G service, no extra contract to sign, no change if handset, not price increase and no data limits. 3 seems to be doing it right while EE just want to bend you over and violate you.

Nokia really needs to quit picking favorites with cell carriers. I mean come on, the US could use a 64gb 1020! :\

UK users: Those wanting a 64gb model of the 1020, fear not :) simply order the phone on o2 Refresh, pay the price of the handset, then when you have it, call up and ask for an unlock code. Then simply call them back when unlocked and request the contract to be cancelled. Then use with your existing SIM. That's what I'm doing, and also means you get the exclusive 64gb model for use on your existing network :D

Its £9.99 on that tarrif now. £29.99 on 10gb data, unlimited calls/text and its £41 p/m

EE rang me in april to try and switch me to a 4G tariff as they was upgrading my area soon!!!!! same price but half the data and minutes. 5 months later still no 4G con artist's thats all they are!!!!
Windows Central Newsletter
Get the best of Windows Central in in your inbox, every day!
Thank you for signing up to Windows Central. You will receive a verification email shortly.
There was a problem. Please refresh the page and try again.