Nokia Lumia 1020 now available in India for 49,999 rupees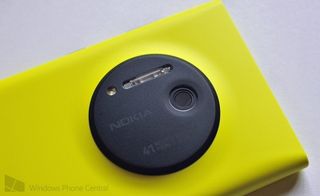 The Lumia 1020 continues its global march towards availability. It first launched in the United States as an exclusive on AT&T in July. Fast forward nearly three months and we're seeing it in more and more of Nokia's markets. We've reported on the device selling out pre-orders in India, but now you're going to be able to grab it there. Details below.
Over in India, Nokia just launched the Lumia 1020. The device first appear on Indian sites for pre-order a few weeks ago and just recently sold out. The device retails for 49,999 rupees (about $818), but remember this is a fairly niche device with advanced camera technology and the price reflects that.
If you get the Lumia 1020 you'll be getting a camera with 41 million pixels, optical image stabilization, and killer low-light performance. The 4.5 inch display is AMOLED based and beautiful. Inside you're getting 2GB of RAM and 32GB of storage all powered by a Snapdragon dual-core processor.
Anyone in India picking this device up?
Source: ZeeNews India, WSJ India
What is the cost of making a single unit of Nokia Lumia 1020?

If I tell you,I will have to kill you.

We are paying for the price of the technology and the hours engineers spent creating such technology ;)

Whoa.. That's amazingly expensive.

That's thesame number of bounty on Gabbar....This costs you 1 rupee less.

Not really... On par with most devices. Even the HTC HD7 launched at AU$768, and the 1020 is a lot beefier. I'm pretty sure that's around the same price for the 920 & 925 launch prices.

Well...if you need some extra rupees, here's some free ones for ya...http://www.gamewinners.com/n64/ZeldaOcarinaTimeHints-b.htm

Too expensive. . Should be around 40-45k

Holy crap this phone cost more than my car

Yeah, second hand 1995 Ford ka... 500€ in Germany. Almost worth two cars, crazy...

The price should go down. . This is always the case with nokia india!

Considering it sells for around $AUD830 (RRP is $AUD899)... Seems fair to me...

Well yeah, Lumia 1020 launch price across Europe was 699 euros (969 dollars).

But that includes VAT. U.S. and Canadian prices do not include sales taxes, those are added at the till. Australia and Europe have GST/VAT included in the advertised price, making a straight currency exchange an unfair comparison. I'm not sure about India in this regard.

this price is inclusive of all taxes. this is the final price u will pay for the phone here. the iphone 5s should cost about a much and the note 3 costs the same price. its a bit pricey i think

That depends on the European country...here they ask for 780€ (1050 dollars). And it's not the VAT. It's really just greed.

Ah, greed indeed. Still cheaper than iPhone 5S.

When I saw the title of the article for some reason I thought of Zelda money...

The reason is actually pretty obvious.

Zelda, that brings back some memories.

+1. Came in here to comment the same.

I think I'll pull out the good old Nintendo. If I can't get it working emulator it is :D

Time to start slashing some tall grass!

Killer price! I should wait...a bit more, gonna get on contract next year. By that timd they might already released a quadcore based wp 8.1

This is cheap! Asking my Indian friends to sort me out one!

Too highly priced. Would have been great if it was priced around 35,000. Half a lakh for a phone in India is inexplicable. One might get a second hand car for less than that !

The 920 was around that price. I am not from India but I saw Chennai Express movie where the hero uses a 920 and tells the price, suggesting that it is a very high end phone.

The phone shown in chennai express is not Nokia Lumia 920. Its Lumia 900. They made a lie in the movie. Any ways the launch price of 920 was Rs 38k and i also think that 1020 should have been launched around 40 to 45k

No,I'm sure its a Lumia 920

Pls look at the design carefully and the start button on it. The intresting part is it was running windows phone 8.

http://postimg.org/image/8gd58a7ut/

Which ever be the model which was shown in the movie, what the actor said is what matters. He mentioned the model (L920), and what its features are (OIS, etc), and also it's price. That's what the viewers record in their head :D It's no brainer Nokia was intending a publicity for it's L920 :)

It is miles better than an iPhone. You pay 55,000 INR for an iPhone!

Definitely agree and I like your choice of inexplicable.

Totally! I'd rather wait for a quad core 8.1 device.

How can you expect a phone like this to cost around 35k?! It's a niche product meant for those who want the very best camera phone. Almost all phones releasing these days are 40k+.

There is a difference between 40+ and 49999. Around 42k or less would have been a perfect price which this phone WILL cost in 8 months time which makes the phone less desirable than an iPhone.
There is a huge second hand market in India; and people who buy it for 50k won't like such kind of price reductions.

Yup. Portugal is definitely selling the most expensive Lumia 1020's ever: 780€ here (that's 1050 of your US dollars).

Its a decent price. ..if u see price in Europe and u.s...I got one and iam really happy... :)

Gr8 price..just for half lakh u r getting an amazing camara with mobile whose value without camera might be 35000..so for camera its good...bt still its old soft..cozz 8.1 is abt to release in couple of mnths....

This will upgrade to WP 8.1 but there is NO guarantee you will get any other WP with such an amazing camera!

All wp8 devices will receive 8.1 (even the cheap 520). About this phone the only thing you have to ask yourself is: do you NEED a 41mp camera or not? Most people don't. That's why there probably won't be another 41mp camera anytime soon.

It has by wide margin the top camera in the business. It's a level or two above the rest. Expect to pay top dollars/rupees.

Think of it this way: To get the same quality photos, you need to buy a separate $250-300 compact camera or something even more expensive and carry it with you all the time along with your other smartphone. That's a lot of additional money and, more importantly, inconvenience.

If you are into photos, it's hard to buy anything other than a 1020 at this point because, if you do, you just know you will keep thinking about how much better your photos would have been with the 1020.

Your all the points are valid but ground reallity is different here. The people who can spend 50K on a phone and that are interested in photography will mostly have a high end digital camera already with them. Others who are not in to clicking pics will go for iphone5 as it is considered much more of a status symbol here in india then any other fone. Plus if they are already using as crapoid ( in most of the cases) , they will prefer Note3 or whatever. So its gonna be really hard for L1020 to make some presence in Indian market with that price tag even if it deserves all of it. smart fone users are very spec driven here , thety dont give a dime about the fact that these kind of specs are not realy required for wp.

Costly more than honda motor i think there are many gold chip inside.

It is expensive for India, though the phone is worth the cost. The first comparison a normal customer would do is, iPhone is just 5k more than this.

I didn't know Zelda and Link live in India.

Quite cheap actually.... I'll take it 3 or 5 perhaps LOL

too much... hope ut comes down soon....none of other brand flag ship fones cost more the 40k except iPhone 5.
i know 1020 worth it... but 50k is just too much for india :(

Not sure which phones you've been checking out, but the HTC One is 45k according to Flipkart and the Note 3 is 50k. Also the 1020 is not for everyone. It's a niche product with an unmatched camera.

ohh right.... I forgot about these ... But in other hand people will not compare 1020 with these as most of them go by specs and except for the camera its no match with them.

Well that's true. People are more interested in the specs than the experience, which is sad really. I hope the 1020 sells well though cause it is a magnificent phone all said and done :)

Note 3 is 50K but u get a galaxy gear smartwatch free with it.

no you don't
the gear is for another 22k extra

many retail stores in Bangalore were running an offer where combo was priced 50k. they advertised it as galaxy gear free

May be there was a 'Conditions Apply' tag underneath that offer ad and you didn't see it :D

@nokia3660 iPhone 5S 16gb is 55K, 32gb is 60K, what do you use more, finger print scanner or camera, it just boils down to it.

As I said, "a normal customer" will neverthless do this comparison. The price Apple commands is more for the brand rather than the phone.
I know what 1020 is all about and would buy it in a heart beat, but again we are not talking about me, are we? :)

Damn‼too expensive....thought of buying..

49999 What a price!! If you give me Camera grip, wireless charging cover, One Tripod with 1020 than i think about it.
Now i m going to buy NEW Cannon eos 600D with ZOOM LENS ONLY 42K.

Can it call, text, email?

hmmm! Bro! I have already NEW NOKIA LUMIA 925 ONLY ONE MONTH OLD DEVICE, IF NOKIA 1020 PRICE NEAR 39 TO 42K THAN I SURLY WNT TO BUY THIS KING OF THE LUMIA.

It is already discounted at ebay.in for 44893.
http://www.nokiapoweruser.com/2013/10/10/nokia-lumia-1020-already-getting-discounted-in-india-selling-at-ebay-in-for-82%b944893/

920 is only $375 in flipkart. im waiting for the same price in my country

I would like to go for it.. Its awesome phone n Nokia India is offering coloud headphones along with it.. Not a bad deal...

Available at Retailer 'Top 10' for under Rs.45000 already.

I believe it will slide down to around 40K in 2-3 months. this is normal scenario for any nokia fone in india. L820 was launched for 28K then went down to 25K in 3 months when i got it and further after 2 months my friend bought it for 20K online.

After 5 months any phone will be £50 cheaper anywhere in the world.

May be but it happens more often with nokia in here. I have lost 5000 rs value in 2 months.
and decrease by 10000 rs is a quite an amount in India you can not compare it to 50$ in us or 50 pounds in uk.
you can get a 520 in 10K rupees . ;).

5000 INR = £50.
10000 INR = £100.
You can get a 520 or 620 for £89

thats what i m saying... 10000 rupee drop makes alot difference.... i dont think other brands drop like this here.
Nokia has this tendency here , to price new fone very high and then drop the prices when they dont get the buyers. Only phone i remember that didnt get steep price drop was N8.
so As we dont have carrier subsidized prices here... we buy mobiles for there full price, so Pricing matters alot. this is the main reason behind Iphone's not so good sells in india so far.


I love how even in India they do the .99 thing with prices to make it seem cheaper.

Cyclone Phailin coming, prepare yourselves Indians.

Nokia India always tend to price the Lumia phones a lot higher than the competition. People look at the specs here and would prefer iPhone over a bulky phone of ₹50,000. It wouldn't be a surprise if people start cancelling their pre-orders.

Not to mention the only thing 1020 has going for it is the camera.specswise the iPhone 5s ia much better than 1020 with regards to retina display,fingerprints sensor,64 bit processor and not to mention the huge amount of apps which,iPhone has
This device is going to be a fail at this price

@Radeon7000
Just a quick reminder about 64 bit processors. For them to be useful the device needs to have 4 GB of RAM as a minimum. That's what 64 bit processor's are for. The iPhone 5S does not have that amount of RAM so its processor is mostly redundant.
I would also like to point out that the screen on the 1020 is one of the best around.

Always fun to read for months the cries for a Nokia phone to be released then when it is the cries turn to how expensive it is and how the iphone is better, even the screen which actually has a lower resolution. Always wanting something for nothing.....

Nokia always launches phones at premium prices and then sharply drops price in a span of weeks, this will definitely hinder initial sales, that's a bad sales strategy.

IN 49K 41 megapixel camera, with dual core!!! At This Price I WANT Quad-core 2.26 GHz Krait 400 CPU, Adreno 330 GPU; Qualcomm Snapdragon 800 chipset. and 41 megapixel camera complete device.

That power is just useless on WP, deal with it :)
Lumia 520 and 620 work wonders with just a 1 GHz dual-core cpu

bcoz the shutter speed of lumia 1020 is very slow compare to other phone. and it take 6 to 10 second to open the some app. you can take one shot in 6 sec, and second shot after 10 second. THE 41 MEGAPIXEL WNT MINIMUM SNAPDRAGON 800 CHIPSET REQUIRED.

Even the nexus 4 has better d
Specs than 1020 and its a year old phone and sells at half the cost here

Nexus is Android. Android is cheap.

I'll stick with my 920. Get awesome pics with it. Not willing to shell out so much money. Sorry Nokia

Its already available more than two weeks ago. But the price is too too high. I think NOKIA dont want to sell the phone. Well in ebay it is selling for Rs 44598 and in some other site it is 47K...The price ruined many of our dreams in water....

The price will kill it. :/

When I bought Lumia 800 during its launch in India it cost me flat Rs 30000 but three months after it reduced to 24K made me heart attack...

I taught they were going to price it 41,000 as well. Maybe it will reach that price if they sell just the phone without any free goodies.

No one really looking for any freegoodies...Nokia Music and Here map service is more than enough...The same problem with Lumia 625 which priced initially above 725!!!!!!

It would have been better if they have lauched at 37000 after 3 month

You can buy this in the Philippines for P31,500 now. Peso is close to Rupee, so to our Indian friends who has relatives here, you can let them buy for you. :)

Thanks friend for this but the problem you wont get warranty + since the firmware is exclusive to each country we might not get some apps or features and flashing to Indian firmware became difficult after Nokia blocked navifirm...If you are not keen on the warranty then I would recommend all to but it from US.

This price is way to crazy.... No wonder India is more popular with the low-range priced Lumia like 520 instead.

Can't you just buy it on Rogers in Canada, no contract? Mine was $200 on a 2 year. But, I got stuck with a $85/m plan which was the lowest plan

Guys u have no idea on the 1st day of launch...soo many ppl got the fone...and were searching shops for covers and screen guards...I got one for 47k yellow color...the fone is awesome....best ever...totally loving it....I have 808 note 2 and bb 9900..but lumia 1020 ia the best....

If any one the cheapest price for lumia 1020 I can get u for 46k with bill and warranty...pm me....

I am thinking of getting 925(i have 720 now) 50000 is too mch. Yes 1020 is great. But i dnt think i need 41mp camera.. I better go for 925.. Wish 925 had 32gb but its okie.
I just joined wpc :)

Yes 925 is a good choice. If weight is not an issue, you can go for 920 also. Its a lot cheaper abt 6-7k. Check difference between 920 and 925 :- http://bit.ly/18sY8BJ

Its Rs. 47,999 not 49,999. Just saw Nokia advertisement in newspaper today

wic paper did the add cme ?

The Nokia Lumia has only better camera going for it. It has a 41 MPcamera and a better sensor. Otherwise it is a lousy phone compared to its rivals. See for yourself Samsung S4 vs Lumia 1020 http://pricejugaad.com/html/mobiles/compareMobiles.html?p1=520a2c3396066... Note 3 vs Lumia 1020 http://pricejugaad.com/html/mobiles/compareMobiles.html?p1=520a2c3396066...