Nokia Lumia 1320 starts selling in Malaysia on January 17th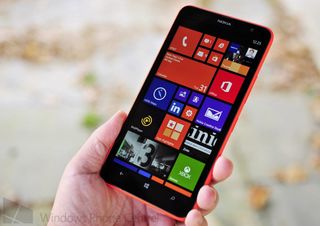 We have recently unboxed the Nokia Lumia 1320, the budget-friendly version of the Nokia Lumia 1520. The device is still not widely available, but you can grab one on eBay if you can't wait any longer. Nokia Malaysia has also just announced their pricing and availability for the Lumia 1320. It will start selling there on January 17th for 1199 MYR (approximately $369 USD).
In an emailed press release, Dick Yoong, the Country Manager of Malaysia and Brunei of Nokia says:
The Nokia Lumia 1320 features a 6-inch 720x1280 display with a dual core Qualcomm Snapdragon 400 processor, 1 GB of RAM, microSD expansion, 3400 mAh battery and a 5-megapixel camera. While the Lumia 1320 has a lower price point than the Lumia 1520, it still brings high-end experiences such as streaming unlimited music for free with Nokia MixRadio and downloading your favorite playlists for offline enjoyment. It also offers navigation and mapping services from HERE Drive and HERE Maps, which come pre-loaded.
Nokia Lumia 1320 buyers will also like that the device's 6-inch display supports super sensitive touch so that it can still be used with long nails or even with gloves on. Gorilla Glass 3 is also included.
Of course, at a lower price, there will be some sacrifices. The Lumia 1320 has a less powerful processor, lower screen resolution, lower megapixel count, less internal storage, and less RAM than the Nokia Lumia 1520. We'll have our full review of the Lumia 1320 soon for more details.
If you're in Malaysia, are you picking up a Lumia 1320 on the 17th? Let us know in the comments!
Via smashpOp
Do you think pricing is good or its too pricey there?

RM1.2k I think it is reasonable and also affordable , this phone I would say that falls under "entrance" class of Windows lumia phone .

1320 pricing is just slightly above the one-year old 920 and below the 925. I wouldn't call it an entry-level smartphone. More to mid-end range.

I miss Malaysia. Please send me some Laksa, Char Kway Teow, and Nasi Lemak.

Haha , penang's laksa and char kway teow is the best !!

Oh yes, Penang laksa... sedap!

Nice ! You should taste Roti Canai sometimes :)

loved that for breakfast!

when you come to malaysia

stayed in Penang for about a month...loved the food! stayed couple of weeks in KL... loved the malls =)

I always get envious looking at the design of this phone compared to my 1520. Silly I know, since I have the better phone and hardware but the 1320 is nokias best looking phone and the red looks better on it for some reason. Is it matte? My 1320 seems darker red with gloss

Agree. And the rounded edges make it much more appealing. Nice phone it should have the same success or maybe better than the 1520.

then trade with me, i'm jealous with 1520 hehe. This is my first lumia phone, and so far i give it an 8/10. The capacitive buttons and touch screen is very sensitive to the point that i can't navigate properly especially when i touch on angle >120 degree (try it with wpcentral app), not sure if Lumia 1520 has the same problem. http://discussions.nokia.com/t5/Nokia-Lumia/Lumia-1520-Screen-Sensitivity/td-p/2278919

I've never been this envious before, but the 1520 & 1320 have me salivating.
I just have to remind myself to have patience.

I really hope the price would be under rm1000, rm990 for example. Haha. I'm thinking of buying this one for my mother, replacing it with my mothers cute little Lumia 620.

bro, tunggu for a couple months. harga mesti turun punya bawah 1k... lumia820 user here...

Haha.. In that case, I'll wait.

In India it goes on sale today.....lets see if i can see and feel one here....

I think this would be a great device along with the 1520 for T-Mobile to get

But 5 Mp rear camera is deal breaker for many people in india!

Doubtful. Isn't the 520 the most popular phone and it also has a 5 megapixel camera.

520 is about 10k here, 1320 is about 23k 2 times costlier,people atleast expect a 8mp. 1320 has heavy competition from samsung phones like grand,mega 5.8 and Google's awesome nexus 4!

And it thought the 1320 is a low budget 6" phone

The pricing is nice :) Welcome to Malaysia 1320!

Good to hear that friends up north will be getting the phone soon. But the price is slightly expensive compared to the price (inclusve of 7% GST) sold here in Singapore which will go down slightly in the couple of months.

Still waiting patiently here at Philippines.

Yes! Getting this big brother of my 620 when it hits our shore!

the price is virtually the same in India, Vietnam, malaysia... ~ $370

My hopes are high for a 5" version of this with 1GB of RAM. 628 maybe (since it's round)? With PureView? Or that aligns better to a 725?

Yeah! The same here, a 5" version with 1GB ou maybe 2GB. Like the Lumia 929 Icon (unavailable in my country) :( Lumia 929 has a 5" Full HD screen, 441 ppi, Adreno 330, with 2GB RAM, 20MP Camera, Quad-core 2.2 GHz, 32 GB Internal Storage. Sounds perfect!

wait and see lumia 825 and 725

And... This is great ! Pricing is reasonable.

This definitely should sell well. If it cone to US I might buy on site. Trying to get my wife over to WP but the lack of apps she use is a deterrent.

I don't understand why we are having to wait so long for a modern windows phone in the US. I am not buying a new phone with a processor that is years old! To not have phones on the snapdragon 800 on all carriers in the US right now is a huge miss.

Wait long? You have the 1520 with up to date specs and Verizon whenever it releases they smaller variant. To say that 800 is a huge miss is otherwise contradiction to the success of the Moto X. The 1020 is also no slouch even with an older processor. And while you're waiting for the 800, Qualcomm will have the 805 ready to be released as early as May with the Galaxy S5. So you gonna be sitting around for a LONG time. Clearly this phone is deigned with specs to keep its cost down and have it as a phone for the low end users the way Samsung did with the Galaxy Mega.

I said it's a miss for the US to not have up-to-date phones on all carriers. Only having one, oversized phone with good specs is ridiculous in 2014. Those old processors won't keep up with games for too much longer, not when devs are developing with the power of the A7 and SD 800+ in mind. The 1020 is a gimmick phone with nothing special but the camera.

Like I said. You gonna be waiting.

Goodnews! Nokia Lumia Icon updated specs, features and price of $199 or 9K Pesos. Read full article here: http://infotechmaestro.blogspot.com/2014/02/first-impression-nokia-lumia-icon-specs.html
Windows Central Newsletter
Thank you for signing up to Windows Central. You will receive a verification email shortly.
There was a problem. Please refresh the page and try again.