Nokia Lumia 1520 'country variants' receiving Lumia Cyan worldwide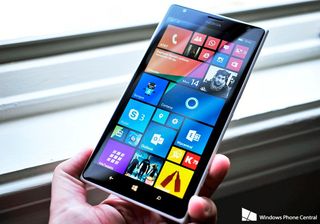 Yesterday, we reported that the unlocked Lumia 1520.3 variant started to receive the Lumia Cyan update. That phone works on AT&T and T-Mobile with LTE and is considered a prized win for consumers willing to spend the extra money. As it turns out, many country variants (CV) of the Lumia 1520 are now getting the Lumia Cyan update with Windows Phone 8.1. Unfortunately, many carriers are still listed as 'under testing.'
As usual, we have gone through and accumulated all the countries and regions that are now eligible for the Lumia Cyan update, in addition to updating our tracker page.
Africa – Algeria CV; Egypt CV; Ghana CV; Libya CV; Morocco CV; Nigeria CV; South Africa Vodacom; Tunisia CV;
Asia Pacific – China Unicom; India CV; Indonesia Erajaya, Parastar, Trikomsel; Malaysia CV; Philippines CV; Singapore SingTel, StarHub; Taiwan CV; Thailand CV
Europe – Denmark CV; Estonia CV; Finland CV; France CV; Germany CV; Hungary CV; Ireland CV; Latvia CV; Lithuania CV; Norway CV; Sweden CV; Turkey CV; UK CV, O2
Latin America – Chile CV; Colombia CV; Costa Rica CV; Ecuador CV; El Salvador CV; Guatemala CV; Mexico CV; Nicaragua CV; Peru CV; Uruguay CV; Venezuela CV
Middle East – Iraq CV; Jordan CV; Lebanon CV; Pakistan CV; Palestinian territories CV
North America – United States AT&T
Remember, if you are using the Preview for Developers program and already have Windows Phone 8.1 installed, you will not get an update notification and cannot get Lumia Cyan at this time. Instead, you still have to downgrade to Windows Phone 8.0 and then take the official updates that way, later hard-resetting and restoring your phone.
Read our tutorial on the process, which is relatively time simple if not time consuming (to restore).
To see what is new with the Lumia Cyan update on the AT&T Lumia 1520 you can see our recent summary.
Thanks, everyone, for the tips!
Windows Central Newsletter
Get the best of Windows Central in your inbox, every day!
Daniel Rubino is the Editor-in-chief of Windows Central, head reviewer, podcast co-host, and analyst. He has been covering Microsoft since 2007 when this site was called WMExperts (and later Windows Phone Central). His interests include Windows, laptops, next-gen computing, and for some reason, watches. Before all this tech stuff, he worked on a Ph.D. in linguistics, watched people sleep (for medical purposes!), and ran the projectors at movie theaters because it was fun.
That's actually a pretty good rollout Posted via Windows Phone Central App

FAO: Daniel - UK CV 1320 is getting Cyan too. It looks like a global roll out for CV 1320 too, in case you want to cover this.

They already did a couple of days ago.

Nope, they didn't. Not in the UK.

No update for 520 users (india) !!

Thanks, make sure you updated us on every article that is not related to the Lumia 520 /s

Windows Phone 8.1 messed up, what I like to call the "Big 5" : Photos, Games, Music+Videos, Kids Corner & Store. Lumia Black wasn't available yet, but I had 8.1, I went back to 8.0. If I stayed with 8.1, and got gdr 1; I would have skipped Black & Cyan.

You forgot the Me hub. It used to be so easy to comment and like on Facebook without leaving the hub.

I switched to a Nexus 5 for a while (hardware problems, switching carriers when I get my next phone) and would gladly go back to Windows Phone, but they got rid of the Me hub?? One thing I loved about WP is the way it consolidated all your accounts. Phone numbers, email, social media, all in 1 page. Android BLOWS at this. WP did it seamlessly, the Me hub was great for checking notifications on social networks.

I respect opinion but 8.1 can and well be updated alot faster then what was on 8.0 this is Microsoft decision and I pretty sure within the next few updates they well do there best to fix what they can but having separate apps allows them to update faster then having to update the whole OS but looks how fast GDR1 to 8.1 is coming I say wait and see what happens

The sarcasm on this one is dang high! Hahaha I really enjoy your spicy replies!

Hey Daniel, You guys should close the comments section for the cyan update news. You will not find any thing different than this below any news

We know. Just be patient and it'll come tl;dr
STOP TELLING US ABOUT YOUR NON UPDATING PHONES AND REGIONS JESUS CHRIST

This is an interesting use of tl;dr
when the short version is longer than the first one

Indeed, very intresting. Someone! Documentate it!

I found it to be awesome and quite witty. Might add this one to my repertoire!
:)

Dud don't be despo.. U LL get update. There are so many nokia phone which are still waiting

Well, for the matter of fact, neither is the update available for 520 in Belgium, but do you see me complaining on every article? No. Be patient.

Geez just be glade you don't own an android phone , you wouldn't know when your phone is getting the next update so everyone needs to stop there complaining

Microsoft is only concentrating on high end phones !!

the first two phones was 925-625
625 is low-end

My 925 didn't get it before DP was blocked.

Moron alert...his first comment wasn't exactly genius either...

How dare we pay more for a high end phone and expect a better service for the cost!

There is no cyan for the 1020 and it is/was high-end.

I can see the 1020's EOL shadow of death, the 1020 is falling by the wayside.

You are such a waste of time.

So my Belgian 1520 isn't high end?

And my UK 1020 isn't high end? What a Moby!

Bring Lumia 520 update come on

Another mindless 520 user. No. 5 000 001

Such stupidity you possess

Really!!!! You must be another cheapskate self absorbed 520 loser that needs to crap on about how your low spec phone is still not updated in a 1520 story. 5 000 004

I want My Nokia Lumia 1000001001 UPDATED NOW.

FYI my Nokia Lumia 10111110000.11 received the Cyan update after downgrading to 1000.0 just fine

Your stupidity is hilarious Thanks for the display. 5 000 005

Geez I wouldn't want to see you with an Android phone LOL

I hope 520 will receive cyan very soon :)

Another mindless 520 user 5 000 003

Wt* is wrong with you? Did I say something wrong or you are stupid?

When the article is about 1520's update and you are whining about a 520..Well it seems stupid and yeah mindless..It will come when it has to!! Buy a higher end phone if ye have a lot of problems!!
And FYKI I have a 520 and a 820..Both haven't received an update yet but am still waiting and not complaining or asking about it at every second comment in every article!! STOP ASKING ABOUT 520'S UPDATE..DANIEL AND CO. WILL BE MORE THAN HAPPY TO ANNOUNCE IT'S ARRIVAL!!
When "Seems Faster",,"Not in Brazil",,"Why only US",,"Not in India" ended "520 updates" has started!!

I am sick of mindless whiners like you crapping on about yor irrelevant phone.

Maybe some other time, who knows.

Where does it say update about 520?? Please show us

Sorry guys... I'm new at WPCentral (First day here) and I didn't know that hoping for cyan update for L520 is WHINNING,STUPIDITY and MINDLESS.
And I'm not complaining. I was just HOPING.

Welcome to WPCentral! Don't mind those people.

There are thousands of 520 users whining for Cyan and I don't know who's asking for the first time or the tenth..It's irritating for us regular/old WPC users to read stupid comments in every article about an update's release date which only Microsoft knows!! Taking back mah words for ye @CrossIsHere..Welcome to WPC and no swearing(wt*) brother!!

Do people really comment in every article about an update's release? Oh then I know how regular members will feel about it. BTW, Thanks Aman for the tip #NoSwearing

I was hoping not to read stupidity from 520 cheapskates like yourself who are so deluded as to think people reading about a 1520 would actually care about you and your stupid self absorbed nonsense.

People reacting this way like you are 5 000 010 times more annoying!

Blagh! Still awaiting for it to release for the UK for 1320.

Will MS ever fix the 8.1 dev preview? I'm unsure if it's a good idea to wait for the fix. smh

I think they'll have to for future updates. I wouldn't be surprised if this is an issue with official Windows Phone 8.1 with Bitlocker as well, considering the two products are identical in other ways. Although I'd imagine that it's less about fixing the OS than fixing the update procedure.

I am hoping that it'll be combined with GDR1...

Just backup your phone and use the Nokia Recovery tool. It's so easy, just give yourself another 15-20 min.

It'll take much more under my slow internet connection. Then I'll need to reinstall all the apps and games. Seems too much work.

I actualy think the fix will be part of Windows Phone 8.1 Update 1.

Why wouldn't they ? On top of that if your so impatient go to an android phone tell then have some dam patience well ya if this was an android roll out how long do you think it would take before you received the update

Well the update is already here. I just can't install it. It's much more frustrating. If I were that impatient, I would have already taken the downgrade path.

It really sucks, that it's not released for DP... They shouldn't made DP available to the wide public in that simple way if then all the people who are trying it, getting in such trouble!

Are you a developer? yes? then its easy for you to do. Are you a developer? no? then your own fault and no sympathy from anyone.

Fault???? Fault with the person who installed it? Not fault with the person who made it world wide?? Why did they choose to make a fee for uploading apps specifically for developers and not a fee to install this?? If precisly MS wanted the developers only to install it the line "Now everyone can install this update and its simple" should not have been said. Both WPCENTRAL and every other article mentioned this line " Even the general public who arent developers can install this update" . Atleast they should have chose to mention the word "May" than placing the word "Can" . Simply encouraging and hyping about 8.1 and testing on a mass scenario and cant later release an update citing a simple reason that this had caused problem with DP? Seriously? An update test with MS didnt have testcase from the testing team to test on the build that been installed with DP?? And yo say no sympathy frm anyone???? Again I say this because they never mentioned "Some of the users installed DP facing the issue, The article read, the users with DP installed earlier had to downgrade now"

The name of the program is developer preview. So it's your fault for ignoring the devloper part. Besides every article that said "available for general public" also said "it will void your warranty" and "it's a preview version so there might be a few kinks and bugs". And again it's your fault for ignoring that as well. Just because its available for the general public doesn't mean the general public should download it at once.

Oh ya! Just because official is available for general public and if encounters a problem of boot yo would paste this line "Just because MS rolled out it for public didnt mean yo had to download it at once" . Dont be a blind follower of MS dude ! Either they shud have been selective like creating number of people specific number to sign up for developer program or not open it to public .. ! And whether or not, the fault of users, MS knows that DP is installed and the update must also be in concern to the people who had installed the DP. and another article said "There are lots of users, who had installed the DP than expected, and if yo dont know how to , then please do the following procedure" Now my question here is Why didnt they mention that "specific users who run DP, arefacing this issue, and mentioning All those people who installed DP have to now downgrade" . Didnt an update test carry out a testcase that tests their official update on a build that had alrady been installed with DP??? And they simply roll out? Secondly, How much can you confirm that the update is an official one and not an other DP update??? Update 1, Cyan update, wp 8.1 update??/ Thirdly , They mentioned "It may void your warranty" never " It will void your warranty" That may should have been replaced to "can" during the install of DP.

Gee. Overreacting much? I agree that MS should've tested this issue, and it's a blemish on the reliability of the DP going forward. But if you have the 8.1 DP running, you already have the same code as official 8.1. The only thing you're missing out on here are the minor updates in Cyan. Which, yeah, have some stuff, like for the Icon they add the Fitbit sync functionality, but overall it's very minor. Just enjoy your 8.1 DP and wait for the fix. Now if you had 8.0 and were complaining about the slow rollout I'd understand...

Look you have a choice to update it or not no one forced you just be glade you don't have android cause even then who know if or when you would get the next versions

A very small percentage of 8.1 DP users will have issues, but they have halted the rollout for everyone to minimize the damage, so they don't get in trouble. Cyan is a much smaller update than 8.1 is. An 8.1 DP user isn't in trouble for having to wait. Nobody is "getting in trouble" here.

Pro tip - never trust anything Microsoft says.

Never trust a thief man.lol

Oh and Android is any better geez lol

It's really not much of a hassle to backup, downgrade and install... Try it! :-)

I really, REALLY, hope that microsoft closes the DP for everyone and let's it be available only for developers. That way only techsavvy people use it. Because for christs sake, if you can't even handle having to downgrade or simply, SIMPLY, wait some more before you people start whining so effing much.... Seriously, for accepting to install something on your phone that voids your warranty you are being too whiney about this. I could understand the anger in people with the BitLocker issue but the rest of you are just too much...

that's not actually a pretty good rollout. why? if you have dp, you need to downgrade to 8.0. instead, flashing 8.1 by nsrt / nsu would be available. a good rollout is what apple is doing with their devices. they rollout their software for all supported devices at the same time at all countries without requiring of authorization process.

Then please buy an apple product...it has been explained umpteen times to people here as to why windows phones can't get it at the same rate as iPhones...

There's no good reason why the country variants, which are in no way associated with carriers shouldnt get the update day one instead of the drip, drip release of the update for one single phone in one single country. Its the most ridiculous rollout I've ever seen and even more so from the so called biggest software company in the world but seeing as they cant manage a simple function like attaching files directly in their email client I really shouldnt be surprised.

Apparently you've never witness any of the amazing Android OS updates. They were spectacular.

Yeah, that's getting really tiring. NO OTHER PHONE gets the iPhone treatment. If you want that... get an iPhone.

Let's hope they remove '1' very soon and we are left with 520 only

Ha ha, waiting for that only bro..

Russia sent the update to Siberia.

What a stupid joke from a stupid person

Hoping to get cyan for 720 soon. Fingers crossed.

Yeahhhh! Just can't wait.

I think Lumia 920 and 820 will be the last to recieve this update!! All I want is that from now MS (Nokia) stop to ties SOs udpdates to firmware updates and release they separately! No need to make a firmware update in every SO refresh.

Well if your an expert about updates then you should apply for a job and show Microsoft hows it's done and when your done with that shoe Google hows it's done also

Why would 920 and 820 be the last ones get the update? MS's current update logic suggests that 920 is the next device to get the update. I haven't forgotten the 1020 but it will reach its EOL soon, so it may not be the next device to get Cyan.

Thanks for confirmation, Daniel. On the support page the update is available for 1520 on VF IE, and I was checking all the day and getting "is up to date". Hope the update will be available soon ;)

Go ask Nokia Brasil. I HATE THEM so badly!!1

Yeah? I think that's asia!

Damn, waiting for Nokia Brasil to release it too

Nokai Brasil is complete shit. Just 1/3 of Lumia 925 is receiving update. And 1320!

Oh and Android any better LOL seriously get and iPhone with there buggy ass OS updates if you want them instantly

I'm just complaining about has countries which receive before others if they are the SAME phone, CV.

Brazil is in South America, they just hosted the world cup, which Germany won.

In South America, bounded by the Atlantic Ocean on the east. It is bordered on the north by Venezuela, Guyana, Suriname and the French overseas region of French Guiana; on the northwest by Colombia; on the west by Bolivia and Peru; on the southwest by Argentina and Paraguay and on the south by Uruguay.

So tomorrow or on Friday it's gonna be 1020 cv turn

I think I would better wait Developer Preview Update 1 next week, f...* this Cyan Update...

Remember the 920? Thanks.

Funny that Venezuela got it first than Hong Kong, I'm pretty sure I am the only one that owns a 1520 on Venezuela, and it just so happens to be a 1520.1 CV Hong Kong :)

Me too (Mine 1520 is from hong kong CV too. Im from Dominican Republic). Everytime i see 1520 receiving Cyan, im hoping to see Hong Kong CV on the list.

You could just flash your phone then.

In the same boat. And waiting :D

LOL only the one? Really? "El papá de los helados pues"... Get down dude. I known at 12 persons in Venezuela with a 1520 and I had 6 Lumias. Please come back to the earth.

Fino pana mientras más usuarios de Lumia haya mejor. Yo voy por mi cuarto Lumia y he convertido a algunos hacia el 620.

In Canada with the Hong Kong CV. Makes me wonder if I should've waited to buy another version of the 1520 =/

Why don't you just flash your phone?

46 countries are concerned. Keep those updates coming.
@Daniel Isn't it "Nicaragua" instead of "Nicaruga"?

Yeah, I was an ass and forgot to run spell check on that before posting. Had a few errors, fixed now.

"Nicaruga" is the Central-American based sequel tu Ikaruga :)

Now next maybe 920 users to get the update then 525, 520, 820,720,620.

But I read on wmpoweruser.com that developer preview 8.1 installed 1520 were getting cyan update in India

I read it too. I'm hoping it will be for my Hungarian L520 WP8.1 DP with 4th update. Sorry for the bad grammar.

Singapore's CV have not yet received the update!!

Nothing big about cyan anyways! Just be patient! Jesus!! Y'all cry and bitch about the littlest things!

Yes, but i find It funny To Read.

Miracast is a pretty big deal for me, and I'm looking forward to Camera improvements for the 1520. Night time shots just suck..

Will 520 nd 525 recieve cyan @ the same time?

Only in your dreams No. 5 000 002

Wat u r exactly trying to say?

He's referring to the complaints made against people asking about Cyan for 520 in the first comments of this article (which is about 1520 and not 520) .

Lol, 5n thn..but am not asking wen the updates will be released , just a curiosity to knw tat 520 nd 525 will receive cyan at same time, because I own both...

Microsoft please update l520 im tired to see under testing how many months they need to test.

They have the update since a month, so, one month, 2 at max as the rollout will probably be completed by the end of August.

Finally we know when Cyan update for Lumia 520 (India) coming..
On dooms day.

Haha...nice one bro...i'll wait for dooms day.

Just curious, why does the Cyan update page include HTC and Samsung devices in the "THE UPDATE IS NOT YET AVAILABLE FOR" list?

That page is for Windows Phone 8.1 AND Lumia Cyan updates; we include both, although HTC and Samsung obviously don't get the Lumia Cyan firmware. I thought that was self explanatory, but perhaps may make it more clear. First question about it I've heard.

I hear ya and I understood the page's dual purpose. Just thought the list was a little misleading, especially since there were questions from non-Nokia phone users when Cyan starting rolling out asking when it would be available for them. Even think you clarified it a couple times in other article comments. Anyway, not trying to stump the chump ;-)

Yup, I'll fix it up with an '*' explaining.

What should they help us with?

Another day and the update is not coming for rm-937 HK CV :'(

Same here. RM-937 on Rogers with Dev Preview. Ugh. The thought of receiving Update 1 before Cyan seems a bit silly to me. Had I known there was a possibility of having to downgrade before firmware updates I never would've installed it.

You have a choice just like everyone else either iOS with there buggy software or Android which who knows when the next update well come to your phone

LOL. I won't be switching to iPhone or Android just because of an update lol. That would be a little too dramatic. I'm just slightly annoyed at best that I've been asked to downgrade to upgrade that's all.

Yay, got it! :-) Denmark.

I guess they are going a bit in reverse order ... 520... 620.. 820..920..will be the last ones to Recieve the update

Seriously considering this phone, since its RM-938 model will work on WIND mobile. Alas, I need to save up over $700...

Glad to know that, something happens worldwide :-D
Buhaha...

Why the hell we are not getting cyan update for 1520 in uae

I was surprised too! Not even any of the gulf countries! So weird

Yeah, here also in Saudi Arabia
but our Iraqi brother got it
you can that here:
http://www.nokia.com/global/support/software-update/wp8-software-update/...

Couldn't image what you would be like if you to had to wait for an android update

Still not Benelux update, don't we count anymore? :) (mine is a uk phone :P +1520)

Di Rupo is blocking it, lol!

Waiting, aah I have a Hong Kong CV Lumia 625 down under. Besides the 2 little arrows above the network and WiFi, there is nothing special about this cyan. Actually worse than the big Skype update that announced the other time. Waiting for update 1, ... And BBM update. Don't tell me when it will arrive.

I've been eyeing the 1520 since it first came out, but can't stomach buying the neutered AT&T version without wireless charging. Is there an unlocked version I can buy that has the international guts and would run on AT&T LTE?

The RM938 will do what you ask.

In Argentina (which is missing in the list!!!) All the Lumia 1520's are getting the update right now. Not sure about the rest of the Lumia family. Now let's start waiting for GDR1... Come on Microsoft!!!!

Got 1520 in spain with UK Rom with cyan update from a week ago.

It's Colombia, not Columbia.

Are there any deals, current or upcoming on Lumia 1520s? I've had one, returned it, played with a 930 and realised the error of my ways, now I know I want it back, but the deal they had with 930 here in UK was immense! £350 with a whole heap of extras whereas the 1520 is almost double price with nothing extra

I donno why no ones ever talking about Lumia 525... As if the phone has never been released ... All talk about 520 and just simply forget 525 ... I doubt if its really an upgrade over the 520 ... 525 users please support .. Really ... Badly need the cyan update for the country variant .. I'm from India...

525 will most likely get the update at same time as 520... they are identical but 525 has 1GB RAM.

No Hong Kong country variant on the list? That is where my unlocked 1520 came from... I am currently running the Dev Preview, so I don't know if I should downgrade to 8.0 yet.

Havent recieved my update on this variant either. But I'm on dev preview.

Yeah,I don't really want to downgrade to find out, and possibly have to wait longer

Nothing for HK variant yet. So no need to down-grade to 8.0 (yet)

Good to know. Funny that we may end up with the GDR1 update before Cyan.

I'm just waiting for Cyan update to actually fixes the goddamned lags on any games I run on my L1520. And I'm not sure if GDR1 without Cyan could do that or not (Though I'm worry that Cyan would not do that either!).

What is the difference between a country variant from these regions and a country variant from Belgium or Netherlands?

Default language, localized apps, regional settings, etc.

So they're still translating parts of the OS to Dutch?

Everything in the DP is already in Dutch!

That's what I thought, but daniel said something about localization.

Apps are already localized, nothing to do with the firmware

I received the 8.1 upgrade last week on my 1520. I ❤ the OS overall but it's not without its bugs. After raising the lock screen, the system spins in a "loading" sequence more than not. I've also experienced system lockups and overheating, both problems I never had with v8.

My 1520.3 is stuck in airplane mode on 8.1/Cyan, won't turn off at all, or turn the cell radio on. Anyone else have this problem? Everything works perfectly fine on 8.0.

Have you tried this http://www.nokia.com/us-en/support/faq/?action=singleTopic&topic=FA141447

I've done soft and hard resets, yeah. Assuming that the reset Option 2 on there is the same as Option 1, only to be used if Option 1 doesn't work.

If Windows Phone is anything like Android, reflashing the phone could help. http://www.nokia.com/us-en/support/faq/?action=singleTopic&topic=FA142987

I've already done that, unfortunately. I reflashed back to 8.0 with the tool and went through the update process for 8.1, getting the official firmware for the phone.

You are still not able to turn off the phone/airplane mode after reflashing the device?

I am able to turn the radios on/off in 8.0 and get cellular connection and everything. In 8.1 I can't, and when I try to, it constantly switches them on and off extremely fast, makes the phone heat up, and won't stop until I turn airplane mode back "on" in the action center.

Could be a bug, have you reported this to Nokia/Microsoft?

Started a Nokia discussions thread about it, hoping something comes from that. I haven't really seen any reports of this happening to anyone else, save for a thread on the WPCentral forums: http://forums.wpcentral.com/ask-question/298561-airplane-mode-wont-turn-...

You could try and send a tweet, they responded almoast instantly.

Colombia* guys... Colombia...

Well No Cyan/8.1 update on my 1520! I'm in Lebanon but seems my phone = Yemen version!

Lebanon..i get it after downgrade to wp8 and then update wp8.1 cyan..lol

The title of this article is misleading. Some CVs are not receiving the update yet.

So what don't mean your not gonna get it geez learn to wait or move to a different OS maybe and Android cause I hear the updates are WA better right ?

Well sir, I am just referring to the title of the article which, from a journalistic point of view, is inaccurate. And yes, I have waited so much that I refused to install the DP. As I imagined, it would be full of bugs.

The title would be very long if listed every country individually...

So they could add word "some" to the title instead of that.

Heu?? I got the wp8.1 + cyan in the UK nearly 2 weeks ago now... (1520 CV)...

Me too. I had it Monday 21/07.

I think you guys @wpcentral should really quit using the word "worldwide" just as users here should stop saying "seems faster" It's clearly not worldwide and all you reached is dissapointing a lot with an article that is all but true! That said, Belgium here, CV, no cyan!

Clearly we don't live on this world. @NokiaBE told me the rollout of Cyan should be finished in the third quarter of 2014

Clearly you need to stop and learn to wait and have some patience if you can't check out them updates on Android I hear the awesome r

viet nam cv???????????????????.......

My unlocked 1520 in the UK got Cyan OTA last Monday (21/07). Loving it BUT... there are some issues. GT Racing 2 text is illegible, also reports on 930 so presumably WP8.1/1080p issue, I mourn the loss of People Hub, Photos Hub (yes I actually liked it), as well as FB messaging in Messaging. And no music live tile is damn annoying. Also, in some games, e.g. Jetpack Joyride, it (very) occasionally stutters and loses a frame now... but its extremely rare and inconsequential. Overall: good update.

Music live tile is in gdr1, I loved photos hub, anyone interested should vote for it, in user voice.

It's Nicaragua, not Nicaruga

Oh and your perfect right?

At least he cares to look into a dictionary.

Jemaho, zet er een uk ROM op en je hebt cyan, geen enkel probleem, toekomst ook sneller updates,...

Come on Verizon #928 !!!! Always the last

what the hell!!! i downgraded my 1520 and still can't get the update????

Not all regions received the update yet, check if your phone its region is listed in the article.

What the hell why don't you learn to read I mean come on if you can't stand to wait then move on to Android heard there updates are even faster

For God's sake release it for everyone already!!!!

For God sakes get an Android phone there updates are awesome

I think Nokia forgot the 1020's :-/

Omg and Android is any better can you tell me one thing , how many phones well receive Android L please tell me ?

I don't think it's fair to compare this to Android phones since it has been worse at updates than Windows Phone for a while. I think a more productive comparison would be to the industry leader in this category, Apple. They roll their updates out all on the same day. That is what we need Microsoft to shoot for.

Even if it's not listed, anyone from Switzerland got Cyan for the Lumia 1520 ?

I've noticed that my basemark scores have taken a dip since I received the official cyan/wp8.1 update.

I got it in UK on O2 yesterday on my 1520.

Can somebody here share the product code for Colombian 1520 cv ?

Still after downgrading 2 times also i have not received the updates to 1520 in uae…… Posted via Windows Phone Central App

Here also on Saudi Arabia, I didn't get the Cyan update for may Nokia Lumia 1520.1 RM-937 ;(

My Lumia 920 has dp.... Can I get cyan update without rolling out dp???any one pls

You have to downgrade. Doesn't matter which handset,

Please cyan for lumia 920 usa

May I miss it... Dit the GDR1 update fix the DP problem with bitlocker? I only want cyan because of the hopefully better camera algorithm. But the back-and-forth procedure is a mess.

Socken can u explain the bitlocker found the windows phone i dont understand why people complain saying bitlocker . Tell me whats the problem?

The problem is that some guy's with "BitLocker" active and DP 8.1 on there phones having problems. That's why Microsoft stop's the cyan update for phones with DP 8.1 right?

And where is bitlocker in windows phone

Windows Phone 8.1 Preview for Developers phones running in a corporate environment could get Bitlocker installed (it's not something on the phone itself), and those that did were bricked when getting this update, so Microsoft stopped it for everyone with 8.1 PfD.

So all OS updates are perfect right? Maybe the Android update process is much better for you go give them a try and let me know what you think

Is my unlocked 1520.1 on "global" rom getting this? ("RM-937_eu_euro1_970", also it says "eu" and "euro" but NCS tags it as Global. Any thoughts on that?)

What taking so long with tha P.D. 8.1. we supposed to had tha real 8.1 first

You do have the real 8.1. The part everyone is waiting for is "firmware" Cyan is firmware that is also bundled with the EXACT SAME 8.1 that you already have. The carriers have control over this not MS.

Might just be my phone (1520 on Att) but I am not particularly happy about the Cyan/8.1 update. I ran the 8.1 DP without issues, downupgraded to Cyan and ever since I have freezing "resuming" or "loading" screens when I unlock my phone. Sometimes all left to do is to restart it completely. I also seem to have lags when I open apps... None of that was an issue with the DP. Hard resetting again and unpinning Cortana didn't help either. So from my experience switching to the official release was quite a mistake...

Sorry but I haven't experienced any of those issues maybe call ATT and do a warranty exchange they well send you new headset but please don't act like all OS updates are perfect , IOS has had there bug's remember iOS 7.0 or even the Android update process isn't it awesome lol

Great comment dude. The official update is worse than the DP was, at least on my phone. Has nothing to do with iOS or Android. Just plain sucks. Take off your fan boy hat and get a grip

That's your opinion dude I don't have a fan boy hat as you say I was merely telling you to see if a new headset would fix your issues because I haven't experienced any of your issues as you point out just because your having problems doesn't mean everyone in the world is geez lol was only trying to help

Now you changed your comment? Fun. Why not stand by it? I never said that any other OS is better. I posted my experience.

And that's wrong for me to correct myself I am human just as much as anyone else and so your saying your experience rules over everyone else's right ?

I got the update yesterday for T-Mobile 1520 in LA.

Whenever I connect my 1520 to Nokia software recovery the version it shows to be downloaded is the same as my phone is currently running.also after the downloading reaches 100% it restarts all over again.can anyone help me about tho problem and how to successfully downgrade to wp8?

Battery stay longer with the real 8.1 instead of the DP, i really like the Nokia apps updates, living images and auto focus, photo are a way better now with my 1520, nice 5.1 dolby video recording, the backup seems better 96megs in the cloud instead of 12megs with the DP version, the arrow on the wifi signal and LTE are back i have miss this feature !!! I already miss the old hub but at least we can watch FB update without opening the facebook app !!!

The only bad point is that i want back Google in the search engine of explorer !!!

Microsoft Hong Kong CV, pleaaaaase.

You do realise MS is releasing the update in "reverse" order? Ie, 1020 will be the next to get the update (unless its approaching EOL date gives priority to 920 and possibly other models).

So... What about Hong Kong's? ._.

I screamed (from too much happiness after waiting for eternity for this to be announced) upon reading the headline. When I checked the article and looked for Middle East, Saudi Arabia is not listed,. #Facepalm #HappinessGoesDownTheDrain

I'll be happy when the 820 rollout happens I love my phone more then when it was windows phone 8 more then likely I'll stick with the preview and wait out a fix

Guys I might be getting either a Lumia 1520 or 930 next month, glance is a bit of a issue for me on the 930 but size on the other hand might be a bit of a issue with the 1520, good to see old South Africa once again leading the pack when it comes to updates and great to know that if I choose the 1520, 8.1 and Cyan will be ready and waiting... Speaking of waiting.. Do you guys think it would be best to wait seeing as the 1520 is not really very "new" any more? Problem is.. MS doesn't seem bothered with releasing a new "hero" phone any time soon and my 1020 successor will only arrive in mid 2015... Sigh... Anyways, just wanted some opinions as both are great phones and I should be happy with either of them, so what do you guys say? Go for the 930, or the old but not cold 1520 or would you wait a couple of months and see what hits the market???

Where I can get that start screen ?

What about developer preview people?

Its would be lovely if Microsoft can sort the DP 8.1 issue and allow cyan to install instead of this revert game to wp 8.0
They should have ensured guys running DP automatically get the prelivilge of automatically getting cyan no matter the region.

That's true, DP users where their testers after all. Its a shame. They just used everyone for the feedback lol and not playing their part now haha!

Emmmm its called Developer Preview and not "beta testing" for a reason, you know.....you are not beeing a tester, you are just someone who desided to install a DP

Finally updated my 1520 in the UK to Cyan and 8.1 all ok, still no Cortana?

That will come with the GDR1 next week.

Updated yesterday. Thanks Nokia, or is it Microsoft?

Ok. Went on to Nokia restore thingy. Went back to wp8. Now updated with cyan and 8.1 Lumia 1520. But still nothing for 1020 in uk

Got the update on my Philippines 1520 cv. I am in Canada. Had some issues with the cellular and wifi radios losing connections and gaining. Also the autobrightness and scrolling is a bit shaky. Anyone having similar issues ?

Why not England yet?? 1520.

Does this update fix lags on games like Asphalt and MC4 (wich I have since I got wp8.1 DP)? Other way it goes to be worthless knowing GDR1 will publish in the coming week(s) for DP users.

No updates for HTC 8X in India

UAE here, no update yet, I'm dying........

Yeah me too bro dying
Same here in Saudi Arabia

When was the lumia 720 can be updated to lumia cyan ??

Y U NO HongKong!? (im from the Philippines though..my 1520's from HK :'( )

eyy hi guys anyone know the product code for the lumia 1520 chile country variant plis? thanks!

How come Australia always last for updates ,i have 1520 still on black, no cyan

When in India in Lumia 920

Also waiting for the update to be released for the rm-937 (Hong Kong) Lumia. If anyone here gets it, please post here!

Waiting for Lumia cyan update for RM-937 UAE CV..

My main dislike to Windows phone 8.1 is the fact that all of my contacts are loosing their Facebook identity. No longer can I write on someone's wall through their contact listing. One of the large selling points for the Windows phone was the fact that social media was more or less built in to the functions of the OS. Forcing the user to use the inadequate Facebook apps reduces the Windows phone to just another smartphone. No longer ahead of the crowd.

I live in Lebanon (middle east). Have an unlocked 1520 and was on 8.1 dp. I decided to downgrade andbused Nokia recovery tool and TO MY SURPRIZE now I'm on O2 carrier locked wp 8.0! And when I updated to Cyan I'm still on O2! I have an unlocked that became simply LOCKED . HOW FUCKED UP IS THIS! AND WORSE IS I CANT CHANGE THAT! As if it weren't enough losing all my whatsapp convos as well as viber. Line etc. Which brings me to Backup feature on wp. This isn't a BACKUP when u lose all ur apps data! Seriously considering IPhone 6.Unacceptable
And BTW camera quality got worse with Cyan.night and day shots are worse. And Tap/slide problem is still there. So HONESTLY TO EVERYONE WITH 8.1 DP. DO NOT DOWNGRADE!

when the hell is the 1020 rollout going to be for sri lanka ? :S

No Cyan for 1520 HK CV? I want to die! Can't wait for the update! :(

So now they have released the update to all high end phone..they will surely start with low end phone..

No update yet still for my 1520 international LTE variant as of yet

Where the hell is the Hong Kong cv update ?

When it will be released at UAE?

What about the Netherlands? We are just as significant as Germany when it comes to a significant market.

when will the cyan update and official update for 8.1 be released for Europe and the Netherlands. I'm getting tired of these developer program early adoption upgrade thingamagics, but also still do not understand what is taking microsoft so long to push the 8.1 updates to all phones. I'm currently satisfied with the develoer preview 8.1 and understood from a previous wpcentral article that when 8.1 arrives officially a reset of the current preview would not be necessary. I would hate to spend hours reconfiguring settings,, apps and reorganizing files. I just want it to work.

i want to know that when my 720 will get 8.1 update ... plzz tell me .. how much time it ll take to roll out india .. ??

Vietnam: Lumia Cyan: Under testing :( 2 days

2 day wht i wanna know when will roll out for 720 india ..

... Lumia 1520 CV Update for Austria & Switzerland is still not available .... :-(

What's the point with all these country variants?
I bought my 1520 in Norway, but it's Singapore CV.
If they are going to sell their phones in random countries, why can't they just have them all on one global version in addition to any carrier locked CV's.

@Remy_S. Good point. Surely the hardware is all the damn same, apart from the odd variation for weird American networks.

When will roll out for uae?

1520.1 !! No update still :(

got the Lumia 1520 Singapore CV..and I'm currently here in the Philippines...no cyan update yet...still in windows 8.0 black....

Hi im using lumia 1520.im in qatar.bt still cyan not available in qatar only few meddle east countries got the update??wen it come to qatar

If anyone wants the wallpaper from Daniel's start screen, I've got it here, just posted in the forums to help a WPCentral member :) http://forums.wpcentral.com/windows-phone-8-1/300263-start-screen.html

Will my Nokia 635 get this update

Anyone at Netherlands got the update cyan with the Nokia lumia 1520 ??????

I wonder when the Hong Kong CV will be updated sigh Update: I got it

I got the official Cyan on My Lumia 1520 RM-937 here in Saudi Arabia NOT Developer Preview

Windows 8.1 Cyan update for Lumia 1520 at Australia is now available. Got the update appearing on my phone 15 mins ago :-)

You should add 1520 HK CV to the list of phone updated to Cyan. Got my update last night :)

Hi guys, I'm from Vietnam and my 1520 has received the roll-out of windows phone 8.1 earlier this day. I just would like to share with you about this news. Just wonder a bit why Wpcentral never updated such news. Regards.

I received cyan update last night in New Zealand.

still no update for the 1520 in the Netherlands !!!

Today received Cyan in Switzerland (Sunrise)!!