The Nokia Lumia 1520 goes up for pre-order in the UK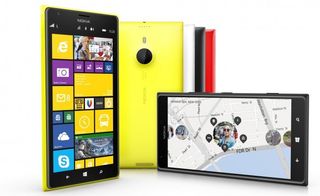 If you've been waiting to get your hands on the the latest new, all singing, all dancing Windows Phone then now is the time to pay attention. UK retailers now have the Nokia Lumia 1520 up for pre-order with deliveries expected to ship from Friday 6th December.
As expected, a bunch of carriers/retailers will be stocking the 1520 - including O2, Vodafone, Carphone Warehouse (opens in new tab) and Phones 4U.
The main features of the Nokia Lumia 1520 include:
Stunning 1080p HD screen – seamlessly combining both work and play
20MP camera – capture amazing images, edit with Refocus and document your files using Nokia Storyteller
Additional 3rd live tiles column – access even more of your favourite apps from the homescreen
Qualcomm Snapdragon 800 processor – faster downloads of your files and games
7GB of SkyDrive – free and secure cloud storage to access media files anywhere
Micro SD support – allows for an additional 64GB of storage
Tempted by this 6 inch bad boy? Be sure to check out our full review of the Lumia 1520 if you haven't done so already.
Nokia Lumia 1520 full review (opens in new tab)
Press Release
London, UK - Nokia today announced the availability of the Nokia Lumia 1520 its first smartphone with a 6" high definition display. The Lumia 1520 takes productivity to a new level by seamlessly combining both work and play. Watching videos and playing games has never been more fun as with its stunning 1080p HD screen, the Lumia 1520 brings even the most sophisticated games to life. Accessing your favourite apps is now even faster with an additional 3rd column of user defined live tiles on the home screen. When it's time to work, the Nokia Lumia 1520 really delivers, with Microsoft Office already on board and its Qualcomm Snapdragon 800 processor, viewing and editing documents and files on the move becomes simple, fast and intuitive. Backing up documents to SkyDrive is also simple with 7GB of free and secure cloud storage and as the Lumia 1520 also supports micro SD storage up to an additional 64GB you can be sure that every document edit is stored, even on the go.
Getting more productive
"The application and graphics performance provided by the Qualcomm Snapdragon 800 processor allows Nokia to continue creating new and innovative imaging experiences for consumers." said Raj Talluri, senior vice president of product management for Qualcomm technologies, Inc. "The advanced integration level in the Snapdragon 800 processor means less individual components inside the phone translating to lower power consumption and smaller overall motherboard design, this lets Nokia to package all Windows Phone experiences into a beautifully designed product."
Telling stories better on a large screen
With its 20MP camera and ZEISS optics, Nokia PureView remains at the forefront of the 1520 experience. The 1520 includes Nokia's latest imaging innovations such as Nokia Camera which integrates the most popular imaging modes – ProCam, SmartCam, and video – into one seamless picture-taking experience. These features are enhanced by exciting new applications such as Nokia Storyteller and Refocus. For the first time PureView imaging meets HERE maps with the launch of Nokia Storyteller merging the two signature Lumia experiences together. Re-live memories in a new, dynamic, and interactive way that integrates pictures with HERE location information into a chronological photographic journey on a map. Zooming out of a picture reveals tagged points of interest and contact information, user reviews and even driving directions. Viewing the images on the map makes memories truly come alive with auto playback of video, animated images and sequential movement in a still picture.
Conor Pierce, VP of UK & Ireland for Nokia said, "The Nokia Lumia 1520 is a stunning device, everyone who tries it instantly falls in love with it which is why it has already received great reviews. Aside from its unrivalled camera I also see it being hugely popular in the B2B space, where productivity really matters."
The Nokia Lumia 1520 will be on sale from O2 retail, Vodafone on-line, Carphone Warehouse, Phones4u and widely available from independent retailers via Micro-P from 6th December priced from approx. £38 per month on contract.
It should be 32 with built in wireless charging, UK always gets the international version

Hey thanks. So I should in theory be able to use this on TMO if its unlocked...

My thoughts exactly. Few sites that have this news list it as 32gb but this and few others don't. Makes me wonder is wpcentral is either afraid or didn't think to inquire about onboard storage. If its a 16gb, that would suck.

Should be 32gigs with Qi... Only AT&T is that stupid to lower a magnificent product spec.

Please anyone finds link to preorder "Unbranded" and "Unlocked" lumia 1520 write it here....

Jump on Carphone warehouse its there for £600 :)

thanks but im not sure that it is unbranded cause other deals are for vodafone, maybe this is vodafone unlocked one...

Its on a separate page but best way is to just email or phone them and ask to know 100% mate :)

I called them and they say it is unbranded as well as unlocked... Thanks :) do you know how good there delivary service is? Do thay attach Invoice inside the delivary package?

Iv had phones off phones 4 u who are excellent but iv not purchased any off them online anyway check reviews bing it google it see what people say about there services im after this phone just as much i want it in red witch i have not scene as of yet for sale

Aha ok, thanks a lot, just preordered one :)

£600...paid £550 for my 1020! Gutted! I hate the video camera...major step down from 920 in that regard! At least the 1520 would have been the best of both and with the larger screen, etc...G-U-T-T-E-D!

1020 is about £442 on amazon now

@cybermoose89 Ok...now I'm even more upset, lol...I have to stop early adopting Microsoft and Nokia products!

Sorry mate tends to be the way things go down in price unless its apple who never drop there prices not by much anyway

... or O2.
They're still selling the Lumia 925 for £530 on PAYG (locked to their network)
You can get the 925 for £310 unlocked from Carphone Warehouse, for £350 unlocked from Amazon UK and even Tesco are selling it PAYG for £430.

Sweet my only grr at the 925 was the that you could only get the 32gb version with Vodafone otherwise its a rubbish 16gb internal only the 7gb SkyDrive is good but cant be used to store apps

If UK then both Phones 4U and Carphone will be unbranded and unlocked

which offer better delivary service?

http://www.carphonewarehouse.com/mobiles/mobile-phones/NOKIA_LUMIA_1520/HANDSET?colourCode=BLACK&gift=undefined&giftType=undefined

Lol I would if I knew since I want this on tMo as well

Not scene it on phones 4 u yet Carphone warehouse yes o2 no its expected on the three network as well price tags £600 sim free from Carphone warehouse

Where the heck is storyteller for the rest of the Lumia series? The 1520 is out now...

I signed up for an alert from CPW for the Uk release. Nothing. Always rely on WPC for a scoop.. :-)

Hmm preordered mine on Carphone Warehouse yesterday but assuming someone else offers a Yellow one I may have to cancel it.

I will just walk into the carphone warehouse store at 9am on the 6th December and buy the Lumia 1520 in white. I will confirm everything with the sales rep that it is 32GB with Qi which I am 99% sure it will be. And then I will hand over my £600, take my Lumia 1520 to my home, then upstairs to my bedroom and make love to the beast :)

if anyone's interested the associated press also did a favorable review on the 1520.

The GSM and HSPA frequencies appear compatible with AT&T but the LTE is not. Sad. I was hoping to get one to use here in the US instead of the crappy US-spec'd one. I already bought 3 Qi wireless chargers and I really want wireless charging built-in to the phone. AT&T really blew it this time. -m

I may get rid of my 1520 for international version because I am so vested in Qi. But went in ATT and got a great deal being a business customer on 1520 and 2520. Hope that I don't have to pay a $300 difference for the international version though.

When are we going to hear about the rumoured 929, the 1520 is amazing, but just too big for me.

CPW only quoting the 16GB version on their website: http://www.carphonewarehouse.com/mobiles/mobile-phones/NOKIA_LUMIA_1520/MONTHLY?colourCode=BLACK
Windows Central Newsletter
Thank you for signing up to Windows Central. You will receive a verification email shortly.
There was a problem. Please refresh the page and try again.