Nokia Lumia 1520 headed to Malaysia and Australia in early December, pricing and pre-orders announced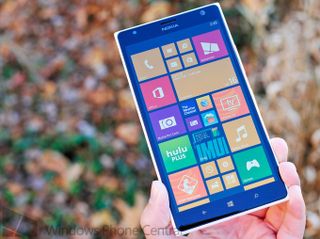 Although the Nokia Lumia 1520 just launched here in the US, that doesn't mean the rest of the world can't have it. This morning, the new massive device has been announced officially for Australia and Malaysia, arriving in the next few weeks. That's on top of general UK availability announced too.
First up is Australia. We first reported over the weekend that the device was headed to retail outlet Harvey Norman and sure enough they're the exclusive launch partner. Expected to be available in early December, the Lumia 1520 with a 1080P 6-inch display will fetch for AUD$899 and includes a free $20 app voucher for the Windows Phone Store with every purchase until 15 January 2014. That's a similar promo to what is offered here in the US for the same phone.
And yes, that's the 32 GB version. It comes in black, white and yellow with no red option. Pre-orders will be able to be picked up on December 11th with pre-orders starting today. (As of right now, there is no listing on the site).
Heading over to nearby Malaysia, the Lumia 1520 was announced there this morning as well. Expected to be available the first week of December at Klang Valley and mid-December for the rest of the country. The device can be pre-ordered now in black, yellow, or white for RM 1999 at Storekini and various Nokia-branded stores. Once again, the glossy red version is not available here either. If you don't pre-order, the cost bumps up to RM 2,159.
On top of the lower price for pre-ordering, customers can also get free Coloud Boom headphones and a RM160 Christmas Direct Discount Voucher. That's not a bad deal if you know you want this phone.
Missed our review of the Lumia 1520? Read it here.
Source: Nokia (Facebook), Lowyat.net, Nokia AU (Press); Thanks, Kevin N., and Chapree for the tips!
Windows Central Newsletter
Get the best of Windows Central in your inbox, every day!
Daniel Rubino is the Editor-in-chief of Windows Central, head reviewer, podcast co-host, and analyst. He has been covering Microsoft since 2007 when this site was called WMExperts (and later Windows Phone Central). His interests include Windows, laptops, next-gen computing, and for some reason, watches. Before all this tech stuff, he worked on a Ph.D. in linguistics, watched people sleep (for medical purposes!), and ran the projectors at movie theaters because it was fun.
Elop is making evil decisions. I hope he accidentally sits on a infected cactus :)

+1020 proud owner in Malaysia ;)

+720 Malaysian user in Irbid, Jordan. Haha

What a janky washed out headline photo. The 1520 deserves better. ;) I'm viewing in the WPCentral app, btw.

Umm...showing off how awesome the display works outside is "janky"? Then don't get the phone because that 'washed' out display is how it works out in the sun.

It is more about the picture quality then the phone. I'm so getting this phone when AT&T gets the 32GB model or when the international one comes down in price.

Picture quality? It's taken on a Nikon D700 with a Sigma 50mm macro and edited via PS. It's a fine photo.

Wp central app isn't pink..when u pin it to the start it should be the accent colour which is amber over there so the pic is obviously fake:P:P:P

You obviously don't use our app because you can customize the Live Tile to any color you want :/

It looks good on the website, but not so good in the app. Please don't hurt me, Daniel! I bruise easily!

Actually for me the photo in the app looks much better than on the website !

S_C_B check your app go to settings & look for image quality.

and voila! The image looks better. Thanks RyanAMG.

Hey Daniel on the 1520 can you put a double wide tile in the center and have small tiles on each side?

Ok cool. Wanted to do that with small and medium tiles on W8.1 and it wouldn't so had to ask for the phone.

News outside the US and UK? TFOH...

Still no love for Canada... U_U

Everyone and there grandma is gona have this except for me. TMO US. Sigh.

Canada, why are you soo late???

Nokia Malaysia dont know how to marketing their product.. No ads or commercial at all. Haha

Yes surprisingly somehow Malaysia is considered as Nokia's err i meant Microsoft's top market.

The Lumia 1520 price in Thailand is 22,900 Baht (about $714.15). I think RM 2,159 is too expensive.

Are you kidding? RM 2159 is CHEAPER than 22900 Baht

Would that be the 32GB version in Malaysia as well?

Pretty positive the ONLY place that has the 16 GB version AT&T. NL1520 was announced a 32 GB phone.

Thanks for the info, Daniel.

Daniel, does it support wireless charging? Wasn't it also Att's imposed restriction? Please confirm and update this post.. Thats what matters for me and many others out there. ;)

If they gonna give us the 32GB model which was the standard model, the wireless charging would be included as well.

As muc as I would love to belive that. Unless we have it written in official writting somewhere, we can't say for sure. For example the poster in the post doesn't have it. I would love to buy 1520 32Gigs with wireless charging and inciptio feather casing.

I hope more carriers will offer this device, with contract. I only know that DiGi does offer 1520 but that will be at Rm1909 w/o contract, haven't heard any offer from other carriers such as Celcom or Maxis.

Yep, celcom and maxis should offer one since those two are the top Malaysia carriers compared to the lame digi hahahahaha

I have lost confidence in Maxis though. They have not been offering new Lumias in their store lately. And Celcom has only offered Lumia 1020 initially.

Idzausin Idz, you're right, they only put the ads on their facebook page. Maybe more agresive ads will come out in early december when the device finaly available at their store nationwide

that's why there is lack of WP users in Malaysia.

Is that a joke? Price parity between Australia and Malaysia is huuuge! $899 in oz, while its $685 in Malaysia converted for preorder. $750 after preorder price. Australian tax wins again!

Was thinking the same thing mate. Will definitely be waiting for the price to come down first before even considering to fork out the $$. I think I read somewhere HN were doing a trade in/cash back offer?

My goodness. RM 1,999 for brand new lumia 1520 with free gifts... What a bargin!

So envy of our Malaysian and Aussie friends To our Malaysian friends, is the Storekini a reliable online site? I have a Malaysian friend who'll visit me in Jakarta for the next 2 weeks and thinking of asking him to buy for me from the website. Or do you guys suggest to buy directly from the carrier? (I heard Digi offers one).

I don't know much about storekini, but yeah it's quite shocking to have the price as low as RM1999 when others are above RM2000..and I'm looking forward also to place my order hahaha... urmm, why would you want to buy from Digi since it's Malaysia' carrier and you yourself are not from Malaysia?

If DIGI offer unlocked-contract free Lumia 1520 for RM2000, then it'll be just the same as the ones offered by Storekini CMIIW? Nokia Indonesia is just too long in releasing their new phones. They just launched the Lumia 925 and The 1020 hasn't been launched yet here. lol

If you are looking for cheaper Lumia phone in Malaysia, wait for directd store. I'm not advertizing for them but from my experience the offer pretty cheap price compared to other retailer. You can find their ads on Lelong.com.my

Owh did someone mentioned that Nokia Malaysia earlier confirmed that lumia 1520 comes in Red too!

The Lumia 1520 will be a HUGE seller!!!!!!!!!!!!!!!!!!!!!!!!!!!!!!

Showing a runner with that beast strapped to her arm??????