Nokia Lumia 1520.3 now getting the Lumia Denim update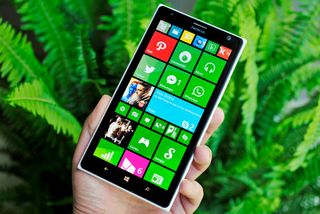 For those of you who own the Nokia Lumia 1520.3 RM-938 variant, aka the SIM unlocked one that can run on AT&T or T-Mobile LTE bands, you will be excited to hear that your phone is finally eligible for the Lumia Denim update.
Numerous tips have surfaced within the last hour about an update coming in over-the-air, and our forum users are reporting the same.
Users are instructed to disable the Preview for Developers program (through the app) should they have that enabled. If you do not, your phone will report back that no update is available.
The new version numbers are:
OS - 8.10.14234.375
Firmware - 02540.00019.15053.26003
The Nokia Lumia 1520 benefits greatly from the Lumia Denim update, as the phone can now run the famed Lumia Camera 5.0 app with HDR and Dynamic Flash, not to mention much faster camera app loading time. Likewise, the phone can support Hey, Cortana to launch the personal assistant by just using your voice.
Recently, AT&T pushed out their Denim update for the Lumia 1520, and you can see that changelog listing here to get an idea of the full changes with today's update.
Jump into our Lumia 1520 forums for more information!
Thanks, captblaze, for the tip!
Windows Central Newsletter
Get the best of Windows Central in your inbox, every day!
Daniel Rubino is the Editor-in-chief of Windows Central, head reviewer, podcast co-host, and analyst. He has been covering Microsoft since 2007 when this site was called WMExperts (and later Windows Phone Central). His interests include Windows, laptops, next-gen computing, and for some reason, watches. Before all this tech stuff, he worked on a Ph.D. in linguistics, watched people sleep (for medical purposes!), and ran the projectors at movie theaters because it was fun.
Now that Denim is available everywhere in the world (almost?), let's hope they move on with a new Windows 10 preview release very soon!

8.1.1 GDR update 2 is pending..!
Edit: In 1520.3 what is (.3)..?

.3 means region usually. This is the international model.

How come have I had this for over 2 months on my international 1520?

It's specifically the Latin America version which requires Country Variants of the software for that region.

.3 kinda just means the 3rd version. There's the RM-940, RM-937, & RM-938, with the 3rd version being the best of the 3.

I wouldn't say best, just a little less locked down.

doesn't the RM-940(1520.3)has wireless charging and the ATT 1520.2 for some reason didn't want wireless charging on their model. not sure that's correct info or not. I know my 1520.2 does NOT have wireless charging, i have to buy the accessory to be able to make it wireless charging. I just don't know why ATT said not to that. other than that, not sure the differences are between 1520.2 and 1520.3. If anyone know the detail info please let me know. Thank you

The original AT&T version is the RM-940 (I prefer not to use the 1520.1, .2, .3 abbreviations). It has 16 GB internal storage and PMA charging instead of Qi. They also made a black 32 GB model available online-only. The RM-938 (country variant) has 32 GB internal storage and Qi charging. It also supports T-Mobile and AT&T LTE signals but is not locked to a carrier. The RM-937 is international but doesn't support the aforementioned LTE signals. People on this site refer to the RM-938 as the "Unicorn", because honestly it represents the ideal 1520 (for most people), not including cost as a factor.

Yeah. I wonder who approves of this.
Did you also try without the 'Preview' enabled?

Is not yet available here in my country Nigeria for the 925

.in asia pacific only 2 CV's are not yet updated.

Difference between Samsung and Microsoft/Nokia
Sammy will bring a flagship with version change in O.S I.e., Galaxy S came with froyo , S2 with gingerbread , S3 with ICS , S4 with Jellybean , S5 with Kit Kat & S6 with lollipop...... And note series too....
.
.
. But Nokia gave Lumia 900 with WP7 and no new Lumia for WP7.5..
Lumia 920 with WP8 but it remained flagship until Lumia 930 which came after Cyan . That means no flagship for Lumia Amber , Black . And not even for Denim . And WP8.1 ....GDR2 & GDR3 { as we got GDR3 in last WP8 Gen .. } and brings flagship with Windows 10 .
.
.
flagship Phablet 1520 came with Lumia Black , still no new guy for Cyan , Denim , GDR2 & GDR3 .
.
.
Lumia 1020 supershooter came with Lumia Amber , still no successor with Black , Cyan , Denim , GDR2 & GDR3 .
.
.
All Lumia phones got update and will get next update . But it would have been better to bring new flagship grade or budget grade or entry level grade phones with every update being pushed and we would have seen 5 times more Lumia models as would have one single phone for just 20$ or 1,000 ₹ price difference

I would think that they will release a new Windows 10 preview for phones the same time they will a new preview for PCs

L1520 RM-937 Hong Kong Patiently Waiting

I'm sick of being sick of waiting, dammit!

You are a very patient man. I keep tapping the "Phone update" option every hour and nothing happens argh!!!!

make sure you guys turn your phns off and back on, if you haven't done it in a while. it does make a big difference, when you restart you phn.

Yeah fuck this shit, the Microsoft update status page said Denim is available for Hong Kong CV last week, it's now Tuesday and nothing. Liars.

BRo its out but for some reason its not showing up OTA. Its on recovery tool though. I just decided to wipe my phone clean and start fresh with denim. Its been out since friday btw.

Couldn't be bothered waiting and flashed it myself.

I have lumia 1520 RM-937 apac hong kong 222.. I live in the Caribbean. Isn't this update available for the model? Gosh how many times do I have to click to update and all I get is "your phone is up to date, last checked 2 seconds ago.". What's the hold up yea.

I think MS and carriers are doing a much better job with Denim than with Cyan.

?? AT&T released the 1520 denim update before many of the unbranded country variants.

When did Denim first start rolling out❓ Does anyone remember❓

End of December. I remember people wanted it for their icons and 1520's for Xmas photos.

1st, make sure you restart your phn to clear stuff in it. 2nd, when Microsoft releases an update, it goes to mobile carriers, it is up to them when the update goes to their customers, NOT MS. I know that sucks, but most carriers have their head so far in CrApple's ass since CrApple gives them LOTS of $$$$$$$$$, they do NOT give a crap about other companies. So if you want to blame, blame those moron carriers, for taking their sweet ass time.

Ehh..too bad I have 1520.1...

I can't get the update,I have the Lumia 1520 RM-937 Hong Kong unlocked.

This update is for RM-938.

Do you have the Hong Kong variant too or what?

Denim update for Nokia 1520 is on the M/S Servers' ... You can use Recovery Tool to download and install.... Took me all of 15 minutes.. Back-up your Apps and Data and your good to go... Rock'n that Nokia Camera now and Cortana is up and running as well .... Yay

is it available for 1520 RM-937 or on what devide did you achieved it?

Yes its sitting on the servers,,You have to use Nokia Recovery Tool and it will find the Update giving you the new firmware and software logs,,,Back up your Data first hit install then grab a coffee sitback and wait,,,lol

This may sound idiotic but if I don't use the software recovery tool, will I still be able to get it at some point by checking for updates via my phones settings? I'm with the HK variant as well...

Okay thanks. I'm no tech head so I can be naive :)

Yes just wait a few more months.

here is link for you all to see, its NOT Microsoft's fault update does not get to you ppl quickly. it clearly says" depends on your carrier". www.microsoft.com/en-us/mobile/support/product/lumia1520/softwareupdate/

Good for your guys! Rollout sure is slow. Hoping my AT&T 1020 gets Denim soon. Might load Win10 on it afterwards just to play, as its my backup.

I have Windows 10 on my Lumia 1020 as it is my backup. I put 10 on it before the hack was patched. It runs great, IE crashes sometimes. APN settings that would not work after being edited is what made me switch back to using my 1520 with 8.1 Denim. In Access point, you have to Activate the settings and they refuse to activate. The default ATT APN settings wouldn't reactivate either so my 1020 is without internet and MMS messaging so I put my sim back into my 1520. If it wasn't for the APN issue, I would still use the 1020 as Windows 10 is more exciting to use as the Edge rendering system is better than IE11 on 8.1 and the in line messaging is fantastic and the new notification center with truly actionable notifications are missed since I am back on 8.1. I still use Win10 on my 1020 on WiFi but without a SIM, it is missing the magic that the new messaging and notifications bring to the table. I will be going all in with 10 when it officially supports the 1020 and 1520.

Did the 1020 freeze issue solve after Win 10 update? Also what about the phone volume on a call? My Lumia 1020 is unusable after the 8.1 update which brought down my phone's call volume completely. I can't even hear the other caller's voice.

My freezing issue was resolved with a hard reset via settings/about when I had 8.1. I have never had any problems with the volume during the call and with Windows 10, I still don't have any of the issues you described. I recommend either reinstalling 8.1 via the Lumia Software Recovery Tool or the Windows Phone Software Recovery Tool OR simply doing a factory reset in Settings/About/scroll down and click reset. That should fix any software issues that you may be having.

Have a 1520.3 (White), disabled Preview for Developers and it found the update. Downloading now. Will report back once (If?) finished.

Had to disable preview for developers as well to get it to show up.

Likewise. Disabled preview.

Worked like a charm! Going to train Cortana for Hey Cortana.

Thanks for the tip... same here , Had to disable preview for developers as well to get it to show up

My White 1520.3 would freeze up on me often I sure hope this update fixes that. So far its running smoothly after Denim. Lots of things to play with.

Of topic - Lumia 830 India receiving denim.

And there I thought the 830 was already preinstalled with Denim.

not wet but probably comming some time today

Use some lube and you will definitely come today!

Nice Daniel..!! For the top two. Delete this after reading too. No problems..!!

Hopefully that means the Lumia 735 RM-1039 will get the full demin soon....

You know, the 1520.3 was supposed to be this amazing device that wasn't tied to any carrier. Coming from a Nexus device, I figured it would be in the front of the line for updates, yet we keep getting beat by US Carriers. AT&T beat us with Cyan, and Verizon/AT&T/T-Mobile beat us with Denim. Is someone asleep at the wheel in Microsoft Mexico, or are they just having a hard time getting the update approved by the regulating bodies?

I still don't get why the devices that shipped with the half finished version of denim and the ones that could use the new Lumia camera and hey Cortana weren't first. These rules need to be done better. Or get 60% approved before announcing. Oh yeah, downloading...

Probable explanation: carrier locked devices are prioritized over CV versions.

Makes sense since they are large in numbers. How many people bought an unlocked Lumia 1520 at $500+?

i would agree that low numbers is a probable reason... Extra + Info shows the rom was built 2/9/2015... that is less than a month from compiling to release (which i assume would include testing in between)

Yep, that reasoning that would make sense and even owning a 1520.3 its not surprising.

Fair enough. IIRC the 1520 isn't even listed on Microsoft's Mexician site. It probably does have the lowest # of users out of any variant.

That makes some sense. The 'funny' part is that the 1520.3 at $500 comes WAY WAY WAY cheaper than a 1520 tied to any 2 year contract.

Anybody else have very long delays when switching screen orientation after installing Denim? Particularly in the camera app? Att 1520.

I had some weird shit. Missing music, apps not behaving...I hate to nuke it and redo.... Apps don't always come back from from the store.

Can't wait until my Hong Kong L1520 gets denim

Me too. Owning a L1520 RM-937 :(

It's waiting for me. Just have to get to a Wi-Fi connection. L1520.3 New England, USA.

Ok. Downloaded and installed. Is there something I need to do to get Hey Cortana to wake up?

It's the very last item on the very long list of system settings. ​

And, she's finicky. But, do notice how much faster she wakes up though...less whirring circle time.

I need lumia denim for Lumia 920 in SA :"(

Installing now...was scouring old WC posts to read the anouncement before installing. Didnt know I got it before WC anounced it :)

Where is Lumia 1320 India denim update, all other phones in India got denim update. Why only Lumia 1320. Microsoft cheated Lumia 1320 India customers. Microsoft given the promise that all Lumia phones in India will get denim update by end of February. Lumia 1320 India spared from update. Now iam feeling cheated by Microsoft in buying Lumia 1320.

This is not abour the 1320. Can you still make a call? It is working.

Sorry for asking such a stupid question, but how do I know I have 1520.3 or 1520.1 or what else is out there?

You would know. You would have paid full price for it from a website. 1520.3 is the Latin American version. Check your phone details it will tell you.

That is not the deciding factor lol. Just look at the model number then look it up online. RM-937, RM-938, RM-939, RM-940.

Found it under extra+info

Look under settings, then phone info, scroll down.

My Lumia 1520 RM-937 Hong Kong unlocked is running on Cricket Wireless ,why I can't get the update,help?

Its not released for that RM937 version yet.

Not sure when the website changed but it says the Hong Kong L1520 has denim. Might have just happened as my Hong Kong unlocked L1520 says no update..even with Developer Preview off. https://www.microsoft.com/en/mobile/support/software-update/wp8-software-update/wp8-availability-in-asia-pacific/

On Microsoft website said it is.

It has been updated since Sunday (in Sydney Australia and its now Tuesday here)so your not missing anything, it's just a mistake on Microsoft's side. We are all waiting to get the OTA update (for HK CV) still

I'm shocked that the factory unlocked models are literally last on the list. I'm sorta regretting getting the RM-937 now. Hoping to get the update myself this week. Kinda wanted these camera enhancements just in time for my trip to Mexico this weekend.

No update in Sweden yet and the Denim availability page still says Cyan.

Yay!! Downloading it tonight!

Finally! Now Installing on my 1520.3 T-Mobile USA! :)

Congratulations! I am in the process of updating my 1520.3 on T-Mobile. Is your internet sharing working?

Yes! Right now I am using Internet Sharing!

Yes, worked with cyan though...

Congratulations to 1520.3 owners! 4K video from the 1520 is amazing! Eats available memory like storage is unlimited though! https://www.youtube.com/watch?v=lvkoijA456Y&list=UUIVJaXRBpzFJD_SDDv-_wHQ You may need a 4K ready (UHS Micro SD card) to fully take advantage of the read/write speeds needed for stutter free 4K recording and play back. You can use a class 10 card or the internal memory to record 4K video but the quality may vary.

From the video it looks like the constant re-focusing is still an issue.

Yes. The camera definitely has a hard time focusing on white or light objects and also dark objects or at night. The snow really gave the auto focus a hard time. The hunt for auto focus doesn't happen as much when the camera has something to lock a focus on, for example, non snowy scenery. I wish it was better in all conditions though.

This is great news for 1520 owners, but what about the 920 in the US? I'm starting to get frustrated seeing the device being updated in pretty much every other contry it's offered in. AT&T has been really slow with approving this update. The carriers better not be a part of the Windows 10 update process.

Getting the update new on my 1520 38 on T-Mobile LA.

Now that I have Denim... That update 2 with Bluetooth keyboard support will finally give me the last thing I wanted for my 1520.3. I told my wife I would use this phone for 3 years before buying a new one... With these updates I think I'll make it.

Getting the update now in Canada

And Microsoft have forgotten the 920 in middle east.

Downloading update right now. Toronto Canada with a Latin American variant 1520.

So rm-938 is for att and tmobile.... What variant is for Verizon...? I've had a Lumia 928 for almost two years and I cannot find an unlocked Lumia that works with Verizon.....

Verizon does not allow the use of unlocked phones. It has to be Verizon.

Congratulations to our Qi-bearing brethren!

Woohoo!!! About time. Installing (I had to disable Preview as mentioned here and other places). My unicorn about to become unicorner. :D :P

FINALLY !!! But I still need to download the ROM files and do a clean installation, and they are not available yet. Hopefully soon.

Where's my update for the Hong Kong variant☹

Still no CV 1520 denim in Belgium nor The Netherlands. This sucks bananas..

Denim is awesome. Just finished Downloading on my RM-938. Like a new car again. Love it!!!

Finally!!!! I was searching the forums just this morning to see if anyone had news on the update to the 1520.3. Next update I'm waiting for is the technical preview

great! right when my 1520.3 is down with a damaged display, denim comes! now i must wait until the new screen comes. at least when i fix it ill have new software!1

And yet Microsoft clearly said before the end of February. "So much to believe"

That was only for devices in India.

Dude. Today's February 30!!!

Got it over the weekend on my ATT 1520....love the new file folder feature, still reviewing the other great features.

Got the update Rich Capture and hey Cortana is awesome but they remove the option "direcional stereo" and "audio bass filter" for vídeo !! Hope that the bass filter is still enable !! They could add 720p/60fps and 1080p/60fps

This Hey Cortana feature is amazing!

ABOUT TIME haha been waiting for this thing forever... cant believe it has taken this long

Microsoft has forgotten about almighty Russia. We want some updates over here...

Congrats for the 1520's hopefully more are on the horizon. +920

Sad to hear that in Hongkong still not live while Microsoft website it is..well..here in the Philippines patiently waiting with Denim for RM-937 Country Variant.

Its not available for Brazil yet. RM 938 :/

Bah, vim com o paul na mão e fiquei frustrado. :/

It's March and I'm still awaiting Denim for RM-937 in Canada, I check everyday for the past few days, all I get informed is, I have the latest update :(

It's sitting on M/S Servers free for the talking Recovery tool is all you need and 15 minutes then you'll be good to go....

Recovery Tool is all you need ? Settings > Phone Update > Results [My phone is up to date] There is no notification informing me I can upgrade to Denim.

Loving the update woo hoo !

Great Monday...My 1520.3 Running on Tmo USA has a "New Attitude"!!!

Having screen issues after update Lumia 1520.2

Rapid flashing of the screen and it registering touch inputs on it's own. Even the soft keys. I decreased the touch sensitivity and restarted the phone, and the problem seems to be alleviated. I will update if something pops up.

I'm running RM 937 unlocked and still have not received Denim. Preview for Developers on our off does not make a difference.

Where is Hong Kong 1520 update, it is definitely last and still dragging. It does not look promising for windows 10 to come early at this rate

U can say that again. Definitely it doesn't look so. It has been 5months now since they said it will come to high end phones first. It seems will be last to get.

Still got fake Denim on my 830. Thanks ATT :(

By the time Rogers gets the Denim update, Windows 10 for Phone will be released, arghhh !

Still waiting for my 1520.3 rm-938 cv br.... :|

Never got the update notifications on my 1520.3, no problem. I'd thought i'd just fire up the the Lumia software Recovery Tool and download it from there. This actually worked like a charm for my 925. However, the new updates are not showing once I connect my phone...strange. If people are receiving the update, I know I should se it through the Lumia Software Tool.

This is a very underwhelming update. I did not get even noticibly faster photo shots with this update which is the main reason I waited for it. And I did upate the Nokia camera app. Still same old long time between shots. 4K video is nice but I'm not big on video. ​Hey Cortana is really hit and miss. about 1/4 the time it doesn't respond. This really kinda sucks.

Agreed, plus it lags big time. I hate that, it looks to run so much better on other videos.

I had troubles with Lumia Camera 5.0 after the update on my AT&T L1520. Did full reset of the phone and still had the same issues. Reformatted my SD card and that's what fixed the Camera issues. It would hang on saving pics and videos before. My phone hasn't missed a beat since.

Great!!! Still no update here in the philippines.....
+1520

Yes. Owning a L1520 RM-937 :-\

@Pappa Ed Go to settings, scroll to the bottom. Hey Cortana is there.

I couldn't get the update on my 1520 in Singapore country Variant so I disabled from the app preview for developers and I got it straight away! Finally!

Denver Colorado. Not yet.

Da..n My 1520.1 HK CV still on Lumia Cyan...

Mine too is on Hong Kong version 1520 CV is still saying Cyan. Am in UK and it has the update already. Why is Microsoft doing this? Am tired of waiting. Anyone knows how to flash firmware?

Got the Lumia Denim on my RM-937 (Singapore) WITHOUT TURNING OFF Preview For Developers. Anyone knew the extra features worth noting for Lumia Denim aside from the 4K video?

I just disabled the PfD and got the Denim update. Let's see how it affects the current way my phone works. The rollout has been running smoothly IMO and it shows that if you are patient enough, you will get the updates in due time...

I love the update on my 1520.3. Besides the new features and the 'instant ready' camera, I'm absolutely delighted that they fixed the problem where trying to scroll would be taken as a tap. Eight hours of extensive use now, and I haven't experienced the misbehavior once. (I know about hardware and software, and I was very skeptical about the claim that what I was seeing was digitizer hardware misalignment, especially since my unit exhibited the behavior out of the box, and I never put my phone in a back pocket or otherwise flex it.) I love Nokia's products and their quality, but this should never have been released like this. Thank you, Microsoft, for fixing this and making the 1520 truly the best phone ever.

I think I got a worst phone 630 as it still dint got denim

Please disable preview for developers only then it will show that there is a update(if you check)..i had the same problem with my Lumia 1020

Sweet! It's downloading now on my 1520.3 in US! Been waiting a while for this.

It's me or the capacitive buttons are brighter after the update?

I was just wondering the same thing. Too bright now in the dark.

Eh pano naman dito sa pinas?

using RM 937 HK lumia 1520 in india , No denim update :( one more thing , while installing Lumia software recovery tool its showing this error 0x8009107 please help me customer care people have no answer please help

Use the new Windows Recovery Tool..I did and worked perfect,,,Good luck

showing error when try to install the WRT and LRT , i tried , with tow users in my same pc

http://wmpoweruser.com/download-the-new-windows-phone-recovery-tool-from-microsoft/

0x80091007 error while instaling , setup failed what to do?

Here is the fix,,,,,,,https://www.youtube.com/watch?v=2hmTOJP3H74

I really don't know what there waiting for.

Seems brighter. ;) Probably my imagination, but the hardware nav buttons seem to be brighter using Denim. I just don't remember them being so annoyingly bright at night.

In India I received the denim update for my nokia Lumia 1520. The camera app is faster now. However I couldn't find a way to enable Hey Cortana feature. Also I checked it doesn't work by default. Pl advise. And yes it looks brighter for me too.

No, Hey Cortana is not on by default (and couldn't be), because you must train her first to recognize your voice. Go to the very last entry in the settings list to train and to enable her.

how about Lumia 920 in the france .. still no denim update ... ​can't wait ...

I didn't understand...
I am from Brazil and I have this L1520 version, to be able to get this update now I should enable the developer preview on my phone? If I did it before, wouldn't I have it?
I didn't enable the preview because I am afraid to lose the warrant of my phone, but if I want the Denim update I will need to enable it?

No, you must NOT have preview for developers to get this update for the 1520.3.

My phone is finally updated! \o/\o/\o/\o/\o/

Has anyone noticed that the Space Bar key is smaller than before on the 1520? I may be going crazy but I am hitting the colon punctuation key instead, noticibly more. By all means not complaining but just wondring if people have noticed this?

Can someone explain how to turn off the DP , I am getting the. 8018830f error. I have never done any DP that I remember. People keep talking about turning off DP. How is this done please help

I saw it this morning. I'll wait till I get home to install it. I suspected it was denim, but I wasn't sure until now.

Got it in my lumia 530...better than cyan

My wife finally got the update for her international unlock 925 on T-Mobile today..

I have RM-937 CV 1520 and I haven't got it yet. What's going on Microsoft?

Can someone give me a link for flashing my Lumia 1520 CV Hong Kong? I want to use UK firmware

I have L1520 CV HK and after i turned off the PfD my extras+info says i got the denim but i can't use any of the denim camera features or App and i didnt saw any installing being done :(

Denmark - Europe. 9. March 2015
Just got the Denim update for my 1520. My son had his update for 930 late January.

Are you telling me even now I can't still get the update in my 1520 CV Hong Kong version? This is crazy. I think will be the last to get. This is messed up