This is what is new in the Lumia Denim update for the AT&T Lumia 1520
By Daniel Rubino last updated
Although app and OS updates are great, what is even better is when companies post the entire changelog of what exactly is new. Luckily for us, AT&T agrees with this idea.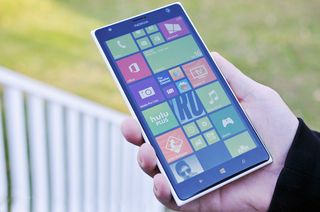 Earlier today, AT&T released the Lumia Denim software update for their Lumia 1520 and now the company has posted a very detailed listing of what has changed.
Most of the features in the update are already known, but things like the 578MB file size or Femtocell closed subscriber group (CSG) access being enabled are certainly unique.
The biggest features of today's update (especially if you were already on build 14219 from the Preview for Developers release) is Lumia Camera 5.0 and ' Hey, Cortana', which lets you wake up Cortana just by using your voice.
The Lumia Camera changes are massive, including the following:
Camera Speed: improved Lumia Camera app provides faster camera start-up and capture speeds. Move from pocket to image capture in 1.5 seconds. User can take numerous photos with milliseconds of delay between shots.
Moment Capture: new feature is activated by a long press of the camera button within the app, which automatically starts high-definition video recording at 24 frames per second. Each frame is a high-quality 8.3MP image, allowing each single video frame to be selected and saved as a still picture.
Rich Capture: simplify picture taking with auto HDR and Dynamic Flash. Allows user to shoot first and edit later, without worrying about adjusting camera settings.
Improved Low Light Image Capture: improved low-light imaging algorithms.
Having used Lumia Camera 5.0 on the Lumia 830 and Lumia 930 (Icon), I can definitively say that it is like using a whole new device. The camera is magnitudes faster, and Rich Capture (the magic wand tool) with HDR and Dynamic Flash are outstanding additions.
Tip: Make sure you are using the 'Lumia Camera' app. You could uninstall 'Lumia Camera Classic' and ignore the Microsoft Camera app.
Check out the video above to see Lumia Camera 5.0 in action on the Lumia Icon to see how it all works.
As to the nitty-gritty of the update, you can follow the source link below or take a gander of the above image, which has all of the details.
If you need more help you dive into our Lumia 1520 forums to see what others are saying.
For those using the Lumia Denim update on the AT&T Lumia 1520, what are your thoughts so far? Was it worth the wait?
Source: AT&T (opens in new tab); Thanks, Aakarsh S., for the tip!
Daniel Rubino is the Executive Editor of Windows Central, head reviewer, podcast co-host, and analyst. He has been covering Microsoft here since 2007, back when this site was called WMExperts (and later Windows Phone Central). His interests include Windows, Microsoft Surface, laptops, next-gen computing, and arguing with people on the internet.
I don't live in USA , but I'm glad for AT&T 1520 users ;)

The right question is will it finally fix the phantom touch issues. If not, I am ready to trade in my 1520.3

10 months with a 1520 that doesn't phantom touch!! .....Anyway the update fixed all the problems that the last preview for developers threw at me and my phone clearly responds faster to touches it feels quicker than ever before

I really hope you're correct. I'm installing tonight and I did have some touchscreen issues. That is the ONLY issue I can say I've had and I've had my phone over a year. So I def can't wait to start this.

This phantom touch is speculated to be a hardware issue, not a software issue, its most likely caused by the phone flexing and putting the digitizer out of sync, it can be remedied by putting pressure on certain points, search the forums, theres a post that goes into details on it. Im almost certain its hardware, I baby my phone, and it has no phantom touch issues, where as I have a friend who has the exact same model (bought it at the same time, from the same place as me) and they have it, they are considerably less cautious with theirs. 1520 is a big phone, its hard to keep something that big and thin well supported, even apple has issues with this, if you have a 5.5+ inch phone, just be more careful which pocket you put them in and what you do with them in there, and make sure you put them in a decent case to increase sturdiness and you'll probably avoid the phantom issue all together (and no I don't mean a heavy duty case, im using a simple melody case along with a tempered glass screen protector and its been enough to support it.

You know what, now that you mention it, I do remember reading about that a while ago. I'll search for the forum and take care of it. Only happens rarely with mine but still annoying when it does.

Mine had been considerably worse the last month or two and then this week the bottom of the phone popped out of the chassis, the back star search buttons area and USB port lifted up about 2 mm. I'd been having rapid back button presses at random in addition to increased phantom touches elsewhere on the screen (plus now on back button). Top left of phone from rounded corner to the o in Nokia would make it go back instead of pulling action center. Pressed it back into the phone until it clicked/popped, this phone has never been taken apart either. Now everything is back to normal with no phantom touches. Top left of the phone doesn't seem to be set the same way as the other 3 corners but if I try to make it click down I get back button presses as I exert minimal pressure in the area. So since its covered by the rubber bezel I'm going to leave it alone.

Ya that's the first thing i noticed tonight after updating. The phone is much more responsive and I only have 2GB of free phone storage where before it was slugish and would sometimes hiccup on changing screens now it's real smooth. So glad I was finally able to get Denim on both my 1520's! Love the Lumia Camera app and Hey Cortana apps!

Have never had that problem. I'm pretty confident it's a user issue.

I had phantom touches on my 1520 too, but those disappeared when I took everyone's advice on sticking it in my pocket screen out instead of screen towards the leg. At the same time I got a case for it as well, so it could've been the combo, but I haven't experienced phantom touches since. Also, Make sure Settings > touch > touch Sensitivity is set to normal.

last "Glance update" fixed that for me on my 1520.2 AT&T phn. It was driving me crazy, but i have not seen that happen ever since. have you seen a Glance Update past few months ago? If not check into that. it fixed mine very well.

Why, thank you..... We're very pleased with the support... Probably the 20th update I've had since I got my 1520... Best phone I've ever had, and it's gonna be hard to top.

I'm thinking of buying one

It's awesome. I watch a lot of video, so the size and aspect ratio are great, along with customization of color and brightness with the cyan update. Now with denim, it is fast, very fast. Seems as if the PFD program was a beta, no joke.

Seriously, it is literally the best WP device money can buy,,, but that's probably gonna change in less than 6 months.....
.......
I'd wait.... Easy for me to say, though,, because I'm 1520 man❗❗❗

wow, we finaly have something that we both agree on:) I LOVE my 1520, specialy with Denim update i got yesterday, but i will wait few months to ge the new version too.

What do you want in the next 1520❓ You'd think I'm crazy if I showed you my list.

i would like to see your list very much so. here is my next generation 1520 wish list: 1. 6.5 inch QHD true 4K Super AMOLED+ 600PPI extremely bright, high contrast screen (like Samsung Note Edge or other models) 2. Solar Charging screen(similar to high end watches made by Citizen, Seiko, Tag.....) 3. Gorilla Glass 3(bendable, and unbreakable glass digitizer) 4. Titanium Ceramic Coated, indestructible body. (screw aluminum, which dings and gets sratches so easily and BENDS like iJUNK6 and 6+ toys. Titanium is 1000x is stronger and even lighter, with added Ceramic Coating, NOTHING can hurt this device, same process Oppo R5 does to their aluminium frame that take 20 days to finish, except this would be with Titanium). 5. Color LED Microsoft Windows Logo on the back of the phone (so people can see it from distance, its Windows phone) 6. No connection needed, built-in "Translator App", to use anywhere in the world. (similar to Samsung) 7. Temp, Humidity, weather sensor(like Samsung) 8. Microsoft 3D invention used on this phn 9. 4GB RAM 10. 64Bit CPU (Next Gen Qualcomm 64bit CPU) 11. 30+Pix camera with 10x digital zoom, with laser focus 12. WATERPROOF(like Sony) 13. Front Stereo Speakers (like HTC) 14. NEW high tech Stylus(like old Windows phns use to have in early 2000's, stylus should be part of all windows devices, weather you use it or not, since it was part of all windows phns years ago) 15. Eye super security scanner sensor(forget about CrApple's fingerprinting scanner that was hacked in less then 3 days when iJUNK5s was released, which CrApple copied from 2011 Motorola Atrix 4G, which had fingerprinting scanner years before iJUNK5S came out) 16. Wireless NFC Charging(similar to Lumia 830) 17. 256GB~500GB capabilities MicroSD slot (currently you can only install 128GB Max) 18. Small 1080P notification Screen on the "BACK" of the device (maybe 1x3.5 inch screen or so) 19. New USB port 20. Removable battery 21. scroll touch hardware on the BACK of the phone(like Oppo N3) 22. Remote Control(like Oppo N3)(i LOVE this featuer used on Oppo, its really cool and comes very handy, which no one else has yet) I have even more ideas, but these are what i really like to have on next gen 1520's. Hologram projection would be nice too:-) Let me know, what you think, and let me know, what you have in mind.

All that❗ Exactly.. Seriously..
Especially the Photovoltaic screen..
......
I want to see some new things that's never been done before.... It's a Windows smartphone, so we need some more PC like hardware...
Dual USB ports
Dual SD card slots
Surround speakers
Wireless mouse support
Wireless Keyboard support
...........
There's no way MS should allow an Android device to function more like a PC than a Windows device...... Hopefully at build they have something very impressive to unveil.

great mind think alike:-) I'll be watching the MWC event live from MS or from WC. I can not wait to see what they will announce too. I know, no flagship will be announced, till later this year. I hate waiting, but............they say good things comes to those who wait. I sure hope so. I'm pretty happy with Denim update i just got on my 1520, so waiting its no problem for now. I 100% agree on Android thing. Specially what Google just did with "SoftCard" deal to windows phns. That was bunch of crap if you ask me. If i was MS, i would be pissed. There has to be a way, MS could overcome Android, and kick them to the curb. Google is becoming just as evil as CrApple now. BTW, did you hear the GREAT news? Ericsson is suing CrApple on several patents, since CrApple agreement ended, and they are refusing to pay Ericsson for those patents they are using in many of their devices they sell(i know LTE is Ericsson's deal along with several others, overall all, Ericsson holds over 35,000 patents in mobile platform stuff, and just about every brands pays Ericsson for their patents). I hope to God, Ericsson kick CrApple's ass, and win ALL their lawsuits(here in the U.S. and other countries), which one of the things Ericsson is asking the court here in U.S. is, for CrApple to stop selling just about every pord they own, here in U.S. including the MaCrap, since they all have Ericsson's patent in them. I'll do a dance of Joy in our street, if Ericsson wins. maybe even in nude.:-) well maybe not in Nude:-) I'm glad someone is standing up to this greedy, lying,...........comp that tries to bully others, copies just about everything, steal other ppl's ideas, and not pay their share/agreement to others...................... we'll see.

That's pretty crazy, but we'll see.......
.........
Something tells me that at build MS is going to unveil a new live tile interface for mobile... Probably those exploding tiles.... We need something big...

If you can hold out I'd wait. Literally the best phone I've ever had, but there's supposed to be another one on the horizon. That's just my opinion though, I'm the type that wants the best, and doesn't like to get tech when it's been out long enough for something better around the corner.

me too, but still hoping for a surprise soon a mclaren or1530 or something

So how about the UNLOCKED CV all around the world, why the hell has this not been released for them yet.

I wish windows central app updated properly for me. Push notifications rarely work. I just discovered the update now when I looked at the app manually. Excited to download. Finally att

Our notifications are standard Microsoft implemented ones, so the problem is likely on the phone/OS side and not anything in our app specifically. Best bet is to uninstall/reinstall and check that you do not have too many apps running in the background, etc.

Still a WC update will be appreciated :)

Started in India as well. Checkout this link http://www.windowscentral.com/lumia-denim-update-rolling-out-lumia-1520-and-930-india

It works fine for me Daniel

My live tile updates go wrong with WC app....... On large sized tile . Usually I will read almost all articles on app . But sometimes it will show 19+ Unread , even if I used and closed app at that instant

I had the same problem. Finally just turned off live tile and notifications.

The live tile works on this basis... (just replied you so that you read my reply to Abhishek. ;) )

It's not an app problem. If you open the app, and spontaneously (before it finishes refreshing itself.) open and read the article and close it, the app notification on the live tile wont go. But, if you open the app, and let it load it's data, (it vibrates when it loads... I have that setting on.) and then you do whatever you want, and then if you exit and see, the notifications will be gone.
I hope you understand what I am trying to say.

Fonts are still small on my screen, even though I enable large fonts. Like in Tapatalk, I like how I can change font size. Would you please consider this for articles? Thanks :)

When mine stops working it logs an error and resets most of my WCentral app settings but not all of them. So I go and turn the live tile back on and reset all my settings. Mostly seems to be if I lose signal or hit one or two of the spottiest access points in town or a filtered connection (also in att dead zone or bldgs with metal roofs and no carrier penetration)

I just replied Daniel. Yay.

I have the opposite problem, I usually get notifications twice.

I haven't had any kind of notifications issues with WCentral App, actually I've disabled that feature because there were many of them. Wish Twitter's notifications were that good...

Yeah, I noticed twitter is very unreliable. I've tried cyber crow beta... We'll see. I love this update.

So it works as expected, since it doesn't use push notifications.

T-mobile really! You know their pretty much pro apple now

they ALL are, as CrApple pays these top CEO's/Comps so much cash under the table to get them push their iJUNK more than anything else. An Evil way of practice. All manufactures needs to get together and fight this EVIL CrApple comp from this monopoly. We are with T-Mobile with our unlock 1520 and 1020 and two 520's, and i just got 1520 Denim update few mins ago. Not sure if that update came from ATT or T-Mobile, since ATT just released the denim update for 1520 today. I guess, as long as you have an Unlock phn, you will get an update no matter who you're with. We pay only $100 a month for 4 lines with T-Mobile, if ATT would offer the same thing i would switch ASAP. I do NOT support ANYONE supporting EVIL CrApple. As long as I'm alive, I will NEVER support this evil comp. Even if they give me a free iJUNK, i will smash it with a hammer and give it back to CrApple, or Sell it ASAP, and use the money to support MS. i HATE them with every cell in my body. I NEVER felt about any comp or anything, like i feel about CrApple, not even Google which i dislike very much.

Google has been far more anticompetitive over the last three years than apple. There's many things I dislike about the apple ecosystem but most are the way they're evangelized (false advertisement from the faithful and the reality distortion field) and the way people focus on that platform first even though Android is larger. My favorite is how they surround themselves with others in the same state as they get deeper in the ecosystem then are totally dumbfounded when meeting someone with just an iPhone or no apple products. I do have an iPod touch (same Gen as iphone 5) got it for a few apps to test and eventually I may want to port some apps to it.

lol this is probably the last update the 925 will get through T-mobile, was told by a rep there hes surprised the 925 even get this update as its been completely EOL'd

Rep's don't know shit. When the 925 was announced for T-Mobile, the reps had no idea, and didn't believe me when I told them they would be in the store soon.

99% of reps got their head so far CrApple Ass, they can't see anything but iJUNK and EVIL CrApple's Devilish logo. I'm surprised he or she even knew what Windows phns were, and not pointing at a Window on the store front.

Haha, well this one was actually a WP fan, so her head wasn't quite as far up apples ass :P

Really all I wanted was hey cortana lmao

It's awesome and opens up so fast. Even the push button starts up much faster. No resuming anywhere...so far. Xbm, wc, no resuming.

I want it on 928, but it won't happen (

You have no idea what I'm talking about, do you? See, the first comment said "all I wanted was Hey Cortana" < that's what I was referring to, to have Hey Cortana on 928

Dont like Lumia Camera. Microsoft Camera FTW

Lumia Camera is seriously improved in Denim. If you haven't tried it, you should.

Now this is news ... Why because it's America ....

Yeah, America gets a little down and now everyone else is getting too big for their britches.
Settle down there fellas.

Windows Central has been pretty diligent letting everyone know when any update is ready across the world. Don't get your panties in a bunch because they do it for USA too.

Relax, have a beer and a good broiled steak.

FYI, actually India, several European countries got Denim update before 1520 in U.S.. did. WC has been letting everyone know, what countries are getting what update on what phns.

Yeah it's a thinker... You're on an American site, talking about an American company (not just AT&T, MS too) ... Why would they report America-centric news?

Please compare icon with denim to iPhone 6 in photo and video! Camera speed test, picture quality comparison, video comparison+ using manual controls while recording! Please Daniel!!!

Um y Nokia has always beatn ijunk with picture and video quality

actually no comparison between the iJUNK and our AWESOME Lumia camera. The ONLY phn that comes close its Sony Xperia Z3 phn. that's it for now. Although Sony makes the camera for iJUNK phns, its NOT anywhere near their Xperia Z phns. Anyone that i show my photos on my 1520, says WOW. Now, that we can take 4K QHD video on our 1520, that changes everything even more, since the overrated, Hyped-Up,........iJUNK6/6+ does NOT have 4K recording, and about 3 years behind many brands. if you want real comparison, they should compare the Sony's Xperia Z3 with our Lumia 1520 Denim now. Now that's a comparison.

its short for phone. and, ppl is short for people. its much easier to tyoe phn than phone. or ppl than people.

Loving it so far! Interestingly enough, the camera app launches faster via the camera button when the phone is locked than from launching it via the camera button while on the start screen! Rich capture is very convenient! Can't wait to use it in normal situations (as I'm stuck in a cubicle for a bit more today).

i'm stuck at my desk too, fixing software issues remotely for some old people and regular pc users. i haven't updated yet. just 4 hours to go till i get home. I WANNA GO HOME!!!!

Yeah me too! Good thing I live around the corner. I went home and updated on my break. Lol!!! Now I'm back at the office bragging!!!

lucky you i live 17 miles away from my job and i'm getting off at 8pm so i'll be home by 9pm. so i'm still on the waitng train for denim.

You'll have it soon enough my friend!!! Im sitting here going back and forth with my iPhone colleagues. Showing how Cortana can wake up without me having to have it plugged up. Lol!!! They are not saying much now. Well I guess I should get back to work since I've done little since the update. Lol!

Sorry, but iSHEEP don't say much, every time you show them how much better Windows phns are, and/or what it can do that their, overrated, hyped-up, 3 years behind others,...........can NOT do(till they COPY it and fool them, they did it 1st or had it 1st, like the NFC technology and large screen phns, that they made fun of, in front of 10000s of ppl, in many occasions, and now, they pretend it was all their own ideas. They will NEVER say, NFC was invented by Nokia, Sony, and Philips and been used by Nokia for MANY MANY years, oh no, they will NEVER say that, and how much CrApple COPIES others like MS/Nokia/Sony........). LOVE my Denim update so far. i cant wait to take some 4K videos and play it back on my Dell XPS 4K Touch laptop. I have some work to do tomorrow:-) 4K recording with Surround Sound. Take that CrApple. I'm sorry iJUNK6/6+ does NOT have either Options/Features, and MANY more. hahahah LOL poor iSHEEP, waited inline for days, weeks, months and got SCREWED,.....LOL:-)

lol I'm stuck at my desk as well, but downloading the update via company wifi as I type this. 15 minutes, and 32 miles till I back up and install

Downloading. I wish they did something with camera speed the 1020. I think using the new version on my 1520 will make my 1020 feel like a dinosaur

No joke, I really wish they'd launch it for the 1020

AT&T actually did something right?!?!?! Lol

Still can't update unlocked HK version. Really don't get what the issue is. Oh well

Hope Lumia Denim is released soon for the Lumia 1520.3

Same here. Just had an update restart my phone and thought it was denim. It did fix a separate issue, however, so not too bad.

I truly dont understand the hold up on the 1520.3? it's not tied to a carrier. wth?

Yeah not sure, but as of now very few phones in Latin America (which is the region where the Lumia 1520.3 is tied to) have been updated to Denim.

interestingly Peru (of all places) has it on a carrier called Claro? Lumia 1520 Claro Denim 8.10.14219.341 02540.00019.14484.37002 but none of the other countries on Claro have it .. weird - I would have thought it would be available on Claro afor all countries .. and it looks like they have CV for most everything but the 1020 and 1520 ..

odly enough i see it listed for a carrier called claro in Peru (of all places) - but then not on Claro for any other country or even CV for Peru .. Lumia 1520 Claro Denim 8.10.14219.341 02540.00019.14484.37002 it seems like they have CV denim available for most things except 1020 and 1520

Paul Thurrott on Twitter said the flagships and in particular the 1520 don't sell so Microsoft doesn't care as much about them. Let that sink in.

Which camera app should I use? Lumia Camera, right ?

Did you read the article?

The low end Lumia just received Denim update along with 8.1 GDR1. Thank god for the equaliser option at the audio setting unlike the high end phone(they already have it)

What low end lumia and on which carrier? "The low end Lumia" is as if there was only one and we all know there are many low end Lumias. :)

I think he is talking about the Lumia 510

That messaging thing is cool. I didn't realize that you could do that.

Select multiple text messages and forward them as one single text.

Wow that's awesome. Now WhatsApp should use this API and provide us with copying multiple messages. About time.

Still waiting on Denim for my unlocked Lumia 1520.3! Can't wait!

When is the 5.0 Lumia cam coming to Lumia 1020, or is it at all?

I don't think it'll be coming any time soon. Cus Nokia/MS engineering had to build/tweak the Qualcomm chipset from the ground up for Lumia 1020. Sadly, anything the 1020 has now, is pretty much it can have ever.

If I remember correctly, the processor in the 1020 renders anything but bug fixes useless in Denim. The bug fixes are always worth the download though.

Yes sure it is. I was replying for 'Lumia camera 5 on 1020' though.

Waiting for it on AT&T Lumia 1020.

+1020. Im assuming it will be AT&T's next device to get Denim. Should be before end of Feb anyways...

Doubt it. Last day of February is Saturday.

Maybe we'll get lucky tommorow lol

It's truly a beautiful experience...

So true. I got the update from Verizon couple of weeks ago and it feels like a new device! I can bark about the camera without any doubt. Best ever! Love Windows Phone. Waiting a more stable windows 10 preview, but for now I'm very happy with my Icon.

Agree, like a new phone. So fast.

I hope my unlocked 1520 get the update soon I'm using T-Mobile USA.

i did today, and mine is unlocked 1520 through ATT, and we are with T-Mobile too. i Got it couple of hrs ago, and I'm very happy. Not sure if the update came from ATT or T-Mobile though. I think ATT, since its ATT Unlock phn, and ATT released the update today. so make sure you are connected through WiFi, and check Phn Update, in settings. Its awesome Love Denim so far.

My phone is a unlock international version -38 so no update yet I hope buy week end's.

Lumia 830 unlocked Sweden, Denim where are you???????????

what? 830 comes with Denim OS already out of the box. 830 is way ahead of other Lumias. So not sure what you are talking about. Check Extran+Info in settings and see what you have. it should say Denim already.

Still feels slow...lumia camera.. Question for most, do you have living moments on? Do you dual capture the picture in high res and 5 mp? I hate seeing processing on the corner of the screen when I take a picture...

Living moments on, dual capture on and not having any problems. Right after the update was a little glitchy, did a soft reset and now it's great.

Always good to soft reset after updates, good point.

Just a question how long does your "processing" take after the picture or the image refresh..as after you take a picture and touch to review it

About 5-10 seconds if I use the rich capture feature. 4k takes a while though.

Fyi if you are in Canada on Telus with an ATT branded unlocked 1520 you are getting this update as well. At least I am. Not sure if its just because its a branded phone or because Telus just uses ATT OTA.

It's an AT&T phone, so it gets AT&T firmware. Since Canada does not have the 1520 officially, there is no reason for them to have separate firmware for it. Telus still has their own OTA channel.

Finally!! Just updated :)

How do you get Cortana to wake up by saying hey Cortana?

Bottom of settings list. It's disabled by default.

My Hey, Cortana feature does not work. I have "trained" her and have the feature on. Anyone else having this trouble?

Hmm. Soft reset? Hold volume up + down + screen power button.

Oh maybe you spoke differently when u trained her.

Working fine for me! AT&T Lumia 1520...

Hope its released for the Rogers 830 soon!

How do you Americans pronounce at&t?

We pronounce it pretty much the same way you've written it. Each letter one by one.


And do you wonder what those letters stand for?

I use them for their stellar telegraph devices and support, personally.

American Telephone and Telegraph

Yup. You say the names of the letters, and the & is a replacement for the word "and" So you say A - T - and - T (its an abbreviation for American Telephone and Telegraph which no one says anymore and no one has said for at least 50 years and these days it was part of Southwestern Bell also known as SBC).

I like. I like. I'll get to test some things out on this after work. Good to be on Denim though.

The update is great.. I have to say after messing with it a bit however, I'm still fairly underwhelmed with the 1520's low light performance in comparison with the 1020 and 920, even with the improved algorithms. I don't want to be too nitpicky however. I'm super happy with the improvements, just an observation.

Dan, the bullets list Internet Explorer 11. We're up on IE 11 now?

Type in the address bar: about:version And IE11 is normal.

I'm seriously disappointed AT&T didn't enable HD Voice and VoLTE support. Every Qualcomm LTE chipset is VoLTE capable, and the 1520 obviously has the microphones and noise cancellation processing AT&T requires to enable it.

I agree. This is strange. I'm in an HD voice market and have it on my Note 4 and M8 (Android). After the huge Denim update its still not on the 1520. Ok. That and Qualcomm quick charge drivers are still missing. One day.

I think I'm still shaking my can for the ATT Lumia 830... I'm really perturbed about the whole update process here. "You have Denim! But not the right denim to use the new camera! Sucks for you, on the supposed newest device!" Grats to the 1520 people though, been waiting as long, I know. Enjoy!

Agreed dude. This is garb! They are really dropping the ball and seem like there really confused lately. This is not helping me promote this ecosystem at all!

To be honest this is growing harder and harder evcery day. Many over-believers will sing the praises of the OS till the end, I'll sing the praises from varied perspectivesl; that means I'll sing the aweful facts too (which makes conversation with some hard, as they expect a fanboy). But I'm running out of plusses to argue on and sell these days, haha. I've pushed feeeddback, I've started conversations. But we shall see going forward. Larger API changes? More optional personalization? Bringing in more useful differentiation and design? Sure, bring on the devs. But for now, we'll see what's what...

Lotsa bloatware. But camera and Cortana awesome

Yeah, I had several AT&T apps decide to install themselves. I have not seen that previously.

It made me want to go home earlier to update my 1520!!!

S still waiting for 1520.1 for Africa

Hey Cortana? As a BT headset user, I see no difference in Cortana. What am I missing?

Settings > Hey Cortana > Enable/Train Now you can call up Cortana when the phone's display is off.

I can't figure out how to use OK Cortana.

Hey Cortana is at the bottom of the Settings list. It's disabled by default.

OT:
Device hub update is now online fixes the battery saver navigation key light issue when turned on :)

Kinda hard to ignore Microsoft camera, it's still faster.

Thanks for the timely update. Now the camera is super fast.

Got my update..... It's very gud

Anyone have news on the 1520.3 Italy variant I'm using on ATT?

It's not an Italy variant... it's a lowercase L not an uppercase I. Latin America. But no, no news.

Nothing for me on 1520.3. Am I missing something? Anyone actually get it with this phone?

This is an AT&T firmware push. Doesn't apply to the .3.

1520.3 Is independent from AT&T (or any carrier). We will get it when they relese it for each specific CV (country variant). So far none.

Be prepared to drop cash on a new microsd card for 4k video. I just ordered the Sandisk Ultra Pro.

Although I wont use it much, glad I went with a 64GB when I bought the device.

Daniel do you have any history on this update? When did Microsoft provide the code to AT&T? Is there any indication AT&T added any of their own code or made any changes to what Microsoft provided or did they just sit on it until it was released by every other provider around the world so they could claim to be the last provider!

Definitely worth the wait. Lumia Camera 5 is amazing and Hey Cortana is positively awesome and works better than on my Windows 10 tablet and laptop.

As a MicroCell user, can you provide any information on this 'femtocell CSG feature' change? The MicroCell has always operated only in closed subscriber group mode in the years I've used one, so I don't understand how / what this feature would change, or why it'd be a feature on the device and not the MicroCell itself, for that matter.

Am I missing something. I have the 1520.3 variant and don't have the Denim update yet, but i have all the features listed minus Hey Cortana and the Lumia Camera 5.0. Were some of these features available from the developer preview?

I'm liking it, faster for sure.

Is anybody having any issues with Hey Cortana? Mine is in and out. It'll work for a while, excellently, then up and stop. Also, it says "disabled" under settings, even though it is working. (doesn't say enabled when its not working, btw)

Tried a disconnect reset (vol down + power until vibrate). Are you talking about a factory reset????

I also tried changing the region to Canada and Back to US and it still says disabled. Again, it works, just says disabled. And has intermittent periods of non-functionality.

you have battery saver on

Battery saver was off. Went through @LumiaHelp and, eventually, had to do a factory reset. I actually loaded Cyan through LSRT, then let the phone do the update, again. All is well, now, while I spend the next few days reconfiguring. Worth it, though. The camera is awesome! Hey Cortana fun to play with and she's already done a reminder for me! Lol

Dont see much diff in this from the dev version of 8.1 that I am already running (cyan). Will have to play more at work tonight.

FK, the only real difference for us with pfd is the upgraded camera (pretty major) and Hey Cortana (after enabling at the end of settings). I'm stoked about the camera, Personally. Make sure you are using Lumia Camera and not Classic or Microsoft Camera

Looks like there's a huge snowball fight going on in hell right now. Nice to finally get the update.

Lumia 1520 Denim: When in Philippines?

What country,other than Latin America in general is the 1520.3 supposed to be?

I'm downloading update for 1520 it got to 85% and rolled back to 71% since been there any help

You still have a better camera, so don't sweat it.

yay :D got denim for my Lumia 630 DS updating......

When for Cuba? lol. Guys ask like wpcentral would know when for their county. Really?

Lumia camera is laggy and having problems. anyone else???

you mean after "Denim" update on your Lumia 1520????? if it is, then something went wrong. cuz, with Denim updat on your Lumia 1520, its working REALY FAST. Way faster than ever before. Just watch the Video above. Do you see how fast his 1520 Camera starts?

Why are you getting down votes for that question?

Well.
Waiting for Lumia Denim was such a draaaag but now that I have it, it feels like a proper WP high-end device
I have a friend with a Xperia Z2 and the guys was bragging big time about the superb pictures that the Xperia can shoot. Now that I have Denim and that he saw what my Nokia can do... he´s offering the Sony device for sale and finding a way to get a 1520.

Finally, my AT&T, 1520 is on Denim update! Very impressive .

Finally,finally,finally!! Took you looooong enough AT&T!! Hate to have the best device and having to wait until last to get any updates! Ok,now that I got that out! First the 6tag update,now Denim! Too bad I'll have to wait a bit longer for the 6tag update,but I'll be updating the software of Denim tonight!

The bigger Q when will the 830 get the update, Daniel any indication?

I can't wait to get this update. I'm in my second week with my 1520.32GB white. I just have to replace the 8GB SDcard I got with it to one of them 128GB SDcards. This phone is awesome. I blame myself for not getting one earlier and stop waiting on Rogers and Microsoft to bring this gem to Canada. It took me a day to get use to the new size coming from my 920. My 920 feels like a chicklet now. It works great on Rogers LTE, Battery life is nuts. Toronto - Canada. Latin American variant RM-938-ITA-ITA-905 000-22

Glad for you guys !! Still waiting for HK Variant though..

About freakin time! Installing now.

Is anyone having problem on glance screen after update? I have 1520 and denim update. I restarted my phone which is required. After that my glance is not showing. I have checked if it is on and it is on. Help!!?!?!

Do the soft reset by pressing the volume key down with power button, it will fix.

I already have and I did it 4 time lol. It didn't work. The double tap doesn't do anything too even though the toggle is on

I faced same issue but it did work for mine, just recently my power button is not work for keylock function and it will auto switch off when I try to keylock my phone.
Anyway after soft reset and fixed.
Kinda disappointed facing these problems ON LUMIA FLAGSHIP BY MICROSOFT.

I wish there will be a solution for this. I wanted to uninstall and install the glance screen app. But I can't do it on this update unlike the 8.1 cyan where I can reinstall it by changing the year and use systemapppusher or something

How do you Enable Hey Cortana?

I settings menu. Scroll all the way down.

I thought ATT delivered 8.1 a month or two ago, to find out after getting my 1520 replacement 3-4 days ago, no. It was all dev preview!

You already had 8.1..... This is the denim update.

No, because my phone came with 8.0. I updated everything through dev preview. Nothing ATT.

Anyone having an install issue? I get "update downloaded but couldn't be opened. (8018830f)"

Went really smooth for me.

I figured it out. My Microsoft Band enabled Dev Preview but it didn't put the preview app on my phone. After I installed the app and enabled dev preview, it installed the updates.

Does this mean that this update is coming soon for the AT&T 830?

This is awesome! Haven't been able to test the camera yet, but Hey Contana is a life saver

Just found out, after the updated, project my screen not connected to TV any more, any other way around?

Loving it so far. I actually like the folders option a lot as well.

After switching from my Lumina 830 to the 1520 for the extra horse power, oh man did I miss denim's features. It really just wasn't the same without the folders!

I am having denim from 2 months

Action center improvement found: Like the Windows Phone 10 Builds we can remove individual notifications by swiping the individual line to the left. I am running the 1520 build on AT&T Denim Update.

My wife is making fun of me because I got all excited about the update. Can't wait to try out the new camera.

Noticed"Hey Cortana" works from Microsoft Band now.

I love the update so far. I hope Microsoft figures out a mobile payment system soon though with the loss of Softcard on the horizon.

Update complete. The screen no longer rotates in IE, Opera, Pokerist app and Photos. I have toggled screen rotation on/off and restarted a couple times with rotation on and then I tied off, no luck. Any ideas? ​ ​ ​

I can not zoom in or out in IE or Opera.

Now everything is fine. I don't know what the problem was and I don't know what fixed it. Now just going to wait for the next update and Win 10.

Be warned: if you uninstalled the AT&T crapware, it will reinstall it when you update to Denim. It readded about 5-7 apps that I had to go through and uninstall again.

Anyone else camera app very slow with rotating and has lots of lag?

I'm soooooooo happy today. Finally got Denim update on my 1520 running PFD OS. Camera is a rocket fast with 4K recording. Take that CrApple iJUNK6 or 6+ that does """""NOT"""" have 4K recording(and Surround Sound recording as well, since it does NOT have 4 microphones like 1520, 930, and iCon has). i LOVE hay Cortana too works GREAT. very good and nice updates, till Win10 comes out. I'm not sure why, some ppl just don't see how awesome Windows phns are, and how much they work better than the Overrated iJUNK crap, and many android phns out there. I'm extremely happy with my 1520, and i would only switch it with the updated version of the same exact phn later this year.

This was a total surprise to me, much loved too! I'm playing with it now and I am hopeful they also fixed the group messaging issue.

Were you having the messaging issue of being copied on your own texts???

Yes! After restarting the phone, group threads would get replies in a new thread that included my number too, extremely annoying. Did you too?

I was having the messaging issue. Haven't seen it since the update, but was intermittent, anyway, so we will see

Same here, it would be fine then when forced to restart the phone for whatever reason, the issue would return and wouldn't go away until a numerous set of restarts and playing with the group messaging and data settings. After updating to Denim, it seems like group messaging keeps working fine after restarting, so I'm hopeful it was addressed.

Froze the phone right after install... Slow boot after forced restart... Now seems to be ok... Loaded lots of AT&T bloatware though

Lucky you, having Denim on your 1520s. I am still waiting here in the Netherlands. 1.5 day left till the end of February.

How to activate hey Cortana in India on my Lumia 1520 ? Please help

Under settings there is a new setting call Hey Cortana.

But I don't see hey Cortana under the setting

Still waiting for ATT 1020 update.

Everything seems to be working fine except low light pictures. Tried snapping ten pictures in near dark settings, it was downright awful. All picture were black. Worst part when you watch the living image the scene is lit up until the end. What makes it worse is that I also have a 830 and it lights up any scene.

Great, I hope this is finally the signal that the denim update is put to into overdrive with regard to global updates of all 1520 devices. It's taken long enough by now.

No hey cortana in my lumia 1520 denim updated, in india

Never had the touch screen issue on my 11 month old 1520. Love the new features. Feels faster, haven't had the resuming screen yet. I love my Lumina, and every update makes it better, glad I gave up on iPhones, every update there brings you 1 step closer to getting a new phone. Can't wait for Windows 10. Stop buying into crApple's business model of having to get the latest phone when it comes out , people! Do yourself a solid and get a Windows phone!! You won't regret it.

Yes my lumia 1520 showing denim update thnks Microsoft

Lumia 1520,India updating

Anyone else having a problem going to landscape mode and then back to regular? Its laggy!! Ugh

Did anyone notice on the Video recoding we are missing option for 100 HZ and 200 HZ recording option and record from the front option. I see the option in Lumia Camera Classic not in Lumia Camera... http://www.windowscentral.com/sites/wpcentral.com/files/styles/large/public/field/image/2014/07/Lumia_930_dolby.jpg?itok=Im92rXOv

i also notice my navigation keys on my 1520 do not light up anymore when battery saver is on before they always came on with hte screen so that's also new

Having mic issues on my 1520 after install. Cortana hears me on headphones or Bluetooth but not through the mic So far I have:
Done soft and hard resets (with and without restoring data/settings)
Used the Lumia recovery tool to roll back developer preview updates and the mic worked until Denim was installed again
Anyone else with this issue? Resolution?


I am still waiting for the 1520.3 update, but i wonder if i am on th preview for dev. what new others feature than Lumia Camera 5.0 and Hey Cortana we will have ?? the Femtocell feature will be enable on the 1520.3 ??

Just took the plunge and loving my 1520 even more. Now the decision to uninstall app folder as the upgrade has it built in

I installed the update today and I don't know but hey Cortana game me alot of trouble to get setup on my 1520 but once its up its a real cool feature that your phone only recognizes your voice and not another

Heyy every device is getting update to denim n previews of windows 10 , then what about Lumia 1320 . When I can expect the update to Lumia 1320

Only semi-related: When is the 1520 (or successor) coming to other carriers? I'm stuck with Sprint for a little under a year and a half, but then I hope to go back to Verizon. I'm currently using an Android (Galaxy Note 3), but at this point Android, iPhone, and Windows Phone are all on the radar for my possible next (iPhone the least desired, but most likely, Windows Phone the most desired, but least likely) I'm seriously enamored with the 1520, and if I were going to go Windows, I'd want it to be that phone or the one that directly replaces it. But I don't know that I'm in love with the idea of going to AT&T. Related side question: Any word on a 1520 successor, or are they just going to stick with it for a while? Posted via the Windows Phone Central App for Android

Anyone else having problems with their screen freezing after the update? I'm on the 1520 and have been having terrible trouble with screens changing on their own, Cortana coming on on it's own. I want to throw my phone agains the wall! I can't use it properly! I've tried re-starting, soft reset, nada!

I had been having a strange issue with the phone resuming after the screen turned off, either a resuming... or a loading... message which I could clear only by cycling the screen power off and on. With Denim, I no longer have that issue, and my 1520 is also faster than new. The Camera app has not impressed me so far, but I haven't had a chance to use it much yet.
Windows Central Newsletter
Get the best of Windows Central in in your inbox, every day!
Thank you for signing up to Windows Central. You will receive a verification email shortly.
There was a problem. Please refresh the page and try again.