Unlocked Nokia Lumia 1520.3 available from Newegg for $494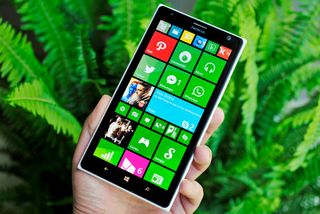 Looking to get the Lumia 1520? Then you might be interested in buying the unicorn 1520.3. This is the version of the device that has support for all LTE bands and works great with T-Mobile here in the United States. Newegg is selling the device right now for just $520. Toss in a special code and it goes down to $497.
Newegg Premier customers can grab the Lumia 1520.3 for just $519.99. Plus there's a promo code to get an extra $25 off. Essentially bringing this unique 1520 under $500! That's insane! Plus you get Qi wireless charging, which was dropped in the AT&T model.
You'll find black, white and yellow as your color options if you opt to purchase the device. Bonus: The Lumia 1520.3 just received Lumia Cyan.
Anything thinking of pulling the trigger? Dan?
Source: Newegg (opens in new tab)
Thanks for the tip Francisco!
Windows Central Newsletter
Get the best of Windows Central in your inbox, every day!
Same here. Hoping for a T-Mobile version with WiFi calling.

Don't resist, I paid much more and it is SO worth it. I ABSOLUTELY love my 1520.3..just go for it, you won't regret I promise :D

Waiting for McLaren...Oh Wait

I see what you did there. Still sore about that.

Why do you wait for rumored phones at all? You know phones will come either way.

Resisting the temptation right now. Waiting for the next highend phone.

you mean the even longer iPhone ?

is it available to order all the way from downunder?

Does this support 512MB RAM?

Hey its even better! There is a $25 off code for the next few da..... Never mind didn't read the whole article.

Even BHphoto has the same deal + 8Gig Microsd card. for 495

Now that McLaren has been cancelled I'll be watching this closely. I can't now since my account it still smarting from the Surface Pro 3.

Oh nice. Is the pro 3 good. I have pro 2. Is it worth rushing out to upgrade

Not if you have the pro 2. Unless you want the screen real estate you've got an excellent device. I actually have both here and honestly I'd be happy with either. Yes the pro 3 screen is superb but the device throttles so is consequently slightly slower than the pro 2 - in games and PhotoShop cc it's noticeable. Try one out and see. But in everyday use you're actually good with what u have!

I upgraded from SP2 to SP3 and am very happy I did. Nothing against SP2 (it is a fabulous PC) but the form-factor, screen and kickstand are a big improvement. BTW, I've not experienced the degraded performance mentioned by the other poster.

Let's just say, it replaced my laptop. :). I don't have an SP2 to compare to, but it blows the doors off my i7 Dell Latitude with NVIDIA (can't remember model number) from three years ago (was top of the line at the time).

At the end of the post, "Lumai 1520.3"
Come on Sam, bring out good old spell check ;)

Very tempting. I might buy since I have the AT&T version

Bought it when it first became available for a lot more money, and still very happy with that choice, highly suggested to anyone on the fence!

If it worked on Verizon I would be all over it. A guy said he has a 1520 working on Verizon but not willing to drop that kind of money without knowing for sure. I did call Nokia and they said it also has CDMA onboard but they weren't sure if it was same as Verizon.

I've never heard of this phone working on Verizon. Would be crazy if it did.

I'm not even sure how that'd work, all my carriers use son cards, so it's easy to swap, not sure what would be involved for use in VZW.

LTE uses SIM cards.i do believe the Lumia 1520.3 supports Verizon's frequencies, the only thing I don't know is how it would handle 4g or less

99% sure it won't work on Verizon, sadly, based on the info on Nokia.com and Wikipedia. No one's doing VoLTE in North America yet, and Verizon doesn't support HSPA, so you might get data working but you won't get voice or SMS working.

Waiting for Superman. Great documentary as well. ;)

Screen sensitivity bug still present for a lot of people even with cyan, just fyi.

You mean the one where it registers a click instead of a swipe? ... Also, did Cyan fix the issue with the brightness not being right when you unlock it?

I haven't noticed the brightness bug since updating, but I will keep an eye out.

The phone is scrolling and clicking by itself. That's my problem.

I bought my 1520 about a week before WP8.1 started rolling out to the public officially but I DPed my 1520 as soon as I received the phone. Since then, I have encountered once the dimming thing, but it was only for about 2 seconds so it's not a big deal for me. Also I have never encounetered that 'click for swipe' thing. The only thing I could really definitively say is that I was actually shocked at its size when I first opened the box, coming from both the 625 and 925. I gave the 625 away but I still have my 925 - but it now seems so tiny whenever I use the 925 LOL!

Wow, great price..... Super phone.

Now we down to actual retail prices Nokia announced last year.
Beast Phone.

Best Windows Phone period.

What is the difference between and 1520 and a 1520.3?

This has LTE band for AT&T and T-Mobile in the US. AT&T users get back 16GB of extra storage and Qi wireless (which was removed); T-Mobile users, well, they get a 1520 that works on their network.

Quote: T-Mobile users, well, they get a 1520 that works on their network. And that is worth every penny!

Except for WiFi calling......

AT&T LTE-capable and wireless charging? Oh boy, I'm about to buy the 1520.3. But then there are rumors that there will be a Lumia high-end at the end of the year (other than the Superman).

Is it heavier with Qi wireless charging? Noticeably?

I recently bought the 1520 and my cousin has a 1320. Comparing the two, my 1520 is heavier compared to the 1320 although I will not say that it's noticeable because no other WP comes close to the 1520 so I really don't notice the extra weight. And I don't know if the extra weight compared to the 1320 is the result of the 1520 having built-in wireless charging.

There is one additional important difference. The RM-938 (AKA the 1520.3) supports HSPA over AWS, which is important for T-Mobile customers as T-Mobile still has some markets with AWS over 3G only. That also makes it the only variant of the Lumia 1520 that works on the smaller carriers (Wind and Mobilicity) in Canada. That also makes it the best version of the phone for Canadians roaming in the U.S., as T-Mobile is the preferred roaming partner for a lot of Canadian carriers.

Too bad!! Now they wanna lower the price!! Hahahaha got mine for 430 unlocked and brand new in box 2 months ago!! Lol

I'd like to know where you bought this at for $430? My cousin is looking to buy one at a price like that.

On Amazon, the prices keep going up and down. The lowest I have seen the last week: $429.99 and $4.95 shipping. Still, be careful over there. I would only buy if it is "Fullfilled by Amazon" ...

I took one in on trade at my business for $700, rather than pay $450 for it, in a private transaction with a customer. The $700 trade in only costs me money as the customer uses it, brings in a new customer, and I'm only out my costs of good sold to service the $700. I'm thrilled! :D

Omg. Why didn't my new job start sooner!

Do not buy this device from NewEgg. Their return policy is deplorable and they don't honor their own RMA policy. Buy this device elsewhere because if you have any issue with it at all be prepared to deal with a $500 dollar brick. Nokia US wont accept the device because it's not for the US market and NewEgg will just tell you there is nothing wrong with your phone. Be very careful if you purchase this from NewEgg I know that I'll never give these guys another red cent.

Is this true? Can someone stamp it as verified comment???

Yes it's true I'm dealing with this right now and check the forums it has happened to a couple of other people who have tried to send in there device for repairs. You'll be fine if you don't have any issue but if there is a defect good luck.

I've been a Newegg customer for years and they are pretty much my go to shop for computer parts. Fortunately I've never had an issue with them or received any DOA parts. Shipping is usually free and no tax in Florida. However, I'm constantly reading bad reviews on their products about their RMA return policy and how people have to pay out of pocket to ship back DOA products.

Yes it's true. I bought a unlocked Rogers 920 to use on T-Mobile. It started having problems and Nokia wouldn't cover it. Since I lived in the US and it was a Canadian phone. Posted via Windows Phone Central App

Here in Brazil there is a law.
If the device is sold in the country, the manufacturer to comply the warranty, even if it is imported.

Who provides a good warranty for these?

I would probably do a square trade warranty. I know I will if I can get a new device from NewEgg.

Yeah, I've had good experiences with ST. Any issue with this being "not for the US" tho?

I don't know I'm still working with NewEgg to get a replacement device instead of the same broken phone. Either way I know I'll never deal with that company again. I never had problems with them before this but this one occasion is enough to sour me from the company forever.

Verizon is the worst carrier. They make WP users pay for basic visual voicemail but they give it to Android and iPhone users free. Also, the icon on Verizon comes with Verizon backup app which can't be removed.

So this would work with Verizon for LTE but not 3g?

$494 is pennies compared to the cost to tailor all of my pants to allow the brick to fit in a pocket.

If you need your pockets altered for this phone to fit in them, you're wearing girl pants you effing weirdo.

Maybe my pockets are bigger as I'm 6" tall, but this phone fits in my pockets beautifully.

I purchased it last night. Looking forward to its arrival tomorrow.

Does it work with Cricket LTE?

Yes it does because Cricket is essentially AT&T and the 1520.3 works on AT&T's network.

Just bought a white one and a yellow one, to be delivered tomorrow. Squeeeee!

Does it WORK ON SPRINT?? thanks in advance for replying!!

No. Posted via Windows Phone Central App

For data, theoretically yes. For voice and SMS, absolutely not unfortunately. Sprint and Verizon are about 5 years behind the rest of the world when it comes to 3G. And all voice and SMS is still done over 3G in North America.

The Yellow one says 16GB internal memory. Are you sure 32 GB available in Yellow. Please update the article with link to Yellow http://www.newegg.com/Product/Productcompare.aspx?Submit=ENE&N=100017203...

I believe that variant is only available in black.

Good catch. I just cancelled my order for white/yellow 16gb models. Sneaky.

I ordered from B&H Photo website, same 32GB in Yellow for $494 (also 8GB MicroSD card free) http://www.bhphotovideo.com/c/product/1036818-REG/nokia_a00016720_lumia_...

Cool, thx. I just ordered a white/yellow 32GB from B&H. Unfortunately, they've run out of the 8GB MicroSD freebie, but no biggie.

I did the same about 20 minutes ago. Hopefully they do not run out.

I'm pretty sure the website is wrong. There are many comments about it that it is 32GB.

My understanding is that the RM-938 (AKA the 1520.3) is only available in 32GB anyway! It's the AT&T variant (RM-940) that is available in both 16 and 32GB.

Does the price of $497 include tax?? Many phones in the UK seems most expensive in the world.

Canada and the US, prices advertised do not include sales tax. Also sales tax differs state to state/ province to province. For example here in BC, GST is 5% and PST is 7% so the total tax is 12%. Some provinces are more some are less

iPhone 5s and Note 3 costs 1250 dollars. Lumia 2520 and 1520 costs 1150 dollars.... Welcome to Brazil.

I saw this a couple of days ago. I resisted until today when I stopped by the Microsoft store and saw it again in person and talked to the very knowledgeable employee. I looked at the unlocked 1020 they had and then I looked at the 1520. I left the store and placed the order for my new 1520 before even leaving the mall.

Waiting for a 7", in the mould of Huawei Mediapad X1 running wp os. Long am I going to wait? Let the waiting begin.

Man I wish I had the money, I'd jump on this for sure!! I want a 1520 so bad!

Cyan? So you can get a Cyan 1520.3 with the Cyan update?

Got it last night. Posted via Windows Phone Central App

It's model name is the RM-938. Not sure about a code name.

II I have that model with cyan on it. Bought it in May. My ffc is broken and touch bug is better with cyan but still there. May be I should seek mine and buy a new one?!

Now they need to do that same deal with the 930...

your locky in US here in canada omegacell 725.00 $
expansys.ca 719.99 $

Been waiting on a price drop on this phone, bought!

Does this really work on AT&T? The new egg website says: "AT&T 2G/3G" under Compatible Carrier & Services section of the specs.

It will work under AT&T no problem. It's pentaband HSPA *and* pentaband LTE. :D It supports every frequency in use in North America over 2G, 3G, and LTE. It even supports LTE over the BRS frequency, an oddball band (2600MHz) that is used in Canada, but not yet in the U.S. This is the ultimate Windows Phone for T-Mobile, AT&T, and any Canadian carrier.

Tempting, but I already got burned, getting the surface pro 2 just before the SP3 was announced. I'll wait for a worthy 1020 successor... With a Micro SD slot. Hopefully there will be one.

Bought earlier today. I have been looking at used 1520 AT&T models for weeks to replace my broken 1020. Those average $350. I think the extra 16GB, Qi charging, and, of course, being brand new is worth the extra $150.

Just wanted to add that if you are planning on having this expedited to you, allow for up to 48 hours of order "processing". I ordered very early AM on 7/30 and my 1520.3 has not yet left the "packaging" stage. I paid for expedited shipping, but looks like it will not be arriving until next week.

Can someone who owns a 1520 tell me, is it feasible to go for runs with your 1520 or is it too bulky?? I do a lot of running so I was just curious

It's very thin and light. Best to put in a pocket though, depending on how much you sweat. I am paranoid it will slip out of my hand.

I'm not a serious runner, but I do jog to the store with it in my pocket with no problem.

What's up with the StarTrek stardate style numbering scheme? Here I'm thinking the numbering thing is going away and its got a decimals now.

1520.3 is a nickname (though it's actually kind of cool to think of it that way!). It's proper name is the RM-938. A better name than either is to refer to it as the Latin American version of the 1520.

Ahhh. Ok then. Still an awesome phone.

Ok I'll bite because my father has been bugging the heck out of me for my 920 since he has a 900. One black 1520 on order with 12 months no interest to boot. Free money!

Who did you order through?

Newegg using their store credit card.

FWIW: (1) You don't have to be a premier customer to get the price. I am not and it accepted the coupon. (2) The purchase requires an acknowledgement that the phone may have been unboxed for unlocking and may be scratched in the process. (3) The return policy says the phone must be in the sealed manufacturers box (see #2) (4) Newegg only warantees the phone for 30 days. Check but if you are in the US, I don't believe Nokia USA waranties them at all.

Why its calling 1520.3 not 1520?

This might have already been explained but what does the .3 stand for after lumia 1520

1520.1 is rm937 global version, 1520.2 is att rm940, 1520.3 is rm938. You can google Lumia RM-938 to find additional info.

I got mine for $499 from B&H. It was pre-owned but in excellent condition. Posted via Windows Phone Central App

No tethering on t-mobile... Falls just short of perfect

tethering works on tmobile when i upgraded to cyan/8.1. what issues do you have?

I totally want to buy a Unicorn...

Sorry I don't have uncle Phil(fresh prince of belair) hands to operate this phone...

Im seeing cheaper prices on Amazon. If you have any Bing Rewards points cash em in for $5 Amazon gift cards and bring the price down even more

I see the RM-937 (AT&T 16GB version) on Amazon. I do not see any RM-938/1520.3 Latin American versions. BIG DIFFERENCE.

Just ordered mines. I'll finally have a phablet. But like the folks above me said. Hope T-Mobile WiFi calling works.

Dumb question(s) but, I'm in the US on ATT and currently using my beloved 920. If I were to get this unlocked phone, how do I get it active on ATT? Is it just a matter of swapping the SIM? Would I get updates just as if I had gotten it from ATT? Really been wanting this phone but was holding out for QI charging.

1. Yes, you just swap the sim card. Although this uses a nano su you will need a new one or to cut the one from the 920 (they sell tools for this). 2. No, you won't get updates from AT&T. You would get updates whenever the Latin America CV update is released (cyan was released already for this phone).

1520 is a great phone depend on how are we going to use it, keep improve for everything from MS and Nokia pls till there is almost perfect for every single end user. Some of end users kept their promise to go through every tough stages that MS n Nokia face, but don't let end users disappointed eventually.

Do we still get the nokia update in PD version, I hope MS n nokia getting more mature on every functions.

At B & H Video it is listed for $494.95 with free shipping. I just ordered one http://www.bhphotovideo.com/c/product/1036818-REG/nokia_a00016720_lumia_...

Couldn't ever drop 500$ on a phone. You people are nuts.

Does the 1520.3 work on ATT?

Just placed my order from B&H for the 1520.3 since I didn't want to gamble getting the Yellow flavor with 16GB. The price was the same as well w/out coupon, but comes with 8GB MicroSD. Their warranty is the same as well. The 1520.3 should satisfy my tech buds until next year Q3/4 when a flagship device is released.

I want it so bad!!!! But I want to get the 1525!!!

it is a great deal but Nokia Lumia 1525 is coming this fall on AT&T, T-Mobile, and Verizon with updated and improved specs. I'll just wait for that.

Just got an email from NewEgg saying it was out of stock and they were refunding the money. Going to try B&H

So where is this code you speak of?

Hi, Does this device support 4G LTE on AT&T Network ? When i tried one of the device which was RM938 from Hongkong, i can only see the device working with HSPA+ on AT&T Network.,.... Appreciate if you can confirm 4G LTE support for AT&T

FYI - B&H now shows 1520.3 going for $489.95, and it appears the free/included Transcend 8MB microSDHC is back in stock. http://www.bhphotovideo.com/c/search?Ntt=1520.3&N=0&InitialSearch=yes&sts=ma&Top+Nav-Search= $5 isn't worth the effort, but if it drops further, does anyone know if B&H has a price guarantee?

I am happy to announce that the claims here are 100% true. My 1520.3 device showed up at my house in Chicagoland (T-Mobile LTE Country). After getting a nano SIM, changing the language to English and a series of updates, I'm proud to say not only am I running Windows 8.1 with Cyan, but through the Preview Developer I'm running Windows 8.1 GR1. Now I can stop complaining to T-Mobile when are they going to get a phablet in their line up.