Nokia Lumia 505 unboxing video surfaces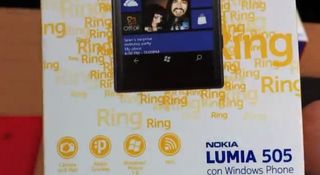 The Nokia Lumia 505 has been featured in an unboxing video on YouTube. Mexican mobile operator Telcel is the company behind the video and shows off what consumers can purchase for use on the network. The Windows Phone is exclusively targeted to Mexico and Telcel in particular. It's the sister to the Lumia 510, both are low-end hardware.
Nokia announced the Lumia 505 back in December and unveiled it would be launching in Mexico. The Windows Phone sports a 3.7" AMOLED screen, an 8MP rear camera (with no Carl Zeiss), the budget phone does not feature a front-facing camera for video calls. In addition, it has Bluetooth 2.1 and just 4GB of on-board storage, which may be a little tight for some. Rounding it out is a 1300 mAh batter and a weight of 131 grams.
While not the most advanced specifications for a smartphone, the device is running Windows Phone 7.8, but does come with only 256MB of RAM.
Source: YouTube; thanks, Andrey, for the heads up!
Rich Edmonds is Senior Editor of PC hardware at Windows Central, covering everything related to PC components and NAS. He's been involved in technology for more than a decade and knows a thing or two about the magic inside a PC chassis. You can follow him over on Twitter at @RichEdmonds.
Its so good looking!!! Its cool how much it looks like the Lumia 800.

Especially if the phone have a black back cover. Unfortunately, the other colours just give the phone's identity away. Would have been better if Nokia can colour the inner frame to match their back covers, but it still look good for a budget phone. ;)

the display is from lumia800 for sure

Really good looking phone.

Wer can u buy it and will it work wit a SIM card (att)

Yes in deed telcel and att work as same, GSM networks.

I would like to see android or iOS try to run that smooth with those specs.

Roland TR-505. We need a 909 that will set the world on fire

I don't understand Nokia with budget phones. Why 256ram when competing manufacturers use 512ram in their budget offerings weather it be Android or not. This is a good looking handset crippled by low ram,only 4 gig memory and for god sake how much does a cheap LED flash cost?? Silly Nokia

The Nokia with 256mb of ram will run better than a budget android with 512mb of ram.. The 256mb budget devices, there isn't a great deal they can't do. And when developing, our apps and games run almost as smooth on a 610 as they do on a 900 and 920

I really hate to burst your bubble on this, but the app thing is not true. That's why Skype and Angry Birds don't work on 256MB devices, and the 920 and WP8 devices are in a different league compared to WP7 devices anyway. My friends 920 blows my HD7 out of the water in non intensive apps such as the WPC app.
Also did this video really just show that it would have only 2.3GB remaining as storage? That's pathetic for even a budget smartphone, but especially one with no micro SD storage available...

You are obviously not a developer. I said "almost as good". Obviously the more intensive apps and games run a little slower but they run at an acceptable level on low end devices. Skype is the only exception and that's fine. But games like angry birds purely comes down to poor development. Microsoft give you what you need to determine the device, so if a game runs like crap on a low budget device, it just comes down to the developer not putting in the effort to adapt to the device. But in my instance, I haven't had to make a single change in anything I've developed.

You really need to look at the bigger picture. They can add more ram etc. But then its no longer a budget phone so what's the point?

The RAM is fine for a budget phone, bur lets be honest about this, this phone is going to get reviewed by the mainstream tech media, who are all going to say 'it lacks space for content'. I mean, what is 2.3GB? A few apps, games a video and a few albums its not much is it? Personally, I think that if the would have given it at least 8GB, then they could have beaten off the second hand WP7 handsets in terms of price too. Unless this phone costs a lot less than the 610 (and what's that going for? About $200?) then why even bother making it?

I used a HTC desire back in the day. Didn't even have enough internal memory to support an update to the OS. So I don't think the Nokia is that bad.. You get what you pay for

The problem is that its not 'back in the day' anymore. People are becoming expectant that they can carry around their music collection, but this phone doesn't seem able to. But yes, I agree that you get what you want to pay, but if this was me, I wouldn't want to pay more than about $130 for this phone.

My bad on that, I missed the 'almost' from that.

Well, it is what it is, a budget phone. Not to mention that there are even budget Android phones which don't come with LED flash either and people on these type of phones aren't that concerned with its exclusion or picture quality. To them, a quick picture to post on fb or share through MMS is enough.

As for the specs, as long as it runs smoothly, it's good for them. And the low memory is acceptable in that target market especially when they rarely use the phone for media purposes and only for the simple texting and calling, with a bit of internet browsing in between when connected with a Wi-fi network.

This would be a back up phone in case something happens to my 920 How much is this?

not sure if its going to be available around the world it might be exclusive to telco

price is not available yet, but in Mexico all electronics are expensive, for instance in US Dollars the iPhone in Telcel is around $1000 USD., galaxy s3 $950, Lumia900 $850.
the closest to this model is the Lumia610 $300 USD., the Lumia 505 will be $200 USD aprox.

That's not expensive, that's what those phone cost worldwide in retail (as in not branded and without contracts).

Agreed looks nice there best lo budget phone design yet. I would not mind that for a high end phone. I think the 505 looks better than the 820

Mmmm the model it's ok but those especs are just lame ..... at least they should have brought the 620 to be the first phone of the year not this one XD.

There's no WP8 in Mexico yet, the first I think will be the HTC 8S, too limited in specs to compete with the iPhone or galaxy S3 (already available in Mexico) if this is happening in every emergent country chances are low, why the competition is having their high end devices in emergent countries and not WP? I agrre with you, how many "new" phones with 7.8 with low specs will come? :(

Here you have an unboxing with sound made it by a CEO from a fanComunity in Mexico called Winphollowers.
http://www.facebook.com/groups/winphollowers/
http://www.youtube.com/watch?feature=player_embedded&v=fX1dm4H7BUc

Prices in Mexico: Price without contract: 280 dlls (tax included) Free on Telcel 300 plan, paying 27 dlls (tax included) per month. (300 minutes, 150 SMS, 150 MB and one number to speak or texting without cost.)

LOL i picture that text being sent by a non spanish speaker and then imagine a non spanish person saying in a white accent HOLA!!! lol
Windows Central Newsletter
Thank you for signing up to Windows Central. You will receive a verification email shortly.
There was a problem. Please refresh the page and try again.