Nokia Lumia 520 available for preorder in India. Shipping in about two weeks.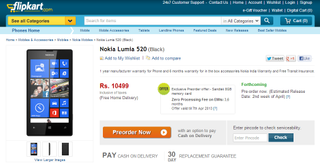 The Lumia 520 was announced by Nokia at the end of last month during Mobile World Congress. It's a noteworthy phone because it's currently the most affordable Windows Phone to date. It's now available for pre-order in India through Flipkart for Rs.10499.
Yesterday we showed you guys and gals factory unlocked 520s popping up on eBay here in the U.S. for $240. But if you're over in India the 10499 rupees work out to about $193. It's a steal either way for an impressive phone. How impressive? For that insanely low price you get a 4 inch IPS LCD running at 480x800, a 1.0Ghz dual-core Snapdragon S4 processor, 8GB of internal storage which is expandable with a microSD card, a 5MP camera with autofocus and this is all powered by 1430mAh battery.
While those specs aren't earth shattering, you need to remember how much (or little) you're actually paying for this phone.
Any of our friends in India picking up this phone for themselves or family?
Source: Flipkart (opens in new tab), Via: MyNewMachine; Thanks for the tip Vignesh S!
Windows Central Newsletter
Get the best of Windows Central in in your inbox, every day!
Yeah my friend is planning to get this. After I showed him my HTC Radar with the 7.8 update and what all it can do. He was just waiting to get rid of his android phone. But since we are into college this is a great budget phone. I know this phone will sell well in India as India is a price sensitive market. Well lets see what happens :)

And what can it do, that cannot be done on his Android phone?

At those prices... the Windows phones actually work... the Android are really not working as they are buggy and laggy


you get responsive phone, but if you get android phone, you get slow phone

You cannot show your mobile to your friend and see them getting excited about ANY Android phones.. They all are same. Windows phone has best personalization. From Home screen to design , it just looks awesome.
This is what you can do with only wp8.

You cannot just hold your hand and you have to complain do you?. You want a cheap phone and also want to run all apps.?. This is not for pple who want to play games and apps. This is for pple who want to use a smart phone.
Buy 820 if you want to run apps which need 1GB

Isn't part of the package with smartphones nowadays is to use apps and play games?

Are budget laptops expected to play crysis? My wife uses her smartphone for the same tasks she uses her laptop. Email, web browsing, social media, and maybe some casual games. Not everyone needs a quad core superphone. Likewise, not all apps should be held back by the lowest budget hardware.

I agree with the principle of your argument, but the problem is that the issue here is not what you're talking about. If we're talking about mobile Crysis, then go ahead. But TuneIn Radio, Temple Run, etc? These aren't pushing the limits of anything.

Exactly , Its like $600 laptop not able to run chess or pinball game or music player.

1) when we pay for the phone, the os price is included and is same for all phones so the app store should be same.
2)you say that the hardware does not support it but the same hard ware would support it on ios/android....if the app lags i'll live with rather than not have it
3)the life cycle of such phones become smaller as 1GB ram trend catches on to other apps

I wont get entangled into an argument about specifics, such as 512MB vs 1GB of RAM, or whether or not some app/feature truely requires a certain amount of system resources. But what I will argue against is what you said in 1) about every phone should run every app. I think the most appropriate analogy would be the PC market, since our phones have basically become PC's in our pocket. Should every Windows 7 laptop be able to run Battlefield 4? Of coarse not, some people don't want to play Battlefield 4 and would prefer to save money on their hardware. But they still want to run Windows 7, browse internet, do email, and use the features of the OS that don't require the latest and greatest graphics card. Likewise, when EA makes Battlefield 4, should they have to hold back on the game graphics and features in order to keep the game playable on 100% of Windows laptops? Hell no. I'm a PC gamer and I want to have games that utilize my awesome computer specs. I feel the same way toward smartphones. While I might want an awesome super Lumia 920 to play the mobile version of BF4 or whatever, my wife just wants to play plants vs zombies and use Facebook, and so she might get by with this cheaper 520. Choices are good. The whole anti-"fragmentation" and single spec sheet mentality helped get Windows Phone into the marketshare mess it is in today.

But like I said, I'm not going to argue and justify for every app/feature that claims it needs 1GB of RAM, so please don't respond with an example of some app that you think should be playable on 512MB. And likewise, I'm not Nokia and I can't answer how much costs they are truely saving with 512MB over 1GB.

"Likewise, when EA makes Battlefield 4, should they have to hold back on the game graphics and features in order to keep the game playable on 100% of Windows laptops?"
Then why don't they allow apps to run at lower textures like iOS devs do ? For example , Batman game can be played on 5 , 4S , 4 and 3GS , iPod Touch 3rd , 4th and 5th gen , all iPads and Mini.
Difference between each device is that same app runs with different settings like 3GS runs with low textures , 4 Runs with crispy/medium textures and 4S/5 run with highest graphics but app is the same.

They must give app with limited features on 512 mb ram devices rather than completely banning them from installing.

That's what I meant.Not trying to bash or defend.

The problem is that there appear to be cases where there is no real reason why these apps shouldn't work on 512mb phones as well. Some apps have been hotfixed shortly after release, to work on both tiers of devices, which shows that in some cases this may simply be an oversight by developers and not actual hardware limitations.

If WP is to make it in countries like India, this is the phone that we will look back on fondly. Nokia is known throughout India for the 3310 and 1100 range of phones, not for its Symbian based smartphones. However, with the advent of super cheap mobile internet connectivity, smartphones are the new basic phones.
I'm typing this from my 820, having just ordered the 520 for my wife. Go WP!

Who told you Symbian wasn't known here ??? People were crazy for symbian here. The reason behind Lumia line wasn't got much sales because wp7 doesn't offer basic features which symbian was offerring. WP8 is good but still MS is being jerk by not adding basic features which was there in symbian like filemanager. It's big deal for people who doesn't have PC.

Nokia got the price bang on target with this one. Very soon, I can see this selling for Rs. 9999 at my local retailer, which is a very important psychological barrier. Can't think of better phones at this price point. Should do very well. This is exactly what WP and Nokia need to grow in a huge country of 1 billion+ people.

True. It's very much better phone in its price range than this android crap.Btw, micromax,xolo,karbon is eating market share of samsung and nokia by offering very cheap phones.

It's great phone at this price.

my only complaint abt this phone is the lack of flash for the camera...think nokia could have given up wireless charging or super sensitive touch for this instead...ppl here in India kinda expect phones at that price to have flash atleast...they wouldnt care for the other two features as much would they...? i cn already see haters bombarding flipkart reviews using that one factor...hope it doesnt turn out to be a deal breaker for most ppl...

If consumers want front facing camera and flash then they can go a little higher and get a 620. You know I use the flash more as a torch than anything else and I would have thought that Nokia would have included it because mobile lighting is very useful.

Bashing using no led flash available? I'd say, wow. I currently use 710 which has led. Guess what? I've use it more as a torch. Using led flash on photography is just a so-so. Touch sensitivity can easily beat it on daily usage rates.

At that price quite a few phones have flash, even though the pics taken by them might all end up crappy...thats the perception ppl have--pics as it is dont turn out to be great with flash at that price, and now a phone without flash?? Not a great buy...:/
My friend woulda ordered the 520 if it weren't for the flash...nw getting the 620... that 4k is a big difference for him but he'll manage...but the thing is other ppl may not do the same..

Awesome phone at an awesome price, should sell like hot cakes at ($190)10,500 INR

planning to buy 720 but the 512MB RAM keeps me away from buying it ! :/

Same problem. That's why I'm planning to go for NL820.

I also really go for Lumia 820

Key word everyone! BUDGET! If you want something better then get a phone that's NOT budget. That simple.

So we need a high end phone to be able to use apps like tunein Radio? Budget my a...

Sam Sabri,
I wake up early in the morning
You go to sleep late at night
I kinda front like I don't want you
Inside I'm losing my mind
Do you wanna be my baby?
Do you wanna be my girl?
Don't tell me that you got a boyfriend
Don't tell me I'm not your type
Let's do a little less talking
And a little more feelin' right
I like to play hard to get
I walk around talkin' shit
But you know just what I need
See I don't got time for games
And I can't afford diamond rings
But you know
You should be with me...
Yes or yes???

Lmao, sounds like a proposal to me

It is but I haven't got a response back... Lol.

Dude, you be trippin. lol : )

and your comments prompted me to check sam's profile mwahahahha :)

@ Piro What in the world is this? Poetry in the comments section? Innovative

What can I say Jay, she inspires me... Ha ha.

I think the 520 is ok. Simple things are easier to get to work. 5mp camera is ok. Price makes it competitive. 8gb is ok.

When's the 521 launching?

Guys, vote for Lumia 920 on WSJ poll: http://online.wsj.com/community/groups/question-day-229/topics/smartphon...

I'd like to have one. But it's not available at my country yet. But I assume it would arrive soon enough.

If Samsung can sell its cheap budget plastic crap over here in India like hotcakes along with micromax too then this phone shall own them all for sure ! Excellent pricing and now they should have a nice ad campaign for it to attract the right crowd

Remember that "Cheap Samsung" provides ram modules and some components to Nokia as well.

we are fine with samsung ram modules, they should keep themselves busy with that, just don't need that cheap feeling samsung budget phones which Lag like hell and are a big joke in the name of a smartphone.

Most apps listed as requiring 1GB of RAM are just wrongly adjusted. The 512MB devices will be getting a lot of them as the time goes on. One example of this is the Nokia Xpress App, initially a 1GB device app that's coming for us very soon. I have a Lumia 620 and I'm very happy with it.

it is also available in Thailand for $195

http://store.truecorp.co.th/product/detail/1108
heres the link and update news is i saw it for sale at shop now at price of $209
I saw Blue/Cyan n Black selling in a shop here in thailand

Shifting all our companies Blackberries to 520's :)

now the specs you mentioned aren't earth shattering, but super sensitive touch is, the only non-nokia device I know of that has that feature is the Huawei 6.1" phone (their naming is stupid, I don't remember it)

I think its job of microsoft to control such apps or not allow in the market which are not fully support all device

and why would they do that? app developer make apps for the phones they want.. so if you want certain apps that runs on 1g ram.. go get a 820/920/ativs/htc8x

seem like there're complains about battery drain in lumia 520 from vietnam, official launched since march 23. The design is good but it seems a bit hot and short battery life especially with 3G on.

really? thai seems ok with it.. i will try to get my hands on one.. (i have too many phones at the moment lol)

The bulk of 512Mb phones are just starting to roll out now, it's only natural some apps get optimized in the next few months. We've been proved it works this way, first the devices out there, then apps.

I am planning to buy one Nokia lumia 520 in India. I am avoiding preorder because i would like to check all those beautiful colors and then select one.

I am betting on cyan.
Windows Central Newsletter
Thank you for signing up to Windows Central. You will receive a verification email shortly.
There was a problem. Please refresh the page and try again.