Nokia Lumia 630 now available for just £90 at Carphone Warehouse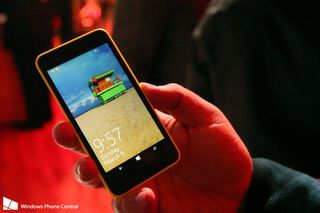 The Lumia 630 is available through Carphone Warehouse for just £89.95 on Pay As You Go plans. This offer brings down the price of the handset from £129.95 and is an absolute bargain for anyone looking for a new, affordable Windows Phone. As well as the deal, Carphone Warehouse will provide up to £25 on old smartphones when trading it in for the Lumia 630.
Sporting a 4.5-inch IPS LCD display, the Lumia 630 is a solid smartphone with a 5MP rear shooter, 1.2GHz quad-core CPU, 8GB internal storage and 512MB of RAM. Check out our unboxing of the Windows Phone for more information and a quick look at what's inside the retail packaging. Colors available include the green, orange and black.
It's worth noting that a £10 top-up is required. Will you be picking one up? Let us know in the comments.
Windows Central Newsletter
Get the best of Windows Central in in your inbox, every day!
Rich Edmonds was formerly a Senior Editor of PC hardware at Windows Central, covering everything related to PC components and NAS. He's been involved in technology for more than a decade and knows a thing or two about the magic inside a PC chassis. You can follow him on Twitter at @RichEdmonds.
1) Dedicated camera button 2) Ambient light sensor 3) Flash. They're all missing and I miss them :(

I think flash and ram are the two main problems.

I can assure you that RAM is not a problem at all for my wife and the way she uses the phone. Neither it was on her 520. The processor is much faster on 630 too, so that's a big plus. She uses it mainly for heavy messaging/emailing/phoning. (and when I mean heavy I really mean it)... Battery life has been superb. 630 is a step up in the photography department too, and display uses Corning Gorilla 3. So many pluses there. But... 3 steps forward and two steps back. (dedicated camera button and ambient light sensor). Would have gladly paid more money to get these 2 features.

You've hit the nail on the head: Different people have different needs. With all due respect; what works for your wife may not work for anyone else - so the entire premise for that discourse is flawed. The 630, 630 dual sim, 635 and the 625 all have the problem with the "resuming" and loading delays. Yes, they're low end. Cheap. And yes, they all do remarkably well with what they have but when it comes to things like multi tasking and certainly playing games; well there are issues. And, of course, you don't get access to the full catalogue of apps, which is a major issue. If one can live with that, great, as these are really rather good phones! If one is ok with that. But then that's why one would be buying low end devices. It's a compromise based on price. Of the lot, imho, the 625 offers best value because of the flash, ffc and massive battery. Either way good the price has come down and I hope it continues to do so. The new base level for the low end should include 1gb team so the experience isn't compromised.

My complaint was when comparing to Lumia 520 to 630 in light that my wife upgraded from 520 to 630. Being in a different league, I don't expect 630 to be inferior to the 520. But in these 2 features (dedicated camera button and ambient light sensor) it is a step back. As for the 512Mb, it's still the same 512Mb like the 520 so it's not a step back. If you want 1Gb you can buy some higher end phone.

To be fair, CPWH have been selling this for £100 (plus £10 top up) since June 1st, so it's not that big a drop from what they were selling for originally. But at this price, it does make the Lumia 530 kinda pointless. There's only £20 between them.

How much is that in percent? Sometimes I think you all live in a different world. Also the people that to This low price expect the high end quality

The 530 is currently £39.95 on pay as you go upgrade from the same retailer....
I tipped and commented about that price (which is a brilliant one) - but WPCentral have yet to do anything with that news.

They have, you must have missed it. http://www.wpcentral.com/nokia-lumia-530-going-3995-uks-carphone-warehouse

I don't know how I missed that! Cheers for the heads up :)

Well you're not quite right. If you go for PAYG upgrade offer then Lumia 630 cost from £79.99 (depends on network provider) and the Lumia 530 on PAYG offer would cost as low as £39.99.

I got mine for £79.99 on payg upgrade just to try windows 8.1. Must admit I love windows now, not as laggy as android. Love the photobeamer app but wish it had 1gb ram so it could use the beamer app to display the screen on other computers. Look forward to seeing what other phones come out as I might make the jump to windows phone when my current contract runs out. Posted via the Windows Phone Central App for Android

Is this store locate in the USA?

Can't you see the currency ? Posted via Windows Phone Central App

I think 1gb ram or at least flash should have been provided considering the price and competition.....

I got mine for £99 in July after dropping my Nexus4. The 630 is a real bargain. I've had no issue with the RAM its snappier than KitKat without any lags. The only problem is that *some* games are not 512mb comparable but even then I've been able to play things like Subway surfers, Asphalt 8 etc. The only thing missing from the 630 for me is no front facing camera & no flash but for this price its still an amazing deal and makes even my previous Nexus look overpriced. Outdoor shots are equally as good as my old Nexus. With cool green case, epic battery and Microsoft Offfice its a solid 9/10 for me.

I think if it wasn't for the ram I would of bought one.

I got one vodafone locked for 99 AUD. Its great value for money. Next Lumia 520 is lumia 630. But they need to make a 640 or something with flash and front cam. Many people would not buy this phone because of those 2 missing. I know some people who didnt get it cuz of that.

I know it isn't Android central and I like wp8 but for that price in prepaid u can get the much much better Moto G. So I do not think this is a so great deal. U even can basically get the moto e outright for that price. And that one is pretty much on par with the lumia 630. But for 99 dollars or more like 140dollars after converting British pound to dollars. U can get the moto g what without a question is the much much better phone. Posted via Windows Phone Central App

Actually the Moto G is around 25% more expensive (for example on Amazon UK its £126) which I think is significant. There was some deals when it first came out but its almost impossible to find on the UK high street now. With Lenova buying Motorolla from Google there is a risk about future OS upgrades. On a spec sheet yes the MotoG is a better phone, but coming from a Nexus4 the 630 offered the more exciting package. I also think the design and colors are far more interesting than the Moto which looks like an old 2009 handset to me anyway.

doesnt the moto only have 8gb internal? deal breaker! you need an SD slot (correct me if I'm wrong:) )

Moto g comes in 8 and 16gb. U pay 20 dollars more for the moto g 16gb Posted via Windows Phone Central App

Bought one for my father as a birthday upgrade from the L520, he is not too worried about specs but wanted a bigger screen as he has large hands and found the L520 to be a bit too small.

I got one of these (635s) for both of my parents

Depends on what model of the Moto G you have. The two newest models do have a SD slot. The older models do not.

Cant knock the phone......use it more than my works iphone 4s.
Works better as well (just my opinion)
Windows Central Newsletter
Thank you for signing up to Windows Central. You will receive a verification email shortly.
There was a problem. Please refresh the page and try again.