Nokia Lumia 720 Windows Phone hands-on gallery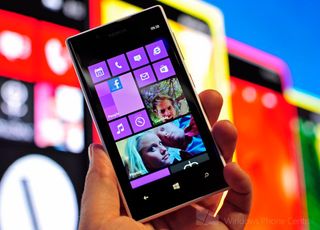 Nokia today announced the Lumia 720 Windows Phone at Mobile World Congress. Sporting an intriguing design (it lightly resembles a HTC 8X - or is that just me?), the mid-range smartphone packs some serious heat at an affordable price. Since we're down at Mobile World Congress, we figured it would only be right if we marked the demo units with some Windows Phone Central fingerprints.
As one can see, the Lumia 720 is an attractive Windows Phone, and it almost appears to be targeting consumers who wish to settle in between a Lumia 920 and a Lumia 820, looks-wise. Alas, if you require some memory jogging on the specifications, be sure to read up on the device announcement. We'll have some video footage up soon.
Check out some more shots below (click to enlarge):
Rich Edmonds is Senior Editor of PC hardware at Windows Central, covering everything related to PC components and NAS. He's been involved in technology for more than a decade and knows a thing or two about the magic inside a PC chassis. You can follow him over on Twitter at @RichEdmonds.
Absolutely beautiful designs from Nokia. I own a Lumia 920 and I can't but be proud of how well built and attention to detail these phones have! Windows Phone 8 and Nokia design principles are meant to be together. Will done!

I want the yellow one. I wonder about the differences in the camera between this and the 520's.

the camera in 720 has f1.9 apperture and the 520 is just 5 MP... that's it..

Author is not wrong, it does resemble the 8x.

It actually looks like that patent revealed earlier.

but with polycarbonate unibody design? It's still NOKIA..

Superb.... Just 9mm..... Slimmest lumia ever....
But wait,!! Is that matt yellowzzz

YES. Gloss : White
Matt : Yellow, Cyan, Red & Black

does 720 have polycarbonate body and is the display lcd or amoled ???

Same one as the 920. I assume

The unibody is the same like 920, but the screen is LCD (unlike 920's AMOLED), with ClearBlack and Super Sensitive like the one on 920.

non of the lumias have AMOLED.

The old Lumia 900 (7.5/7.8) have AMOLED afaik.

920 has LCD screen as well. As far as I know, only 820 packs AMOLED. LCD allows supersensitive touch and higher refresh rate though.

lumia 820 also has supersensitive touch with amoled and only 920 has 60 frames per second rate because of puremotion hd+ tech in it

720 has exchangable shells unlike 920 so it isn't that unibody...but the 720 doesn't seem to have polycarbonate hence the lower price....am i right?

720 doesn't have changable shells..the wireless charging comes from changable covers..that's why you have those three dot like things on the back..

and it is a unibody phone..with polycarbonate, i guess..

This is going to be my next phone, once it arrives in Croatia (probably in a few years, bwhahahahaha!). I was aiming at 920, but I can't afford it. THIS I can afford. Lumia 720 is the best of both worlds. Affordable, slim, sexy yet powerful and packed with high end hadware. The price is stunning. Design is perfect. Features and specs amazing. This is, after all, a mid-range phone. For a mid-range phone this beauty is queen of them all. Nokia took care of everything. Wireless charging, NFC, AMAZING cameras, supersensitive touch screen, all that for as low as 250€? Proof that it CAN be done (this goes to other manufacturers)! :)

Apparently, Lumia 720 will cost 379 EUR in Germany: http://www.connect.de/news/nokia-lumia-720-lumia-520-guenstige-windows-p...
Hopefully it'll be cheaper in other EU countries.

I sure hope that it is a typo. It should be 279 i think...

RICH EDMONDS, Kooosh it does not look like an 8x, it lightly resembles Nokia N9 but it is thinner

Resembles a 920 heavily to me

other manufacturer that release a mid range spec phone at the same price bracket should be ashamed. look at what nokia brings for that price. sexy unibody design, super sensitive screen, large aperture camera (not just megapixel increase) just to name a few.


i dont know when they are going to launch some mid range phones here in india the only windows 8 phone available here are the 920 n 820 which is out of the reach of many people here in india......though i see a lot of windows phone out there the cheaper end 510 is a good seller dont know why nokia still delaying the 620 which was announced way back in mid jan...

In march my friend!
That's what I read on the web.

The screen is 4.3 IPS LCD screen, super sensitive touch,clearblack display, corning gorrila glass and curved sculpted glass for more info visit here www.nokia.com/global/products/phone/lumia720/

@Rich Edmonds when can we expect the Lumia 720 review?

I bet 720 will be Nokia's best seller this year. High-end specs combined with a very moderate price is going to be an unbeatable recipe to success. Design is also appealing as long as it does not feel plasticky or HTCísque.

Since its thinner I bet the next problem others will make up is that it's too round or whatever they can say to put Nokia down.

some one help me out here, how would I know if I can buy this out right and use for Verizon? I've never bought a phone outright that doesnt have the carrier's branding so excuse me if it's a dumb question

You can't bro. This Lumia is for GSM Carrier, and Verizon (and Sprint, MetroPCS, Cricket) is CDMA Carrier. You can just put T-Mobile / AT&T SIM Card there and you're good to go.

HCT One has Ultrapixel... and this Lumia 720??? So proud to say that it has f1.9 apperture... that's amazing for a phone!!! trolling at HTC..

The design looks similar to the HTC 8X.

The design language represents the Lumia line. HTC 8x resembles the Lumia...

I wish I could have the entire Lumia lineup!

I'm not a fan of the X8 but I love this phone's design! I can see the comparison (lean & thin) but for some reason I think this looks much better. In fact I think this is my favorite Lumia phone ever (looks-wise). Which could make it the best looking phone I've ever seen. I'm going to have to let it sink in first but I might just have found my next phone.

Great job Nokia.
For a nascent platform to pick up it needs cell phones at various price points. In carrier subsidized world the difference between 920 and 520 might not be much except for the down payment, but at unsubsidized world, it is tremendous. Thus, it makes sense to push 920 in the US and the developed world, but no matter what, there would be few takers for it in the remaining world. Thus comes the role for cheaper models.
Besides, it is more logical for a late comer platform to attempt to grow up from base models (to give even diehard detractors a chance to adopt) while still giving a shot at high end (to push its engineering and marketing skills). Smart phone is not only a phone but an element of an ecosystem. No matter, how much radical Lumia 9xx Nokia launches at the moment, customers will still be reluctant to choose it over establised iphone or high end android en masse.
Another advantage of pushing with midrange to low range phones is mass adoption. Not everyone is rich, nor everybody wants a high end phone (even if they could afford).With rising market share comes developers interest and subsequently all the apps. Then few could argue against on the ground of missing apps. Rest is already fine with lumia phones and windows phone 8.
Finally, because it is smartphone, we needs developers to write apps for it. And most importantly, most developers are in the US so the particular market cannot be neglected. It is not like late 1990s when Nokia could afford to be world leader in feature phones yet still be invisible in the US. No more is it possible.
Best of luck.

I've said it before and ill say it again this is why the HTC 8S and Huawei W1 were always doomed to failed with only have 4GB of internal storage. They make the phone useless. All of Nokias low end options are a lot better than what HTC or Huawei has to offer.


Nice phone and great to see Nokia copying HTC 8X design :)


Nokia did not copy HTC's design - it's the other way round. The polycarbonate unibody has been Nokia's design signature from the N9 onwards. I'm surprised Nokia didnt go after HTC for copying their design for the 8X.
Anyways, as someone who has only ever owned Nokia phones (curently a L920), I couldn't be prouder of what Nokia has managed to achieve with the Lumia line.


Surely if that was the case, then this phone would look like the previous Nokia Windows Handsets? i.e. 920?

When in fact this latest handset looks more like a HTC 8X than any previous Nokia phone.......

#just saying :)

I have to admit that if the 920 Lumia was available on my carrier I wouldve gone with that instead of the HTC, but unfortunately it wasnt, so went with the 8X which is nice, but I do get jealous of all the NOKIA goodies and exclusives you get :) :)

Next time will be a Nokia



I'd get me a cyan one, if I didn't own a Lumia 920 already. Loving those designs!

they should've kept it's clock speed at 1.2 ghz..less than 920 n 820, but more than 620 n 520..
that's where 720 would've perfectly fitted, like the 710 fitted between 900,800 and 610,510..that wasn't exactly in terms of processor, but overall performance..

This is really awesome, my Lumia 820 was stolen recently(just after 5 days of purchase), i could buy this one, would make an excellent replacement!

I just love the Nokia Lumia phone. Nokia is giving the best features in rational cost. Thanks to Nokia.
Windows Central Newsletter
Thank you for signing up to Windows Central. You will receive a verification email shortly.
There was a problem. Please refresh the page and try again.