Nokia Lumia 800 feedback from carrier and retailer sales staff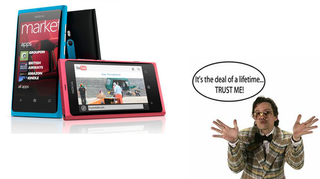 While the HTC Titan and Samsung Focus S are both proving to be fairly popular in the U.S., we've heard analysts down Nokia for Lumia 800 sales and the manufacturer bouncing back with positive statements. MyNokiaBlog have compiled some feedback (published at Nokia Connections) from carriers and retailers in Europe, which all show positive signs on how well the Lumia 800 is selling. Nokia (and Microsoft) have the daunting task to help train sales staff in stores to push out Windows Phone handsets and is needed after reports we've received from those who reside in the U.S., Europe and (more recently) Australia. We're going to leave this to the employees at UK carriers and retailers to explain how things are going.
Joe Moody, Orange:
Ian McLaren, Carphone Warehouse:
Bill Bennett, Three UK:
Matt Rampersad, Orange:
A feel good post for you, be sure to head on over to MyNokiaBlog to read up on the rest of the feedback from sales staff. I must be honest, I never thought we'd see the day.
Via: MyNokiaBlog
Windows Central Newsletter
Get the best of Windows Central in your inbox, every day!
Rich Edmonds was formerly a Senior Editor of PC hardware at Windows Central, covering everything related to PC components and NAS. He's been involved in technology for more than a decade and knows a thing or two about the magic inside a PC chassis. You can follow him on Twitter at @RichEdmonds.
I think this post should win a trophy for best image accompanying an article. :)

It is good to hear that WP/Nokia is taking off elsewhere. Now if the US would just wake up. :/

I see education mentioned in this article. Where's the education for the US? I've called several different ATT retailers around me and no one seems to know anything about the phone... it's sad!
There was one guy at one retailer who really liked them though. He made a similar comment about how people think they want one phone till they take 5 seconds w/a wp7 and everything just works...

Marketing is a powerful thing. If Microsoft advertised Nokia like it was a Super Bowl ad... then some mindshare would start being switched over from this Apple/Google duopoly.

It's up to Nokia to advertise Nokia, not Microsoft. Still, I read that Microsoft is helping out with marketing $$$.

It's foolish to think that Microsoft isn't gonna be ponying up big for advertising Nokia... It's as close as we are ever gonna get to a reference device for WP7.

Watching football yesterday I saw a gauntlet of Android and iPhone commercials. I saw probably two WP7 commercials? The rest of them were the 'great to be a family' commercials which are ok but not up to par.
I'm so very looking forward to the marketing frenzy from Nokia to hit over here. >:o

Well I have seen 0 Windows Phone specific commercials in nearly a year, in Australia. Every couple of days, a "Great to be a Family" ad may appear, but they're not that great. The American accent used (no offense) is really offputting and would deter people from the product. Apple and Android ads have an Australian accent.
I can't wait for Nokia's marketing frenzy to hit the US, Australia and every other country in the world! :P

That people love the software and the second generation hardware is NOT as surprise to me. Just this weekend I was speaking with a friend who has a new iPhone4s and we really got into the WP OS on my Trophy. After 20 minutes of looking through he Trophy (Zune, Office, Live Tiles) and finding out that he could run Excel and Word in the native application he said "Why the Hell didn't the Verizon rep show me that phone? I actually asked if they had anything that could run Excel. They probably have that phone berried in the back!" I know they do.
Obviously, advertising is going to be critical for WP to move forward but Windows Phone needs to continue to get to the sales people. I was happy to see at the Windows Phone night out's the moved the sales and tech people to the VIP areas to encourage and guide their use of the phones. They need to do more.

Your friend wasn't shown the Trophy phone because:
Verizon is pushing its sale people to push LTE and it's brand DROID line
Verizion wants to take customers away from AT&T current/future iPhone users)
The simple fact that Verizon doesn't have any 2nd wave WP speaks the loudes of all. Hopefully, the money MS is putting into retail incentives, which they should have been doing from the start, gets the meter moving.

"the iPhone doesn't come in blue – it won't match my handbag"

lol, i had to use that to persuade my sis to switch over too :P, now we're just waiting patiently until they arrive

"I must be honest, I never thought we'd see the day". Hahahahaha I hear you man. This is a great device and it deserves the attention. Now, the people who made it (Nokia) have to make a good profit and the deal is closed! :)

I hope the Lumia 800 gets a display case like the iPhone at phone stores across the U.S. when we get it!

Nokia used to have a store in NY. If they don't market HUGE in the US they will never be relevant again here.