AT&T has sold out the HTC Titan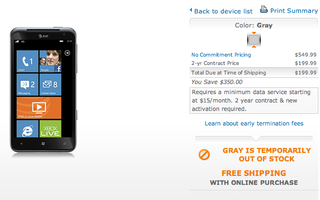 We had a feeling the HTC Titan would take off with a storm simply because it sports a massive screen and is well built (see our review), so it's good to see the AT&T website displaying a "SOLD OUT" notice for the Windows Phone. Unfortunately, this means you'll have to wait some time to get one yourself, but Best Buy currently has the Titan stocked for free, all that's required is a new two year contract to be taken out.
Source: AT&T (opens in new tab), thanks to everyone who sent this in!
Windows Central Newsletter
Get the best of Windows Central in in your inbox, every day!
Rich Edmonds was formerly a Senior Editor of PC hardware at Windows Central, covering everything related to PC components and NAS. He's been involved in technology for more than a decade and knows a thing or two about the magic inside a PC chassis. You can follow him on Twitter at @RichEdmonds.
lol I ordered right at 12:10am saturday morning when it went on sale. Should be arriving tuesday by 3:00pm. I'll come home from work with a new toy!

BTW does anyone know if the apps downloaded on your current windows phone are automatically downloaded in the abckground when you fire up your new windows phone (as long as I sign in with the same Windows Live ID of course)?

DVP -> TITAN (I only use premiums; and I only date dimes)

Pro Tip:
Any app that you install directly from the Zune PC software while phone is plugged in WILL INDEED auto download on it's own.

Why they didn't allow for this with apps you download via phone marketplace is beyond me.

that is dumb. I downloaded 99% of my apps OTA :/

Oh wow, I ordered it around 12:00 AM as well, and it should be here on Tuesday. I'm also upgrading from a DVP, I had no clue anyone else on AT&T had one - they sold them for like two weeks before knocking them out of stock, permanently.

It also sucks how long we have to wait for updates. Ah well, that was the main reason for me grabbing the Titan.

no, they aren't. You have to install them one by one. Although, you do get a list of your apps with the option to reinstall from Zune.

That is correct and it is a hassle, too. And buggy. I hope Microsoft changes this behavior soon. I'd like to just select the apps I want to download with a radio button or check mark, to add it to a download queue or cart, then click a download/install button.

Bought mine early Saturday morning too. Received a shipping notification last night.
Interestingly, after I placed my order I checked the status in my account and it said it was backordered. That changed to "order processing" late Sat morning. Did anyone else notice that? Must have received a new shipment that morning.

Still waiting to get my shipping info. Bought a Focus S and a Titan.

I placed my order at 12:01 Saturday morning. Did everyone else get charged an $18 upgrade fee to their AT&T account?

Everyone gets this fee. It's such a BS fee. Why is there an "upgrade fee"? Not much reason. Just because.

I didn't get charged an upgrade fee. I still have to call though to see if I can have my grandfathered unlimited plan for this phone.

I did get charged the upgrade fee... and also I checked my future bill, and it stated the $20 2gig data fee along with my unlimited iphone $30 data fee...
so I called ATT and talked to a CSR... he was super cool... he removed the $18 upgrade fee, and then he said he would call me Saturday (im out of town so I wont be able to activate my phone till that day but the phone has shipped and will be on my doorstep wednesday) and he would activate it for me, and then he would move my $30 unlimited data fee over and remove the other one.

The majority of stores never received this phone in their stores, it is only sold out because stock was so incredibly small, they barely had enough to get stores a demo device, and msot stores never had stock to sell customers and could not order it.

Gotta love the usual crappers that say the sell outs are only because of low stock.

I actually have to agree - I went to (and called) at least 10 AT&T stores before I found one that had a Titan I could purchase. Two different states too, Florida and NYC (I flew home don't worry, I didn't fly just to pick up the phone), and each store said they only received around 2-3 phones to sell, so they were sold out.

I did finally find a store that had one and I put it on reserve until I could pick it up, and now I am the proud owner of a Titan :) It's gorgeous by the way... I had the Focus before, and funnily enough, the pixelation is much better on the Titan's screen. I never noticed how annoying the SAMOLED screen was until I switched!

At least they knew what the Titan was. I went to a store in Burbank, CA, when the phone initially released and the salesperson had no idea what it was. He directed me to some Android phones I think.

So regardless of the stock quantity, it still sold out. Basically, is sounds like AT&T forecasted that each store would have a hard time selling 2 or 3 phones in a week or two, and it looks like they were wrong. Hopefully, they have learned from this mistake.

So was anyone who purchased a phone on launch day last year able to upgrade for free now?
If so, I'm going to call AT&T and see if I can upgrade early - right now it's saying I'm not eligible to upgrade until April of next year, but I did have to get a replacement for my Focus (it died) around that time, so perhaps that's the issue?

Thanks.

I am waiting for a delivery date for Titan.


Got mine on Saturday in store. Was able to have AT&T match their online penny sale. Loving this phone! This is also my first Windows Phone. Thrilled to be away from pages and pages of apps. This OS is gorgeous!

I got charged the $18 upgrade fee in addition to tax.

Did you upgrade from a previous WP7 or another device type?

I guess 0.01$ was the sweet point for that one ;-)
My brother almost got it as well, but he ended up with the focus s and my father got the focus flash. both of them new to smartphones

So I'm following the tracking of the Titan I purchased online from AT&T. It is no wonder why the US Postal service is losing billions of dollars per year. My package is coming from Ft. Worth, TX and is in transit to a sorting facility in Mount Pleasant, PA. No big deal until you throw in the fact that the final destination of the package is Indianapolis, IN. Mount Pleasant, PA is just about as far east of Indianapolis as Ft. Worth is west of Indianapolis. It is easy to see why they're losing so much money.

AT&T ships using USPS now?

I think there is a disclaimer on the AT&T site when you go the "My Orders". They will ship FedEx unless you are an employee of USPS, UPS, DHL, etc.

My tracking number and link they provided in the confirmation email sends me to USPS. It was shipped with free 2-day priorty shipping. I don't see how it will arrive in two days base going from TX to PA and then to IN.

I guess I can only upgrade to the iPhone but not any other phone.. Of I choose any other phone, I have to pay the full retail price.

The penny sale was late Friday-early Saturday. I think they have other phones on sale today though. Not sure if they are WPs.

There are still Titans available. Goto microsoft store B&M. I haven't checked but I picked up a TItan in So Cal at the Microsoft B&M store. They had plenty. The deal is the same in the store as with AT&T.
Good Luck!

Ordered on Saturday morning at 12:15, says "picked up" Sunday, "info sent to Fedex" this morning, hope it doesn't change to back ordered...waiting for "in transit"..Supposed to be here Wednesday.
BTW-using Package Tracker"-great app.

Mine changed from being in Fort Worth Texas... to being "picked up".
Estimated time of arrival is tomorrow @ 3pm.
Although it's coming from texas, I have faith in Fedex. I'm sure I'll have it in my hands after work tomorrow.

I ordered online from AT&T by 12:30 am on the 26th. I got the Focus S instead of the Titan, and today I got informed by AT&T that it is on back order, so it's not just the Titan that is in short supply. Seems that both HTC and Samsung didn't do a good job stocking AT&T with their 2nd gen devices.

HTC and Samsung can only provide AT&T the phones they ordered. And if AT&T underforcasted, only one place to point the finger. Maybe they should spend more time reading blogs like WPC.

I ordered the penny Titan online Saturday afternoon.. mine is backordered right now, but I just spoke with AT&T Premier customer care on the phone. The rep told me there are -7 Titans in their secondary warehouse and -400 in their primary warehouse. He also said there is a shipment expected to arrive this week with 515 HTC Titans. According to him, of those 515, mine will be one of the first 7 to ship out. No idea if any of this is accurate - just repeating what I was told.

Wow, at least they gave you a hard number in the inventory feed. Looks like my order should ship later this week too then!

My order is still being processed, but I wasn't able to finalize things until today due to an error in my online order (they didn't apply the promo price like they should have due to my current plan# not existing anymore since it's too old). Customer service updated it all and gave me the phone for FREE.
It currently says my order is backordered, so I'm expecting about a week delay or so. It sucks, but I can manage the wait for a free phone!

I got the Titan on Friday (Nov-25) for $ 0.01 in the ATT Store. I am absolutely loving the phone. I had Samsung Focus S for 10 days before i exchanged it for Titan by paying $35 restocking fee. I have a hands-on on both phones and here are my observations
Focus S screen is a shade better than Titan (First Impression). But after using Titan for 3-4 days, i like the Titan screen better and colors look more natural here. I have no regrets chosing Titan
Titan is noticeable faster than Focus in about everything.
The music sounds better on Titan. Surround Sound is a great feature
I like the metalic feel of Titan, have no issues with the extra weight.
Call quality is average on Titan and samsung is better in this department
HTC Youtube application is great to use.

MS store in Santa Clara, CA still has Titan in stocks. Three of my coworkers bought it today after seeing my phone!
Free phone deal ends today though! If you are from Bay Area California, and looking for a Titan, check out MS store in the Valley Fair mall.

DAMNIT!

I knew i should have went there when the deal started! I should have called to see if they had any instock! Oh well.... it's not like i'm missing out on the internet which is what i'd be using it for

Cant wait to get my Titan...
Iphone 3gs user here.... decided to try something new, so Im giving my jailbroken iphone to my 5 year old daughter since she loves the apps on it.
The main apps I use on my iphone are tune-in radio, pandora, netflix, appshopper, shazam, ebay, yahoo sports...
are those available?

TuneIn radio, Yes. Pandora, coming soon. Netflix, Yes. Shazam, Yes, but not necessary since the same capability is essentially built into the OS. Ebay, Yes. Yahoo Sports, Not sure, but there are tons of sports apps. Don't know what Appshopper is.

It will be true that Penny stocks are cheap as they literally cost pennies and when they break out they tend to explode resulting in phenomenal gains for the investors and traders involved with them.Penny Stock Alerts
Windows Central Newsletter
Thank you for signing up to Windows Central. You will receive a verification email shortly.
There was a problem. Please refresh the page and try again.