AT&T HTC Titan 4G at Best Buy for free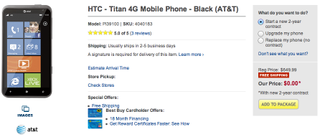 Should you have the HTC Titan jotted down on your Santa wish list (or simply desire one due to an ending contract), then perhaps you should check out this deal found at Best Buy. The HTC Titan 4G on AT&T is going for nothing at all, all that's required is a new two year contract to be taken out (or an upgrade), starting from just $39.99 for the cheapest plan. Taking the handset without a package will set you back $649.99.
Packing a massive 4.7" screen, the Titan (our review) truly is a beast of a Windows Phone. Powered by a 1.5GHz processor and shipping with 16GB worth of storage, this handset is a perfect choice for anyone who's searching for that extra oomph!
Source: Best Buy (opens in new tab), thanks Figure 8 Dash for the tip!
Rich Edmonds is Senior Editor of PC hardware at Windows Central, covering everything related to PC components and NAS. He's been involved in technology for more than a decade and knows a thing or two about the magic inside a PC chassis. You can follow him over on Twitter at @RichEdmonds.
Ordered my second TITAN from AT&T last night for $.01, and was credited for my first one...nice!

NICE....good on you. I ordered the Titan initially from AT&T for 214.00 because i was impatient. Canceled THAT order becuase of the Amazon Discount(with an upgrade) and paid 79.99, and just a few minutes ago i canceled that ordered and got it for cheaper thru Best Buy for FREE.99... FREE TITANS FOR EVERYONE!!!!!!! lol o happy day

I wonder if I can get AT&T to price match. =D

There is so little demand for Windows Phone that they just give them away. I have looked in the Best Buy ads for weeks, including today, and there are never any WP7 phones shown. These deals don't really inspire confidence in this product. I am really curious how Nokia plans to sell phones for $200 on contract when everyone else is giving them away.

WRONG..... If you look in today's paper (Sunday) for Best Buy you will see a Windows Phone 7 ad for the Samsung Focus Flash @ $49.
Also, all phones(including the iPhone) in the US are subsidized as we love deals. I have no issue buying a phone for 1 cent; especially when its new and sleek.
That said, when the iPhone first came out at $600 plus dollars it sold well. However, it skyrocketed when at@t started subsidizing.
Again, WP7 is not doing as well as it should is because MS has the worst marketing I've ever seen.

Hmm, that was not the case in my area (Orlando), but I am happy to hear that. All I see when I open Best Buy ads is every different Android handset on the market. I am very frustrated with the lack of advertising for WP7.

Talk about a trollish remark. Amazon has pretty much all the Android phones for free as well. I suppose by your failed logic there is little demand for those as well. It is the Holiday season and the competition for that 2 year contract commission is fierce amongst retailers.

Be careful about calling out trolls. U'll get banned for no reason just like I did. For a supposed windows phone fan site the naysayers sure do get away with murder.

Go suck a chicken (slang term for it)

Gotta love American definition of "free" (aka expensive loan for 2 years).

a penny and a two year contract is cheaper than 199.99 and a two year contract. I generaly try to stay off contract as much as possible and buy what I want after its been around long enough for the ebay price to drop down to a more reasonable off contract price . I may go ahead and upgrade to the titan or focus s for 199.00 if I can keep my unltd data plan which the local store says is doable

Not necessarily. I found out recently than certain plans are not available for certain subsidized phones. So often you are forced to pay a higher monthly sum than if you just go on a month-to-month plan. If I have to stick with a plan that cost an extra $20 a month, that free phone actually cost $480 for 2 years. And you have no freedom to shop around for better plans under your contract period. Of course the carriers make their money back and then some when they sell subsidized phones.

So tired of these types of comments. It's not a loan. You don't give the phone back after the two years are over. If you want a discounted phone, like the free Titan in this promotion, you sign a contract. If you don't want to sign a contract, you buy the device for $600 or whatever. How is different than in a country like the UK? I've been looking at the websites for Vodafone, 3, and Orange, and they all have free devices for a 12-, 18-, or 24-month commitment. For example, the iPhone 4 on Vodafone pay-as-you-go is £415, and it's as high as £239 even with a 24-month commitment. So how is that any different than how things are done in the US? It's just semantics.

UK is almost identical to US in that regard - for better comparison you should use countries like Sweden or Germany, where the share of people on contracts is much lower.
As for the loan - it is not a loan of device, it is a load of money for you to buy the new phone from the mobile carrier (and the rip off part comes from the fact that both the lender and the phone seller are the same company).

Again, it's not a loan. The monthly plan prices are the same whether you bring your own device to the network, or you sign a contract and get a device for a discounted price. This is how it works for Sprint, AT&T, and Verizon Wireless in the US. I think T-Mobile USA may offer a discount if you bring your own device, but I could be wrong. But for the most part, there is no loan. Everyone pays the same price, whether they get a discounted device or bring their own.

Does anyone know if ATT will match this?

ATT had an on line only (which was matched in store also in some but not all areas ) fow windows phone (all modela fopr a penny with new contract or upgrade if eliugible all day Saturday EST BUT you had to add a NEW data plan no keeping current data plan. Okay for many but as an unlimited (grandfathered) data plan holder I was unwilling to give up the unlimited plan. If you had gone to the SATT site you would have seen it or if you are fans of ATT on FB you would have gotten a posting or if you were following WPC on FB you would have gotten notice or you could have read the posting abvout it here at WPC. ITS OVER NOW!!

Finally! Just got my Titan. After messing with AT&T yesterday on the penny sale with the only result being I lost all my Rollover minutes, this was a welcome post this morning.

I guess Pete C that your theory also explains why there's been an huge increase of the numbers of windows phone devices on Facebook in the last two week of some 600,000 worldwide Yeah
heres the article from another site PeteC Read it and weep!!!
http://wmpoweruser.com/sharp-upward-spike-in-wp7-facebook-users-could-mean-600000-new-windows-phones-sold-in-the-2-weeks/



Read it and weep? Dude, I am a very happy Focus owner who wants WP7 to success more than anything. I don't see enough advertising or effort on the part of MS or the carriers to push WP7. Best Buy does not advertise this phone like they do Android. Open any Best Buy ad and see like 10 Android handsets and zero Windows Phones.

Dammit! Could have saved $.02 on my purchases from ATT yesterday. This happens to me every year!

Went into ATT to check out the new WP7 phones. Holy crap, TITAN is sweet. Such a solid feeling phone and the display is nothing like the HD7S and is definitely noticably brighter than the Focus S (as reviewers have been stating). I had to order this... through Best Buy for the deal :) Amazon won't honor the 0.01$ price due to "overwhelmding demand" per their site and I didn't want to haggle with AT&T which has been good in the past about honoring online deals (since AT&T site says back ordered). Here is hoping that Best Buy didn't actually sell me something they don't have in stock. Thanks for the tip! I saw this post as I was demoing the TITAN. HA

This is a great deal! Clearlly the best windows phone on the market. It is better than any android device. I find that the app store is the only thing that holds the iphone higher than windows phone. From a device and OS standpoint, this is the best out there.

You guys see this?
The Titan is now listed as out of stock by AT&T. And I still ahve not gotten mine!!
http://www.wireless.att.com/cell-phone-service/cell-phone-details/?device=HTC+TITAN+(TM)&q_sku=sku5400337#fbid=Ja77QO7PGbg

I returned my 3-week old Focus S to the AT&T store today and ordered the Titan from Best Buy. The Focus S is a decent phone, but I need something a little more solid since I have a 3 year old son who likes to break things.

I ordered the Titan from AT&T the minute they went on sale. I still had to pay an $18 upgrade fee.

I was finally able to get a price match for my Titan (purchased last week). After trying first with customer support and then in store unsuccessfully yesterday, finally success. Only thanks to the best buy deal. Anyone else out there like me, keep trying.

It doesn't seem to have helped sales much so far on BestBuy.com. It's ranked 49th out of 66 devices; was 50th on Tuesday.

The really good thing about the best buy deal is you may actually be eligible for the free phone as a part of an early upgrade.
When I tried to get the Titan for 1 cent through AT&T it would always reset the price to 300 bucks when I went to pay. Best Buy didn't do that. I called to confirm and yup, I was eligible.
You can check here to see if Best buy will give you it as an early upgrade:
https://upgradechecker-new.bestbuymobile.com/mini/
Windows Central Newsletter
Get the best of Windows Central in in your inbox, every day!
Thank you for signing up to Windows Central. You will receive a verification email shortly.
There was a problem. Please refresh the page and try again.