Nokia Lumia 920 available from 319 euros at Amazon Germany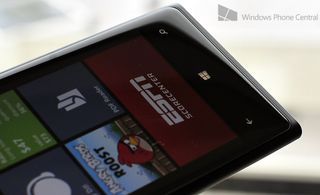 The Lumia 920 is available at Amazon Germany with prices starting from €319 for the grey variant. Multiple colours available provides consumers ample choice when it comes to wanting to personalise their experience with a unique model. The Nokia flagship is still very relevant today, even with the release of the Lumia 1020 and Lumia 925.
So how much will you be looking to pay for the Lumia 920? Here's a list of versions available on Amazon's website:
Will you be picking one up? Let us know in the comments.
via: Reddit
Windows Central Newsletter
Get the best of Windows Central in in your inbox, every day!
Rich Edmonds was formerly a Senior Editor of PC hardware at Windows Central, covering everything related to PC components and NAS. He's been involved in technology for more than a decade and knows a thing or two about the magic inside a PC chassis. You can follow him on Twitter at @RichEdmonds.
From €300 in Greece: http://www.skroutz.gr/s/2554080/Nokia-Lumia-920.html?from=most-popular&k...

In Greece many e-shops sell brand new L920s for 300 euros
http://galaxystore.gr/index.php?id_product=99&controller=product&id_lang=2


I think the question one must ask is "is the 41MP of the L1020 worth the extra 380€ I'll have to pay for it?"
The answer, to me, is "no". Anyway, I already have a L920 and a L620 as spare phone, but I'll pass the info to a friend of mine who still has a L800 and couldn't afford to buy a new Lumia back when the L920 was launched (you know...the WP7 screw-customers-up thing). I think he might want to get that grey Lumia.
Heck, I would (But I have the official Nokia grey protection case so it's almost the same)

Nice price. I would still buy a 920 and not a 925 because I love the wireless charging.

Well, you could still buy the 925 and get a wireless charging cover!

The point of that being? The charging covers offer very very little protection while preventing the use of other protective covers (say, the official Nokia ones). Not to mention they're far from confortable and you would have to keep going around snapping it to the back of the phone every time you want to charge your phone.
Not practical AT ALL.

Who cares of wireless charging anyway? The L920 design proved to be failure. Glad that 925 is step in right direction. Now 5' screen and even lighter body. I wish ...

Honestly I care. L920 design just nice to me, although L925 design looks good but lacking of the wireless charging is a down side to me.

I care. And...a failure? Yeah...must have been because it was a "failure" that they used that design - and not the 925's - as the base for the 1020...
Go home Ivo_apo, you're drunk.

I've noticed that the Lumia 900 has become popular again on amazon...

When I looked at the Amazon Top 20, was surprised to see the EOL'd Lumia 900 at no. 4 (Black) and no. 11 (Cyan) in the list!

369 Swiss Francs (300 Euros) here for black, white, yellow: https://www.digitec.ch/ProdukteDetails2.aspx?Reiter=Details&Artikel=248957

In Poland only 4 colors were available officially (red, white, black, yellow), so strange Nokia move there, lucky Germans got the 2 extra colors, which I find to be the best - gray and cyan. I would change my red one for a gray one anytime. Shiny Gray - it's like a color choice option from Italian Mafia suit catalogue :) Anyway this is almost half of the launch price so looks like a good deal. Hopefully Lumia 1020 's price will drop that quickly too.

I got my 820 for 200€ some months ago. It's not quite clear why I should have gotten the 920 for far much money instead. Apart from the camera (for which I couldn't care less) it is actually worse compared to the 820.

Problem (to me) with the 820 is the 8gb internal memory. I have a 820, I should have bought the 920 instead, but, living is learning.

But unlike the 920 its extensible.

It doesn't help much when "other" eats about 2.5 gb, and you can only use sd card for media. Anyway, I really like my phone, internal storage + "other" makes it not such a good device.

24GB more storage
Bigger and far higher resolution screen
and as you say, far better camera.

The more storage is not extensible though. "Bigger and far higher resolution screen". I LOL'ed at *far*. The cons are: No AMOLED display, non-replaceable battery, no SD card slot, even larger dimensions and weight (the 820 is quite a brick already) and lower battery life. The only real pro is: Better camera. But if I was up for the best (yet still crappy) phone camera then I'd go for the 925, 928 or 1020.

In your case, the 920 obviously makes no sense, but there's a wide variety of consumers out there. I myself have been considering if I could buy an 820 for $100 than a 920, but it is precisely the much better camera why I will spend the extra money. Different features appeal to different buyers and it's important to serve all market segments.

I got my grey 920 from cyberport for 315 Euro :)
And over at modeo.de you can get the Lumia 920 for about 305 Euro!

I bought the Cyan one 3 months ago, much cheaper then here in Belgium and also not available here in this color... I even got updates faster than in Belgium becouse Germany is getting everything months before we do here .

Greetzz.

I saw the yellow Lumia 920 for 330 euros simlock free here in The Netherlands. Just sitting there between a row of mediocre Android devices. I was almost tempted to buy one. The funny thing was that the Lumia 900 was there as well for 270 euros.

295€ en spainmoviles www.spainmoviles.com/tienda/es/nokia/28-nokia-920-lumia-black-white-red....

Got my 720 for €289 4 weeks ago. Looking back, I could've better bought this one, though the design and the battery is a con for me :/

So, for how long the difference in price between 920 and 925 can be maintained, given that hardware wise they are basically the same?

In The Netherlands there's only a 100 euro difference between the 920 and 925 (330 euro vs 430 euro).
I think that's a fair difference.

where did you see the 925 for 430? i havnt seen it around yet. and on gsmwijzer.nl its 486 and only black ( and i want silver).

https://tweakers.net/pricewatch/zoeken/?keyword=Lumia+925 Pricewatch = best (Dutch) price-checker Black and white 925 for €428,67.

any chance they come to amazon US? nokia's retarded marketing is a headache, the cyan version is AT&T branded and the grey is almost nonexistent

Thats has been like This for months now...

Ps i just repaired my Lumia for 250... Mit such a great deal :-/

Why would i want Lumia 920 for 310€ when Samsung Ativ S costs 203€ and is a better phone??

Lumia 925 > Lumia 920 > Ativ S That's why.
But hey, it's your money and your phone, so do what you want to do.

How so? The ativ s has better display, better build quality, micro sd extension and much better battery life than the nokias.

bigger display** not better, build quality? hah you must be kidding, microSD extention? well.. thats about it and battery life is almost the same across all high end WP's

Nokia build quality has always been known to be quite poor. Just check the forums here. Battery life of the Ativ S is almost twice as good as with the 920. With the same usage profile I have to charge the 920 after about 15-18 hours, the ativ s only after 30-34 hours.

For me its mostly due to the superiour WP support you get with Nokia, both in terms of exculsive apps and quality of customer service. Had a HTC Titan before this, and was always envyous of the Nokia exclusives.

Only one reason.... the camera :) They are uncomprable, especially in video recording and low light.

Probably comes with gdr2 update

L920 is 299€ in Italy, on some retailers.

The price is actually down to 309 on german Amazon, just checked :)

Bought mine 260€ brand new but it was a super discount with very small availability. Happy with the phone so far :)

I just bought myself a Cyan 920 for 316€. One of the best deals I've ever got.

I had the cyan and the tile customization is quite limiting although the phone pop really the vibrant cyan color. I had a problem with my phone and I ended up getting black one.

And the Ativ S is €201 http://www.amazon.de/s/ref=nb_sb_noss_1?__mk_de_DE=&Aring%3BM=&Aring%3BZ...

This is better option then L920

Yeah, It's a fabulous phone for the money. I got it a couple of days ago to replace my iPhone 5. So pleased with the Ativ S+WP8.

I am wondering why the 820 is cheaper than the 720 on Amazon.de....

I just picked up a new Lumia 920 for 2 200 NOK (thats about 275 EURO) on blowout sale in Norway. Yay!!
Windows Central Newsletter
Thank you for signing up to Windows Central. You will receive a verification email shortly.
There was a problem. Please refresh the page and try again.