Nokia Lumia 920 CC-1043, a shell of a case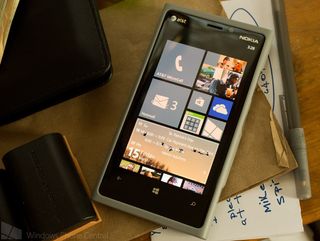 One of the more challenging aspects of owning the Nokia Lumia 920 is finding a case for the Windows Phone. The challenge being that the 920 works rather nicely in the buff.
One option we've been patiently waiting for is the Nokia CC-1043 case for the Lumia 920. The case is very similar to the Nokia Gel Cases for the Lumia 900 but the CC-1043 cases haven't been as readily available. We finally got our hands on one of the CC-1043 cases (which really needs a better name) and took it out for a spin.
Construction wise, the CC-1043 is just like the Lumia 900's Gel Case. It's made of the same silicone, rubbery material that has cutouts in all the right places. Where the Lumia 900 case kept the side buttons covered, the CC-1043 exposes them.
Color options for the CC-1043 include black, red, cyan, yellow and gray.
The CC-1043 fits the Lumia 920 like a glove. At a glance, with the color options, many will think you've gotten a new Lumia 920. The case adds very little to the overall size of the Nokia Lumia 920 but give the phone a little more grippability. The case is about as thick as a piece of heavy construction paper or the cardboard used for cereal boxes.
The cutouts make all the ports accessible but the buttons cutouts takes a little time to get used to. The Lumia 920's buttons are slightly raised to make them distinguishable but the case body sits flush with the button height. The wells of the cutout are wide enough to make the buttons accessible but it also gives the buttons a different feel. It's not an issue that will make you run screaming from the room but rather something to get used to.
As far as protective value, the CC-1043 definitely offers protection from scrapes and scratches. Will it protect the Lumia 920 from drops? Maybe but I would go around testing the theory.
The only downside (and it's marginal) to the CC-1043 is the the sides have just a smidgen of play. The play isn't loose enough where the case would pop off the Lumia 920 but could snag on your pockets or be an entry point for dust and grit.
All totaled, I liked the CC-1043 Case from Nokia. The cases offers a moderate level of protection for your Lumia 920 and gives you a few color options for when you're in the mood to change things up. Add a comfortable fit and the CC-1043 matches up with the Lumia 920.
I'm really surprised Nokia didn't market these cases at launch through AT&T (like they did with the Lumia 900 cases) or simply offered a better supply stream to third party vendors. You can find the CC-1043 case through Expansys (opens in new tab) for about $17 and through Amazon.com (opens in new tab) for about $12. Inventory seems to vary depending on the colors. If you've seen them offered elsewhere, feel free to share in the comments below.
Windows Central Newsletter
Get the best of Windows Central in in your inbox, every day!
George is the Reviews Editor at Windows Central, concentrating on Windows 10 PC and Mobile apps. He's been a supporter of the platform since the days of Windows CE and uses his current Windows 10 Mobile phone daily to keep up with life and enjoy a game during down time.
Expansys link won't work for me.

Damn the phone looks soo good in gray.

Going to continue to let my 920 run around naked. My issue with any case is that it interferes with my windshield mount while using the navigation features. Nice looking case though.

Try the speck case that has the rubber grip on the back of the case.

I have one in red and one in grey. Red to match the phone and the grey for when I need to be more "low key" and buisness like. Love them both!

How do they hold up after swapping them a few times? Do they stretch out? I also have a red one with a grey one on the way.

Seem to hold up pretty well. Havn't really strtched out at all. Both just as tight as they were day one. Although its not like I go switching everyday.

Do they interfere with headphones connection ?

Not at all! And they also have the cuts for the mic at top. The only downside I can see compared to this one I got from china is that there is no textured grip on the side.

I had one for my old 900. The slight extra bulk and grip makes it a little harder to slip into a pocket. Like all silicon rubber, it will collect dust and lint, and will blacken from hand oil and sweat.
For my 920, I decided to go with Ghost Armor which is pretty good so far.

Try amazon people! I got a yellow one on the cheap. Yellow headphones on the way! Looking to get grey next

I miss cases like these for my 810

Best case there is,hands down. I have had it for 2 months. The rest didnt last a week. Well, the Otter Box might have, but my wife couldn't stop making fun of how ugly it was.

You forgot white, the one color you are using.

White is damn impossible to get, must be on backorder worldwide or something. Looks like they're using the gray version

I love this case, just worried about the front.

I think this and the Incipio Feather are the best looking slim cases I've seen.

EDIT: I tried out a gray Incipio Feather over the weekend but it's going back. First, it is too slippery for my tastes; second, I didn't like the way it obscured the side buttons; third, I just didn't really like the look (wrap around sides, exposed top and bottom). I swear they've changed the manufacturing process. I've had several Feather cases over the last few years, and the first few had a distinct "grippiness" too them without feeling rubbery or flexy. The last three I've gotten since maybe 2011 have been much smoother, with no grip to them.

Already got a Cyan one on my white 920 in Aus!.... Next best thing to actually getting cyan in the first place :)

Until 1 week later when all the corners are black and cant be cleaned. I was happy with my cover for a total of 1 week then binned it for this reason. Crap product

Same here. Got mine in red, by the way. No local stock in my country, Malaysia, yet. Then again, I have seen local shops price original cases for any Nokia phone way higher than those at eBay.

Ehm... Thanks goodness my lumia is black. No dirty spot is noticeable, but still clean it once a week like you advised.

WHAT? I BOUGH IT ON EBAY FROM A FORUM POSTER HERE FOR 6.0$, DUDE!!

Ah damn... Sorry, i put extra "0" hahahah.. Stupid me :)

If you bought yours from a local retailer, I'm not surprised at that price and, no offence, but it is certainly a rip-off to me. You can get them much cheaper on eBay, despite the fact that the majority of the sellers are overseas, particularly from either the US or UK. I bought my red case from a UK seller (I assume a business) on eBay at US$ 18.09, including shipping.

Yes, bought it from nokia retailer here, Indonesia. Well, if i bought it from eBay or kinds and costs me $18, that's a rip-off :) ah, cost of shipping is sometimes too expensive

Wrote about these earlier in the week. I picked up one of each color and love them all, that's why I'm The WinPhan, lol!

can i get it from malaysia?

White's not available you didnt mention that, even though you managed to get your hands on a white case in your photos

He's using the gray case in the photos. I really want a white one.

Yeah I realise that now :(
But you have to admit the Last photo makes the case Look Very White due to the lighting condition, So I jumped to conclusions because of it.
My bad ;)

I find the fit to be different for the different colours...
The cyan case I have is the tightest and there is no play where the buttons are...there is a bit of manufacturing mistakes at the bottom of the case (slightly deformed) but you have to look hard to see it.
The yellow case is perfect looking but there is play where the buttons are...

Great cases though

I purchased 4 (blk, cyan, yellow, gray) for my red L920. Love them all. I agree 100% with the review. My only advise is for those who want to preserve their phones appearance as well as the case. I would recommend you clean the case at least once a week as the corners tend to attract dirt, dust, lint and or stain easy. And at least once every two weeks remove ur phone from case, and clean both of dust and or lint. Some have complained about the case staining their phones. Im not too sure how but that is why I recommend u keep it nice and clean.

What are you using for cleaning? Acid? Can't get my cases clean from coloring edges. :-(

I ordered the cyan for mine and the red for my moms. Hers looks brand new and shows no blacking on the edges, but my Cyan is all black order the edges just like the cyan bumper on the L900 from Nokia.

How does that look even close to white? Did you also not notice the steel color theme to match?

I own two of these, grey and cyan. They both fit and look great!

I got a cyan one for my phone about 2 weeks ago and I love it. I agree that the only problem is that the buttons (which were already hard enough to press) are now flush with the device. I have gotten used to it, but had I known that would happen I would have looked around for other cases first. It's one of those things where it would take too much time to return the case and find a new one now that I've had the phone for a month, but annoying enough that I wouldn't have bought it had I known in advance.

I've got a yellow one for my yellow phone and my brother has a red one for his...you guessed it...RED PHONE, lol!
However, I tested mines and preferred the 'naked' look! My local Nokia Care Point said it only costed £30 for a new polycarbonate case...why bother with the case at all?
In a few months when I get more scratches - and they're slowly building up, although only really visible in certain light - I can swap over and even go for another colour!

Really? That sounds great! It would be like having a brand-new phone. I also prefer it without case.

Where do you live?

No question, best case for the Lumia 920. In Canada but bought from the UK as soon as released. Protects the side of the phone better than the popular Feather case. I dropped my Lumia from a height of 5 feet and hit something on the way down (luckily back of the phone, not front glass), and not even a scratch, dent, etc. Case has already paid for itself! :) I don't understand why this case is not carried in the store front.

These cases get dirty real fast around the edges and are almost impossible to clean. Tried everything from bleach to nail polish remover. I have the yellow on my 920 and cyan on mu 900. Both stained around the edges.

I have one of these since before my L920 had arrived. Wasn't that hard to find in Europe nor that expensive. However I didn't saw any colourful ones, only black (which is the one I wanted anyway). I may try to get a grey one though.

I'm so ready for a Burton case or a Kate Spade case for my wife.

So here's a question and maybe you George, or Daniel or Sam can answer this. I would say one of the biggest contributors to the iPhone's success is the accessories. Generally speaking, accessories lasted at least two phone generations (4/4S, before that the original, 3g, and 3gs had the same cases, etc.). Do you think that we could see that happen with the Lumia line, or any Windows Phone line? Basically, do you think we could see a case for the 920 that could also work for the alleged 928 that could even work with the Catwalk? Or is there something different about the way Nokia as an OEM functions versus Apple to not have a need to keep the size of the phone the same so that accessories are fully functional with a wide array of phones?
I'm just curious and it won't stop me from necessarily buying a case but would love to hear what you think.

Edited for spelling error.

Don't count on it. So far Nokia hasn't releases 2 equal phones. Even the 900/920 are different enough so that the cases won't be reusable. It's a shame but that's how it's working. And the 928 won't be exactly the same as the 920 design-wise either.

Yeah I figured as much. I wonder if there's any incentive to keep some compatibilty. But I guess since it hasn't been done yet clearly there isn't...or maybe that can change.

This is one of the biggest blockers for cell phone case manufacturers to make cases unless you are Otterbox. I just want a quality case that is visually appealing. They are lacking for the 920 and even more so for the 900.

How funny, I just bought this last night before this was posted! Perfect timing! Its also available on amazon.

Reading WPCentral while listening to Pandora! Just wanted to say that. Btw, nice case.

£3.58 all colours on amazon.co.uk

Very cool. I have just ordered from Amazon UK a yellow, a cyan and a red one for my black 920.

ok guys this might be a coincidence... but i went for a run yesturday with this new case.... and my GPS was all jacked up. lets just say it told me i ran 3.75 miles in 20 minutes... yea no. I checked my run path and it was jumping around like crazy. My question is, has anyone noticed this? im going to try again today to confirm.

EBay UK have all colours for £7.45 with free shipping.

I didn't like the loose fit on mine, ended up getting the ROCK case from DX Box or something.

I too have experienced discolouring at the corners of both my red and yellow CC-1043 cases (within days) and can find no way to get them clean. I have complained to Nokia whose only response was that I should ask the vendor to replace them. They have not responded to my subsequent communications. Not impressed!

Hearing about the staining makes me glad I went with grey. That said, I'm starting to notice staining at the corners myself. Difficult to notice for now but I found it this morning.
Unless you go with a hard plastic shell you're always going to have this problem, regardless of who makes these cases.

I have all colors but red and white. So far love them but recently stopped using them due to staining in the corners. The only place I've ever had my phone is in my right pocket or on a table. Clearly they get easily stained by jean pockets which is unfortunate. And to my knowledge there's no way to clean these. I would have to recommend the black or grey over the yellow, white or cyan. Unless you plan to carry your phone in your hand only. If you plan on keeping it in a pocket go for the darker colors. Other than that I can also agree these fit like a glove. Using the side buttons blindly will take a moment to get used to though since there's no gap between the volume rocker and power button. Great deal if you can pick it up for $10 or less.

After this review, I'm glad I have kept my world shopping gel case off amazon for like 6 bucks. Adds amazing protection on the corners, doesn't add much bulk, and color matching is close enough in my book.. Fit is really nice too, good to.have options :)

No cases!! If you put a case on a Lumia 920 you ruin the whole experience. You might as well buy a Samdung or a crapple.

Not necessarily. I have black Lumia 920 w/black CC-1043. Perfect match.

Some cases still preserve the iconic Lumia look, and they are so worth it when its better than a warranty device that's costly, believe me, I know

does it:
a) interfere with wireless charging?
b) provide grip on gloss surfaces, so you can angle it either landscape or portrait whilst not handling it direct?

No, still charges fine, and it does add grip to the phone

It's a crime to put a case on the 920.

Yep, I would not mind a case but it will go against the main reason I have a 920. To feel comfortable with a phone in my hand without a case

Does it protect the screen? (Is the edging of the screen higher than the screen?)

It's Flush With the screen. It meets at the edges.

The edges are slightly raised so if you lay it face down on a flat surface, the glass does not touch the surface. I verified this with my Cyan from the UK.

Will it allow wireless charging with the case on?

Yes it does. My Brother In law has a massive case on his and it still worked when i showed him that the phone has Wireless charging capabilities.

I got Cyan originally to match just incase but when i got it I noticed it covers MAJORITY of the phone. I went ahead and got Grey. It's looks Awesome.

Available at amazon.co.uk for £3.58 ;-)

Just got my yellow case from Nokia partner store in Singapore. Had been waiting yellow for some time (red, blue, black and grey were readily available here) and finally they have it now.

Thanks dude..I'll go and buy one.. Been waiting for so long..

I can't recommend this case - had mine for 1 week and the colour has worn from all corners (grey). Looks really tatty so returning to Amazon (paid £7). I know a ton of people with 920's who also bought them and the same thing has happened. Very poor quality from Nokia. Perhaps that's why they are £3 now.

I would give this case a 10/10 the first week I got it. Now maybe a 7.5 because of the two major problems people are noticing: the dicolouring of the case itself around the corners and also the fact that it stains the original paint of the phone, has anyone figured out a solution for that yet?

Bought this exact one two weeks ago, and I'm loving it! The phone is easier to hold, and not nearly as slippery, it looks great - and I'm not anymore touching the camera lens all the time, making my photos all blurry. ;)

Any chance there is a version for the Lumia 820?

I've got a red one of these and I've seen the same discolouring problem as everyone else. It looks terrific for the first week or two and then you notice it slowly going black. First on the corners and then across the whole thing. Now my phone looks filthy and it doesn't wash off no matter what I do - the rubber just stains black. I had a cyan one for my Lumia 800 and exactly the same thing happened, and that was 18 months ago. I'm amazed that in that time they've not addressed the problem since everyone gets it sooner or later. Not fit for purpose IMO.

The poor quality may be the reason why I dont find any single line of information on Nokia's website regarding this product, even though its an official case coming from the vendor. If I dont read these fan-blogs, I would have never even heard about this CC-1043 case at all. Are they not willing to sell this junk or what? Does Nokia want customers to buy the more expensive leather cases or 3rd party cases for 3-5x times the price of this case? I simply cannot understand what is in the mind of product managers and all those idiots sitting in a meeting in the board of directors room.

looks like a cheap chinese made case, I mean look at that molding seem all the way around.

I have it on my 900 and 920. Regarding case for 920 I like the changes made on buttons on the right. Makes it look like a real thing than a case. Loving it.

Amazon uk has these for about £3.95 each. Bought my cyan one on Saturday and received it today funnily enough it arrived just before this article was posted.. Still my 920 is looking sexier now in blue.

We (Shantek Accessories) sell these in Australia http://www.shantekaccessories.com.au/nokia/nokia-lumia-920/nokia-soft-ca...

what calender app is that??

Looks like "chronos calender" to me...

Where can I buy this cover in India? All the nokia stores are not aware of any such case.. :\
Windows Central Newsletter
Thank you for signing up to Windows Central. You will receive a verification email shortly.
There was a problem. Please refresh the page and try again.