Nokia Lumia 930, Lumia 630 get priced for consumers Down Under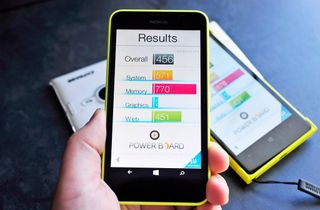 Both the Nokia Lumia 930 and Lumia 630 have been priced for the Australian market and will be available sometime this month. Pricing for the Lumia 930 will set consumers back by AU$729 as an outright purchase, but can be picked up on all major carriers in the region. The more affordable Lumia 635 will be priced at AU$279 and will be stocked by Telstra and Optus.
Not only will these handsets have Windows Phone 8.1 installed and ready to go, but they will also take advantage of SensorCore by Nokia, which allows apps and services to use the device's motion sensors for fitness tracking. Bing Health & Fitness is preloaded, but integration with third-party services (like Fitbit) is expected in the future with available SDKs.
Source: CNET; cheers for the tips everyone!
Get the Windows Central Newsletter
All the latest news, reviews, and guides for Windows and Xbox diehards.
Rich Edmonds was formerly a Senior Editor of PC hardware at Windows Central, covering everything related to PC components and NAS. He's been involved in technology for more than a decade and knows a thing or two about the magic inside a PC chassis. You can follow him on Twitter at @RichEdmonds.
Woop! Except in over the 930 now...now I wanna wait for McLaren. Haha

You think you've got it bad. Im from SA, so by the time the 930 arrives here, the McLaren would allready have been launched!!! Talk about living in the past...

I'll wait for something better.

Me too. Doesn't seem worth upgrading my 920.

Thank you, been waiting for some more news on this! Now.... When will Cortana come to these handsets? Edit: In AUS?

Not sure why it took so long, its essentially the icon which came out mooonths ago

Once you said that, it reminds me of what I used to think before if Nokia has got tired of making awesome new designs. I'm not a real fan of the icon design, just hope the 1030 doesn't use a similar chassis.
Like the curves on my 920, but change is inevitable.
Hope Microsoft make our 1030 spectacular and indestructible.

Waiting for a better dual sim, else the Nokia X2. Edit: 279 & 729 a good way to rearrange the deck.

Useless wankers :P give me #1030

Nokia Spain confirmed that Lumia Cyan will roll out from next week! https://twitter.com/nokiaspain Sorry for being off-topic

That's great news, it being rolled out in one region is a good lead for rolling out to others. Been with WP from the start, it seems they are releasing top apps quicker than any time I remember. Now I need to decide if I need to upgrade from a perfectly serviceable 1020 to the icon

My next phone will be WP 9

I'm happy with my 1520. I might upgrade to a 1030 next. The 930 from what I can gather is just a small 1520 anyway.

A small 1520 without glance

The 1520 is currently THE most full featured WP flagship phone. I'm not selling it unless something better released. Except for the ergonomics, the 930 is inferior compared to the 1520.

"I come from a land Down Under!"
Title reminded me of this song. :D

Which is about Australia :)

"You better run, you better take cover" :)

Rich which is that Performance Testing App?

http://www.windowsphone.com/s?appid=e1c58476-48ce-4d5d-baaf-abe800d2b6f

Your link isn't working. It's called Basemark OS II free.

The 930 or 1520 would make a perfect birthday gift to Canada.

No sd. No buy. I want 1020 camera. Quad core and sd card. With hq loudspeakers

Nokia 808??? Has an SD card slot, glance and a better camera than the 1020. The only problem would be that it runs Symbian belle not WP 8.

My 1020 has Glance... And the 1020 is supposed to be the update of the camera from the 808 (which is why the bump is smaller). As for SD card - meh photos upload to Onedrive but i can understand why some people might want one.

Sometimes with sloooooooooooooooooooooow net it's a pain in the a.. to wait for up- and download. Would definitely want the 1030 to have 64GB +SD :P

Yeah as I said, not an issue for me (but I also don't store even 1/10th of my music on my phone, or more than 20-30 pics at a time) but I can definitely understand some people wanting the extra capacity... Especially as there are issues at time wai... (5 minutes later) waiting for uploads to occur :)

Pictures taken by the 1020 are too noisy.

Carriers is good, should mean that they will move a few more units down here. It's been a while since a Nokia flagship had released on all the big ones. Decent price to, it's cheaper than the s5 and all the iphone 5s variants.

@Rich, what's the name of the app in the picture?

$730 bucks Ripoff mate !!!!!

Will purchase regardless, good phone and more importantly Nokia's last phone before new breed of Microsoft influenced lumias

And btw, the 630 have actually been sold outright in oz for a few weeks now for $249

Yep all Harvey Norman stores have been stocking them.

I'm waiting for Mclaren or an updated 1020 equivalent (or both :) )

We'll start getting these for our users on our Telstra tech fund until McLaren is available here.

"Telstra customers who pre-order will receive a JBL PowerUp Speaker (RRP $389.95)" http://exchange.telstra.com.au/2014/07/01/nokia-lumia-930-and-635/ But no pricing yet from Telstra for outright purchase. Still, better than a poke in the eye.

Funny they used the Benchmark app for the screen shot... When I first upgraded my 1520 to 8.1 it benched higher than ever, well over 1000... But, now after MS's updates it benches lower than ever, like around 600... WTF❕ .. It also takes longer to boot up... I hope MS gets this all resolved with the official updates, and firmware.

Would make a really nice upgrade from my Lumia 520. Would have bought a 920 back when it came out but I didn't have the money. The 930 looks great.

I have 920 & 1020, think I will wait for next one.

When will be available in Colombia?